What better way to modernize your garden than with a luxurious metal garden stool? These stools are super stylish, and quite functional too. They also have the advantage of generally looking very different than typical patio furniture, which makes them all the more eye catching!
Having carried out quite a bit of research and weeding through the listings available for metal garden stools, the one that stood out most for us is the BirdRock Home [Amazon Link] steel garden stool. It just ticks all the right boxes. This stool is crafted from solid steel, so is durable and long-lasting. It has a very interesting look, and really feels unique. Finally, its positioned at a really good price.
It's our choice for the best metal garden stool around. For more information on the BirdRockHome Steel Garden Stool, see below.


Runner Up Best Metal Garden Stools
Coming in at a close second to the BirdRock Home Steel garden stool is the
Adeco Accent Starburst [Amazon Link]
garden stool. In terms of cost, it's averagely priced, but in terms of quality it's very good. The Adeco Accent Starburst is certainly more of a contemporary modern design than our top choice. And while it is quite eye-catching with its bold color and fascinating design, it's not quite as ornately decorated and detailed as the BirdRock garden stool. For that reason we've put it second.
For more information on the Adeco Accent Starburst metal garden stool, see below.

Runner Up Best Budget Metal Garden Stools
If you're looking for a garden stool solution that won't cost you a fortune, yet is still good at what it does, consider the
Deco 79 Metal Bronze Stool [Amazon Link]
. This garden stool is lightweight, functional, and won't break the bank. And while it isn't the most stylish on our list today, it still has a cool hand-drum like look that will fit wonderfully in the right decor.
For more information on the Deco 79 bronze stool, see below.
Metal Garden Stool Reviews
In this section, we will look at several different metal garden stools, and consider the qualities of each, the advantages and disadvantages, and pick our favorites. If you're interested in checking out more garden stools, be sure to give a look at Ceramic Garden Stools as well, for more ideas!
If you want to bring a splash of color to your outdoor area, this Adeco Home Garden iron metal stool is the way to do it! Finished in a vibrant yellow, this garden stool will make a great addition to any garden or patio area with a modern or transitional design style. Made from iron, the Adeco Home Accents Stool pretty heavy duty, and should last quite some time. It can be used as a stool, plant stand, or side table.
As with most outdoor garden stools, it will get dirty eventually. When it does simply wipe away any dirt with soap and warm water. Avoid any harsh cleaning chemicals as they may cause the paint to deteriorate.
Key Points at a Glance
Made of iron
Unique garden seating
Vibrant color
Size:  15 x 15 x 18 inches
Weight:  11.65 pounds
The Bottom Line
The Adeco Home Garden Accent Wire Round stool will certainly look great in virtually any modern environment, though it may struggle to fit in with more traditional design schemes. The color and styling is bold, and this garden stool is a great choice for many.
---
This magnificent garden stool on offer from BirdRock is a high quality piece at a low quality price. Not only is it a unique-looking stool that will accentuate any outdoor space, but it's functional too. As it is made from solid steel, the BirdRock Home is perfectly safe to use as a funky form of seating, and there's no concerns over chipping or cracking either. At the same time, because it's hollow, it's easy to move around.
If you need to clean the stool at any time simply wipe it over with a damp cloth. Try and avoid using any harsh chemicals on the stool as this may cause peeling of the outer layer
Key Points at a Glance
Made from solid steel
Versatile
Beautifully designed
Lightweight and easy to move
Size:  15 x 15 x 18.5 inches
Weight: 7.5 pounds
The Bottom Line
The BirdRock Home Steel Garden Stool is one of the best available on the market. Its floral design gives it a nice outdoor feel, while the steel finish provides a distinct look that's hard to find anywhere else. It feels very stable and looks fantastic too.
And the price you'll pay for this beauty is a steal too, hence why we've made it our number one choice!
---
You can never get bored with bronze, and this garden stool is a fine example of why. Its funky design takes two geometric shapes and blends them together to provide an alternative form of additional seating for your friends or family. Being slightly taller than some of the other garden stools out there, the Deco 79 stool is the ideal height for enabling hours of comfortable sitting. It's durable, easy to clean, and one of the lower priced models out there.
Key Points at a Glance
Unique design
Space-saving stool
Ideal sitting height
Suitable for indoor or outdoor use
Size:  14 x 14 x 20 inches
Weight:  8.45 pounds
The Bottom Line
If you're looking for something unique and a little different from the norm than look no further as the Deco 79 metal bronze stool is just that. The bronze automatically gives this garden stool an old, rustic feel to it. And, surprisingly, it's quite lightweight, so moving it around is not an issue. Sitting on this stool it feels very stable, but just be aware it is unexpectedly light weight with no one sitting on it, and can be knocked over quite easily.
It's well made, authentic looking, and is a positioned at a fantastic price point. For those reasons and more we made it our budget choice.
---
If the rustic look is what you're going for, then look no further. The IMAX 44195 garden stool is an authentic, unique-looking piece that will become a fantastic part of your outdoor environment. Because it's meant to look old, weathered, and rustic, very little maintenance is required. If however, you do feel it needs a clean, simply wipe over with a damp cloth.  It's made from iron so is very stable and won't need replacing for a long time.
Key Points at a Glance
Made of iron
Plated with copper
Size: 15 x 15 x 19.25 inches
Weight: 9.06 pounds
The Bottom Line
The quality of the IMAX 44195 is very good. This barrel stool is well-made, and you can tell it has been designed for the outdoors. And the aesthetics quite interesting, and will fit in many different design styles. However, the price is quite expensive, and unless you like the worn, rustic look, these stools may not be the ideal choice for many, once budget is considered.
---
If you're looking for a brightly colored, funky garden stool that's pretty low in price, then you must check out the Adeco Home Garden Accents round metal stool! This stool is available in five colors, so you should be able to fit it into any color scheme. It is made of iron, and is really sturdy, yet its lattice design means it is also lightweight and easy to move around.
Unfortunately, it's not well-treated for outdoor use, and the paint fades quickly. Either take it inside when done using this stool, or spray it with a UV-protection spray [Amazon Link] to attempt to preserve the finish as well as possible.
Key Points at a Glance
Made of iron
Abstract look
Lightweight
Prone to fading
Size:  18 x 18 x 18 inches
Weight:  5 pounds
The Bottom Line
This garden stool will look great in anyone's outdoor space thanks to its vibrant color. Being so lightweight, it is really easy to move around and re-position as needed. Be sure to treat this metal stool with a clear coat to protect the finish, if you plan on leaving it outside for any significant period of time.
---
Add a spray of sunshine to your garden with this beautiful steel garden stool. The Adeco Accent Starburst stool has been designed with strength and stability in mind, and its abstract shape and cheerful color make it immediately eye catching.
Its steel wire weaving tables make it lightweight and easy to move, yet sturdy and secure when seated.  To clean it simply give it a wipe over as needed with a damp cloth.
Key Points at a Glance
Made of high quality steel
Netting design provides extra stability
Elegant hourglass shape
Size: 15 x 15 x 18 inches
Weight: 6 pounds
The Bottom Line
It's hard not to smile when looking at this stool, as it's so bright and charming. As well as looking the part, this garden stool is also very functional. It's super lightweight, which means it can be easily transported, while its well thought-out netting design provides extra stability while sitting. Depending on your style needs, this stool may not look quite as good as the BirdRock garden stool, but with its elegant hourglass shape, it's a great choice for those with more modern and contemporary styling. It is our runner up model.
---
Conclusion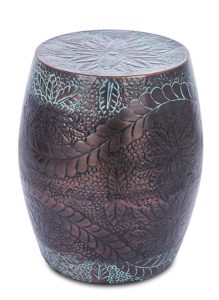 Whatever style you're after for your outdoor space you can be sure there's something for all tastes out there when it comes to garden stools. For a top quality, ornate piece, we highly recommend the BirdRock steel garden stool. It really is something special!
If your tastes lean more modern and abstract, then it's hard to beat the Adeco Accent Starburst [Amazon Link] garden stool. This is sunshine is a seat, and will make a great addition to any garden with a modern touch.