Having an outdoor party or gathering? Tired of running back and forth inside the house, traipsing dirt everywhere you go, just to grab a refill or refresh for everybody's drinks? With an outdoor refrigerator you can store all your food and beverage requirements right where you need them. The problem is, with so many different models available on the market, how do you know which one to buy? Thankfully that's where we come in. We've taken the time to research the good, the bad, and the ugly of outdoor refrigerators so you don't have to. The best outdoor refrigerator is the 
EdgeStar Built-In Outdoor Beverage Holder
.
The EdgeStar is a front ventilating outdoor fridge that can be built into most enclosures. It's also quite attractive. It's spacious, funky, and will make a great addition to any outdoor area. The EdgeStar was chosen as one of our Outdoor Kitchen Essentials for 2018!
For more information on the EdgeStar refrigerator, see our Product Reviews section below.
Runner Up Best Outdoor Refrigerator
If the EdgeStar Built-In Outdoor Beverage Holder isn't quite your style, there's always the
Blaze Outdoor Stainless Refrigerator
 to consider as an option.
There Blaze stainless refrigerator offers loads of storage space and convenient features, and it looks fantastic too. It, too, is front ventilating, and can be built in to most enclosures.
It may be one of the pricier models out there, but you do get a lot for your money. and is definitely worth considering if your wallet can handle it.
See our Product Reviews section for more information.
Budget Pick: Best Outdoor Fridge
If you're not too fussed about style and features, and are just looking for an outdoor refrigerator that works well, then be sure to check out the
Danby Outdoor Compact Refrigerator
.
This unit is bottom-venting, and operates on casters. The casters make it pretty easy to move around as needed, but this fridge cannot be built in.
If you are trying to save some pennies, this may be the one for you.
See below for more information on this fridge.
Building in an Outdoor Fridge
If you're looking to install your outdoor refrigerator in an outdoor island or other outdoor kitchen space, you need to pay attention to the ventilation design, and the air flow around the fridge.
Depending on your environment, and what you want to accomplish, you'll have to find the right fridge air flow design for your needs. Typically, fridges are available in one of three different ventilation designs: front ventilation, rear ventilation, and bottom ventilation.
Front Ventilating Outdoor Refrigerators
Most truly built-in outdoor refrigerators use front-ventilation, allowing them to be essentially encased in an island or outdoor space. They often still require a few inches of ventilation space behind as well, though this depends on the individual unit. Be sure to check the manual for the item you're considering before purchase.
Front ventilating refrigerators are typically the most expensive.
Rear Ventilating Outdoor Fridges
Rear-venting designs may be built in, depending on the circumstances of the island or area they are to be installed in. Check the manufacturer guidelines for the individual rear ventilating fridge, but typically these units need a few inches of space around the back and sides to allow for air flow, and ideally an open ventilated rear panel to allow air to come from behind. If your outdoor kitchen can accommodate such a need, then rear ventilating fridges are often significantly cheaper than front ventilating fridges, and usually operate in a wider variety of ambient temperatures.
Bottom Ventilating Outdoor Refrigerators
Bottom ventilating outdoor refrigerators are raised off the ground, typically with casters. These units need space underneath the fridge to allow air to flow, and can typically not be built in at all. Perhaps they could be built in as long as the fridge with appropriate space underneath is all built in together, though typically they are not designed to be built in at all.
See your individual unit for further details.
Outdoor Refrigerator Reviews
In this section, we'll look closely at five different models of outdoor refrigerator. We'll compare the positive and negatives of each, and pick our favorites at the end.
Preview
Budget Choice
Runner Up
Top Pick!
Preview
Budget Choice
Preview
Preview
Runner Up
Preview
Top Pick!
Preview
Last update on 2018-05-21 / Affiliate links / Images from Amazon Product Advertising API
---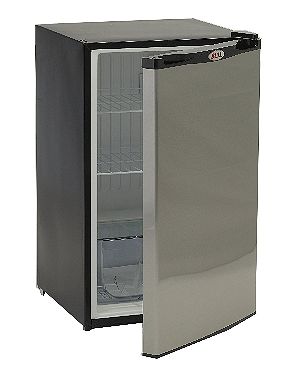 Keep cool this summer with the The Bull Outdoor Products 11001 Stainless Steel Front Panel Refrigerator. This attractive fridge supplies 4.4 cubic feet of food and beverage storage, and has a stylish stainless steel front door.
It works pretty well as an outdoor refrigerator, though as the temperatures rise, it may struggle to keep everything as cool as you would like.
Key Points at a Glance
Stainless steel design
Reversible door
Three removable shelves
Needs rear ventilation if built in
Ambient Temperature Range: 50′-109′
Dimensions
Capacity: 4.4 cubic feet (124 litres)
Holds about 60 cans
Size: 28 x 36 x 42 inches
Cutout Dimensions: 20 1/2″ x 33″ x 20 3/4″
Weight: 50.6 pounds
The Details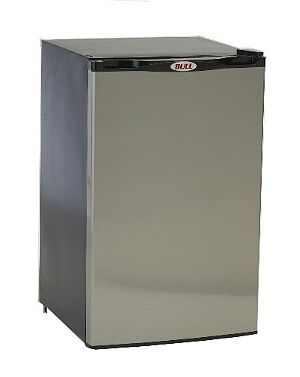 Keep all your favorite beverages and snacks cool this summer with this fantastic outdoor refrigerator on offer from Bull Outdoor Products. With a 4.4 cubic foot capacity, a stainless steel door, and a beverage can dispenser that will hold up to 5 x 12 oz. cans, you've got everything you need here to keep your goodies nice and cool while outside.
There's a reversible door so you can choose to have it swing to the left or right, and it has a full range mechanical temperature control for quick and easy adjusting. Because the refrigerator door is made of stainless steel, it's super easy to clean. Simply wipe down with a damp cloth as and when needed.
This fridge is not front-venting, so it can only be built in to outdoor islands that offer rear ventilation areas. If you want front-ventilated Bull Refrigerator, check out the Bull 13700.
The Bottom Line
There's no denying that this Bull Outdoor Products Refrigerator looks great and it's plenty big enough to store a good amount of drinks to keep you going for a while when outside. It's also a great price in comparison to most other outdoor refrigerators on the market.
However, there are a few issues we've found with this model. The first thing that needs addressing is the fact that it doesn't keep items as cold as you'd expect. While the EdgeStar Outdoor Beverage Cooler (below) will keep your drinks chilled to around 38-50 degrees, even when it's very warm out, the Bull 11001 struggles to keep up. The recommended operating ambient temperature is between 50′-109′, in the shade.
Some of the parts, such as the compressor also seem a bit cheaply made, and may not live much past their 12 month warranty — especially if used in very warm temperatures.
---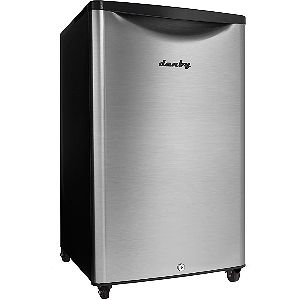 The Danby Outdoor Rated Compact Refrigerator is quite similar to the Bull 110011 above in many ways. It has approximately the same storage capacity and quite similar style. It also features a mostly stainless steel front, with a black handle and reversible door.
It is set up on casters, and is not designed to be built into an island. It is, however, waterproof (but not submersible, if you were really wondering that…). It features rear and bottom ventilation, and an elegant design.
Key Points at a Glance
Fully lockable
2.5 tempered glass shelves
Easy portability
12-month warranty
Includes casters
Cannot be built in
Ambient Temperature Range: 45′-109′
Dimensions
Capacity: 4.4 cubic feet (124 litres)
Holds about 60 cans
Size: 21.3″ x 20.8″ x 33.1″ inches (35″ with casters installed)
Weight: 68 pounds
The Details
Make your life a little easier while entertaining outside with the Danby DAR044A6BSLDBO Outdoor Compact Refrigerator. This sleek, modern looking appliance is perfect for keeping cool your food and drink this summer.
It has an overall capacity of 4.4 cubic feet, and two and a half tempered glass shelves for storage. There's even a see-through vegetable crisper inside!
Other cool features include a state-of the-art thermostat, and LED interior light, and a super efficient CanStor beverage dispenser. The recommended ambient operating temperature is between 45′ and 109′, in the shade.
Fitted to the bottom of this appliance are four rust-resistant casters. These are a big help if you do need to move it at all, though the design is a bit odd. One of the casters is attached to the door, and when opened, the fridge gets a bit wobbly.
Cleaning of this outdoor refrigerator is so, simple thanks to the automatic defrost system and the reversible door hinge means it can be hinged either way, depending on your space requirements.
The Bottom Line
This stainless steel freestanding refrigerator on offer from Danby is the perfect choice for anyone looking for a decent outdoor refrigerator but doesn't want to spend a fortune. It's big enough to get quite a few beverages in there and thanks to the 4 casters, it's nice and easy to move around too.
One of the best aspects of this outdoor refrigerator is that it looks much more expensive than it actually is, and will make any outdoor area shine, especially given its price point. Unfortunately, it cannot be built in, so if you intend to use it in a housing, or to remove the casters, you should not, as the ventilation won't work.
It may not get quite as cool as some of the more expensive models out there, particularly the EdgeStar Outdoor Cooler, but it works well enough. And for those reasons, we've made it our best budget outdoor refrigerator choice.
---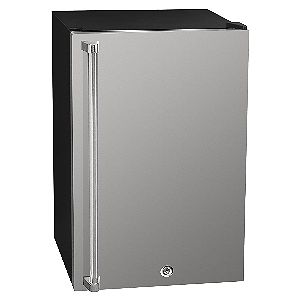 The Summerset Alturi Series outdoor refrigerator is definitely a step up in quality and in price from the lower end outdoor fridges on the market, and its stylish design is sure to look great in your outdoor kitchen!
This rear-venting outdoor fridge has a large 4.6 cu ft. capacity, and a reversible door with large, sturdy handle for easy opening.
Key Points at a Glance
Reversible stainless steel door
Fully lockable
Halogen lighting
Dimensions
Capacity: 4.6 cubic feet (130 litres)
Size: 33″ x 21.75″ x 23″
Cutout Dimensions: 22″ x 33 1/2″ x 24″
Weight: 73.8 pounds
The Details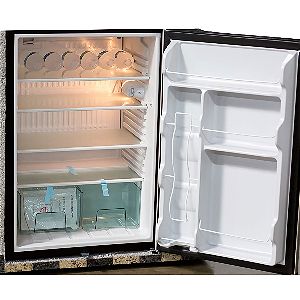 If you're looking for an outdoor refrigerator that looks stylish and functions, well then be sure to feast your eyes on this sleek looking model from Summerset. With a capacity of 4.6 cubic feet, the Summerset Alturi Series Outdoor Refrigerator is a small step up in capacity from the rear-venting competition.
It's made with a stainless steel door for both style and durability, and there's even a factory installed security lock to keep all your goodies safe!
Inside, there are three removable shelves, and two removable drawers for convenient storage. There is also integrated halogen lighting to make finding things easier in the dark.
The Bottom Line
The Alturi series looks sleek, it keeps beverages pretty cold, and it's fully lockable. It's also holds a fair amount of beverages.
But, while the capacity of this refrigerator is fairly large, it comes from the height opposed to the depth. So, just bear this in mind if you're planning to park it underneath something. Also, be sure to allow space around it for ventilation, as it is not front ventilating.
It's also a little on the heavy side, and with no attached wheels to assist, moving the Summerset Alturi Series Outdoor Refrigerator can be a bit of a pain.
Overall, the Alturi is a high quality fridge, but considering the EdgeStar front venting Outdoor Cooler (below) is just a few dollars more, you're better off going with that opposed to the Summerset Alturi Series Outdoor Refrigerator. It looks better, it's got loads more features, and it's far better value for money.
---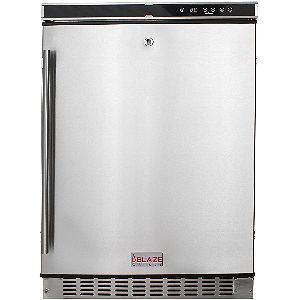 The Blaze Outdoor Rated Stainless Steel refrigerator is a bit jump up in price and design compared to the other models we've looked at so far. It features a front-facing vent system, and is designed to be built into outdoor kitchen areas, even without rear ventilation space.
The Blaze is a beautiful refrigerator, with a very solid, sturdy look and large handle. It also has a cool digital display at the top of the fridge, so you can see and adjust temperatures in an instant.
Key Points at a Glance
Digital thermostat
3 adjustable shelves
Auto defrost function
Stainless steel design
1 Year Warranty
Ambient Temperature Range: 50′ to 100′
Dimensions
Capacity: 5.2 cubic feet (147 litres)
Size: 33.5 x 23.6 x 23.6 inches
Cutout Dimensions: 34 1/2″ H x 24 1/2″ W x 24 1/2″ D
Weight: 95 pounds
The Details
If you want to impress your guests while keeping your beverages chilly, be sure to check out this fabulous stainless steel outdoor refrigerator made by Blaze Outdoor Products. With quality oozing out of every corner, it certainly is one of the better looking models on the market. It's also extremely functional too!
The Blaze includes an internal light to make things easier to find in the dark, though you have to push the button to turn on the light. It also has three adjustable chrome shelves for convenient storage.
On a slightly more technical level, this refrigerator has both an automatic defrost function, which is extremely helpful in terms of cleaning, and a digital thermostat which enables you to manage the temperature more precisely. The recommended ambient temperature is between 50′-100′, in the shade.
The Bottom Line
Overall, this outdoor refrigerator looks fantastic, and is one of the more spacious models on the market. It's also packed with great features like front ventilation, automatic defrost function, and a digital thermostat.
Of course, with these features, the price goes up considerably! In terms of quality, it really can't be faulted, and it's covered under a 1 year warranty.
The overall package is high quality, which is why we made it our runner up choice.
So, if you need a reliable front-venting outdoor refrigerator that's going to keep your drinks cool for the foreseeable future, than the Blaze Outdoor Stainless Refrigerator may be the one for you.
---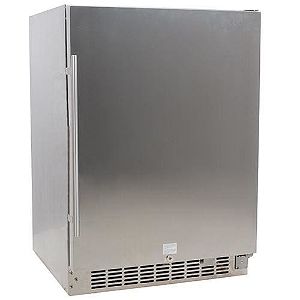 The EdgeStar front-venting stainless steel outdoor refrigerator is a thing of beauty! Impeccably designed, with a large storage capacity, attractive exterior, and (relatively) great price point! This fridge is a great option for those who need a front-venting built in design with loads of space, but don't want to break the bank.
Key Points at a Glance
Auto defrost function
LED interior lighting
Digital temperature control
Reversible and lockable door
Ambient Temperature Range: 50′ to 95′
1 Year Warranty
Dimensions
Capacity: 5.49 cubic feet (155 litres)
Size: 33.5 (without wheels) x 23.5 x 22.5 inches
Weight: 101 pounds
The Details
With a generous capacity of 5.49 cubic feet, this is by far, the daddy of all outdoor refrigerators on our list! It is perfect for keeping your snacks and beverages cool, not just this summer, but all year round.
You can fit a staggering 142 cans inside this stainless steel beverage cooler on offer from EdgeStar.
There are three glass shelves included, and the door is both reversible and lockable. Not only does this give you flexibility when fitting but it also gives you extra security when in use.
The operating temperature range of this outdoor beverage cooler is between 30-50 degrees F, and can be adjusted at the touch of a button thanks to the integrated digital temperature control. The recommended ambient temperature is between 50′-95′, in the shade.
Another great feature of this appliance is the LED interior lighting, which will save you a great deal of time hunting around in the dark trying to find the right drink. And there's even an auto defrost function to help with the cleaning of it.
The Bottom Line
With its sleek, stainless steel design, the EdgeStar looks super elegant and modern, and will complement just about any outdoor space imaginable. It has a capacity bigger than a lot of other outdoor refrigerators, and the digital temperature control is a nice added touch.
And, the price isn't too bad considering all that you're getting, given its front ventilation design and large storage capacity.
All in all, this the EdgeStar Built-In Outdoor Beverage Holder is a fantastic outdoor refrigerator in terms of both looks, functionality and value for money, which is why we've named it the best. As we mentioned above, it is one of our Outdoor Kitchen Essentials for 2018!
Conclusion
We hope you found the above information useful and are now one step closer to getting your next outdoor refrigerator. Just as a reminder, the best one we've found on the market at the moment is the
EdgeStar Built-In Outdoor Beverage Holder
. This front-venting fridge can be easily built in, is huge, looks great, and works very well.
If for whatever reason you're not convinced by that model, then there's always the Blaze Outdoor Stainless Refrigerator. It, too, is a high quality front-venting outdoor fridge, but is a bit smaller and just a little pricier.
If you don't need a front venting outdoor fridge, be sure to check out the Danby Outdoor Compact Refrigerator. It too will help keep your beverages cool this summer and won't cost a fortune either!
---