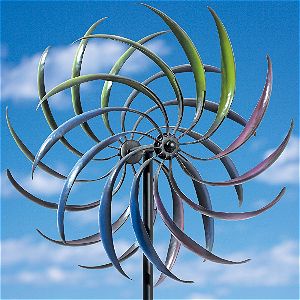 A Kinetic Garden Pinwheel, also called a kinetic wind spinner, is capable of bringing a good deal of joy and interest to a garden space, as well as a bit of sculpture and style. The movement of these pieces draws the eye, and often gives a sense of calm and serenity, watching the hypnotic movements and gyrations. One of our favorites that doesn't break the bank is the Rainbow Wind Spinner by Bits and Pieces [Amazon Link]. Gone are the days when wind sculptures were really expensive, and so a person with a limited budget would think thrice before investing in one. 
This wind sculpture creates stunning visual effects for the way it is designed. It is made out of a weather resistant powder coated steel, which is durable enough to last nearly for a lifetime.
This article takes a close look at the Rainbow Kinetic Wind Spinner, and reviews its features and aesthetics.