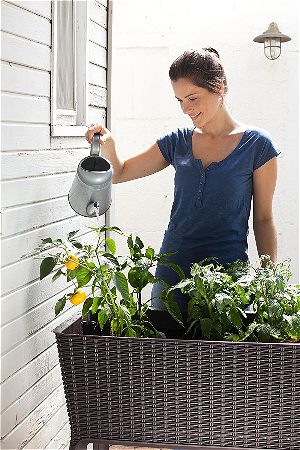 Gardening is a hobby that's enjoyed by millions of people across the world. But most of us struggle working bent over, and on our knees, for hours in the garden. By using elevated garden boxes, you don't have to work bent over, or on your knees, for hours on end, and you can be sure your soil is clean and free of contaminants! After spending a great deal of time examining several options for raised garden beds, we have determined that the best elevated raised garden beds around are the Keter Easy Grow Patio Planter [Amazon Link] – hands down.
It's one of the most elegant and innovative designs to come about and is a great medium for growing your crops in. It looks quite attractive, has a slew of super-useful features, and is an ideal system for growing plants in the garden, or anywhere!
The Keter Easy Grow is easy to work with, either sitting or standing, and will certainly be a solid asset to your garden.
[Read more…] about Elevated Raised Garden Beds: Give Your Back a Break!