Sitting outside on a rocking chair, listening to the sounds of nature, and feeling the sun on your skin is one of life's delightful pleasures. Outdoor rocking chairs are great for relaxing in and for watching the world go by. They're also ideal for taking on camping trips, fishing, to picnics, or other events. After looking at several options on the market today, we have found that best folding outdoor rocker chairs are on offer from
GCI Outdoor [Amazon Link]
. They're comfortable, practical, sturdy, available in two color options.
These chairs are made using top quality materials, and patented technology. They will provide you with hours of pleasurable rocking time. And as a bonus, they are covered under a limited lifetime warranty, which is outstanding.
For a complete review of this chair, please see below.
Runner Up Best Folding Outdoor Rocker Chairs
For those of you searching for a more elegant, but less portable rocking chair, be sure to check out the
Plow & Hearth Claytor [Amazon Link]
Folding Eucalyptus Outdoor Rocker.
It's durable, extremely well made, and looks fabulous. This outdoor rocking chair may be a little more pricey than the others, but is a good investment, made from solid wood.
You're not likely to take these camping, but they are ideal compact chairs that can be taken out and put on the patio in a moment's notice.
Runner Up Best Budget Folding Outdoor Rocking Chair
It may not be quite as special as the GCI or Plow & Hearth models, but this zero gravity folding outdoor rocking chair on offer from
Best Choice Products [Amazon Link]
is still a force to be reckoned with.
There is a wide variety of colors to choose from, the Zero Gravity design of these chairs means they are quite comfortable, and they're positioned at a great price, too!
So, if you are trying to be good, check out this model first.
Folding Patio Rocker Chairs Reviewed
In this section, we will look closely at five of our favorite folding outdoor rocking chairs. We compare and contrast, look at the positives and negatives of each, and give our verdict.
---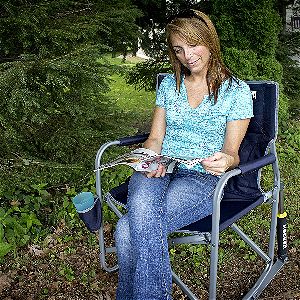 The Freestyle Rocker portable folding rocker chairs is a very well thought out folding rocker that is comfortable, portable, and high quality. A nice blend of a lawn chair and a rocker, this chair can go anywhere, and will last forever.
It's even covered under a (limited) lifetime warranty!
Key Points at a Glance
Available in two color options
Padded arm rests, built in beverage holder
Eazy-Fold technology
Easy to transport
Lifetime warranty
Made of steel
Dimensions
Seat height: 19″
Top of back height (off floor) 34″
Size when open: 24″ x 25″ x 34.8″
Weight: 12.1 pounds
Weight allowance: 250 pounds
The Details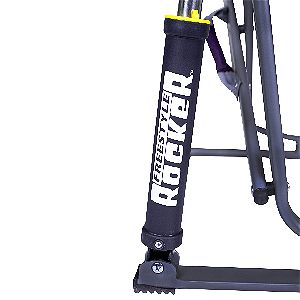 If you're looking for a rocker that's comfortable yet sturdy, and easy enough to pack away, then look no further than this GCI Outdoor rocking chair.
Made from a powder-coated steel, this chair has a reasonable weight limit of 250 pounds, and provides smooth rocking wherever you want.
The chair's Eazy-Fold technology makes packing away seamless. And, it's fitted with a carry handle to make transporting even easier. It is quite portable, and is appropriate for use camping, fishing, on the patio, in the garden, etc.
Available in two striking colors, this rocker has padded armrests for added comfort and even comes equipped with a built-in beverage holder for convenience.
It helps to have a flat surface when using this chair, and try to avoid getting sand into the movement mechanisms, if you're on the beach.
Rock practically anywhere with the GCI Freestyle Folding Rocking Chair!
The Bottom Line
The Freestyle Rocker rocking chair is an excellent choice that will suit just about anyone.
The first reason it's so great is that because of the Eazy-Fold technology it's extremely easy to open and close. You can literally have it out of the car and set up in seconds.
The second really good thing about this rocking chair is the seat height. At over 19 inches, it's much higher than many others out there. This is very helpful for anyone who suffers with mobility issues.
The other great thing about it is that it's a great price. It may not be quite as comfortable or authentic looking as the Claytor Folding Eucalyptus Rocker, but it wins hands down in terms of portability and functionality. And for that reason, we've made it our number one choice.
---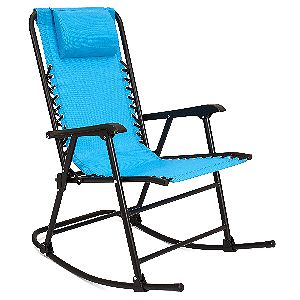 The Best Choice Products Folding Rocking Chair is an interesting combination of a Zero Gravity Lounge Chair and a rocking chair. The canvas is tied around a metal frame with cords for support, and the whole system makes for an extremely comfortable chair.
Key Points at a Glance
Available in 15 different styles/colors
Weather resistant
Lightweight
Attached pillow
Dimensions
Seat height: 25″
Size when open: 25″ x 36.5″ x 42″
Weight: 17 pounds
Weight allowance: 250 pounds
The Details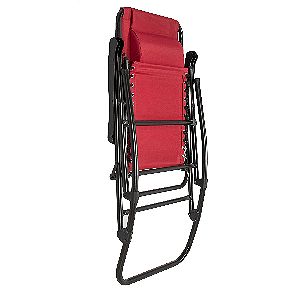 Get ready to spend some well deserved hours relaxing in the sun this summer with this fantastic folding outdoor rocking chair on offer from Best Choice Products.
Made from rust resistant, powder-coated steel, this chair will provide adequate seating for just about anyone. At just 17 pounds, it's very lightweight and easy to move around and the locking system ensures that the chair doesn't open up while you're carrying it.
To help keep the chair looking its best for as long as possible the seat itself is made using a weather resistant mesh fabric. It is quick dry and UV-resistant.
Attached to the seat fabric is a pillow, that can be flipped over to the back of the chair if users don't want it.
The steel frame has been powder-coated to ensure it stays protected from the elements. Some have found that when rained on, rust-colored water spills from holes in the tubes. You may want to bring the chair in during heavy rain, or consider hitting the holes with silicon sealant to prevent water from penetrating.
The Bottom Line
If you're looking for an all-around good outdoor rocking chair, that's well-built, available in a huge range of colors and won't cost a fortune, look no further. This Best Choice Products outdoor rocking chair is fabulous.
There are so many different colors available to choose from with this rocking chair, some of which even have an added canopy sunshade to help keep you cool! It's so easy to get out and put away, and once folded the chair locks into place for ease of transport and safety.
And, it's an excellent price too!
For all of those reasons and more we've made it our budget choice. Just watch out for water in the tubes, and seal with silicone if needed.
---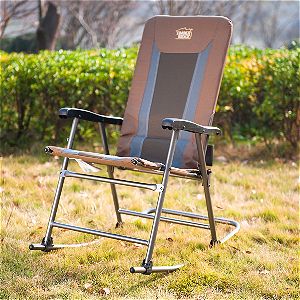 The Timber Ridge Smooth Glide folding rocker chair has a very simple camping-furniture look, which we can't say we love, but it is functional, and quite comfortable.
It's also a good choice for those who need a chair that can support a higher weight limit, as this one can handle 300 lbs.
Key Points at a Glance
Easy to set up
Fully padded seat and backrest
1 year warranty
Tends to be a bit loud when in use
Dimensions
Seat height: 21″
Size when open: 40.5″ x 19.5″x 18″
Seat back height: 29″
Weight: 16.53 pounds
Weight allowance: 300 pounds
The Details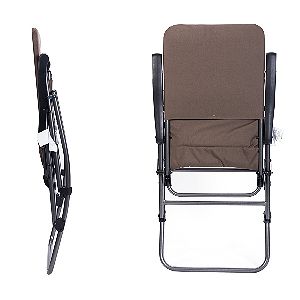 If comfort is your main priority when it comes to an outdoor rocking chair, this may be the solution for you. They don't come much more comfy than this. With a fully padded seat and backrest, once you sit down on the Timber Ridge Smooth Glide Rocking Chair, you won't want to get up again.
The padding at the back and bottom is made of polyurethane foam, and definitely amps up the comfort.
Its steel frame and tough polyester material makes the weight capacity of this chair 300 pounds, which is slightly higher than most others on the market.
When you get this chair you can literally unpack it and sit in it. There's no assembly required.
To clean this Timber Ridge outdoor rocking chair simply wipe with a dry rag. Avoid using water or strong detergents to clean it as this may cause the seat to fade or the metal to rust.
The Bottom Line
Taking everything into consideration, this Timber Ridge model is not a bad choice when it comes to outdoor rocking chairs. The seat height is nice and high, and it has a pretty good rocker angle. It's reasonably comfortable sit in and it's lightweight enough to carry around quite easily.
It's definitely not much to look at, which is its primary downfall. Perhaps a few more interesting colors would help.
Overall, it is a decent choice for a folding outdoor rocker, and the fact that it can support up to 300 lbs is certainly a plus!
---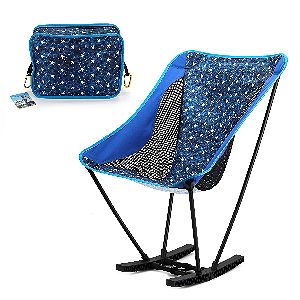 The Yahill Moon Leisure Camping Rocker is an unusual setup, a super-compact lounge chair that rocks back and forth, but is in an entirely different shape than most rocking chairs.
It's safe if you know how to use it, but some inexperienced users may use it improperly and fall, so be sure to show your friends how to properly sit on it.
Key Points at a Glance
Compact, funky design
Suitable for indoor or outdoor use
Super lightweight
Dimensions
Seat height: 16″
Size when open: 20.86″ x 28.74″ x 31.1″
Weight: 3.57 pounds
Weight allowance: 330 pounds
The Details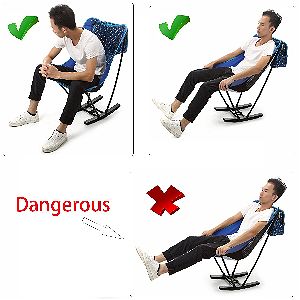 For something that weighs so very little, this folding rocking chair from can certainly take the strain. With a frame made from heavy duty aluminium and a seat made from 600D Oxford cloth, this Yahill rocker is an ideal solution for anyone regularly on the go.
It has a weight capacity bigger than most other portable rockers, coming in at 330 lbs (though we are fairly uncomfortable with this weight guideline), be gentle with the chair if you're pushing that weight limit.
Additionally, it folds down small enough to fit into a neat nylon carry bag.
Assembly is super easy and can be done in a few minutes.
The Bottom Line
The price is good and the fact that it compacts into such as small package is a huge bonus for those that plan on travelling around with it or have a lack of space.
Where the Yahill Portable Ultralight Camping Rocker falls short, especially in comparison to the GCI Freestyle Folding Rocking Chair above, is the quality and level of comfort it provides.While a child or teen would probably find this chair quite comfortable, it's not really designed for any large adults.
Although the weight allowance does state 330 pounds, we would be very wary of that seeing as how small the actual product is.
---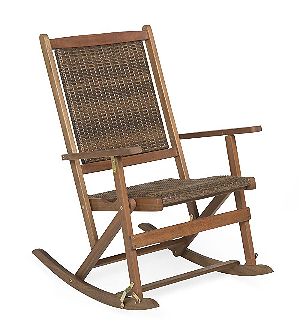 The Plow & Hearth Claytor folding outdoor rocker is much closer to a traditional patio chair than a camping chair. This chair looks much more elegant than all the other chairs on our list, though it is much less portable than the other chairs.
It is much more in the category of patio chair that can be folded up for storage than it is in the camping/lawn/yard/beach chair category.
Key Points at a Glance
Made from sustainable eucalyptus
Stylish, modern design
Some assembly required
Dimensions
Size when open: 41.1″ x 29.2″ x 7.9″
Weight: 28.6 pounds
Weight allowance: 225 pounds
The Details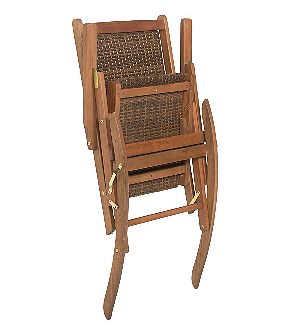 For a real authentic outdoor rocker that's made from the highest quality wood and built with loving care, check out this folding outdoor rocker on offer from Plow & Hearth. Made from sustainable eucalyptus and wicker resin, this chair is built to last.
Made with convenience in mind the Plow & Hearth Claytor Outdoor Rocker folds up for easy storage.
While it has been stained to provide extra protection against the elements, it's always best to store these rockers inside wherever possible to prolong their life.
Please note that some minor assembly is required with this chair.
The Bottom Line
In terms of looks, you can't beat this outdoor rocking chair. It just oozes quality and will look great just about anywhere.
Assembly is fairly simple and packing away is even easier. It's also very comfortable to sit in and feels super sturdy when rocking.
The only things to be aware of with this rocker is that it's around twice the weight of the GCI Freestyle Folding Rocking Chair, which can make transporting a little awkward. And, it's a little steep in comparison to a lot of others out there.
Other than that, it's a high quality rocker that's suitable for anyone with the spare spends.
---
Conclusion
Hopefully you now have a much clearer idea as to what kind of folding outdoor rocking chair you're looking for. For an all-around good rocker; one that's good on price, quality, and comfort, we highly recommend the
GCI Freestyle Folding Rocking Chair
, as it ticks all of those boxes and more.
However, all of the chairs on our list today have advantages, and will be appropriate for certain situations and users. Just be sure to watch the weight of each chair, and the weight limit as well.
---