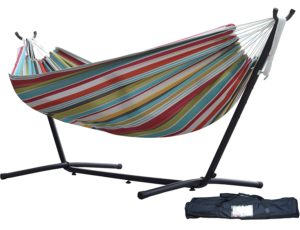 The Vivere Double Hammock with Space Saving Steel Stand is the epitome of a perfect summer day. This hammock stand combo is an outstanding product, and it was our top choice among hammocks with stands. Set up the Vivere Hammock with Stand in your yard or take it on the go: this lightweight hammock is both durable and customizable.
Choose from one of three fabrics: cotton, polyester, or Sunbrella, each with their own benefits. Find the perfect spot to put this hammock and stand, because you won't need two trees to get it set up! Simply use the 9′-stand (included) to place it wherever you desire. Use its hooks to loosen or tighten the hammock, and easily take it down in case of inclement weather.
When it comes to hammocks, the Vivere Double Hammock with Stand is top notch.
We'll take a look below into some of the finer details.
[Read more…] about Vivere Double Hammock with Space Saving Steel Stand Review