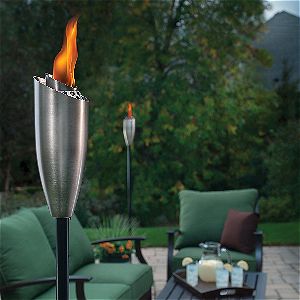 Replacing Tiki Torch Wicks is not a difficult task, but it is one that is required from time to time. If you accidentally forget to cap your wicks after a night on the patio, and it rains, your wicks may get water logged, and ruined. Or perhaps you are curious to try a different formulation for Tiki Torch Fuel (we love Eucalyptus!). If so, you should swap out your wicks when you change your fuel source. Or perhaps your wicks just got old and frayed over time and use.
This article focuses on how to change your Tiki Torch Wicks, and also looks at several replacement wicks available online.
Tiki Torches come in a variety of types, from the traditional kitschy bamboo styles everyone is familiar with to the new, modern Metal Tiki Torches like the one shown here.  These torches bring ambiance to the garden or patio space, supply much needed light, and often help keep the bugs away! They can be extremely helpful, and it's wise to give them occasional attention to ensure that they are burning properly for the rest of the season.
[Read more…] about Tiki Torch Wicks: How to Replace, and Reviews