Best Greenhouse Heater
Heating your greenhouse can significantly extend the life of your growing season, allowing you to grow later in the season, and allowing you to sprout earlier on. Plus it's pretty great to have plants coming to life inside, while the world outside is barren and cold! After looking at several heaters that would be appropriate for greenhouse use on the market, we have determined that the Dr Heater DR218 line of heaters is the Best Greenhouse Heater for most applications.
With two models to choose from, one designed for 110v plugs (typical wall plugs) and the other designed for 220v plugs (dryer and stove plugs), this line of greenhouse heaters can put out some decent heat for a variety of applications. Also, its housing is designed for use in damp areas, which is a plus.
For a complete review of this unit, see our Product Reviews section below.
Last update on 2021-06-16 / Affiliate links / Images from Amazon Product Advertising API
Runner Up: Best Greenhouse Heater (Propane)
For those who don't have wiring in their greenhouse, or don't have enough additional amperage to handle an electric space heater, the Mr Heater Propane heater is a good choice. This 9,000 BTU unit certainly doesn't break the bank, but you do have to mess around with fuel. You'll need an adapter and a standard gas grill propane tank to make this a viable greenhouse heater, and you'll probably want a fan to go with it.
This unit is not wet-rated, so if your greenhouse is very damp, you may want to consider another option or keep this unit off the floor.
For more information on this heater, check out our Product Reviews below.
Last update on 2021-06-16 / Affiliate links / Images from Amazon Product Advertising API
Runner Up Best Budget Greenhouse Heater
When the dollars are the primary factor, users should certainly look toward the Patton PUH-680 heater. This 110v, 1,500-watt heater works surprisingly well, is quite inexpensive, and is well built.
It is not wet-rated, so if your greenhouse is super damp, you may want to choose another option. Also, keep it off the ground as well. It is inexpensive enough that, should you need to, you could buy multiples of this unit for the same price as some of the other units on our list.
Last update on 2021-06-16 / Affiliate links / Images from Amazon Product Advertising API
For a complete review, please see below.
Greenhouse Heater Reviews
In this section, we will look at several different candidates for the best greenhouse heaters, compare the advantages and disadvantages of each, and pick our top choice.
---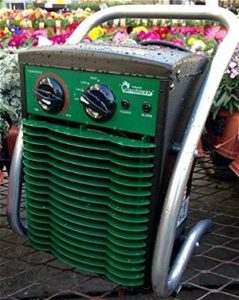 The Dr. Heater DR-218 line of greenhouse heaters is ideal for many users, though it is one of the most expensive units on our list. This unit is electric powered and comes in two options, one that is 110v/1500 watt (i.e. it plugs into a standard 3 prong outlet) and another that is 220v/3000 watt (i.e. it plugs into an electric dryer outlet).
The prices on these two units are surprisingly similar, though the 220v one offers twice the power of the 110v unit. If you have a 220v connection in your greenhouse, then it is certainly wise to pick up the 220v version. If not, the 110v unit will likely work for you as well.
Key Points
Available in two types, a 110v/1500 watt version and a 220v/3000 watt version
110v version has only a single Power option. 220v version has Low and High setting shown here
IPX4 structure specifically made for damp environments such as what one might find in a greenhouse
Temperature Sensor with Adjustable Thermostat
Assembled in the USA
110v Heater Draws around 12.5amps
1 Year Warranty
Dimensions
10″ x 10″ x 15″
13 lbs
Power Cord is 3-4′ in length, so you may need an extension cord depending on where you plan to place it
The Details
The Dr. Heater Greenhouse Heater is made from a water-resistant IPX4 housing, which is recommended for use in damp areas like a greenhouse.
However, if you are careful with water in the greenhouse, and your greenhouse is not super damp, you may not need a greenhouse-specific heater.
In general, the 3,000-watt version will heat a 300 sf greenhouse area enough to keep it from freezing, and the 1500 watt version will heat slightly an area around 1500 sf.
As we mention in our Buyer's Guide, this is a very rough estimate and is impacted by many other variables.
Users could consider putting this unit on a timer, and only allowing it to run in the evening when the sun is down, and temperatures are at their lowest, but most users will find a timer to be unnecessary.
Since the DR218 heaters have a built in thermostat, they will shut off when the area reaches proper temperature anyway. Note: the thermostat does not give exact numbers, so you may need to use a separate thermometer to dial in the right temperature you're looking for.
The 22ov version of the DR218 has two power settings, High and Low, while the 110v version only has one power setting.
The Bottom Line
Some users have had trouble with the wiring on these units, namely the wiring to the thermostat. Over time some users have found the wiring to fail, though from what we can gather the company has addressed these problems with a change in design.
That said, we encourage users to put this heater to the test as soon as they receive it, to ensure it is working properly.
The company does offer a 1-year warranty, but they seem to want customers to pay for shipping for repairs, which is a negative. These units are very good when they work well, but can cause headaches if they fail!
Last update on 2021-06-16 / Affiliate links / Images from Amazon Product Advertising API
---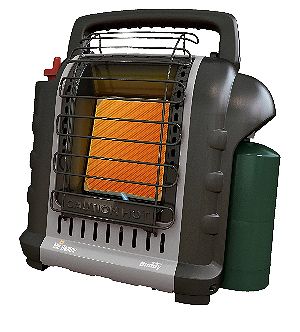 The Mr. Heater F232000 4,000-9,000 BTU heater is a propane powered heater, ideal for those who do not have electric wiring in the greenhouse, or have inadequate amperage and don't want to deal with bringing in an electrician to rewire.
However, you will likely need an adapter to connect this unit up to a larger propane tank, unless you like changing propane tanks!
Key Points
Propane Powered Heater
Capable of putting out between 4,000-900BTU of heat
Tip Over Auto Shut-Off Feature Included
One-button ignition system
Connects to 1lb Propane Canisters, optional connections available to larger canisters
Includes fold-down handle
1 Year Warranty
Dimensions
14.4″ x 14.3″ x 9″
10 lbs
The Details
In order to viably use this propane heater inside a greenhouse, you would need to hook it up to a larger propane tank. You'll need a Mr. Heater extension hose, and a propane tank (typically available at your local home store, hardware store, or grocery store). With a 25 lb tank of propane, you'll be able to keep the heater running for days or weeks, depending on how much heat you use.
As we mention in the Buyer's Guide below, it is difficult to identify exactly how much heat is needed for a space, but these heaters are generally sufficient to heat a greenhouse of up to 200 sf.
These heaters heat by radiant heat, and there is no fan to disperse the heat through the room. We suggest coupling this unit with a fan to help keep the heat circulating throughout the greenhouse in an even manner.
The Mr. Heater Propane Heater does not have a thermostat, only a control to determine how much heat is output. You'll need to manually turn these on and off, which may be a deal breaker for those who don't want to have to go into the greenhouse twice a day to turn on and shut off.
The Bottom Line
While not a perfect solution for greenhouses, the Mr. Heater Propane Heater has a lot going for it. With no wiring required and an effective heating mechanism, these are a good choice for those without easy access to power.
We suggest combining these with a larger propane tank and a fan to help circulate heat through your greenhouse for maximum effectiveness.
Last update on 2021-06-16 / Affiliate links / Images from Amazon Product Advertising API
---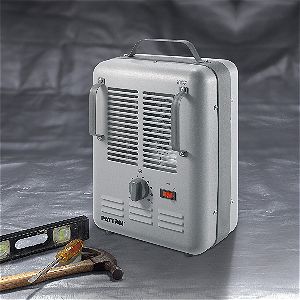 The Patton PUH680-N-U Utility Heater is a very nice choice for a small space heater, and if your greenhouse is not super damp, is a great choice for small to medium sized greenhouses. You could also consider suspending the unit to ensure it does not get wet accidentally.
This unit is not wet-rated, but features a rugged steel housing and durable design, at a great price point. It is a 110v unit, with a maximum output of 1,500 watts.
The Patton PUH-680 should be capable of heating a greenhouse up to around 150 sf.
Key Points
110v electric coil heater with fan
Two power settings (1,000watts and 1,500 watts)
On-unit thermostat for easy adjustments
Anti-tip auto shut off safety feature
Carrying handle for easy movement
Dimensions
10.3″ x 14.7″ x 7.7″
Weight: 5.5 lbs
The Details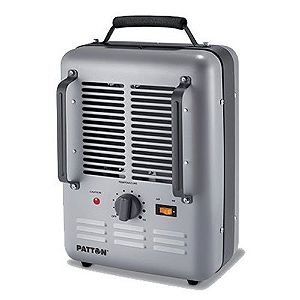 These units are fairly small and lightweight but work quite well at keeping an area warm. With a coil heater and fan design, heat is dispersed throughout the room nicely. Note: this unit shouldn't be used with an extension cord, so please be aware of this issue.
The Patton PUH680-N-U milkhouse heater is a very utilitarian looking heater, but it has a very solid, functional simplicity. The knob controls the thermostat and the power, and the button controls the heat output, whether high or low. The fan runs all the time when the coils are on and the unit is heating.
Like most of the units on this list, this heater has an anti-tip safety mechanism, and a carrying handle to allow for easy movement.
The Bottom Line
The Patton PUH-680-N-U is a really nice choice for a greenhouse heater for those who don't want to break the bank and is our budget pick for best greenhouse heater.
These units are quite cheap for the quality of construction, and while they are not wet rated, as long as users are sensible and keep them away from water, they should work fine in the greenhouse.
For the price, users could buy multiples compared to many of the other heaters on our list!
Last update on 2021-06-16 / Affiliate links / Images from Amazon Product Advertising API
---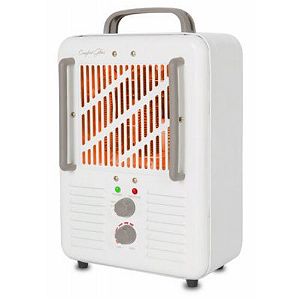 The Comfort Glow EUH341 utility heater is a simple, inexpensive electric heater capable of pushing out 1,500 watts of heat through its 110v plug.
The EUH341 is a nice, simple heater with a fan, multiple power settings, a thermostat, and tip-over shut off safety features. Though these are not wet-rated, they will work well in a greenhouse, assuming you're careful when watering near the heater. Users could also suspend the heater in the air to ensure that it does not get wet.
Also, you should plan to check on a regular basis to ensure these are working properly, or use a remote thermometer.
Key Points
110v 1500 watt electric heater
Metal cabinet construction, though not wet-rated
Two power settings
Thermostat
Has tip-over sensor for safety
Covered by a 1-year warranty
Dimensions
The Details
Some users have confusion over the functionality of this heater, as it does not in fact glow at all, despite the Comfort Glow name! The coils are designed to heat up, and the fan is designed to disperse the heat into the room.
The interaction of these two components results in coils that do not in fact glow. This confusion is exacerbated by the fact that the marketing materials show the heater with a glow around the coils.
Should you choose to purchase this heater, it will not be glowing when you use it. It does, however, output a good deal of heat. It should be capable of heating a roughly 150sf greenhouse, though as we stated above, the variables are significant here.
While the Comfort Glow does a surprisingly good job of heating a space, the knobs are unfortunately difficult to use. Those with arthritis, or difficulty with fine motor movements, may find the Comfort Glow challenging and frustrating to use.
Of course, once the heater is set up in the greenhouse, users don't typically have to mess with it too much, other than to refine the temperature controls from time to time. Still, some users will find the knobs to be a deal breaker.
The Bottom Line
Price is a big factor in this greenhouse heater and makes the Comfort Glow a compelling choice for heating. The unit works well and is covered under a warranty. As long as you're not looking for a Comforting Glow, but rather a simple greenhouse heater that works pretty well, without much fuss, you could do worse than this heater.
You could even purchase multiples of these for less than some of the other heaters on our list!
Last update on 2021-06-16 / Affiliate links / Images from Amazon Product Advertising API
---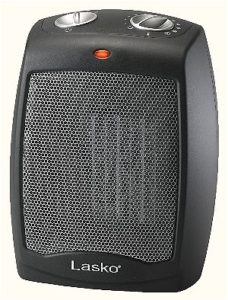 Lasko is one of the biggest names in portable home heating and fans, with many units sold all over the world in big box stores. The brand can be trusted, but they are not specifically targeted to greenhouse use.
That said, these will work fine in a greenhouse, especially if users are careful to avoid getting them wet unnecessarily (see our comments in the Buyer's Guide below). These units are 110v, 1500 watt portable space heaters, and plug into a standard 3 prong outlet. They will heat about a 100 sf greenhouse, depending on your needs.
Key Points
110v, 1500 watt max power setting
Has 3 output options: fan only, low power (900 watts) and high power (1500 watt)
Heats with a ceramic heating element
Thermostat included in unit
Handle provided for easy carrying
Overheat protection included in this unit
3 Year warranty
Dimensions
The Details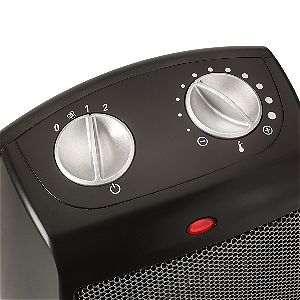 The Lasko CD09250 greenhouse space heater is a decent choice, with pretty solid heat output. However, when the weather gets really cold, it may struggle to keep up. Of course, this depends on your greenhouse insulation qualities, and on the temperature differential between inside and out.
The settings on the LAso CD09250 are pretty simple, with two knobs. The first knob controls the power output (off, fan only, low, or high) and the second is a thermometer which will automatically shut off the unit when the desired temperature is achieved.
These units are not designed for wet areas, so should you decide to use them in a greenhouse, its best to position them off of the floor, and away from any excess water. If your greenhouse is particularly damp, you may not want to use these units in general.
We do suggest that users of these units regularly check their greenhouse to ensure that it is, in fact, keeping the required temperature, especially if it is particularly cold out. You may also find these using significant energy if they are running all the time, attempting to keep up with a particularly cold spell.
These heaters are quite small, and for their price, put out a decent amount of heat. If the amperage on your circuit allows it, you could consider getting multiple units and heating that way, given the cost of these.
Also, Lasko covers these space heaters under a 3-year warranty, which is certainly a help, should something fail.
The Bottom Line
The Lasko CD09250 is a good space heater, and depending on your local environment, may work well in your greenhouse. It won't be able to keep up with excessively cold spells, and you should certainly check on it and supplement as needed.
They are not our top choice, even at this price point, though these units are cheap enough that it is fairly easy for consumers to buy multiples if needed.
Last update on 2021-06-16 / Affiliate links / Images from Amazon Product Advertising API
Greenhouse Heater Buyer's Guide
In this section, we will touch on some of the major issues to consider when purchasing a greenhouse heater.
Wet Rated Housing
Some heaters are specifically rated for wet environments, like the Dr. Heater unit on our list. If your greenhouse is particularly wet or has an excessive amount of dampness, you almost certainly want to purchase a wet-rated greenhouse heating system.
However, if you can keep the water spray under control, and your greenhouse isn't super damp, you'll be able to use a standard space heater in the greenhouse.
It may be wise to keep the space heater off of the ground, and away from any significant source of water.
Determining the Power Requirements of a Greenhouse Heater
It can be difficult to identify exactly how large of a heater is needed to sufficiently heat a specifically sized greenhouse, as there are many variables to deal with. Buyers must consider:
The outside temperature (it is much easier to keep a greenhouse at 45′ when the temperature is 25′ than when it is at -10′)
The goal temperature (it's much easier to maintain 45′ than 75′!)
The greenhouse structure and materials
The build quality and air sealing of the greenhouse
The overall size of the greenhouse
The number of entrances (which tend to be sources of air leakage)
Because of the wide variability in these attributes, it is difficult to say "a 10′ x 12′ greenhouse will need a 1,500-watt heater". We will try to give rough estimates, but keep in mind the variables above can significantly alter the estimates.
There are calculators available to give a rough idea of heating requirements for a given greenhouse, though these also have assumptions built into them, and are only partially accurate as well, so beware.
Finding The Proper Temperature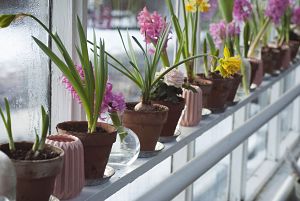 Most greenhouse heaters don't include a thermostat with a numeric gauge on them. Rather, they have a dial for temperature, with "high" on one end, and "low" on the other — more like a shower valve control than an in-home thermostat.
Using the Typical Built-In Thermostat
In order to get your greenhouse heater properly calibrated, you will need a separate thermometer to identify your target temperature. If you are looking to keep the greenhouse at a minimum of 45′, try to find a time in the greenhouse where the temperature just touches the 45′ mark according to your thermometer.
From there, you can turn the temperature control on your heater to the threshold where it turns on, and then dial it back just until it shuts off. The heater threshold temperature will now be at the temperature level you desire.
At that point, you can be fairly confident that when the air temperature drops down to 45′, the heater will go on, and when it reaches above the 45′ level, it will shut off to conserve energy.
Using a Separate Thermostat Unit
Users could also consider wiring in a separate digital thermostat, such as this bayite Temperature Controller, to control their heater, assuming it is an electric heater (and depending on the type of plug, i.e. 110v vs. 220v, you'll need a different thermostat), users could run their heater to a digital thermostat located away from the unit, and then run from that thermostat to the plug.
The digital thermostat will automatically maintain the proper temperature, which is displayed in degrees, like a household thermostat.
This system has the advantage of allowing the thermostat to be placed in an ideal location, away from the heating unit(s), and also acts essentially as an extension cord as well.
Last update on 2021-06-16 / Affiliate links / Images from Amazon Product Advertising API
---