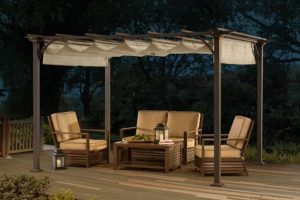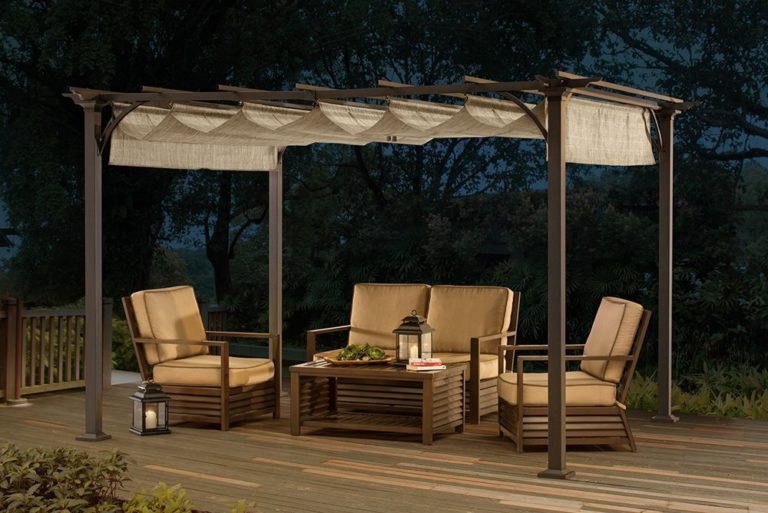 Pergolas are wonderful garden and patio structures with a wide variety of designs and styles, that can take a backyard space in several different directions. Wooden pergolas tend to move the patio toward a wine-country feel, or perhaps a Mediterranean vibe. These pergolas are often covered with vines like Wisteria or grapes. Metal pergolas are often more modern in nature and usually are combined with canvas to provide shade. This article focuses on how to cover a pergola, how to install shade cover fabric on a pergola to provide protection from the hot sun.
Not all metal pergola kits come with shades, and most wooden pergolas do not have shades included. This guide covers how to install pergola shade cloth on wooden pergolas, and gives a few ideas of pergola fabrics to check out.
Pergola Roof Options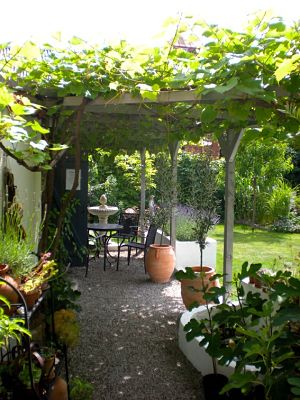 When considering a roof for your pergola, there are essentially two ways to go: cloth or vines. Vines can look stunning, but they obviously take years to grow, and may not provide complete shade if they don't grow the way you want them to, while cloth can be installed in a day, and will provide shade and cover for years to come.
If you want to use vines, we suggest you aim for grape vines or Wisteria. We plan to do a guide on how to grow vines on your pergola, but for now, Pinterest will show you the way!
This article is primarily about pergola shade cloths, and the instructions on how to install the shade cloth are below.
How to Cover a Pergola
Covering a pergola with shade cloth is not particularly difficult, though you will need some tools and some preparation. The process is outlined below.
Tools and Items You Will Need to Install Pergola Shade Cloth
Ladders (at least two)
4′ + Level or Straight Edge
Shade cloth (see below for ideas)
Hammer and Screwdriver
Tape Measure
Safety Goggles
Sharp Cutting Tool (box cutter, xacto knife, sharp scissors, etc.)
Attachment anchors (your choice)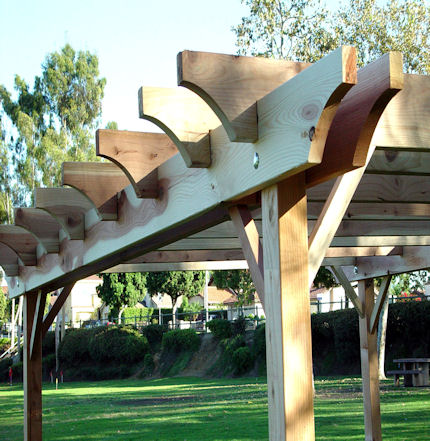 In order to install pergola canopy fabric, follow these steps:
1. Get the Dimensions of Your Pergola
Typically a pergola will be 10′ x 10′, or perhaps 8′ x 12′. Be sure to measure the pergola canopy dimension and not the legs of the pergola.
2. Pick your Pergola Shade Fabric
Choose the fabric that you want to cover your pergola. You want to buy a fabric that is larger on all dimensions than your pergola canopy by 20% or so, as you will be cutting away excess fabric. See below for a few suggestions on shade cloth fabric.
3. Spread Out the Pergola Fabric on the Pergola
Using the ladders, bring the pergola fabric up onto the top of the pergola, and spread it out so that it covers the pergola completely, with a foot or so of fabric hanging over the edge of the pergola on each end.
At this point, just keep the fabric loose, though if there is a weave to the fabric, try to keep the weave parallel with the pergola structure in general.
4. Fasten the Pergola Shade Cover to the Frame on one of the Long Sides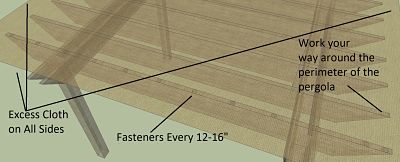 Starting on one of the long sides, begin attaching the pergola shade cover to the top of the pergola, using broad head galvanized nails, wood screws with large washers, construction staples (9/16″ + ideally), etc. or any other exterior fastener you like.
Attach every 12″-16″ or so, and try to keep the weave of the cloth parallel to the pergola frame for a clean look.
5. Continue Fastening, Keeping Fabric Reasonably Taught
As you make your way down the pergola, keep the fabric tight by pulling it gently. You don't want there to be pressure on the fasteners due to the fabric being too tight, nor do you want the fabric to be too loose so that bumps and wrinkles will show.
6. Work Your Way Around the Perimeter of the Pergola
When you're done the first long course, turn and continue along the perimeter of the pergola, keeping everything pulled flat but not excessively tight. Keep your anchors inside the edge of the pergola a little bit, as you will need room to cut the fabric at the edge.
7. If You Need a Seam, Conceal it on Top of a Rafter
If your fabric is too small for your pergola, and you need to start a second piece, make that transition directly on top of a rafter as opposed to in the middle of one of the runs. Attach both sections of fabric to the same rafter, overlapping where it cannot be seen, and continue with the second panel.
8. When the Perimeter is Complete, Attach the Interior Areas
When the entire perimeter is done and the cloth is tight, work on the interior sections, using the same 12″-16″ spacing to fasten the pergola cover. Be sure to keep everything as smooth as possible.
9. Trim Edges Using Box Cutter or other Cutting Implement
When you've got the entire pergola cover attached to the pergola, work your way around the pergola with a box cutter, cutting the cloth just inside the edge of the rafters.
You may want to use a level or straight edge to accomplish this, especially on the sides that do not have a rafter directly below. Be careful to keep your cuts as clean and straight as possible.
---
Pergola Shade Cloth Reviews
Shatex makes some excellent Sun Shade Fabric for Pergolas. This material is made of HDPE, is 90% UV Resistant, and is mold and mildew resistant.
It is easily cut, and the edges are designed to resist fraying and splitting.
These units are available in 8′ x 16′ pieces, though larger sizes are available if needed. As we mentioned above, if you need a seam for a larger installation, hide it at a rafter.
These are a great shade cloth for pergola choice, and should you want to add side curtain panels as well, these even come with clips to enable them to be used as curtains as well.
Sale
Last update on 2021-05-14 / Affiliate links / Images from Amazon Product Advertising API
---
The Coolaroo Pergola Shade Fabric is quite high quality and is available in four different color options, as well as two different UV protection ratings. For those places where you want a little UV light to come through, you can purchase the 70% UV fabric; where you want very little UV light to penetrate, you can pick up the 90% fabric.
The Coolaroo fabrics are also mold and mildew resistant and are covered under a 10-year warranty against UV degradation.
These fabrics can be cut, and do not need seamed edges, but you should try to be very careful as you do your cutting. Jagged edges will definitely show on these fabrics, so try to keep your cut clean and straight. Use a level or straight edge.
One downside to the Coolaroo fabric is that the panels are only 6′ wide. Many buyers will need to get multiple pieces to cover a whole pergola. As we mentioned above, keep your seam on top of a rafter and it won't be seen by those below.
We love the color selection, and the 10-year warranty on these Coolaroo fabrics is outstanding! They're easy to clean and are a great choice.
Last update on 2021-05-14 / Affiliate links / Images from Amazon Product Advertising API
---
Conclusion: Easy Pergola Shade Covers
Covering a pergola with shade cloth is not a terribly difficult process, and can be done fairly quickly in a few hours. Be sure you are careful with your ladders, and when working on top of the pergola, use a good deal of care and thought.
Once you have your pergola shade installed, consider placing some pergola lights on there for added atmosphere!
---