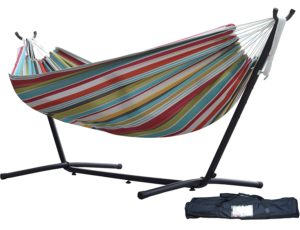 The Vivere Double Hammock with Space Saving Steel Stand is the epitome of a perfect summer day. This hammock stand combo is an outstanding product, and it was our top choice among hammocks with stands. Set up the Vivere Hammock with Stand in your yard or take it on the go: this lightweight hammock is both durable and customizable.
Choose from one of three fabrics: cotton, polyester, or Sunbrella, each with their own benefits. Find the perfect spot to put this hammock and stand, because you won't need two trees to get it set up! Simply use the 9′-stand (included) to place it wherever you desire. Use its hooks to loosen or tighten the hammock, and easily take it down in case of inclement weather.
When it comes to hammocks, the Vivere Double Hammock with Stand is top notch.
We'll take a look below into some of the finer details.
Vivere Double Hammock With Space Saving Steel Stand Review
When buying a hammock online, there are few things to take note of: its basic features, dimensions, how it looks, how well it performs in weather, how difficult assembly is, and how well it performs its job. For example, does it actually hold two people?
We'll be taking a look below at each of these and more, to really find out if the Vivere Double Hammock is right for you.
---
Basic Features
Brazilian-style cocoon hammock
Max weight: 450 lbs, up to two people
Easy to assemble, disassemble, and move
Choose from one of three fabrics: cotton, polyester, or Sunbrella
Cotton colors: Denim, Desert Moon, Rio Night, Salsa, Oasis, Tropical
Sunbrella colors: Carousel Confetti, Limelight, Sand, Token Surfside
Polyester colors: Techno, Ciao
Includes carrying case
One year Limited Warranty [PDF], covering workmanship and parts
For a quick video showcasing the basics of this hammock stand combo, please see below:

---
Dimensions and Specs
Dimensions: 94″ x 63″ x 130″
Max weight: 450 lbs
Supports up to two people at a time
Stand length: 9 feet
Stand width: 48 inches
---
Aesthetics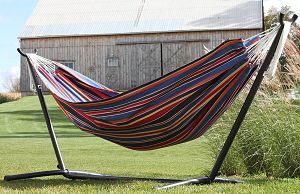 With 12 different color patterns to choose from, the Vivere Double Hammock certainly has plenty of options for those with different tastes. Most are basic solid stripes, with lighter, lively colors. Choosing Cotton gives you the most choices with 6; Sunbrella has 4; and Polyester has 2.
Complimenting the colors is a dark charcoal steel stand (also comes in bronze). It really fits into any environment and should match nicely any of the chosen patterns.
The color selection is pretty modern, and festive, but rarely toppling over into garish territory.
---
Functionality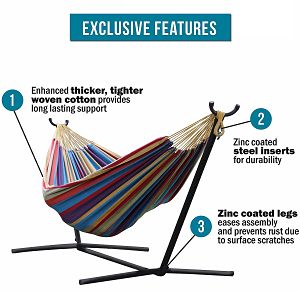 This Brazilian-style hammock is great for your backyard, porch, or even to take camping. If you aren't familiar with stand-based hammocks, you might wonder how the Vivere is comparable to a regular hammock attached to a tree. Simply put: it's a lot less work, for just as much comfort (or more).
Both the stand and the hammock fit in the carrying case allowing you to take it wherever you please. Nearly everything about this hammock is customizable, which is why it's hard to go wrong. Besides the color and looks, you can adjust the height and snugness of the fit, allowing you to adapt whether it's just you, your family, or even a pet that wants to join you.
If comfort is the goal, the Vivere Double Hammock attains that perfectly. One of the biggest things to keep in mind is whether or not you have the space.
The stand should fit most anywhere, but be sure to measure first if you are planning on putting on a small deck or enclosed porch. The design of the stand is perfect to fit in most places.
If it's a nice summer night out, you may even consider just sleeping it in overnight, as it fits that purpose perfectly as well. Just be sure to bring a pillow or purchase the one that Vivere also sells specifically for this hammock. Some even set up these hammocks for sleeping indoors.
---
Material and Build Quality
The major decision to make when buying the Vivere Double Hammock is to choose the material best for you. It comes down to 3 different hammock material options, with increasing levels of cost: cotton, polyester, and Sunbrella.
Sunbrella is generally considered the best outdoor fabric, though it is the most costly. We break down the three material options below, but if you'd like more information, please see our article on outdoor fabrics here.
Cotton
Choosing cotton gives you a fabric which is 100% cotton, easily breathable, and dyed with vegetable dyes. Since cotton is not as resistant to mold and mildew as polyester, you should plan to bring a cotton hammock inside during times of inclement weather.
Since the Vivere Double Hammock is so easy to take apart and adjust (as we'll get to below), this really shouldn't be an issue. Choose cotton if your goal is comfort, and don't mind occasionally unhooking it to bring it inside. The bed itself measures 63″ x 94″ inches.
Polyester
Polyester is for those that like to set up and forget. While you should probably bring your hammock inside during tornado weather or heavy hailstorms, the polyester fabric will definitely hold up against rain and other light elements.
If your goal is to extend the life of your hammock as long as possible, it's still worth bringing inside if possible. However, the polyester fabric of the Vivere Double Hammock is quick to dry, durable, and easily cleanable with a sponge.
Like the cotton choice, it is also 63 x 94 inches.
Sunbrella
Sunbrella is the go to if you don't want to worry about fading. It can handle long periods in the sun, and can deal with rough weather. The Vivere Double Hammocks in Sunbrella are slightly slimmer than the other two materials, coming in at 54 x 95 inches.
While that's not a big difference, it can definitely make it a tighter fit for two average sized adults, so keep the size in mind. Like polyester, it will also resist mold and mildew – as long as you tend to it once in a while, which we'll explain below.
---
Assembly
No tools required! Everything needed to assemble the Vivere Double Hammock ships right with it. It also comes apart quite easily and included is a carrying case for you to take it wherever you please. Typically it takes 5-15 minutes to setup and take down the stand and hammock.
---
Cleaning and Maintenance
For cotton, gently hand wash with cool or cold water. Keep it inside during periods of inclement weather as it is the most prone to mold and mildew. Polyester and Sunbrella can both be cleaned with a solution of warm water, soap, and a sponge. The best spots for these if possible is the shade. Polyester can start to fade somewhere between 300-800 hours in the sun, which could be one summer if it is constantly exposed.
Sunbrella tends to have a higher life cycle here as it could be resistant up to 2000+ hours. Of course, there's nothing wrong with basking in the sun in your new hammock, but just be mindful of leaving it out in the yard during hot sunny days.
---
Accessories
Although the stand it comes with is great, consider looking into other Vivere line products that allow you to place your hammock wherever you please. Vivere's Tree Straps are great for placement between two trees, while their Wheel Kit could help you move your hammock wherever you please throughout the day.
And lastly, their Double Hook Set could help you attach your new hammock to a Gazebo or ceiling: just make sure whatever you attach it to has the load bearing potential.
---
The Bottom Line
There's just really no one doing it better than Vivere when it comes to all-in-one hammocks with stands at this price point. The Vivere Double Hammock with Space Saving Steel Stand is easy to put together, take apart, and bring with you wherever with its included carrying case.
This is pretty important because most hammocks are prone to weather or UV exposure, so taking extra care of your Vivere will extend its life considerably.
Everything is included for assembly, making its ease of use best in class. And most importantly, the stainless steel stand is durable yet only weighs 30 pounds. This hammock with stand package is perfect for maximizing summer relaxation!