We all need a quiet outdoor place to sit and get some fresh air, and there's no better place for it than a patio. Adding plants to your patio can make it feel more natural and comfortable, and can also be a great way to personalize your outdoor space. Whether it's a balcony or garden patio, getting creative with your potted plants can be a fun way of enhancing your outdoor space. It's become something of a social media trend lately to show off the greenery in your garden, so patio plants are bang on trend and a fantastic excuse to get your green thumb on. In this article, we will look at several of the best patio plants to use in your space!
From lush leaves to floral favorites, we will cover the best of container-based inspiration for your patio. Additionally, we will describe how easy or difficult each plant is to maintain, with something for everyone, including the best suggestions for first-timers, and for those who are time-pressed.
Be sure to look at our guide if you're in search of some larger patio tree ideas!
Should you start planting a lot of patio plants, a garden irrigation system will be a lifesaver (literally, for your plants!). It makes the process of watering so much easier, it's definitely worth setting up.
Best Patio Plants
Let's begin! Here are several of our favorite patio planting options, split into two categories. We have one section focused on primarily green, leafy plants, and a second portion looking at primarily flowering plants.
Lush Leaves
The following ideas are for those seeking some greenery for the patio. Reflect your green thumb in these lovely leafy species that are guaranteed to provide a delicate, natural touch to your outdoor spaces.
Olea Europaea (Olive Tree)
Reminiscent of balmy Mediterranean climates, the olive tree is a classy yet low-maintenance addition to the patio. Having dry soil, it means that they can withstand hot weather and don't need to be watered too often. It is recommendable, however, to go for a dwarf variety of olive tree, as some of the larger species can grow up to ten feet tall.
Smaller varieties will stay at six foot or under if pruned every few months. They require at least six hours of direct sunlight per day, so will need to be kept in a corner of the patio that gets the most sunshine during the day.
Kept in the right conditions, these elegant plants can even bear fruit. No olives will taste better than your own, though it may take a few years to get there, so don't cross them off your shopping list just yet!
Not only do olive trees look classy and add a touch of summer to the garden, but they are also a common symbol of peace. For those looking for vegetation that will add some tranquility to their daily life, look no further.
You can find these at your local nursery, or potted Arbequina olive trees on Amazon.
Howea Fosteriana (Kentia Palm)
A palm is always a fantastic way to put a tropical twist on your garden. This particular type of palm tree can grow big and bushy, meaning that it's ideal for a more substantial outdoor space. Its luscious color and bountiful fronds add an exotic feel to any outdoor space, making you feel like you're on a vacation in your own back yard.
The Kentia Palm grows slowly, meaning that it's easy to maintain and can be enjoyed for many years. Being able to tolerate lower temperatures than most palms (up to 10 degrees Fahrenheit), this is a brilliant candidate for gardens in a colder climate. Furthermore, it can also survive conditions with less light, so don't worry if your patio doesn't get much sun during the day.
Well-suited for growing in a container, this is a popular favorite among interior (and exterior) decorators. The Kentia Palm is a hardy plant that can tolerate most challenges that an environment will throw at it: from low humidity and heat to dust and general neglect. So head over to your potting bench and get to work!
You can find Kentia Palm seeds on Amazon, and you can likely find the plant at your local garden center.
Acer Palmatum (Japanese Maple Tree)
The Japanese Maple is a subtly colored shrub that is perfectly tailored to potted growth on a patio. Its delicate, elegant build and slow growth rate make it an ideal candidate for a pot or larger container. The compact plant evokes the tranquility and quiet stasis of a Japanese garden, without the expense of a round-trip flight to Japan!
It's generally wise to choose a smaller strain, as the larger varieties, like with the olive tree, can grow above ten feet tall. They require annual pruning and frequent application of a water-based fertilizer. Japanese Maple also needs protection from the elements in the colder winter months.
While needing significant attention, these delicate trees are too valuable an addition to the patio not to try.
You can find Japanese Maple like this Orange Dream Japanese Maple on Amazon, and they're usually available in Home Improvement and Garden stores.
Capsicum (Ornamental Pepper Plant)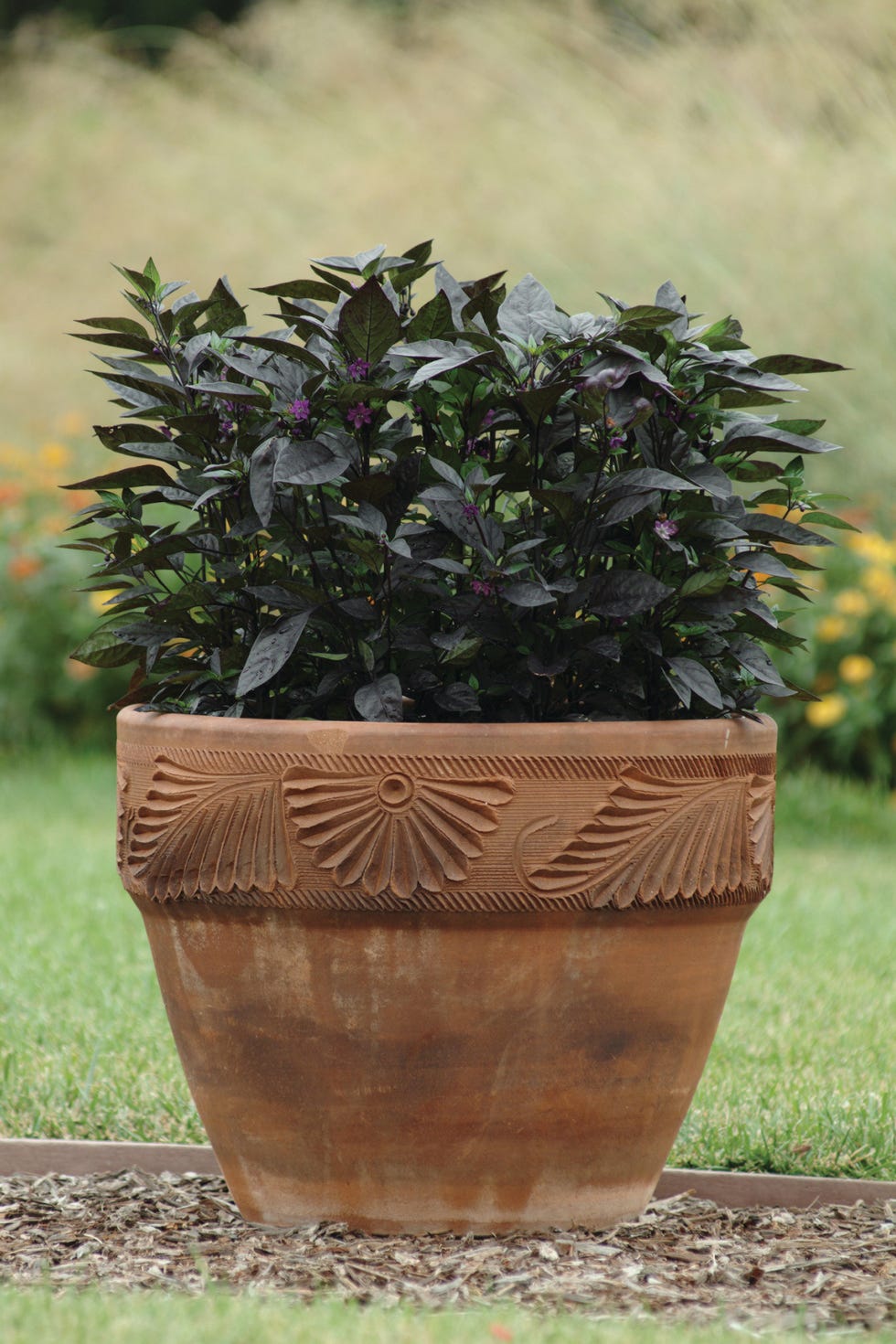 This charming little shrub is a smaller, bushier option for the patio. Their small size makes them an adorable addition to a table top or raised ledge on the patio to make them really stand out. We love this simple terracotta container that accentuates the rich color of the pepper leaves that lasts all season.
While not edible, Ornamental Pepper Plants do produce tiny fruits at certain times of year that usually ripen from black to red. Keep these out of reach of small hands and paws though, as they tend to be very hot.
Not only do these little gems produce hot fruit, but they also like things hot. Pepper plants like to be kept in parts of the backyard that get the most sun and heat, as they're used to very warm climates. As such, they don't like to be exposed to too much water, so ensure that their pots are fully drained when giving them a drink.
To ensure that your Ornamental Pepper Plant is at its best, fertilize them twice a month until they begin to fruit.
Coleus
As exemplified by the bright collection of leaves pictured, Coleus can come in a variety of shapes, sizes, and colors. They are, however, best known for their rich shades of red, with some leaves lined with yellows, whites, and pinks. This is perhaps one of the best options if you're looking for a hybrid between a leafy and floral plant, as its wide range of bright colors provides the same range of shades and brightness as any strain of flower would.
Coleus is a notoriously easy plant to cultivate. They root so easily that they could even be grown from a clipping in a glass of water. They flourish when not exposed to too much sun, but there are some varieties that grow best with good exposure to sunshine so be sure to read the label for each variety.
In the last few years, coleus has had an explosion of new varieties and colors available. The endless strains include mounded, upright and trailing varieties that are fantastic for attracting local wildlife. If you're looking for a pollination station, look no further as coleus is a backyard hub for butterflies, bees and hummingbirds.
Floral Favorites
This side of our recommendations covers all things bright, beautiful and comprised of petals. Whether you're looking for some standalone sunflowers or bunches of begonias, the following easy ideas have something for everyone.
Impatiens Walleriana (Impatiens)
Impatiens are a fabulously floral addition to a patio that needs a splash of color. Easy to grow, they thrive in pots or larger containers.
While some of the other suggestions are good for adding height to your collection of patio plants, impatiens grow outward rather than upward, so it's perfect for filling out a larger space with a sea of white or pink flowers.
This is also perfect those who don't have much time to spare for upkeep but still want to add a floral feature to their seating area. Impatiens don't require much direct sunlight and only ask for enough water to stop them from wilting. Check out a wifi water timer if you want to automate watering somewhat.
If you're looking to trial your green thumb on the patio with something a little more floral, this is the plant for you. You can find them in your local garden center, or check out these Impatiens on Amazon.
Helanthius Annus (Sunflowers)
If you're searching for something fun, bright and easy to grow, try a sunflower. The seeds themselves are large and easy to handle, and are a great introduction to gardening for kids. They can be planted in flower beds or pots, and are be ideal if you're looking for something to line your patio with.
Balancing color with height, they're a cheerful all-rounder for an outdoor space.
There are many different kinds of sunflowers, each of which will grow to different heights and come in various patterns and colors. The 'Shock-o-lat' pictured is a fun and unique variation on the sunflower species, blooming in a mahogany color with lemon-colored tips.
Sunflowers require a lot of sunshine (the clue is in the name) and need a fair amount of attention. This includes helping to shape them with a supportive bamboo stick to prevent breakage, daily watering, and steps to keep away insects.
Too much wind, hail, or snow can be detrimental to the growth of your sunflowers. Sunny, still conditions are a must. Despite being a little more high-maintenance than some of the others on the list, they are, in our opinion, well worth the effort.
You can find open pollinated seeds on Amazon.
Lavendula Angustifolia (Lavender)
Lavender is a classic, low-maintenance potted plant that works very well on a patio. Not only does it add its beautiful colour to your outside space, but it smells great too. If you've been struggling with drain issues, live near a sewage treatment plant, or maybe just like a nice smell in the garden, this will work well as part of your patio ensemble.
It's a pretty patio addition that doesn't require much watering, thriving in drier environments. It can tolerate a range of growing conditions but does best in well-drained soil in a bright, warm environment. A native to arid regions, lavender will die in moist or overly-wet conditions.
To prevent drowning, make sure that you plant your lavender in a pot that will drain easily and allows complete air circulation.
Not only is lavender fantastic outside, but it can also be dried out and made into potpourri, or used in decoration around the house, and it's amazing when infused into honey.
To harvest at its best, cut the branches early in the day before the flowering spikes haven't fully opened. Bundle the cuttings up and allow them to hang upside down in a dry, dark area for one to two weeks.
You can find Lavender seeds on Amazon.
Begonia
These gorgeous little flowers are bound to brighten up the shady corners of any patio space. Reminiscent of a wedding or the full-bodied window of a florist, they ooze vitality and fun. They're ideal for adding touches of color to the garden in small clusters, as these botanical beauties don't tend to grow much larger than the smaller containers that they're best suited to for optimum growth. They're hardy plants that can withstand a range of temperatures and are a warming addition to the backyard.
As pictured, begonias are an ideal choice for hanging baskets. They're extremely susceptible to over watering, so ensuring that they can drain properly is a must. Alternatively, they grow well in a mixed container with other plant species that are better-suited to wetter conditions. Begonias are also pretty easy-going when it comes to sunlight, only requiring part sun exposure throughout the day.
There are many different kinds of begonia, with petals that range in color and shape across the range of different varieties. Their colors can come in a whole spectrum of shades of pink, orange, white and red. Some particularly dainty varieties to try are Dragon Wing or Santa Cruz begonias.
Euphorbia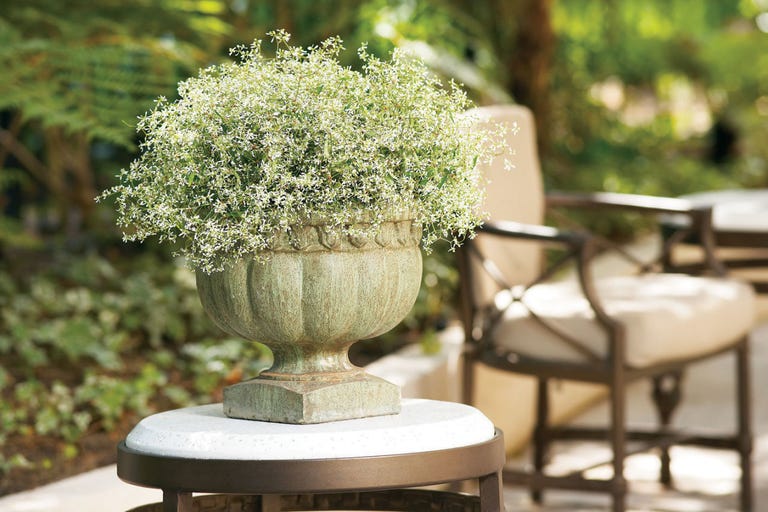 Euphorbia in an enchanting plant, with a soft white sprinkling of flowers on the end of its delicate stems that can only be compared to fairy dust. Pictured is the heavenly 'Diamond Frost' variety of Euphorbia. While the plant comes in other varieties, this is by far our favorite.
Here, it has been given the perfect container: a sculpted stone reminiscent of a greek or roman relic that only adds to the elegance of the flowers. Not as showy or bright as some of the other options, Euphorbia is a candidate for gardeners looking to add a fresh-looking mist of flowers to the backyard.
While it looks frilly and delicate, it can withstand a range of conditions that include high temperatures and drought. Euphorbia is also able to tolerate cold, but no frost.
For best results, this plant should be grown in full sun or partial shade, planted in rich soil that is moist yet well-drained. Its flowering period is extremely long, lasting the duration between late spring until late fall.
Whether planted alone in a smart container like this one, or added to a mixed container for a thin froth of white petals, it's a delightful addition to any patio.
---