Easy to install mesh screen doors that use magnets or velcro as closures provide a simple solution to busy households that enjoy using their patio or backyard as extended living space. These doors are easy to install with magic tape or sturdy push pins that inflict little or no damage to drywall finish.
Even the best magnetic screen doors are more of a temporary solution than permanent solution, but they do help keep flying insects outside while allowing people and pets easy in and out access to spaces. To improve durability most of the screens are edged in some manner because the screen doors can take a beating especially with kids coming and going. Hands-free solutions for times of high traffic include simple tie-back solutions that allow the screen to behave like a drape.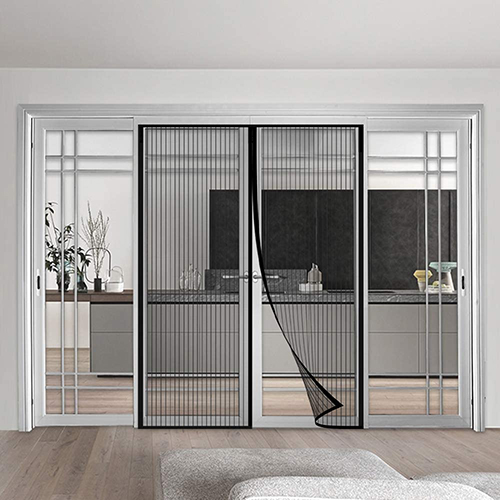 The screen doors can be made from a variety of materials. Almost all of them are frameless and can be rolled up if need be for easy storage. The least expensive solutions are simple polyester mesh while the more expensive versions offer reinforced fiberglass or even metal mesh. Durability will, of course, vary with materials but most will hold up for at least one season if not two – barring local problems such as puppy teeth or climbing kitten claws or young children.
In addition to being used to deny insects entrance into your home, these metal mesh doors can also be installed as flaps for gazebos or outdoor roofed picnic areas. You might still have ants at your picnic but could possibly reduce the number of visiting mosquitos! All of these choices are versatile but homeowners will need to be a little handy to get the perfect fit.
These hanging screens with their magnetic closures can also be added to bed canopies or hammocks as a means of deterring nighttime invasions of flying insects. The finer meshed varieties are also useful as backup for less dense window screens, as they are sufficiently easy to manipulate. They protect you from bugs but provide no deterrent to easy entrance and exit to the sleeping area.
Best Magnetic Screen Doors
Our top pick is this versatile magnetic screen door from Yotache. It easily adjusts to multiple sizes and is available in black and white colors. The magnets are sewn tightly into the liner and fasten securely. Tough fiberglass material makes this magnetic screen door unlikely to rip.
Last update on 2020-10-15 / Affiliate links / Images from Amazon Product Advertising API
[Read more…]

about Best Magnetic Screen Doors