Looking for the perfect excuse to get the kids away from screens and out in the fresh air? Family gardening could be the best way to do just that. Whether you have a balcony or just a patio, there are multiple varieties of potted plants that are easy enough to plant and care for. Not only will gardening help get the kids out the house, but it will also introduce them to a potential lifelong hobby and get them more interested in the natural world. Gardening with Kids is a great after-school or weekend activity, and brings myriad benefits to the whole family, not the least beautiful flowers and tasty fruits and vegetables!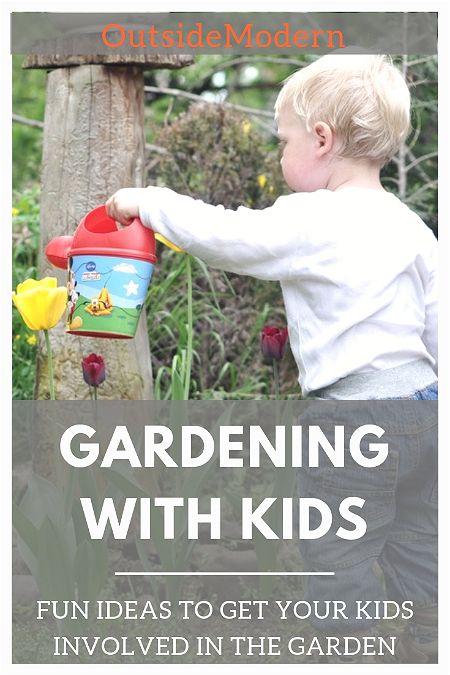 Gardening with Kids
This article will suggest some of the best types of plants to grow when gardening with kids, including the brightest and most eye-catching as well as some easy-to-grow fruit and vegetables. We also include some ideas for a sensory garden to help your child really engage with the plants in the garden. From the smelly and soft to the tall and tasty, find it all below.
All things Bright and Beautiful
In this section, we will be looking at the top three best eye-catching plants to grow with kids in the backyard. Not only are they all gorgeous to look at, but they are also extremely easy to grow.
Sunflowers
Sunflowers are bright, colorful, big and super easy to grow – making them perfect for little gardeners. Their seeds are large and easy to handle, so planting them isn't too fiddly. Sunflowers grow happily in flower beds or pots, so they will suit any type of outdoor space, big or small. All they require is lots of sunshine and a bamboo stick to help support the stalk. They also appreciate a daily drink of water.
You can find sunflower seeds virtually anywhere, but these David's Garden Sunflower Seeds on Amazon are a great place to start.
Poppies

Poppy seeds are easy to sow and, when they come into bloom, are an instant source of vibrancy and color in the garden. Kids will love them!
They're best planted in fall or spring to ensure that they grow well and require a lot of watering when the seeds are first germinating. They can also be grown in seed trays until they are big enough to be transplanted to the garden.
Poppy seeds can be found in garden centers everywhere, and these Outside California Poppy Seeds are a great option as well.
Marigolds
Marigolds are fun and friendly addition to the garden that are easy for kids to grow. It's best to plant marigolds 50-60 days before the last frost of the year so that they flower in time for spring.
They also need to be nurtured indoors in seed trays before being transferred outside. You can find seeds in Garden Centers, or on Amazon, such as these GardenPride Marigold Seeds.
We also love the pictured idea of growing them in a pair of your kids' old wellington boots, and this would be a perfect addition to our Grow a Garden Anywhere list!
The tots will love setting these up while hanging out in a kids patio furniture set!
Tasty treats
There's nothing better than picking your own fruits and vegetables to eat with your family. So why not get the whole family involved in the growing process as well as the eating process?
It's a healthy habit to get your kids into early on, motivating them to grow their own food perhaps for the rest of their life. Not only will growing fruits and veggies inspire an interest in food, but it will also put the kids on the path to cooking and eating healthily.
Tomatoes
Tomatoes are a fun and easy fruit for the kids to grow in the garden. Often growing best in a greenhouse, they thrive in warmer conditions.
Once the fruits are ripe, they're easily picked from the plant and washed before being eaten as a healthy snack.
Tomato plants are a popular favorite among bugs, so be sure to keep a bottle of insecticide to hand when growing one.
Of course, there are countless varieties of tomatoes, and we encourage you to try several different ones to see which ones you like best, and which ones grow best in your particular conditions.
Runner beans
We love this outdoor tipi made from a runner bean plant! It's creative and practical, working as a den but also as a source of healthy vegetables.
Runner beans are best grown in pots under warmer conditions, so the end of April and beginning of May are the optimum time, depending on your location. They can be found in garden centers, or on Amazon, such as these GardenPride Scarlet Runner Beans.
As they grow pretty big, it's best to limit the spacing to one seed per pot, with a stick or pole for the plant to grow around.
Lettuce
Lettuce is one of the healthiest foodstuffs for a young child to have an interest in. If you can get your eight year old hooked on salads, then they're set for life!
As unlikely as that may seem for many of us, one way of making that possible would be to get them growing the greens themselves.
They take a lot of care and precision to grow, so this may be one to introduce to young gardeners once they've got the hang of the easier stuff. Also, they go well in a garden bed like the one shown above. Garden beds are available at most home improvement centers, and on Amazon, such as these Greene's Fence Cedar Raised Beds.
Like tomatoes, there are so many varieties of lettuce, it's best to find what you like best and what grows best in your soil. We love arugula and watercress!
If you have a kids picnic table, you can use that as your ideal workspace.
Sensational sensory plants
Sensory plants are a great idea for families with younger children. Kids aged 1-6 would benefit from these plants especially, as these plants give them something interesting to touch, listen to, or smell.
By stimulating their senses, we are encouraging our kids to engage with the world around them and have an interest in exploring and trying new things.
Lamb's ear
Lamb's ear is one for touching. As its name would suggest, its leaves grow to be silky soft to touch, just inviting kids to stroke and pet them.
They can be grown simply from seed (such as these Velvet Lambs Ear Seeds) and are happy in either pots or beds. They also tend to grow bigger every year, just like the kids growing them!
Water as needed, when the soil is visibly dry and be sure to grow in a spot that gets sun and shade in equal measure.
Bamboo

Bamboo is one for listening to. There's nothing more soothing than sitting outdoors and listening to the gentle clunking of bamboo shoots against one another in the afternoon breeze.
Of course, if found in a family garden, it would sound much more like them being bashed together by small hands In any case, bamboo is our top plant for listening to in the garden. You can grow them from seed, but they're often difficult to get to germinate, so you may want to start with plants, like these stalks from Better Decor.
Grown in either beds or pots, bamboo is easily cultivated in warmer conditions. Be sure to limit the space that they're given to grow in, as they can rapidly spread and take over whole sections of the garden if not contained properly.
Chocolate cosmos
The chocolate cosmos is one for smelling. These beautiful little flowers cannot be grown from seed anywhere except their native Mexico and other similarly hot climates.
However, they can be bought from a garden center and are easy enough to maintain that kids can help out. When in bloom, the pollen surprisingly smells exactly like chocolate! If stimulating the senses with chocolate won't encourage young ones to start gardening, then we don't know what will.
---
Conclusion: Gardening with Children
Gardening with children is an incredibly rewarding pastime, in so many ways. It helps with bonding, learning, healthy eating, respect for the environment, responsibility, and in so many other ways. The activity is an incredibly positive shared hobby, and we strongly encourage all parents to grow at least something with their children!
Happy gardening!