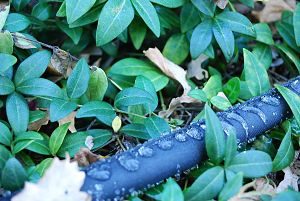 Home garden enthusiasts and people interested in water conservation alike can agree on one thing: home garden irrigation is tricky to get right. Taking into consideration how much water to use on which area can be time consuming, and wasteful if done incorrectly. With the Gilmour Flat Weeper/Soaker Hose, the process is all but automated for you! With thousands of tiny weep holes, the Gilmour slowly and evenly releases water throughout its length, making it ideal for many home gardeners. Due to its 75 foot length, you shouldn't even have to move the Gilmour Soaker Hose around very much in order for your plants to be perfectly watered. Just set and forget.
This soaker hose is made from clog-resistant material so you won't have to endure those annoying kinks in the water flow. Also, it is made from 100% recycled vinyl, so it is environmentally friendly. To learn more about this great garden tool, see below.
Gilmour Soaker Hose Review
Basic Features
Sturdy material, made from 100% recycled vinyl
Clog-resistant design
75 foot length, so that you won't have to move it around to get to all your plants. Note: Gilmour makes a 50′ version and 25′ version as well
Water is released via tiny pores along the length of the hose, allowing for even water distribution.
Integrated fabric cover means that the hose is protected from UV rays which can degrade regular garden hoses.
The Gilmour Flat Weeper/Soaker hose also comes with a 7 year warranty, which provides great peace of mind.
Here's a quick video showing how to setup and use the Gilmour Soaker Hose:
---
Dimensions and Specs
Length of hose – 75 feet' (25′ and 50′ versions are also available)
Weight – 2 pounds
Dimensions – 2″ x 10″ x 17″
Type of material – Vinyl
Shipping weight – 2.15 Pounds
Manufacturer warranty type – Lifetime replacement policy
---
The Details
The Gilmour Flat Weeper/Soaker hose allows gardeners to save on water consumption while being a convenient way to irrigate the home garden. By hooking it up to a hose timer, The Gilmour Flat Weeper hose can be buried just beneath the surface to completely automate garden irrigation year round, while remaining essentially hidden from view.
Aesthetics
The hose itself is made from high quality material and is black in color. This design makes it practically invisible when deployed among plants in a garden. Gilmour suggests covering the hose itself with a small layer of bark mulch, to enable more sustained soaking, and additionally to protect and completely obscure the soaker hose from view.
The Gilmour weeper hose has a fabric cover to better distribute the water and to protect it from UV rays so that it will last longer outside. Other garden hoses get cracks and leaks over time as they are left outside, exposed to the sun.
Functionality
The Gilmour Flat Weeper/Soaker hose is designed to provide even irrigation while saving water. It is flexible enough to snake around your garden bed or can even be buried next to plants to target irrigation to the roots. It's easy to set up a DIY irrigation system by simply connecting the host to a timer and burying it under compost material for year-round irrigation without wasting water.
Instead of running the hose in a straight line through the garden, the Gilmour flat hose should be snaked through the plants, with curves being placed approximately 12″ apart. This will give superior water coverage to your plants.
Also, Gilmour recommends not exceeding 100′ in total length by chaining multiple lengths of hose together, due to the pressure drop that occurs when the overall length is pushed too far.
Material and Build Quality
While most irrigation hoses are made from rubber, the Gilmour Flat Weeper/Soaker hose is made from 100% vinyl, and has a fabric cover. This protective cover shields the hose from UV rays which cause damage over time. The cover also helps to distribute water evenly through the length of the hose.
Assembly
Since this is just a hose, there is no assembly required. Simply plug the hose in to the outside tap and you're good to go. Should you wish to automate the watering process, you can install a hose timer to regularly water your plants.
The Gilmour hose system allows multiple hoses to be chained together, however it is not recommended to have runs over 100′ in length.
Tips for using the hose
Make sure the hose is connected to a running tap and that you allow up to 60 psi for it to be effective.
You can connect the hose to a tap timer so that you can just set it and forget it to automate the irrigation process.
The hose is 75 foot long but if you require more coverage, you can attach two of them together.
You can bury the hose under compost and leave it snaked around your pants to ensure that the water is being targeted directly at the roots and not being wasted.
If the hose gets muddy, you can simply wash it under a tap. It is made from high quality material, so cleaning the hose is a breeze.
Accessories
There are a couple of accessories that can improve your experience with the Gilmour Soaker Hose. The two primary accessories are a garden hose timer, and a leader hose.
The most significant accessory you may be interested in with this hose is a Garden Hose Timer. Gilmour makes one compatible with this hose, as linked here. These timers will cause the watering to occur regularly throughout the day, as you desire and as you program into the unit.
A garden hose timer can make the whole garden watering process significantly easier, and more reliable!
A second accessory is a leader hose. By getting a 5′ or so leader hose, you can attach the leader to the spigot, and then attach the weep hose to the leader hose on the ground. This way, you're getting maximum use of the weep hose, while simultaneously preventing the first 5′ of hose from weeping in a pool on the ground.
---
The Bottom Line
The Gilmour Flat Weeper/Soaker hose is a great solution for home garden irrigation. The 75 feet length is long enough to keep most home gardens irrigated, without having to move it once set. Its protective fabric coating keeps the hose safe from prematurely cracking due to exposure to ultraviolet rays. The hose can be used to set up an automatic irrigation system by adding timers to the hose and it can be concealed easily throughout your garden. It is made from 100% recycled vinyl so it is good for the environment. Lastly, the warranty is quite solid, and you can be confident that Gilmour stands behind its soaker hose system.
This is a great choice for many home gardeners!