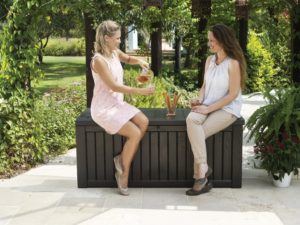 The Keter Rockwood Deck Box is an attractive coffee-colored resin panel deck box. Its extra large size and structure make it a potentially useful asset in many patio and garden spaces. The reasonably-decent looks, and effective storage capacity make it a great choice among deck boxes. With 150 gallons of storage capacity, and the strength to sit two reasonably-sized adults, the Keter Rockwood Deck Box is a very good deck box. We note that the Rockwood deck box is a bit on the high side, and is higher up than a typical patio chair would be.
This article looks in depth at the Keter Rockwood deck box. If you would like to see reviews of other deck boxes, please see our Best Deck Boxes page for comparisons.
Keter Jumbo Deck Box Dimensions and Specs
Exterior Length: 61″
Exterior Width: 28.5″
Exterior Height: 25.3″
Interior Length: 56″
Interior Width: 24.6″
Interior Height: 22.8″
Storage Capacity: 150 gallons
Weight capacity: 770lbs
Weight: 43.4lbs
Basic Features
Maintenance-free resin panel structure
Double-wall construction
Simple design that has a wooden chest feel
Strong enough to be used as a bench or table
Hydraulic piston lid with auto-open feature
Slots to install padlock for security
Vented for fresh air circulation
2 Year Limited Warranty
Materials and Build Quality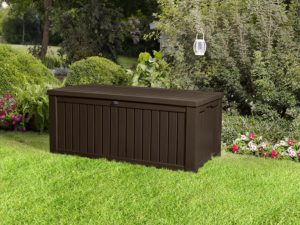 The Keter Rockwood deck box is made of recyclable polypropylene resin panels. These panels have the look of wood, but the strength and resilience of plastic. The Keter Rockwood Deck Box is maintenance-free, and will not rot or rust, and does not need to be painted.
The structure is solid, and can support the weight of a couple of reasonably sized people. The design of the box is such that it is higher than a typical chair would be, so users would be sitting a bit higher than a chair, especially if you add a cushion to the box. The Rockwood box also would work well as a table, as it has a nice flat lid.
The Warranty
Keter offers a two year warranty on the Rockwood deck box. Any multi-year warranty is an asset, but compared to the other extra large deck boxes on the market, is a notable step down.
Operating the Keter Rockwood Deck Box 150 Gallon
Hinge System
The hinge system on the Keter Rockwood deck box is pretty well designed. There isn't a whole lot of metal exposed to the air, so there is little risk of rust in the future. The lid does not open more than 90′, so if you need a lid that folds down completely, you may want to look elsewhere.
Lid and Pistons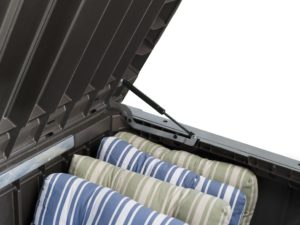 The Keter Rockwood features a cool automatic opening system, which raises the lid automatically once the motion has begun, similar to how some car trunks work. This system is quite nice, and means that you can be holding a bunch of equipment and open the deck box easily.
Locking Hasp
The lid and front panel come together at a hasp with an opening for a padlock. A padlock will give extra security to the deck box, and help keep it closed, even in a very strong wind. Of course, the structure is resin plastic, so if someone really wanted to get in, they could cut it with a razor knife, but the padlock will keep out most meddlers and critters.
Molded Vents
Near the top of the box, on each of the sides, are two small vents that allow air to flow through the box. They are positioned in such a way that spiders and critters shouldn't be able to get into the box, but they are large enough that it is possible for infestation to occur. If you're in an area that is particularly prone to such events, you may want to screen in these areas.
Storage Capacity
The Keter Rockwood deck box is among the largest available, offering a whopping 150 gallon capacity. It achieves this by being a little bit taller than several of the other deck boxes, so it does not feel like it takes up much more space than the other similar-sized units do.
Water Resistance
The Keter Rockwood Deckbox is excellently designed, and well protected from water infiltration. It is essentially waterproof, though there are fresh air vents that allow damp air into the box, so it is not water-proof.
Also, if you lift the lid while it is still wet, water may drain from the lid into the box, so be sure you wipe off the lid before you open it.
Otherwise, the Keter Rockwood is essentially waterproof.
Interior Walls and Shelving
There are no interior walls or shelving supplied to break the Keter Rockwood into smaller sub-spaces. If you want to create compartments, you'll need to go the DIY route with some plywood, or perhaps simply some plastic bins.  That way you can store your pool toys away from your patio sectional lawn cushions, etc.
Assembly and Use
Assembly of the Keter Rockwood Deck Box is not difficult, and the instructions are pretty decent. You can see the instructions on how to build the deck box here [PDF]. Some of the pieces click together, which makes things come together quickly, and two people should have the deck box built in an hour or two.
The tools required to assemble the Keter Rockwood deck box are:
Philips screw driver
Rubber mallet
Gloves (some of the metal brackets are sharp, so be careful!)
Since you will be screwing into resin plastic, Keter does not recommend using a power drill, as it is easy to strip the screws. Fortunately, assembly is among the easiest of all the deck boxes available.
Accessories
There aren't many extras needed with the Keter Rockwood deck box. We recommend getting a padlock or a carabiner to keep the lid locked down. If you don't feel the need for a padlock, a carabiner will keep the lid from blowing open in a strong wind.
The Bottom Line
The Keter Rockwood is a solid deck box with a very large capacity and good strength. The aesthetics are decent, and the fact that it blends in as an extra bench seat or table is a nice extra. Given the price point and warranty availability, we rather prefer the Suncast Extra Large Deck Box if the box is to be prominently visible, or the Lifetime Deck Box if the deck box is going to be in a side area.
The Keter Rockwood hits a nice middle ground between the two, aesthetically and functionally, and is quite large. If the feature set is right for you, and you don't like to deal with significant assembly, this is your best choice for a deck box.

---