Deck Boxes are extremely useful outdoor storage devices. These storage areas allow for cushions, sports equipment, pool equipment, etc. to be easily stored away, reducing visual clutter and protecting everything from water. After a great deal of research on the best deck boxes available, we have determined that the
Suncast 134 Gallon Extra Large Deck Box
 is the best deck box around.
With an attractive exterior design, excellent storage capacity, a hydraulic piston system, and a 5 year warranty, this deck box is a great choice.
For more information on this deck box, please see the Product Reviews section below, and for a complete review, please see our Suncast Extra Large Deck Box review here.
Deck Box Comparison Table
| | | | | | |
| --- | --- | --- | --- | --- | --- |
| | Suncast BMDB134004 | Lifetime 60012 | Suncast DBW9200 | Keter Rockwood | Suncast Elements |
| | | | | | |
| Capacity | 130 Gallon | 130 Gallon | 99 Gallon | 150 Gallon | 30 Gallon |
| Outside Dimensions | 55" x 27" x 24" | 60" x 26.5" x 24" | 50" x 25" x 25" | 61" x 25" x 28" | 34" x 20" x 18" |
| Inside Dimensions | 51" x 24.5" x 24.75" | 57" x 23" x 20" | 46" x20" x 20" | 56" x 22" x 25" | 30" x 16" x 15" |
| Seat | Yes | Yes | Yes | Yes | Yes |
| Price | | | | | |
| Price | Not Available | | | | Not Available |
Runner Up Best Deck Boxes
If your deck box will be squirreled away, largely out of sight in your patio space, then the Lifetime 60012 Deck Box 
[Amazon Link]
[Wayfair Link]
is surely your best bet for a large deck box. This unit is well designed, comes with a 10 year warranty, and hits an excellent price point.
It's just… well… not the nicest looking deck box around. It looks like a big, 130 gallon cooler, and is not stylish in any typical sense. But it it has essentially all the features of the Suncast Deck box above, with an even better warranty, and a lower price.
If Lifetime bumped up the aesthetics on this one, it would easily take the top spot.
For more information on this product, see below. For a complete review, head over to our Lifetime 130-Gallon Deck Box review here.
Runner Up Best Budget Deck Box
For those on a budget, the Suncast DBW9200 Deck Box 
[Amazon Link]
[Wayfair Link]
is the best choice for inexpensive but attractive outdoor storage. With an elegant resin wicker design and a 99 gallon capacity, this deck box hits the all the right benchmarks, and is the best value on our list.
The Suncast DBW9200 can be used as a bench, is attractive enough that it won't stick out as a box among your patio furniture, is easy to assemble, and it is nearly impenetrable to water.
For a complete review of this product, please see our Product Reviews section below.
Deck Boxes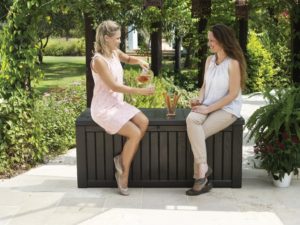 Why bring all your outdoor accessories inside when dealing with inclement weather, when you can keep everything protected and within easy reach by storing everything in a deck box? It is true that outdoor storage is crucial to having a functional outdoor space.
You need places to store decorations, table ware, swimming pool articles, grill accouterments, cushions, etc.
Backyard sheds are certainly an option, but they are large and may be more than required for a smaller garden or patio space. The other option is to use a deck box to store these smaller items.
But with many options available, which are the highest quality deck boxes? In this article we will look at the various factors that determine the best outdoor storage box, and review the pros and cons of each.
Deck Box Reviews
Here we will look at several plastic deck boxes in detail, and examine the pros and cons of each.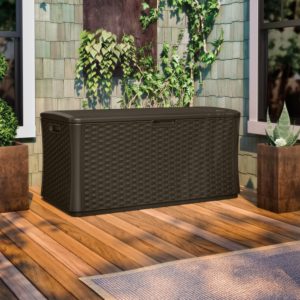 The Suncast 130-Gallon Deck Box is our top choice among deck boxes, and while it is not the cheapest on our list, it has the highest degree of functionality, an extra large storage capacity, and an attractive aesthetic.
For a complete review of this product, please see our Suncast 134 Gallon Deck Box review here.
The Details
The BMDB134004 Deck Box by Suncast is a solid 134 gallon storage box, with exterior dimensions of 55″ x 27″ x 24″, and interior dimensions of 51″ x 24.5″ x 24.75″. You can pretty easily store several cushions in there, as well as some pool toys, sports equipment, etc.
The Suncast 134 Gallon deck box is made of resin panels in a wicker finish (note: this is not woven resin wicker, but rather solid panels made to look like resin wicker). The lid design is made in such a way that water cannot easily enter the deck box, and it is essentially water proof. The Suncast is not damp-proof, though, and moist air may permeate through the box. The lid also has a location to place a lock on for security, and to help keep critters (of the animal and human types) out.
This deck box has a hydraulic piston design that functions similar to a car trunk. When you open the lid, it will stay open until you are ready to close, at which point you press the lid down and it will stay shut. Once it's shut, you can sit one or two people on the deck box (a max of around 300 lbs) and use it as extra seating.
Assembly
The Suncast 134 Gallon Deck box is not terribly hard to assemble, and can go together in a matter of a few hours for two people, assuming you have the proper tools. The instructions are not the best, but as long as you pay close attention, you should have it done in a couple of hours.
The Bottom Line
The Suncast BDM134004 Extra Large Deck Box has all of the features needed in a deck box, and is attractive enough to be placed in a central patio seating area without drawing attention to itself.
It offers a hydraulic piston design for easy opening, keeps your contents safe from water infiltration, comes with a solid 5 year warranty, and is not too difficult to assemble.
This is the best storage bench around, though certainly not the cheapest!
---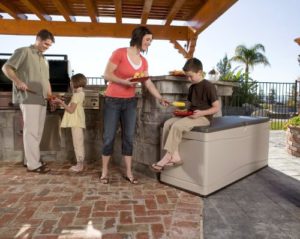 The Lifetime 60012 Extra Large Deck Box has a strong feature list, and is a compelling offering. For a complete review of this deck box, please see our Lifetime 130-Gallon Deck Box review here.
This deck box is quite full featured, but its visual design is a bit lacking compared to the other items on this list. The Lifetime Deck Box is made of resin plastic, and comes in a two-tone look (dark brown and light brown) with powder-coated steel hinges.
The good news is that it offers a significant amount of storage, with exterior dimensions of 26.5″ x 24″ x 60″, and interior dimensions of 23″ x 20″ x 57″. This results in a total capacity of 130 gallons. It features internal spring-hinges for easy opening and closing, and has a hasp for attaching a padlock or other security mechanism.
The Details
Like all the other boxes on this list, it is weather proof and will keep the rain and snow off the contents of the box However, it is not water proof, as damp air can permeate the box. The box can handle both hot and cold temperatures without warping or getting damaged, and if properly assembled should be able to keep any bugs and other creatures out. The box comes with an integrated bottom, and there are no drain holes in the unit.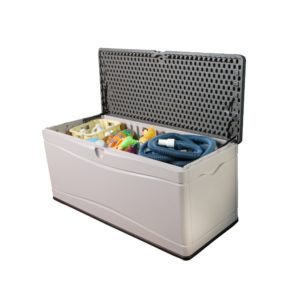 The Lifetime 60012 Deck Box has a flat top and can work as a seat or a table. If used as a seat, it can hold two average-sized people without much difficulty. As a table it is a little bit low, but is functional in a pinch.
Assembly
Assembly of this box is more involved than the other boxes on this list, though it is not a huge ordeal to get it together. A few hours at most and you should be done putting it together. Lifetime offers a 10-year limited warranty on this product, which is a significant plus!
The Bottom Line
The Lifetime 60012 extra large deck box is a very high quality outdoor storage container, and is provided with a warranty solid enough that you can feel comfortable in your purchase.
The aesthetics could absolutely use an update, but otherwise it is a great choice, especially given its price point.
The Lifetime 60012 Deck Box is our runner up for the best outdoor deck box. And it is available on Amazon Prime! Also, be sure to check the price on Wayfair before you buy.
---
3. Suncast DBW9200 Mocha Wicker Resin Deck Box, 99-Gallon [Amazon Link] [Wayfair Link]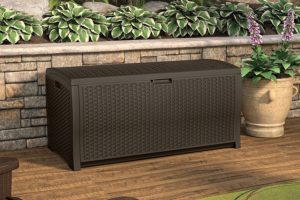 The Suncast Mocha Wicker Resin Deck Box is an attractive and functional addition to any patio space. The dark color and wicker pattern help to make this box look less plastic-y than some, while retaining the super weather-resistance of resin.
This box comes in two sizes (shown above in the large 99 gallon configuration), both featuring a rugged bottom made of solid resin. For the large one, the outside dimensions are 25″ x 25″ x 50″, inside dimensions are 20″ x 20″ x 46″, and it offers a 99 gallon capacity.
The smaller one's outside dimensions are 22″ x 21″ x 46″, inside dimensions are 20″ x 20″ x 44″, and it offers a 73 gallon capacity.
The Details
These units do an excellent job keeping everything dry (though they do let damp air in, so they're not totally waterproof) and for the most part free of bugs. There is a location for a lock on the lid to keep rodents and kids from accessing the contents.
With the included lid straps installed, the lid opens all the way up to give easy access to the contents of the box. Be aware, though, as there are no pistons to hold the box lid up at an angle and it can flop over. Note: the hinges are external, and the lid opens back a couple of inches from the back wall of the box, so the box cannot sit directly against a wall and then open.
The curved top makes it a bit awkward to sit on, but it can support a decent amount of weight, so it can be sat on if extra seating is necessary. The curved top prevents it from being used as a table.
The Suncast deck box itself is pretty light, so if you're putting in really light contents, you may want to secure it if you're in a very windy area, or add a few heavier items to help keep it in place. On the plus side, it's relatively easy to move around.
Assembly
Assembly is pretty simple: the unit snaps together. There are three pins that slide into place at the hinges connecting the body and the lid, a metal bar to help support the lid gets screwed in, and the lid straps get hooked up. That's about it!
The Bottom Line
The Suncast DBW9200 Mocha Wicker Resin Deck Box really is a good choice for outdoor storage (or indoor: it would work fine for many indoor storage requirements as well), and hits a nice quality to price point.
With attractive aesthetics and a high quality build out, these are the Best Budget Deck Boxes on our list.
As a bonus, it is available on Amazon Prime. Also, be sure to check the price on Wayfair before you buy!
---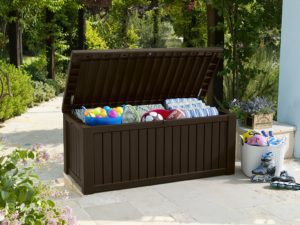 The Keter Rockwood Plastic Resin Storage Box, 150 Gallon is another good choice for a resin deck box, with a simple, modern look and a pleasing size.
The Rockwood 150 Gallon box has an outside dimension of 25″ x 28″ x 61″, and an inside dimension of 22″ x 25″ x 56″, with 150 gallon capacity. There is plenty of room to store cushions, pool floats, and all the other exterior goodies in this box.
The Details
These units are quite water-resistant, keeping the box's contents dry from even heavy rain and snow. Air can infiltrate the box, so it's not totally water proof, but the Rockwood does a good job keeping water away from the box contents. They also serve as good protection against bugs and other back yard interlopers.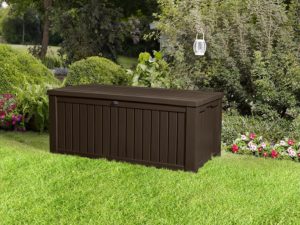 There is a latch for a lock, and the unit opens automatically, with the help of two hydraulic pistons! Once you open the lid about half way the pistons take over and do the rest of the work lifting the cover and holding it in place, very similar to a car's trunk mechanism.
The top of the Keter Rockwood is flat, so it can be used as seating or as a table, certainly helpful when a bit of extra seating is needed during a busy cookout! It is a little bit higher than a chair would normally be, and if you add a cushion on top of it, it would get higher again, so it may not be super comfortable for people who are on the shorter end of the spectrum.
Assembly
Assembly is very simple, and can be accomplished in about 15 min. The sides and bottom snap together; the top gets attached with hinges and screws, and the pistons get set up. The resin material it is made of is lightweight, recyclable, and non-toxic.
The Bottom Line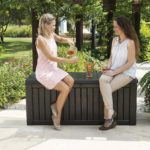 The Keter Rockwood really is a nice product, and straddles the price and quality line between the Suncast Extra Large, and the Lifetime 60012 Extra Large. A few people have reported that it was not packaged very well and that they received it with scratches or dents on the box; if that happens to you, be sure to inform the company and get replacement panels.
It is not currently available on Amazon Prime, but it is available with free shipping. Also, be sure to check the price on Wayfair.
For a complete review of this deck box, please see our Keter Rockwood review here.
---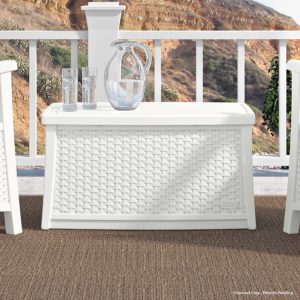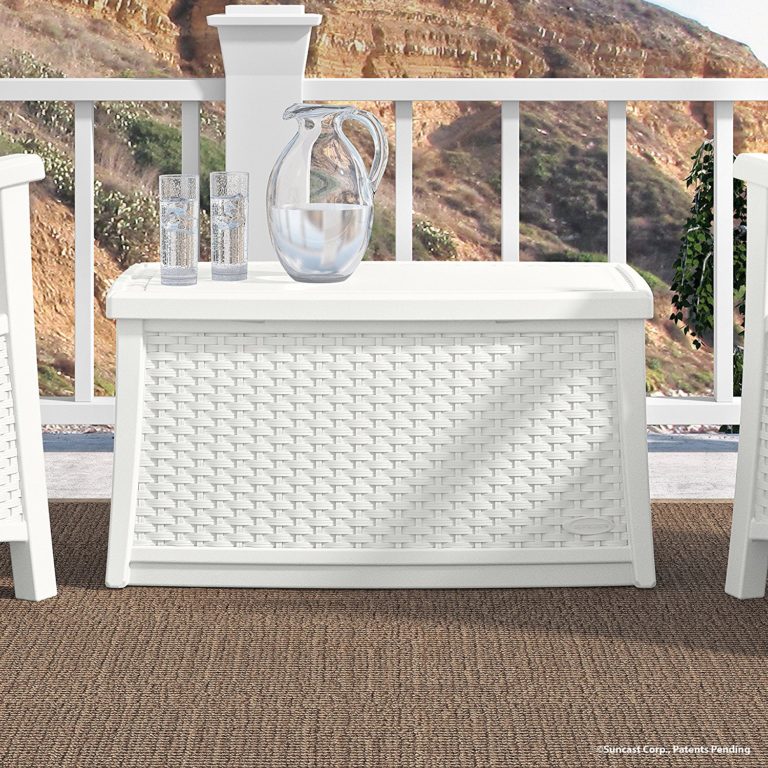 The Suncast Elements Coffee Table Deck Box is another pleasing entry in the deck box list. It has an attractive, reasonably modern design, comes in three color choices (a bright white, taupe, and java), and is made of weather-proof resin for long lasting usability.
The Elements Coffee Table is 20″ x 18″ x 34″, and has a storage capacity of 30 gallons. The interior dimensions of the unit are 16″ x 15″ x 30″. The box closes quite tightly, and is weather-resistant (damp air can get in, but water shouldn't be able to).
It does not have a hasp for a lock, but as the unit closes so tightly it would be difficult for any animals to get in there even without the lock.
The Details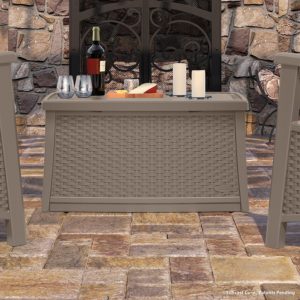 The Suncast Elements has a flat top with a raised border, enabling it to be easily used as a table or for additional seating. The unit does have a resin bottom panel, but it is not necessary to use the panel if you don't want to. The rest of the unit can be assembled and hold together without the bottom panel present.
Assembly
Assembly is simple, and takes 15 minutes or so, though some users have reported rough assembly experiences due to minor defects in the location of hinges and panel joins. If you're having trouble getting it together, you may want to request a different unit, as it *should* be easy to assemble.
The Bottom Line
The Suncast Elements Deck Box works nicely as an outdoor table or seat, and does a good job of storing your stuff! This unit is certainly a great choice for a compact outdoor deck box.
It is a bit smaller than the other entries on this list, so if you're looking for something without a huge footprint, the Elements may well be what you need.
As a bonus, it is available through Amazon Prime!
The Best Deck Box Buying Guide
Here we will cover a few of the most important aspects one should consider when comparing various deck boxes. We will examine the materials commonly used in deck boxes, and the advantages of each. We will also consider several of the most commonly-requested features buyers are looking for in the best outdoor storage boxes, and also look at the common shapes and configurations found in deck boxes. Finally, we will consider assembly difficulty of various products.
Materials
The boxes we will be looking at in this review article are PVC resin deck boxes (also known as plastic deck boxes), and are ideal for outdoor use. They are generally attractive, and often double as outdoor furniture. The resin material generally makes your deck box waterproof and maintenance free (with the exception of an occasional hose-down). These boxes are rust free, generally stain-proof, and will not peel or decay.
Another common type of material for a deck box is wood. Wood units are often more expensive than resin, and require more maintenance (regular painting, staining, etc.), though many buyers simply like the feel and impression wood provides vs. plastic. They are generally not waterproof in the way that a resin deck box is. Common wood types seen in deck boxes are teak, cedar, eucalyptis, and pressure-treated pine. When it comes down to it, we feel that plastic deck boxes are generally the better bet, because of the many significant advantages, and because of improvements in design and aesthetics.
Common Features
Deck boxes have a selection of features that buyers are often looking for. These include:
Security lock capability. Does the deck box have a pre-drilled opening to place a lock on it? Of course, these locks are generally not strong enough to hold important valuables, but will help prevent someone from easily accessing your deck box on a whim without your permission.
Hinged Openers. Some deck boxes use pistons that will hold the box open in place while it is being used (similar to the way a car's trunk operates), but others do not. This may be a valuable option.
Seating Opportunity. Many deck boxes are designed so that they can be sat on when closed. Extra back yard or patio seating is always welcome, and a simple cushion can turn a deck box into a double duty storage and seating arrangement.
Usage as a Table. Depending on the height of the deck box, seating may be impractical. Taller deck boxes may be used as tables, great for placing food, wine glasses, and other items.
Water resistance. Most of the deck boxes on this list are capable of withstanding the elements, but you may find some others online that do not protect your valuables from rain and snow.
Mobility. Some users may want to move their deck box around the patio or back yard space without needing to remove all the heavy contents. If that is the case, look for a deck box that has casters, or the capability to install wheels.
Shape
Most deck boxes are rectangular in shape, though some are square or round. Generally they are bench-shaped, allowing for a variety of items to be stored within, and offering practical seating arrangements for gatherings and parties.
Assembly Difficulty
Virtually all the deck boxes on this list need to be assembled to at least some degree. We have all come across products that are extremely challenging to assemble, or have horrendous instructions. Ease of assembly is an important factor to consider when purchasing a deck box.