Kids Adirondack Chairs are a fun, cool, stylish way to introduce children to designer furniture. And children's Adirondack chairs are just great stylish kids chairs, typically more fun than most kids furniture out there, and often not terribly expensive as well. They also look fantastic when paired with some regular grown-up
Adirondack Chairs
as well! After an extensive look at several outstanding kid's Adirondack Chairs, we have determined that the best chairs are the Little Colorado Unfinished Kids Adirondack Chairs
[Amazon Link]
. These sanded pine children's Adirondack chairs are extremely well made, are easy to assemble, made in the USA, and can be finished in any way you want. They are great for kids aged 2 to about 6 years old. Best of all, the price point on these is pretty great given their quality, too!
For more information on the Little Colorado kids Adirondack Chairs, see below.
Runner Up Best Kids Adirondack Chairs
With a cheaper price and a pre-stained finish, the Maxim kids Adirondack Chair [Amazon Link] is a great choice for many who don't want to deal with painting or staining their kid's chair. The assembly is a bit more of a hassle than many of the other chairs on our list, but the lack of any need to finish the chair more than makes up for assembly headaches. This chair is great for kids aged around 2-5 years old.
For more information on these chairs, see our Product Reviews section below.
Runner Up Best Budget Children's Adirondack Chairs
Though we can't get excited over molded plastic Adirondack Chairs, it's hard to deny that the Little Tikes line of children's Adirondack Chairs
[Amazon Link]
isn't a sensible choice for many families. These chairs are super light weight and easy for kids to move, are indestructible, available in four colors, and require no assembly. Given that your kids will likely only use these for a few years at most, it may not make sense to spend the extra coin on a full wooden chair, and all of the hassles that go with that.
For a complete look at the Little Tikes line of Kids Adirondack Chairs, see below.
Best Kids' Adirondack Chairs
In this section, we will look at five of our favorite kids Adirondack chairs. Adirondack Chairs are one of the few designer outdoor chairs available, and are a great choice for kids. If you're looking for a kids designer outdoor chair, your other option is a baby Acapulco chair, which you may want to consider.
---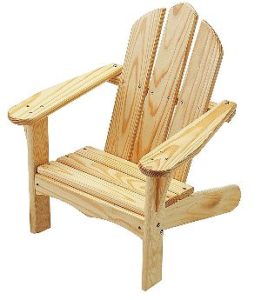 The Little Colorado Child's Adirondack Chair line is quite high quality, stylish, and a compelling option for a kids Adirondack Chair. These chairs are offered in four finish options, though prices vary significantly deepening on the finish chosen. They are designed to fit kids from approximately 1.5 years to 7 years of age.
Key Points at a Glance
Made of solid pine wood
Fasteners are zinc plated
Available in four finishes: raw wood, red paint, green paint, and white paint (note: prices vary significantly dependent on finish)
Designed to fit kids approximately 2 years old to 7 years old.
Made in the USA
Dimensions
21″ L x 19″ W x 23″ H
Weight: 9.83lbs
The Details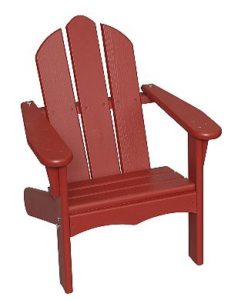 The painted chairs are painted with Sherwin Williams 20 year exterior house paint, which is a great choice, and will ensure a long lasting finish, even when left outside. However, the increase in cost over the unfinished chair is significant, and must be taken into account when shopping for these chairs. Additionally, some buyers have complained about the paint finish on these chairs.
The unfinished chairs are made of raw pine, and should be sealed, painted, or stained before use. It's generally easier to paint or stain these chairs before they are assembled, as there's no struggle to get into the nooks and crannies with the paint brush. Fortunately, they are well sanded, so there's no real prep needed prior to painting.
There have been some complaints about issues with the painted finish, so it may be wiser to go for the (cheaper) unfinished Little Colorado chair and paint it yourself. The painting is not a huge chore, and you can involve your kids in choosing the right color for their chair, as well!
Assembly
Assembly of the Little Colorado Adirondack Chairs is very simple, and can generally be accomplished in 10 or so minutes.
The Bottom Line
The unfinished Little Colorado Adirondack Kids Chairs are a great choice for children's designer chairs. The quality shines through on these chairs, though we do recommend getting the unfinished chairs and finishing them upon receipt, in whatever way you choose. These chairs are made in America, and are our top choice for kids' Adirondack Chairs.
---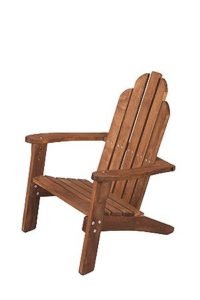 The Maxim Child's Adirondack Chair is a nicely designed classic Adirondack chair made of wood, and stained a nice medium brown color. It is a minaturized version of the classic scalloped back design, and is an attractive wooden Adirondack chair at a great price point.
Key Points at a Glance
Made of sustainably- harvested wood
Stain is non-toxic
Weather-resistant finish
Perfect for toddlers 2-5 years old
Dimensions
Dimensions: 18″ W x 17.5″ L x 22″ H
Seat Height: 8.5″
Weight: 8lbs
The Details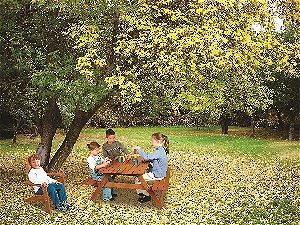 The Maxi Adirondack Kids Chair balances a pretty good price point with a real solid wood frame and pre-stained finish. It looks great, and is a highly functional chair. Maxim advertises this chair as designed for 2-6 year olds, though much is dependent on the size of the individual child. Some six year olds may struggle to fit in this chair, and we would suggest paying close attention to the size chart to get an idea if your child will fit comfortably.
One of the primary complaints with these chairs is that the fasteners don't look so nice, and are very prominently seen, as is visible in the pictures. Some buyers used wood filler to cover the fasteners, but this creates its own problem of matching the filler to the wood stain, and also makes tightening the chair over time more of a challenge. And this chair will need to be tightened up from time to time!
Another option is to paint the screw heads to match as closely as possible, and we would suggest that this is a better solution.
Assembly
Assembly of this kids Adirondack chair is not difficult, though it can take up to an hour. Some buyers have complained about misaligned screw holes. The easiest way to combat this issue is to do a preliminary round for each screw, and just partially tighten the screws all around the chair. Then when all are "started", go back and do a second round and tighten all the screws completely. This will ensure that all of the screws are aligned properly into the holes, and will hopefully mitigate any alignment issues.
The Bottom Line
---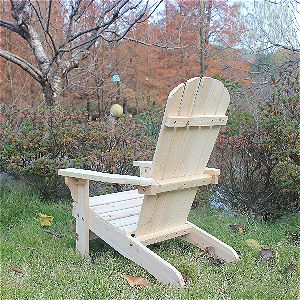 The Songsen Kid's Adirondack chair is another attractive wooden entrant into the Children's Adirondack Chair category. This version is unfinished, and is made of environmentally friendly Chinese fir. The construction is reasonable for a chair of this price and size, and the fact that it is covered under a 5 year warranty is a great plus in our eyes!
Key Points at a Glance
Made of environmentally friendly, sustainably harvested Chinese fir
Designed with a fan back, and well crafted
Unfinished, and can be left unfinished or painted or stained as desired
Features a 5 year warranty
Dimensions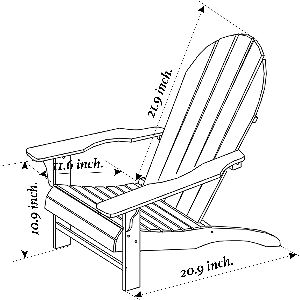 22.4″ L x 18.1″ W x 26.4″ H
Seat Depth: 11.6″
Weight: 6.6lbs
The Details
The Songsen kids Adirondack chair is a great choice for many looking for a simple Adirondack chair for their children. The chair is designed for toddlers and young children, and will generally fit kids from 2-5 years old fairly comfortably, though much depends on the size of the individual child.
It comes unfinished, and can be left unfinished if desired. The wood will weather to a silvery brown if left unfinished, and will likely proceed to look worse and worse over time (though some love the weathered look!)
We would suggest painting or staining the chair in order to keep it looking nicer for a longer time, especially if left outside.
Should you decide you want to paint or stain the chair, it's easier to paint or stain before you assemble, as you won't have to deal with getting into the nooks and crannies around each of the boards.
Assembly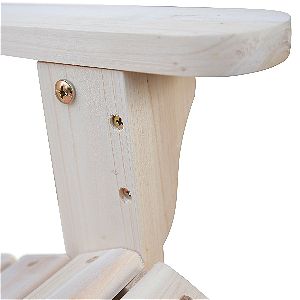 The Songsen kids outdoor Adirondack Chair arrives partially assembled, and complete assembly can generally be accomplished in about 10 minutes. Like the Maxim chair mentioned above, the Songsen chair also has fairly prominent fasteners visible, as seen in the photo.
We don't mind the look of the visible fasteners, but much depends on if users decide they want to paint or stain the chair. The fasteners may clash more with certain stains or dark paints.
The Bottom Line
The Songsen Kid's Adirondack Chair is a great choice for many, especially given its 5 year warranty. That said, its price point is a little high, especially given that it is unfinished. For those who want to do a custom color, this is a great choice, but for those who simply want a cool, comfortable Adirondack chair for their kids, a cheaper choice may be wise.
---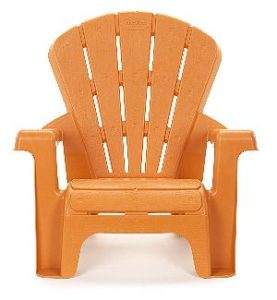 The Little Tikes Garden Chair is one of the most popular kids Adirondack chairs on the market. It is a standard molded plastic Adirondack style chair, and is available in four color options at an attractive price point.
While we greatly prefer natural wood or polywood over molded plastic for adult Adirondack chairs, there is a case to be made that cheap molded plastic, such as these, is the way to go for kids Adirondack chairs. We will look at that case, and see if these chairs measure up, here.
Key Points at a Glance
Made of inexpensive molded plastic
Available in four fun colors
Light and easy for kids to move
Relatively indestructable
Advertised as for 1.5-4 year olds, though our estimate would be more like 1-3 year olds.
Dimensions
18.5″ L x 14.5″ W x 18.5″ H
Weight: 1.76lbs
Weight Capacity: 50lbs
The Details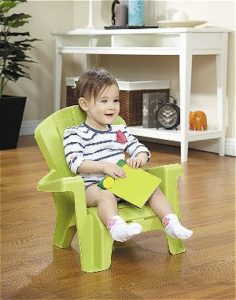 Real wood or eco-friendly polywood-style Adirondack chairs are much higher quality, and are much more stylish and elegant, than molded plastic Adirondack chairs. However, for children who will only be using the chairs for a couple of years anyway, a molded plastic chair offers some significant advantages.
Perhaps the biggest advantage is that the Little Tikes molded plastic Adirondack chair weighs less than 2lbs, and is easily moved by children of most any age. This makes these chairs naturally more attractive to kids, who can easily move them where desired.
Additionally, there is no assembly required at all, as they are already molded into a single solid piece. There is also no maintenance to these chairs, as there are no fasteners that may loosen over time.
In terms of maintenance, these chairs are relatively indestructible. If left outside all winter, uncovered, they will likely sustain no lasting damage, and will only need to be cleaned off for use. Even kids roughhousing on these chairs will likely cause no lasting damage (to the chair, that is — the rest of the house may get destroyed!).
They do tend to tip over a bit more than many kids may expect, especially as the kids get older and heavier.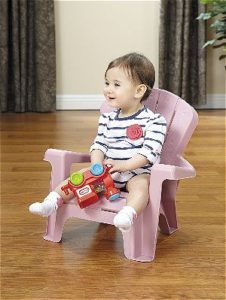 The aesthetics on these chairs is pretty standard for a molded plastic chair. That is, they aren't ugly per se, but they are much less refined and elegant than any of the other chairs on our list. But from a kids point of view, they're already colored a fun color, no assembly is required, and kids can easily use and minipulate the Little Tikes chair as needed.
These chairs have a maximum weight limit of 50 lbs, and are recommended for kids ages 1.5-4 years old. As these photos show, a four year old will likely be too large for this chair, so it may be wise to figure more like 1-3 as an age range.
Finally, the price for these chairs is low, which is an important consideration. Kids will only be using these chairs for a few years, so spending a hefty amount on a chair that will only get a small amount of use may not make sense for many shoppers.
The Bottom Line
The Little Tikes line of molded plastic Adirondack chairs are cute, fitted nicely to a child's needs, and are very functional. While we just can't get very enthusiastic about molded plastic chairs, it's hard to deny the benefits of this type of kids chair. Just be wary that these are on the small side, and are probably more appropriate for kids aged 1-3 than for the 1.5-4 age advertised by Little Tikes.
---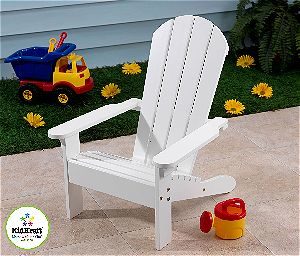 The KidKraft Adirondack Chair line is a well made kids Adirondack chair made of wood, with simple construction and and two color choices (white and honey stained wood).
Key Points at a Glance
Made of pine wood
Available in white and honey stain
Great for kids ages 2-7 years old
90 Day Warranty
Dimensions
21.9″ L x 19.1″ W x 24.7″ H
Weight: 7.5lbs
The Details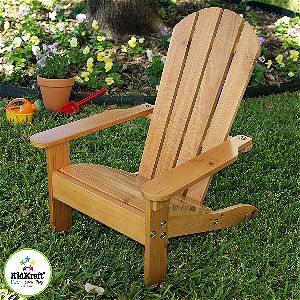 The KidKraft brand of children's Adirondack Chairs hits a great balance between price and quality, and looks great when assembled. The white has been painted, and the honey is a clear coat over pine (at least it appears to be, from the Sanmu brand). Some have found that the white paint fades in the sunlight over time, but as these are real wood chairs, they can always be repainted if needed.
Additionally, some have complained that the clear coat on the honey chairs is thinner than as shown on the picture. If your chair comes with a very thin clear coat, you could always purchase some additional clear coat spray [Amazon Link] to ensure a high quality finish.
Some buyers have found stains on portions of their chairs, be they paint stains, glue stains, etc. If the chair you have ordered has these stains, we suggest contacting the seller and getting replacement parts, as that is the easiest remedy. That said, if you intend to paint over the existing finish, then such stains may not be an issue to you.
Assembly
Assembly of the KidKraft chairs is not terribly difficult, though we do suggest doing a first round getting all the screws into the proper holes, and then going back and tightening each one in a second round. This way you can be sure that all of the holes line up properly, and you don't have any misalignment issues to deal with.
Overall, assembly should be complete in less than an hour, and an Allen key is included in the package.
The Bottom Line
The KidKraft Adirondack chairs are sturdy, high quality, and sized for a fairly wide range of kids. The build quality is impressive, given the price of the chairs, and overall these are a good choice. About our only concern is the reports some buyers have had of stains on some of the wood pieces. However, this is easily fixed by contacting the seller, and is not a huge stumbling point in our eyes.
---