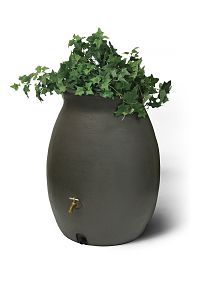 With the introduction of the Castilla Rain Barrel by Algreen, collecting rainwater has never been so easy, stylish, and environmentally friendly! Algreen's Castilla line of 50-gallon rain barrels is available in five different colors and is perfect for those looking to collect rainwater in an aesthetically-pleasing container that doubles as a planter. With a pleasing look, this barrel brings out a modern, classic feel that will blend with any style of patio, lawn and garden space.
It is a perfect choice for those who wish to save money on water with style and is particularly helpful for those who live in hot regions where water can be scarce.
This elegantly-designed barrel comes in various colors: Brownstone, Slate, Sandalwood, Dark Brown, and Terra Cotta. The Algreen Castilla line of rain barrels was our runner-up choice among the Best Rain Barrels on the market.
In this article, we will take a close look at the features and uses of this rain barrel, and review it.
Algreen Castilla Rain Barrel Review
When collecting rainwater, it is imperative to keep the water in a secure container and to make sure that collecting and releasing of water comes easy. The Castilla Algreen Rain Barrel has all these functions, and more! It has added features such as a metal spigot (faucet) and a non-corrosive screen.
It also has an outlet at the back to allow water-share with other water barrels.
Basic Features and Specs
Elegant Castilla design with authentic pottery-like texture
Made from recycled, BPA-free roto-molded polyethylene
Resin material won't chip or fade and is maintenance free
Comes with watering features: a high-quality brass spigot and a garden hose fitting.
Dual water overflows at the rear allow for excess water to escape rain barrel
Decorative planter feature making it unique from other rain barrels
50-gallon water capacity
Here is a quick video showing the basic features of this outstanding low profile rain barrel.
Dimensions and Capacities
Item Dimensions 33″ x 23″ x 23″
Item Weight 14 pounds
Water capacity 50 gallons
The Details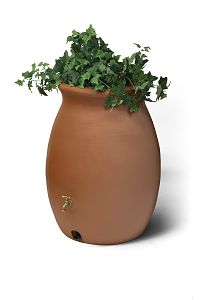 Algreen Rain Water Barrel is a 50-gallon barrel that collects rainwater in one of two ways: either through raindrops or through downspouts routed to the barrel.
With its built-in screen, this unit can prevent unwanted materials from getting into the barrel, such as leaves, large insects and other organic or non-organic materials. The attached spigot and the lower drain release water swiftly.
Aesthetics
Algreen Castilla Rain Water Barrel is available in five attractive colors and is made in a simple classic pottery jug design. The look feels practically ancient and will blend in virtually any patio or garden environment.
Additionally, the fact that this unit serves a dual purpose use as a rain barrel planter makes it even more attractive.
One thing to note: there may be significant price variations between the colors on these Amazon rain barrels, so check prices if you don't really care what color want.
Functionality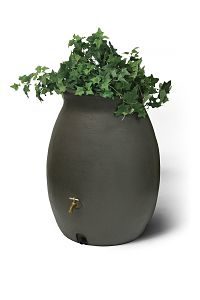 Unlike any other typical rain barrels, the upper cover has a dual purpose – a water intake hole with a protective, non-corrosive screen, and amount for a plant! The addition of a planter mount improves the aesthetics of this barrel and makes it blend in with the rest of the yard and garden without screaming ugly plastic rain collector.
For water extraction, the Castilla has two drains, an upper drain and lower drain and two accesses for water sharing between multiple barrels. The upper drain is where the spigot or the faucet is mounted. The lower drain fitting has a nozzle which attaches to a standard garden hose.
The collected rainwater could be used to water plants and lawns, clean cars, and to supply water for mini-irrigation along herb and vegetable beds.
Positioning and Installation
This barrel is best positioned directly below flowing downspouts. An Algreen Delux Diverter Kit can also be helpful to channel the water from the downspouts to the barrel. The diverter can be placed near gutters, mounted on walls, as decoration on verandas, alleys, and pathways.
When you are using buckets and pails, make sure to place the barrel on top of at least two cinder blocks.
Water-Sharing
When installing two or more barrels, you can create a water sharing system. By connecting the lower drain and a projection on the back of the barrel, you can channel the overflow from one barrel to another, creating a chain. To facilitate water sharing, you will probably want to install the Algreen Rain Barrel Pump Kit and Linking Kit. Also, here is a guide [pdf] that covers the water-sharing system.
Safety
The collected rainwater is perfect for watering plants and for other cleaning purposes. However, the collected water is not safe for drinking, so be sure to prevent kids and guests from using the rain barrel as a water fountain!
Runoff water can be contaminated with shingle tar from a damaged roof, which you obviously don't want to ingest. That said, with the included screen, there is no concern about insects and mosquito propagation in the water, which is a good thing.
Should the rain barrel be empty, you may want to avoid placing it in an open space where it could blow away. When empty, it is quite lightweight and can be blown by strong winds.
Materials
The Castilla rain barrel is made from recycled, BPA-free polyethylene, and is essentially maintenance free. It should not chip, crack, or fade. The construction is of high quality, and the barrel can withstand direct exposure to the sun without melting or deforming.
The rain barrel spigot is made of brass and has a simple, elegant design. The hose fitting is made of plastic, and we encourage users to be gentle when adding a garden hose to the fitting.
The screen is made of a corrosion-resistant material and can handle water and soil being left against it.
Assembly
The upper cover cannot be removed so the entire barrel comes as a whole. The screen can be unscrewed. If you drill into the barrel to create additional holes, make sure to vacuum or otherwise remove any plastic shavings to avoid clogging the drains. Clogged drains will slow down water flow.
Cleaning
Cleaning the Algreen Castilla Rain Barrel is pretty simple. Just remove the screen and you will have access to the interior of the barrel. You can use a sponge and a mild detergent, or even a vacuum cleaner. A vacuum is especially helpful in removing material trapped at the bottom of the barrel.
Accessories
The two most important accessories you may wish to consider along with the Castilla 50 Gallon rain barrel are the Delux Diverter Kit and the Pump and Link Kit. The diverter kit helps channel water from the gutter to rain barrel, which is quite helpful. The pump and link kit provides connectivity for multiple rain barrels and gives extra pressure for easier watering with a garden hose.
Last update on 2021-06-14 / Affiliate links / Images from Amazon Product Advertising API
The Bottom Line
The Algreen Castilla Rain Water Barrel is one of our favorite rain barrels for sale on the market today. Its elegant design and strong feature set make this line of rain barrels stand It collects rainwater efficiently, is environment-friendly, has two handy spigots, and with its planter feature, it blends into your patio environment seamlessly!
It is elegant enough to be a planter and functional enough to water the garden! With a solid 50-gallon water capacity, this unit is ideal for small gardens and lawn spaces. It is an excellent choice.
Algreen Products Castilla Rain Barrel 50-Gallon, Brownstone
Elegant design with authentic pottery like texture
Made from roto-molded plastic that wont chip, crack or fade and BPA free
Comes with a high-quality brass spigot, corrosion-proof screen and bottom...
Dual water overflows allow for water to sufficiently escape rain barrel...
Decorative planter feature
Last update on 2021-06-17 / Affiliate links / Images from Amazon Product Advertising API
---