Electric Patio Heaters generally put out a fraction of the heat that propane gas patio heaters do, but they are 
much
easier to use. There's no need to move around heavy propane tanks, no need to get refills from the stores, no worries about proper hose connections and safety, etc. Electric Patio Heaters are plug and warm! After a thorough examination of the infrared patio heater market, we have found that the
Fire Sense 1,500 watt electric outdoor heater
is the best heater on the market.
It is well built, has an adjustable height option, two color options, a directional heating system, a heavy, wheeled base, and is protected under a one year warranty.
As electric outdoor heaters go, these are a solid choice. We should mention that these glow pretty strongly, so if you don't want bright light, consider another style of heater.
For a complete review of these heaters, please see our Product Reviews section below.
If you're looking for outdoor heating inspiration, be sure to check out our mega guide to patio heating!
Runner Up: Best Infrared Patio Heater
The
AZ Patio Heaters Electric Heater
is also a good quality heater at a slightly lower price. It uses an omni-directional design, sending heat out in all directions, more like a typical propane heater. Given these heaters only put out about 1/8 of the heat of a propane heater, it makes more sense to us that they be directional, which is why we chose the Fire Sense over this one.
However, if you figure you'll often have 3 or more people around the heater, then an omni-directional heater may be more useful to you, and this one is a good choice. It is also 1,500 watt, has an adjustable height option, and a tilt option, and is covered under a one year warranty.
Infrared Patio Heater Reviews
In this section, we will look closely at several infrared patio heaters, and compare the pros and cons.
---
The AZ Patio Heaters electric patio heater is a simple, unobtrusive 1,500 watt electric heater that is good for patio and garden use. It is completely waterproof, so there's no concern about electricity and rain getting mixed together in a dangerous combination!
Unfortunately, there is no adjustable heat output setting on this heater – it's either On or Off. The heater puts out a good deal of light, and some heat too, we should say.
Key Points at a Glance
1,500 watt post lamp infrared heater, 110v plug
Completely waterproof housing (IP Certified)
Adjustable height control
Indoor and Outdoor Use
Tilt head for directed heating
Anti-tip safety feature
1 Year Warranty
Dimensions
60″-84″ height x 23″ round
37lbs
Minimum Recommended Clearance Above the Unit: 1.5′
The Details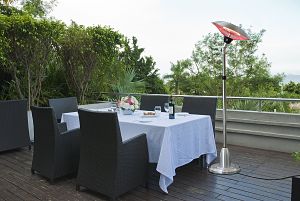 This electric patio heater is a fairly attractive stainless steel unit that looks an awful lot like a common torch lamp, found in millions of houses. It has a 1,500 watt infrared electric heater, and can spread its heat out in about a 10′ diameter area. This heat is omni-directional, which is nice when you plan to have people standing around the heater, or several people sitting at a table by the heater.
The AZ Patio Heaters unit puts out a significant amount of light along with its heat output, and really this will double as a patio heater and patio light. However, if you're going for torch-lit ambiance, this unit may throw that vibe off.
Functionality
This heater puts out 1,500 watts of heat, which can be converted to roughly 5,000BTU of heat output, if you were to put it in propane gas terms (for reference, many propane gas patio heaters put out 40,000 BTU of heat). That's not a whole lot of heat, but it is something, and it comes with the convenience of not needing to swap out propane bottles, and not having to pay for propane tank refills.
Infrared heat is also not nearly as impacted by wind forces as propane or natural gas heat is, so if you're in a windy area, this unit may actually supply more heat than a propane heater will.
The controls for the heater are simple, you just turn it on or off. An adjustable thermostat control would be welcome, though our guess is that even if there was an adjustable control, most would want to leave it on high anyway.
One of the nice features of this patio heater is the adjustable height function. Since the heater radiates heat only from the top part of the unit, the ability to adjust the height makes this heater much more useful than some of the other heaters on our list. It will supply heat both to those who are sitting and standing, so it can be used in either circumstance.
The AZ Patio Heaters electric heater also tilts, offering directed heating when needed. It also has a helpful anti-tip safety feature that will automatically shut off the heater if it is tipped over.
Indoor/Outdoor Use
Unlike a propane heater, which can only be used outside, this electric heater is usable both indoors and outdoors. While the primary use case is to heat up the patio, this can be used indoors when needed. This functionality may be of significant use
Assembly
One of the nice features of this AZ Patio Heaters unit is that assembly is super simple. After you get it out of the box, you'll have the heat on in less than 10 minutes.
The Bottom Line: One of the Best Electric Outdoor Heaters
This heater is a useful heater for those who are looking for simple design and an adjustable height mechanism. The heat output is not hugely significant, but it is there, and the system is hassle-free — just plug and turn on.
For its price, buyers could purchase a gas patio heater that would put out significantly more heat, but buyers would have to deal with propane tanks and the hassle of refilling bottles.
Overall, these infrared outdoor heaters are quite nice, and they will be a great addition to many a yard or deck space.
---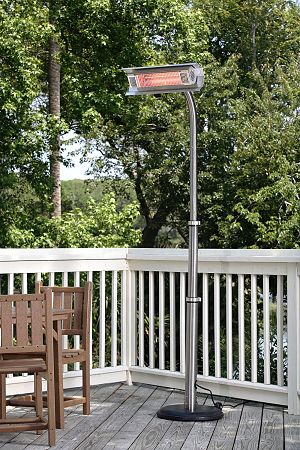 The Fire Sense Telescoping Electric Patio Heater has a few useful attributes that set it apart from the pack. With 1,500 watts of power (110v plug), this unit will not put out a huge amount of heat, but the heat output is not negligible. The heater has a few adjustment points, allowing users to warm up standing around it, or sitting nearby.
The light output from this heater is not insignificant, so be prepared to have a French Fry Lamp red glow on your patio!
Key Points at a Glance
1,500 watt infrared outdoor heater
Available in two color options
Anti-tip safety feature
Indoor and Outdoor use
Directional heat system
Waterproof housing
1 Year Warranty
Dimensions
33″ x 22″ x 98″
55 lb weight
The Details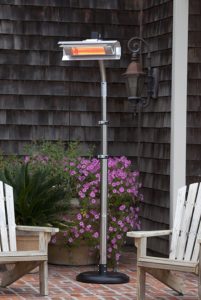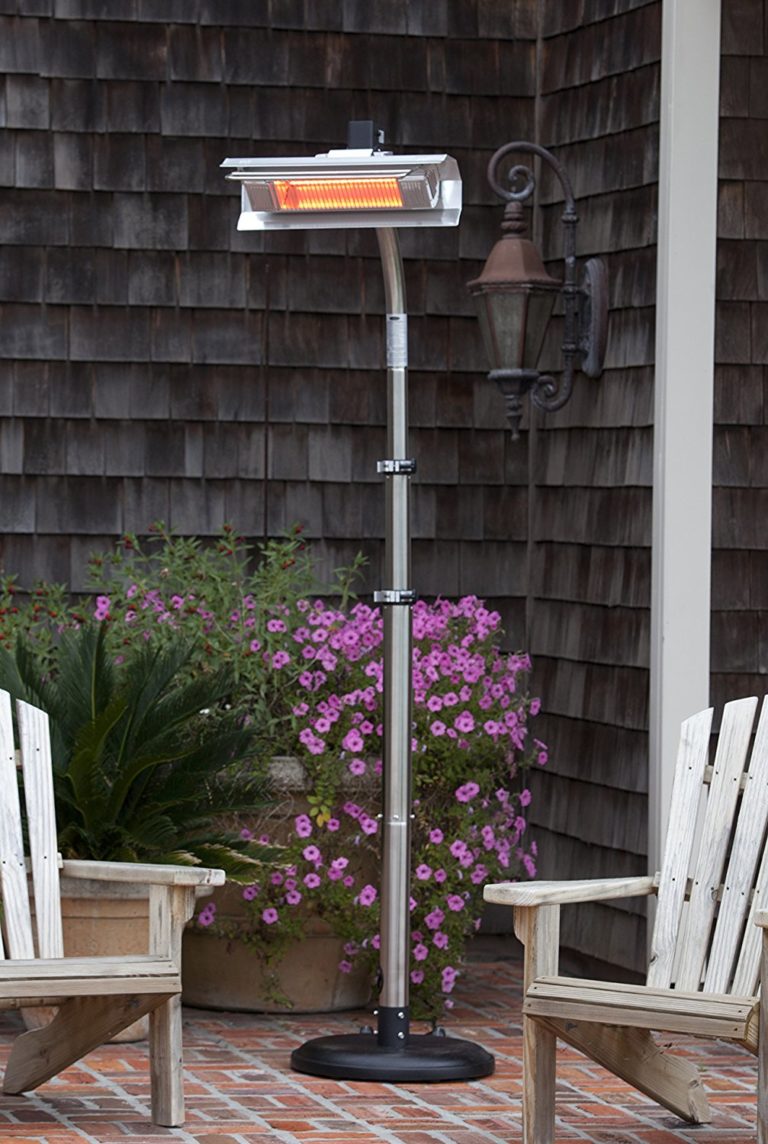 The Fire Sense telescoping offset infrared patio heater is a simple, directed heater that puts out a good deal of light and some heat. They are attractive enough, and don't stand out on a patio when not in use. For those who like to keep light levels to a minimum for ambiance, or for star gazing, these units may be troublesome due to their brightness.
The controls on this heater are pretty simple, with an On/Off switch controlling the heat, and a few clamps to adjust the height and angle of the unit. There is no thermostat, just an On switch, and full power output all the time.
Functionality
The Fire Sense Electric Patio Heater puts out 1,500 watts of heat, or about 1/8 of a typical propane gas heater. No need to worry about changing propane bottles, and this unit is quite energy efficient. However, it doesn't put out a lot of heat, and will only cover a couple of people that the heat is adjusted to be directed toward. To heat more than that, you'll need multiple heaters, and with multiple heaters you may run into circuit overloads (each heater draws about 12 amps of power).
The end result is that these are a decent option, but aren't ideal.
The stand for this electric outdoor heater is quite substantial, and has wheels for ease of movement. The cord for the unit only extends about 3′ from the unit itself, and the manufacturer recommends only using extension cords if they can handle at least 14 amps.
The height is adjustable on this infrared patio heater, but the manual suggests keeping the heater positioned at its top height option for safety when in use, and only lowering it for storage. This makes it much less useful to those who are sitting beneath it.
Indoor/Outdoor Use
One of the particularly useful features of this unit is that it will work both indoors and outdoors. For those who are primarily looking for outdoor heat, but occasionally might want indoor heat during the winters, this unit is pretty helpful in those circumstances.
Assembly
Assembly of this electric outdoor heater is not particularly difficult, and should be accomplished in 10-20 minutes. Once you plug in the heater, the heat output is almost instantaneous, and you'll be warm in short order.
The unit comes with a cover, which Fire Sense recommends users place on the top of the unit when not in use. This will help protect it from weather issues.
The Bottom Line: The Best Electric Patio Heater
Overall, the Fire Sense patio heater is a fairly useful patio heater for those who understand the limitations of an electric heater and don't want to deal with the hassles of refilling propane tanks on a gas heater.
The directional infrared heat is nice, but it is not a huge heat output. If you're mainly looking to take the chill off of a small area for few people, and don't mind a significant, bright light, this unit is quite good.
---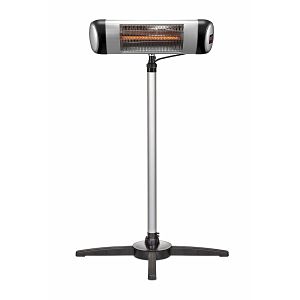 The eJoy KingMys Carbon Infrared Patio Heater puts out the typical 1,500 watts that most electric patio heaters offer, with a rather generic housing and features list. The unit has an adjustable, telescoping pole that allows for it to be used both in seated environments, or around people who are standing.
One rather unique feature of this unit is that the heater can be wall/ceiling mounted, or attached to the telescoping pole, depending on the environment.
Key Points at a Glance
1,500 watt heater
3 output levels
Remote controlled operation
Adjustable height options
Works both indoor and outdoor
Can be wall mounted or pole mounted
Dimensions
54″ – 76″ high x 24″
Weight: 20lbs
The Details
This heater puts out 1,500 watts of electric heat, or about 1/8 the heat output of a propane heater. For those looking to take the chill off in the immediate vicinity of the heater, it may be acceptable, but it will not provide a large heat output. Typically, it will cast heat out 4-5′ from those in its line of direction.
The KingMys has three power settings, though realistically you'll want the unit on HIGH. The output of heat is not huge, so the adjustable power settings are not a particularly helpful feature. Also, the unit can be controlled by an (included) remote controller, but the range of the controller is pretty poor, and typically users are huddled around the unit anyway. The remote is kinda pointless, to us.
Functionality
The ability to wall/ceiling mount the unit, or pole mount the unit, makes it pretty flexible in its use case. It will likely primarily be used as a pole mount unit, as that is easiest to use and to move around.
The height of the unit can be adjusted for flexibility, and can be about 4'6″ off the ground to 6'6″ off the ground. This is helpful as it can be used as either a heater around some chairs, or for those standing, huddled around the heating element.
Indoor/Outdoor Use
Like most of the other heaters on this list, the e-Joy KingMys heater will work both indoors and outdoors. This heater can do double duty, and this feature is a fairly useful aspect of the heater.
This unit does not have a wheeled base, but it is light enough that it can be picked up and moved relatively easily.
Assembly
Assembly of this unit is not particularly difficult, assuming you receive all of the pieces! Some users have reported missing bolts and screws, and have had to run to the hardware store to get the necessary parts.
Additionally, some have found that the unit has arrived damaged, scratched, or missing parts. If you receive a unit in poor condition, contact the seller or Amazon to get a new unit.
The Bottom Line: A Quality Free Standing Electric Patio Heater
The biggest notable feature the KingMys has is the ability to be mounted either to a ceiling or wall, or to the pole, for flexibility. If you don't need that, we feel you'd be better picking out one of the other heaters on our list with a better warranty, more useful features, and a better price to quality ratio.
---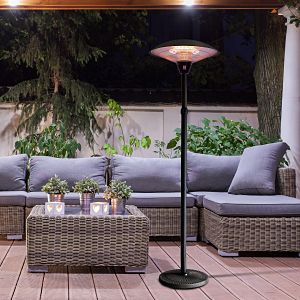 Outsunny supplies a wide variety of outdoor products, several of which we have positively reviewed in the past. Their design is generally modern/contemporary, and this electric patio heater fits in nicely with the rest of their product line.
At the standard 1,500 watts, this unit outputs at least some heat to those in the immediate vicinity, and has an omni-directional design that works well for setups where users can gather around the heater for warmth on all sides.
Key Points at a Glance
1,500 watt electric outdoor heater
Two power settings for flexible output
Waterproof housing
Can be used both indoors and outdoors
Sturdy resin base
Adjustable height options
Includes anti-tip safety switch
Dimensions
76″- 85″ height (adjustable) x 23″ wide
Weight: 30.5lbs
The Details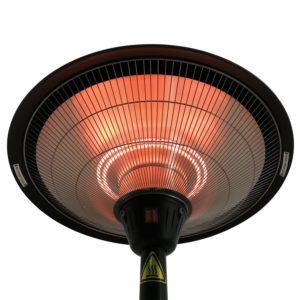 Like the rest of the electric heaters on our list, this unit outputs 1,500 watts of power, or 1/8 of the power of a typical propane outdoor heater. This unit supplies significantly less heat, however it does work a little better in windy conditions than a propane heater will work, and of course there's no need to fuss with changing propane canisters.
Additionally, the cost to run this heater is significantly lower than propane would be.
Like the other infrared heaters on our list, this unit doubles as a light, and is quite bright. If you are going for citronella lantern ambiance, this heater may work against the mood you're trying to create.
Functionality
This outdoor electric heater is pretty similar to the Az Patio Heaters electric heater we discussed earlier. It offers omni-directional heat, which means the heat is not directed to a particular source. If there is just one or two people sitting at the heater, a directional heater would almost certainly be more useful; but if more than two are in proximity to the heater, then an omni-directional unit would likely work better.
Depending on how many guests you figure you'll typically have, you should consider which type of heater would work best for your situation.
This unit does not offer tilt functionality, which may be a negative for some, but generally our view is that the tilt does not offer a significant advantage in the user experience. The height is somewhat adjustable, and can be used by those standing around it, or in conjunction with seating.
Six feet of cord is provided, and if you plan on using an extension cord, be sure you use one robust enough to handle this unit, at least 15amps.
Indoor/Outdoor Use
While the Outsunny infrared outdoor heater is focused on outdoor use, it can be used indoors as well. This is a nice feature, and the fact that it can do double duty may make it a more compelling purchase than it would otherwise be.
Assembly
Assembly of this unit is fairly simple, and should be completed in 15-20 minutes. Once you plug it in, you'll be feeling the heat in moments.
The Bottom Line: A Decent Radiant Electric Patio Heater
This electric patio heater competes pretty closely with the AZ Patio Heaters unit, and has a pretty similar feature set. We like this heater, but Az Patio Heaters has a great name, and is focused only on heating and outdoor fire solutions, as opposed to general patio goods like Outsunny. Az Patio Heaters also offers a 1 year warranty, which makes it a better solution than this heater by Outsunny. In the end, we feel buyers can do better than this unit, though it is a perfectly functional electric heater.
---
Conclusion: Best Outdoor

 

Electric Heaters
As we said above, we find the Fire Sense electric outdoor heater is the best heater on the market for most users. The directed heat is more practical than an omni-directional heater, given the low heat output. If more than two users are going to be consistently in the vicinity of the heater, you may need to pick up a second electric heater to provide enough heat, as the omni-directional ones aren't as effective.
If you're really looking to heat your patio space, a gas patio heater will certainly put out a lot more heat, but the gas heaters require a lot more effort and fuel costs, getting propane jugs filled, changing out jugs, etc.
If you don't want to deal with that, then one of these electric patio heaters will serve you well, as long as you understand the limits of the heating capacities of these units.