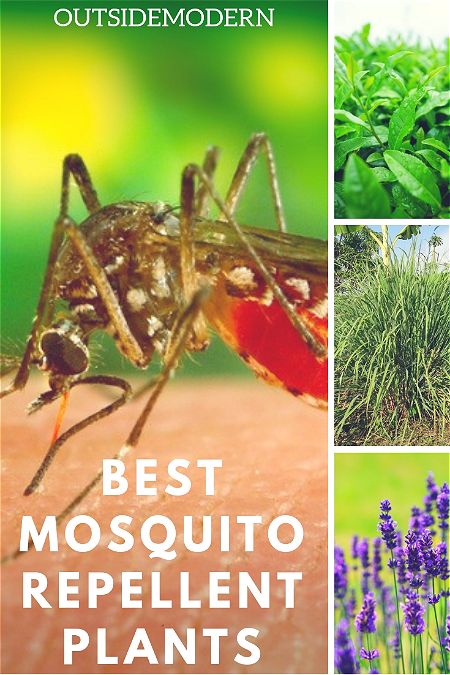 Mosquito bites are an annoying part of life outdoors. You could spray a chemical all around your home in the hopes of warding off these pesky little insects, but then you would be breathing those chemicals in, and getting chemicals on your vegetables and fruits. When dusk inevitably rolls around, on the patio, mosquitoes can be a menace, and occasionally life-threatening. Some use citronella candles (though we like Eucalyptus better!), others may place a bat house to ward off mosquitoes, and others try using mosquito-fighting plants. But what are the best mosquito repellent plants?
We can turn to natural bug-repelling plants in order to keep ourselves and our family safe from the chemicals in sprays and the diseases that mosquitoes can transmit. Many different plants have been studied, and research shows that some of them do in fact repel mosquitoes. Some of these plants might surprise you, they might not all be the ones you are used to hearing about when discussing getting rid of irritating pests.
A quick note about Standing Water
We just wanted to add that homeowners should be sure to remove any potential sources of stagnant, standing fresh water from the yard area. Mosquitoes love to breed in stagnant water areas, and by simply preventing them from breeding by ensuring there are no spots for water to pool after a rainstorm (tin cans, old tires, etc.), you can help keep prevent mosquitos from getting started that way.
Best Mosquito Repellent Plants
There are many plants to choose from and many have wonderful scents. From citrus to flowery fragrances, there are options for every home. Try placing one or more of these mosquito repelling plants around your patio and garden area to help deter them from hanging around, and to freshen the air at the same time.
And many of these plants are edible, so prepare for a feast, too!
---
Pelargonium Citrosum or Citrosa Geranium
This plant is known as the citronella plant and is often said to repel mosquitoes. While this plant doesn't repel all types of mosquitoes (it excludes the pesty Aedes Aegypti mosquito), it is effective against some. And with its light fragrance, Citrosa Geranium can easily fit right in on your porch or patio.
It is also believed that the pelargonium citrosum repels other biting insects. Citrosa Geranium can grow and spread quickly, so you will want to grow this plant in a pot. These have a beautiful violet flower that blooms in the spring.
Citronella plants are available on Amazon, such as these Clover's Garden Citronella Plants.
Lemon Thyme
This is another citrus plant that mosquitoes just can't stand. They do not like anything that smells lemony, and most types of mosquitoes will steer clear of this plant.
Lemon thyme tastes like lemon as well so it can be used for cooking, and the bonus is that it is easy to grow.
Keep this one indoors and outdoors to help scent the air and scare off the bugs.
Lemon Thyme is available at Garden centers and on Amazon, such as these Hirt's Garden Lemon Thyme plants.
Basil
It smells sweet to people, but in large amounts, basil will scare off mosquitoes. You will need a large number of basil plants around in order for it to be effective against mosquitoes, so stock up on this delicious herb. Be sure that you grow this plant outdoors as it needs a lot of sun to thrive.
It can be grown in the ground or in a large pot. Don't forget to add some to your dinner, or turn it into a delicious pesto!
Basil plants and seeds are available virtually everywhere, from your local supermarket to these Clovers Garden Basil Plants on Amazon.
Lemongrass
Lemongrass is often an ingredient in homemade and natural bug repellents because it works on mosquitoes quite well.
These big, grassy plants are great when planted in the ground or in pots outside the home. They grow quite tall and are one of the largest mosquito repelling plants out there. Lemongrass can be great for shared spaces as well, as it can act as a privacy screen too.
Lemongrass is an edible plant, and can really amp up the flavors of your next stir fry!
Lemongrass is also available pretty widely in Home Improvement stores, and is also available online, such as these Clovers Garden Lemongrass plants on Amazon.
Lemon Balm
This is another lemon-scented plant that keeps the mosquitoes flying in the other direction. You can also use lemon balm to cook with, and it is a common ingredient in various teas.  Lemon balm grows and spreads at a fast pace, so you will want to keep it planted in a pot, or where it is free to spread out.
Lemon Balm is available at most Garden Stores, and also available on Amazon in seed form, and in plant form such as this Hirt Garden Lemon Balm Plants.
Mexican Marigold
This plant also goes by Mexican tarragon, sweet mace, and a few other less common names. For brightening your garden or porch and keeping mosquitoes out of the area, these marigolds are the clear winner.
They have a wonderful fragrance, come in many colors, and are very easy to grow. You may gain bees and butterflies, as they both love the flowers, but the mosquitoes do not share in the love for the marigolds.
This plant is often used as an herb in cooking and is used for medicinal reasons in some areas.
Mexican tarragon is available in most garden stores, and also in seed and plant form from Amazon, such as these Hirt garden Mexican Tarragon plants.
Rosemary
Rosemary isn't just for cooking; this fragrant plant keeps the bugs away, too! Rosemary is a plant that you can even make your own mosquito skin repellent out of by mixing a few drops of the plant oil with some olive oil. It will soften your skin and keep biters at bay.
Rosemary will add a little color to your space as well, as it has white, pink, or blue flowers in the springtime. If you live in an area that doesn't experience frost, you can grow rosemary in the ground, otherwise grow it in a pot that you can relocate indoors when the temperature drops down.
Rosemary is available nearly everywhere, from grocery stores to garden stores to Amazon such as these Stargazer Rosemary plants.
Catnip
The cats love it. The mosquitoes despise it. This is an especially beneficial plant to have around your home if you want to repel mosquitoes and please the feline member of your household as well. Just remember to keep this one hidden from stray and neighborhood cats, or else you might trade mosquitoes for cats!
Catnip is a great plant to have potted indoors so that your cat can enjoy it year round, and you can keep mosquitoes out of your home as well.
Catnip is available at most garden centers and online on Amazon, such as these Hirt Garden Catnip plants.
Lavender
Not only is this a beautiful plant with an amazing scent that most people love, it repels mosquitoes too. Along with rosemary, you can make a lotion or oil with some lavender, and apply it to your skin to ward the insects off.
Planted in pots on in a garden, rosemary will make a lovely addition to your home.
Lavender is available at most garden centers, and on Amazon such as these Findlavender plants.
Lime Basil
A popular citrus plant with a different twist; mosquitoes don't like limes either. This herb smells and tastes like lime, and it is often used in cooking to give dishes that extra pop of citrus.
You can plant your lime basil in the ground or in a pot and keep it nearby for its amazing scent and mosquito repelling properties.
Lime Basil seeds are available in most Garden centers and on Amazon, such as these Burpee Lime Basil seeds.
Conclusion
Before you head outside this year, be sure to place a few of the mosquito repelling plants around your outdoor space. You won't miss the annoying buzzing sounds, the itchy bites, or the smell of chemicals in the air. Instead, notice the fragrant scent from your new plants and enjoy your time relaxing and playing outdoors, free from the worry of mosquito bites.
---