The Orbital Chaise Lounge Chair is a great innovation in outdoor furniture. It is a winning combination of a chaise lounge and a rocking chair in one, with unique style. The chairs provide rocking motion capabilities with the relaxing comfort of a chaise lounge chair, blended with the portability of a folding chair. Sometimes called a Zero Gravity Chair, or an Orbital Chaise Lounger, these chairs are contemporary and useful.
Through our thorough research and analysis, we have found that the Sundale Outdoor Orbital Chaise Lounge Chair is the best zero gravity chaise lounge available. Available in five color options, and in packages of either two chairs or one, these stylish patio pieces are a great balance between quality and cost.
For more information on the Sundale Outdoor Orbital Chaise Lounge, please see our full review below.
Runner Up: Best Orbital Chaise Lounger
Just next to the Sundale Outdoor Orbital Chaise Lounge Chair in quality, durability, comfort and longevity, the 
Sunnydaze Orbital Chaise Lounge Chair
, is another top choice to consider. It is water-proof, light weight and easy to carry.
This lounger chair can make your rest and relaxing stylish and fun. On the deck or patio, or even at the beach, the Sunnydaze Orbital Chaise Lounge is a great choice.
To learn more about other high-quality products check the product review below.
Runner Up: Budget Zero Gravity Chaise Lounge Chair
If price is a major concern, the 
RST Outdoor Zero Gravity Orbital Chaise Lounge
is an excellent option choice. Product quality is high, and the retail price is aggressive.
With four colors to choose from, and a simple folding design, this orbit chaise lounger is a great choice for buyers who seek quality, flexibility, and value at a low price point.
For a full review of the RST Zero Gravity Chaise Lounge, please see below.
Orbital Chaise Lounge Chair Product Reviews
In this section we will look closely at several different orbital chaise lounge chair options, look at the positives and negatives of each, and compare and contrast.
---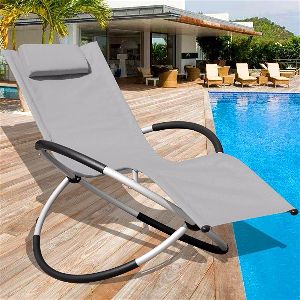 The Sundale Outdoor Orbital Chaise lounge chair is our favorite zero gravity chair, and has several features that make it stand out among the pack. The color options are strong, with four attractive colors to choose from.
Additionally, we quite like the powder coated steel frame with PVC protection sleeves. This design is well-done; it looks great, and will increase the life of the finish on the frame.
From the design, to the color, to the ease of assembly, the Sundale is unmatched.
Dimension and Specs
Dimension : 63″ long x 32″ wide x 36″ high
Item Weight : 20 pounds
Seat Width: 18″
Weight Capacity: 250lbs
Manufacturer Sundale : Outdoor
The Details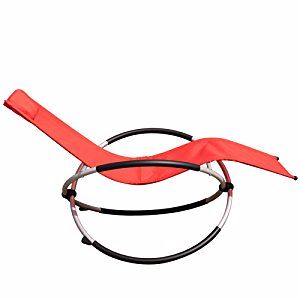 The frame of the Sundale Zero Gravity chair line is constructed of powder coated steel, finished in an attractive silver. The frame is rust resistant, but the powder coat can wear over time and when exposed, the steel can rust. Sundale cleverly added some plastic sleeves over the frame to help protect those areas that receive the most impact when rocking.
The sling back chair portion is constructed of comfortable vinyl sling fabric, with polyester pillows.  The woven PCV fabric is quick-drying, weather proof, and fade-resistant.
That said, this chair is easy to fold up and store, so we encourage users to store it out of the sun when possible to increase longevity of the fabric.
The Sundale orbit chaise lounger line is available in four modern colors, blue, green, grey, red.  The overall design is attractive and simple, and the chair is quite comfortable. Like all of the Zero Gravity chairs on our list, this chair can be a bit difficult to get in and out of for those with back or hip problems, or those getting on in years.
Assembly and Care
Assembly of the Sundale Orbital Chaise Lounge is not difficult, which is a strong selling point compared to some of the other chairs that are a bit finicky to get set up. The Sundale goes together in a matter of a few minutes, and you'll be relaxing by the pool or at the ocean in no time!
For cleaning, the Sundale can withstand water, sun and wind. However, like many outdoor colored fabric, it is vulnerable to strong cleaning agents and chemicals. Just clean it using water and soap. The chair comes with an easy-to-follow instructional guide for easy assembly.
The Bottom Line: A Solid Zero Gravity Lounger
The thought that went into the design of the Sundale Outdoor Zero Gravity Chaise Lounge is significant.
While all of the chairs on our list are near the same price point, we feel that Sundale has stepped up just a bit compared to the others, with the PVC sleeves on the frame, and the overall fit and finish of these chairs.
This is furniture made for paradise!
---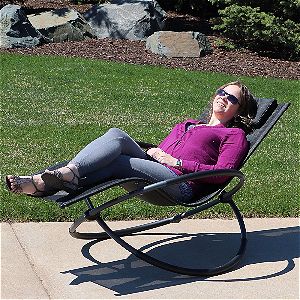 The Sunnydaze Orbital Chaise Lounge chair is a cool, stylish, contemporary Zero Gravity chaise lounge chair. This chair is sturdy and rust proof, and is a perfect lounger near pools and at the beach.
It is available in several stylish colors, can be folded for easy transport, and is available in a package of one or two chairs.
Dimension and Specs
Overall dimensions : 60″ length x 31″ width x 33″ high.
Weighs approximately : 17 pounds
Weight capacity : 264 pounds
Manufacturer : Sunnydaze
The Details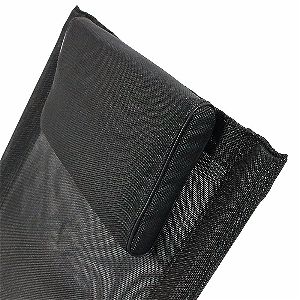 The Sunnydaze Orbit Chaise lounge chair is constructed of a durable black powder-coated steel frame, which is rust resistant. Attached to the frame is a weather-resistant Textilene sling seat and back fabric.
Additionally, a head pillow made of Textilene with a foam core supplies extra comfort and relaxation.
Textilene is a high quality PVC coated, UV-resistant polyester fabric, and is an excellent choice for a chair like this. See here for more information on outdoor fabrics.
The powder coat of paint on the frame should protect the steel, but if you start to see scratches and wear in the powder coat over time, you may want to spray some Rustoleum paint to give further protection to the frame.
One of the big advantages of the orbital chaise lounge chair is the portability and ease of storage offered by the folding design. The fold up process is very simple, and the chair is light enough to carry most anywhere, and is small enough to easily be stored out of sight when not needed.
Assembly and Care
Assembling the Sunnydaze is a bit of a bear, and those unfamiliar with working with metal and fabric chairs may need a little assistance to set up this lounger. Though this product is made with quality materials which do not easily wear off, the design of the frame makes it hard for one to straddle.
Cleaning this material is a breeze, just use a wet cloth to wipe out dirt. For maximum life, be sure to store the Sunnydaze Orbit Chaise Lounger when not in use.
The Bottom Line: A Quality Orbit Lounger
With five color choices, the option to purchase one or two in a package, significant comfort, and a good weight capacity, the Sunnydaze Zero Gravity chair is a great option for a portable chaise lounge.
And if you want, you can purchase a set of two chairs at once, and get a reduced price per chair.
As an added bonus, these chairs are available on Amazon Prime!
---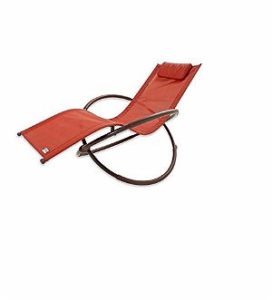 The RST Outdoor Zero Gravity chaise lounge hits a nice balance between quality and price. These chairs have a high quality fit and finish, though we definitely like the silver or charcoal frame color chosen by some of the other manufacturers on our list, as opposed to the antique bronze that RST has chosen.
With a large frame and solid weight capacity, this option is ideal for larger individuals (though this chair weighs more than most). The RST is a great choice for those on a budget.
Dimension and Specs
Product Dimensions : 71″ x 31″ x 36″
Item Weight : 25 pounds
Weight capacity : 275 pounds
Width when folded: 8″
Manufacturer : Red Star Traders – Lawn and Garden
The Details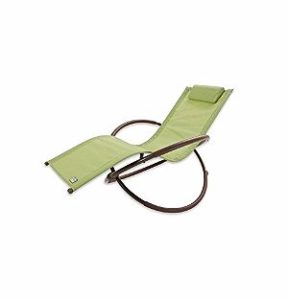 The RST Zero Gravity chair is made of fade resistant, woven PVC sling material similar to many of the other chairs on our list. The sling material is high quality, and the pillow is a nice addition.
The frame is constructed of steel, and is powder coated in a bronze color that looks good with the green fabric, but in our opinion doesn't look great with the other colors.
The frame features PVC sleeves to protect the chair, and stops to prevent the chair from toppling back, which is a helpful idea. It folds up easily for transport, though at 25 lbs, it's a bit heavier than some of the other chairs on our list. However, it can support a good deal of weight.
Assembly and Care
Assembly of the RSI orbital chaise lounge is simple: just fit in the fabric to the frame using screws and washers. The two parts of the orbital frame folds easily for storage.
If left exposed to the elements for a significant amount of time, the fabric on the RSI lounger can start to fade and deteriorate. When possible, fold up the chair and store it out of the sun to keep the fabric looking as good as new! One of the advantages of these chairs is the ease of storage, so take advantage of that and make it last a lifetime.
The Bottom Line: A Bargain Orbital Lounge Chair
The RSI Zero Gravity Chaise Lounge is a large chaise lounge with a solid weight capacity at a good price.
It's on the heavy side, and less portable than some of the others, and we don't love the bronze color for the frame.
However, this chair is an excellent choice for those on a budget who are looking for a value in their outdoor patio furniture.
---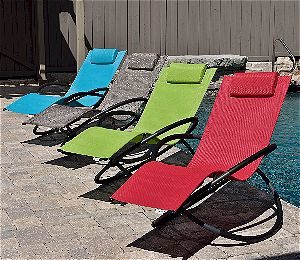 The Vivere Zero Gravity Orbital Chaise Lounge line of chairs is yet another great selection of chairs. The acrylic mesh fabric has a unique design giving you a comfortable feel on your skin, and the contoured shape makes these chairs super comfortable!
With four color options and a detachable pillow, these are a compelling option.
These chairs also come with a one year warranty, which is a great plus.
Dimension and Specs
Item Dimensions : 61″ long x 30″ wide x 35″ high
Weight Capacity: 265 lb
Shipping Weight : 22 pounds
Model Number : ORBL1-CR
The Details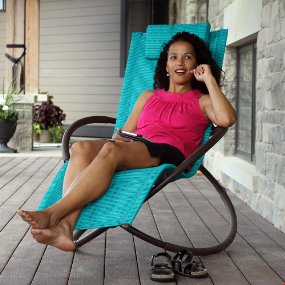 The Viere line of Zero Gravity chairs is made of a steel frame, powder coated in an attractive black color. On the frame are rubberized protectors which help keep the frame in good condition during rocking, and help protect the lounge chair if it is submerged in water.
The sling portion of the chair is made of a water-resistant mesh acrylic fabric which we quite like. The foam pillow is detachable, and is quite comfortable.
This one is perhaps the most water-proof of all the loungers on our list. The Vivere Zero Gravity chair's design prevents water from seeping into the fabric, which significantly helps to protect the fabric.
Assembly and Care
Assembly of the Vivere can be difficult, and it is not as easy to fold up and put away as some of the other chairs on our list. While we like the fabric, it's a bit more difficult to work with than the others, so be prepared for a bit of hassle putting it together. You may want to have an extra set of hands nearby for a few of the steps when assembling.
Care of the chair is pretty simple, just wash with a mild soap and water, and your Vivere Orbit Chaise Lounger should last for years!
The Bottom Line
The Vivere line of orbital chaise lounge chairs is high quality, and the 1 year warranty is a great selling point.
We quite like the color selection, and the design is solid. The fabric is nice, though it is a bit difficult to work with compared to some of of the other items on our list.
If you plan on setting this chair under a porch or some sort of roof, it is a great choice, but if you plan on folding/unfolding regularly, you may want to look at some of the other options on our list.
---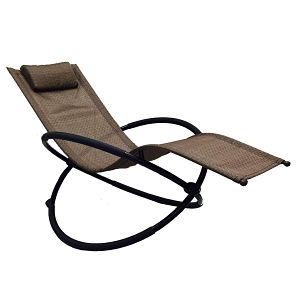 Looking for a lounge chair that can easily fit in your car? The Urban Furnishings orbital chaise lounge may be the one you are looking for. With a light-weight but sturdy frame (among the lightest on this list), the Urban Furnishings zero gravity chair is ideal for portability.
The biggest draw back is the color: only the brown shown here is available, and we can't say we love the color!
Dimension and Specs
Shipping Weight: 21 pounds
Weight Capacity: 275lbs
Manufacturer : UrbanFurnishing
1 Year Warranty
The Details
The UrbanFurnishings Zero G chair is constructed of a powder coated steel frame finished in matte black, with PVC sleeves to protect the frame. The sling is made of woven PVC fabric, and is fairly sturdy. We wish they came in an array of colors, or at least a better color than the bland brown they are currently supplied in.
The zero-gravity design of these Urban Furnishings chairs gives feeling of weightlessness and allows for great relaxation, however some have found that it's hard to get them positioned to a comfortable angle (either you're sitting up awkwardly, or tilted a bit too far back). Also, some find them difficult to get in and out of, though this is common to all Zero Gravity Chaise Lounge chairs.
Assembly and Care
The UrbanFurnishings chair is quite easy to assemble, and goes together in 10 or so minutes. That said, it can be handy to have a second person around during assembly, as sometimes a third (or fourth) hand would be helpful in getting everything together.
The lounger can be cleaned though soap and water, and ideally should be folded up and stored out of the sun when not in use. This will help keep the fabric in good shape for years to come.
The Bottom Line
The UrbanFurnishings Orbital chaise lounge is a great choice for those who are on the go. It is light weight yet sturdy, and packs away easily.
If you don't mind the lack of any fun colors, the Urban Furnishings chair is well made, and includes a 1 year warranty as a great extra.
---