Wall Mount Patio Heaters are virtually all electric powered infrared units. These units supply heat through radiant heating, which heats the objects in the path of the heater, not the air itself. Consequently, the longer one is in the path of the heater, the warmer they will become. Typically there are no fans on these units, and they usually (realistically) cast heat about 3-4′ out from the heating element. After taking a close look at several wall mount patio heaters, we have determined that the Best Wall Mounted Patio Heaters are the
Blumfeldt Gold Bar Electric Patio Heaters
.
These units supply 1,500 watts of infrared heat in a low-glare system, with three power modes, good water resistance, a remote control included, and an eye-catching design.
For a complete review of these heaters, please see our Product Reviews section below.
If you're looking for general ideas on heating outdoor spaces, be sure to check out our outdoor heating mega guide for inspiration!
Runner Up Best Wall Mounted Patio Heaters
The
AZ Patio Heaters wall mount electric patio heater
is a nice choice as well, with an interesting industrial design, waterproof housing, 1,500 watts of power, and a remote for ease of use. The mounting system on this unit works well, and the heater itself can be adjusted to a wide variety of angles. These heaters have a 1 year warranty.
AZ Patio Heaters is a great brand, but in general we feel the Blumfeldt beats out the AZ Patio heaters unit in quality. Some find that the bulbs burn out too quickly on the AZ Patio Heaters units (an expensive fix!), which is a concern.
For a complete review, please see our product reviews section below.
Budget Pick: Best Wall Mounted Electric Heater
The
Comfort Zone ceiling mounted patio heater
hits a great price point, and offers a good deal of heat output and decent design. With two power settings, this dual-tube quartz patio heater is a good choice for those on a budget. We dislike the pull string design of these heaters, and feel a remote would be a huge step up on this design.
Additionally, these units are not water tight, and can only be used in a covered environment where they won't get wet, so this limits their use to lanais, covered balconies, covered porches, etc.
Still, the Comfort Zone is offered at a great price point, and many frugal shoppers may find its feature set quite attractive. For a full review, please see our Product Reviews section below.
Wall Mount Patio Heater Product Reviews
In this section, we look at five of our favorite wall mounted electric patio heaters. We compare the strengths and weaknesses of each, and identify our favorites.
Here is a comparison table showing the basics:
Preview
Top Pick!
Budget Choice
Runner Up
Temp Control
3 Levels/ Remote Included
1 Level, Plug In to Turn On
Top Pick!
Preview
Temp Control
3 Levels/ Remote Included
Budget Choice
Preview
Preview
Temp Control
1 Level, Plug In to Turn On
Preview
Last update on 2018-06-20 / Affiliate links / Images from Amazon Product Advertising API
---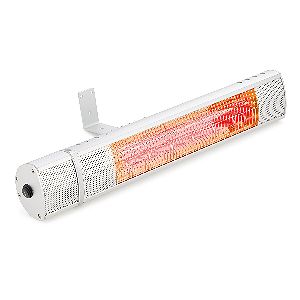 The Blumfeldt Gold Bar 1,500 watt infrared heater certainly has the best aesthetic sense of any of the heaters on our list today. The tubes are glare free, the heater offers three power levels, and a remote is included for easy control.
These are available in a silver finish, and really look great when mounted.
Key Points at a Glance
1,500 watts of heat supplied through a 110v standard outlet plug
Has three power settings
Includes wall/ceiling mounting bracket
Gold bar heating element keeps the glare down to a minimum
IP65 Rated (can withstand some water)
Remote control allows for easy adjustment of the temperature as needed
Dimensions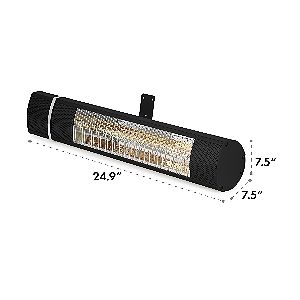 Dimensions: 24.9″ x 7.5″ x 7.5″
Weight: 6.6lbs
Cord Length: 6′
The Details
The Blumfeldt Gold Bar heater is our favorite heater on this list, and it works exceptionally well, while looking stylish, cool, and German. The whole package is well thought out, with a low-glare design, three power levels, and a remote control for easy manipulation of the temperature.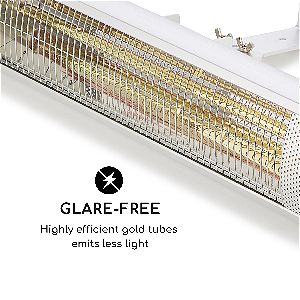 The Gold Bar heater still doesn't flood you with heat (no 110v electric heater will, really) but it does supply a decent amount of directed heat, outdoors, in a 4-5′ range from the heater.
If that is your expectation, this heater will do a good job at such a task. If you plan to heat a whole patio with this heater, you will be frustrated, and should get a gas patio heater instead.
However, if you're realistic about the amount of heat these units can supply, they are quite useful, and the Blumfeldt heater in particular covers pretty much all the bases better than all of the other heaters on this list.
The Bottom Line: The Best Wall Mount Infrared Heater
Out of all the heaters on our list today, the Blumfeldt Gold Tube electric wall mount heater is our favorite. The design is top notch, and the features list is the most complete.
It is certainly not the cheapest heater on the list, but it is not far from many of the other heaters with lesser specs.
Overall, these are the best wall mounted patio heaters available.
---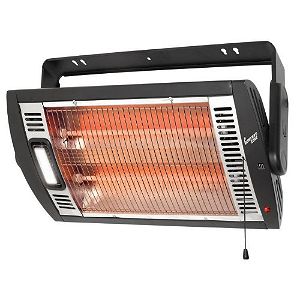 These units are a bit unique in that they have a two tube system, and two heating power options. The Comfort Zone system is not primarily designed for wall mounting, but can be wall mounted in a pinch. Fortunately, this heater works pretty well, and hits a great budget price point!
These units supply a good deal of directed heat, and have a pretty nice style. Also, the glow on these is not as extreme as what is found on some of the other units on our list, which is a nice aspect to these heaters.
Key Points at a Glance
1,500 watt or 750 watt power options
Quartz element Supplies heat out to about 5′
Can be wall or ceiling mounted
Uses a pull chain to turn on
Safety overheat protection
Durable metal housing
Dimensions
Dimensions: 26″ x 5″ x 14″
Weight: 7.8 lbs
Cord Length: 7′
The Details
This unit has two tubes in it, and combined, they will supply 1,500 watts of heat energy. There are two settings on the heater, low and high, and when on low, the heater will only run one of the tubes. On high, both are lit.
While the Comfort Zone heater is rated for outdoor use, it is not weatherproof in any way, so it is really only practical for outdoor use in areas like a lanai or gazebo where it is sheltered from rain and snow.
These operate with a pull string, which is a design we are not particularly fond of. The string is essentially in the path of the heating element, and over time, the string may heat up. If the heater is left on for a very long time, this could become a hazard. We would much prefer a remote control for an on/off switch.
The Bottom Line: Inexpensive Wall Mounted Infrared Heater
At its price point, this heater is an excellent choice for those who can keep the Comfort Zone out of the elements (on a covered balcony, a lanai, front porch, etc.) These put off a good deal of heat, and operate pretty well.
Given their price point, they are a great option for many. We do encourage users to keep an eye on the pull string, and ensure that it is not overheating.
The Comfort Zone heater is definitely the best budget option for (covered) patio heating.
---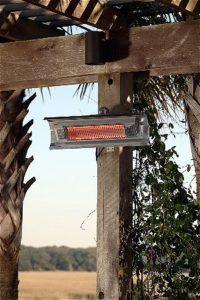 The FireSense Mojave Sun wall mounted electric heater is a great choice for a low-profile electric heater. These units don't put out a ton of heat, and they are not strong enough to supply primary heat to a large outdoor location. However, they do help to take the chill off of small areas, and they are not impacted by wind.
These heaters put off a fairly bright glow (certainly more than what is expressed in the photos), so buyers should consider the visual impact of the light when purchasing.
Key Points at a Glance
Heat output is 1,500 watts, or about 5,100 BTUs
Easy mount wall or ceiling electric patio heater
Plugs into a standard 110v electric outlet
Expels UV heat in at most a 9′ zone
Heat unaffected by wind
Can work indoors or outdoors
1 Year Warranty
Dimensions
Dimensions: 22″ x 3.5″ x 7.,5″
Weight: 8lbs
Heating Area: Approx 9′ zone
Clearances: 83″ from the ground, 12″ from ceiling, 36″ from front and sides
The Details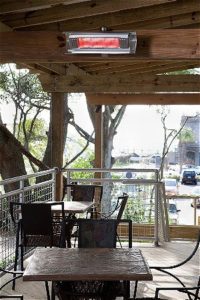 The FireSense Mojave wall mount heater can either be hard wired or plugged in. Some users who have the unit plugged in have found that the bulb tends to go prematurely, necessitating a costly replacement if not under warranty. By hard wiring the heater, there is less likelihood that the bulb will blow. If the bulb does blow, a replacement can be an expensive!
The unit is 1,500 watts, and it is advertised to expel heat in a 9′ area. This is… optimistic, and realistically this heater will supply a noticeable amount of heat 3-5 feet away from the unit, and that's about it.
There is no on or off switch on the unit, you simply plug it in and it will turn on by itself. To shut off, unplug the unit. If your unit is placed in a location that's awkward to get to, this can be a detriment, and you may need to use a ladder or other method to reach high enough to shut it off.
The Bottom Line: Reasonable Patio Wall Heaters
The included mounting kit makes these easy to install, and to position in the exact way you want. The heat output of these is not ideal, but most infrared plug in heaters don't supply a huge amount of heat.
Be prepared for a bright orange glow, and for heat to be present when standing directly in front of the unit, and it will work well.
Also, consider hard wiring to avoid having to constantly purchase new bulbs.
---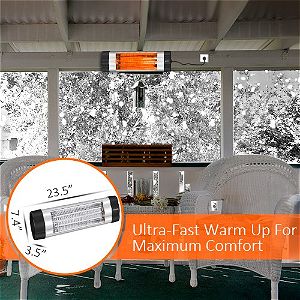 The Vivreal Home Wall Mounted heater is a nice looking infrared heater with carbon fiber tube. It heats up quickly, and supplies decent heat to the area immediately in front of the element. It has a maximum range of about 10′, but the realistic range is approximately half that distance.
The heater includes a thermostat, but it doesn't function like a typical thermostat, and is not really ideal.
Key Points at a Glance
1,500 watt 110v infrared patio heater
Can be used indoors and outdoors
Has auto-shut off safety system
Includes thermostat (not automatic)
Dimensions
Dimensions: 23.5″ x 7.5″ x 3.5″'
Cord Length: 6′
Weight: 4lbs
The Details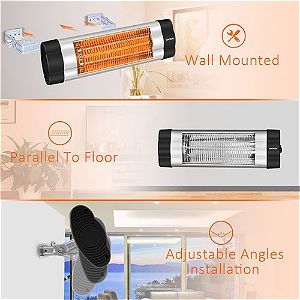 The Vivreal Home Wall Mounted Patio Heater is not compeltely waterproof, so be considerate of where you install it when used outdoors. It is "splash proof", so it can withstand some water impact, but it is not compeltely rain and snow proof.
It can be mounted in a variety of ways, though on the wall it is more flexible than on the ceiling. It can be angled to suit the needs of those below, or placed flat.
This heater has a thermostat system, but it is not automatic. You have to set it in a relative manner each time you use it, which is a bit of an odd choice.
The Bottom Line: Decent Wall Patio Heaters
The Vivreal Home Patio Heater comes in an attractive housing, is easy to install, and works pretty well as a heater.
For many, it is a good choice for a low profile wall or ceiling mounted electric heater.
---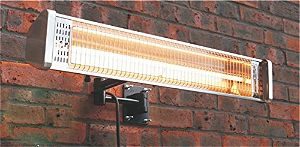 The AZ Patio Heaters remote wall mounted heater has a more industrial look than many of the other items on our list, and also has the advantage that it is completely waterproof, making it much more robust for outdoor use than some of the other heaters on our list.
AZ Patio Heaters is one of the top names in outdoor heating, and this heater meets their typical high standards of quality.
Key Points at a Glance
1,500 watt wall mounted heater
Advertised to heat a 15′ area (we feel that is optimistic)
IP Certified Waterproof housing
Remote control included for easy operation
1 Year Warranty (except fuses and bulb)
Dimensions
Dimensions: 24″ x 6″ x 8″
Weight: 9lbs
Clearances: 3′ from heater
The Details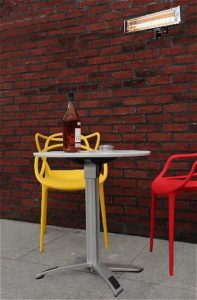 The light output on these units is a little bit less glaring than some of the other infrared electric heaters on the market.
Some have found the build quality a bit lacking on these units, namely the housing and wiring on the inside. If these fail, then the heater will be junk. However, AZ Patio Heaters does offer a 1 year warranty on the unit (though not the bulb) so if you do have an issue with the wiring or housing, contact them ASAP for a replacement.
You should test the heater out upon receiving it — don't wait for a cold snap to get the heater out of the box. Test it when you get it.
AZ Patio Heaters advertises these as being able to heat an area 15′ from the heater. This is wildly optimistic, and realistically this heater will warm an area at most 5′ from the heater to any noticeable degree.
A couple of these heaters located near a few chairs will make the sitting area more pleasant, but it certainly isn't capable of heating a 15′ long area.
The Bottom Line: Excellent Outdoor Wall Mounted Heaters
The AZ Patio Heaters 1,500 watt wall mounted heater has a lot going for it: it includes a remote, it's IP Certified as Waterproof, and it has a decent industrial aesthetic.
However, like virtually all 1,500 watt infrared heaters, it doesn't put out a whole lot of heat, so buyers should temper their expectations — these are not propane heaters.
For what they are, this unit is a great choice at its price point.
Wall Mount Patio Heaters Buyer's Guide
When shopping for the best wall mounted patio heaters for your needs, here are a few considerations to keep in mind.
Power Requirements
Virtually all plug in electric patio heaters output 1,500 watts of heat at 110v, and most pull 12.5-15amps each. Be sure you run your heaters on a circuit capable of handling the load (especially important if you want to use more than one heater at the same time).
Outdoor Wall Mounted Heater Power Output
The standard heat output of a 110v electric heater is 1,500 watts, which translates to a little over 5,000BTU of heat. This can be compared to 20,000-40,000 BTU of heat for a propane heater. Infrared electric heat is a different kind of heat than propane heat. Infrared directly heats the objects in front of the heater (that would be you!), while propane heats the air around the heater.
This makes infrared less susceptible to wind blowing the heated air away, but the overall amount of heat output by these heaters is far lower than what one of the best outdoor gas heaters can supply. Buyers should consider how much heat they need, and the environment where the heat will go.
Extension Cords
For units drawing significant power, typically a standard extension cord is not appropriate for use. There are Heavy Duty, high amp extension cords available, but they are not the standard ones you may already have in the garage, and are the only cords that should be used in conjunction with a heater.
Be sure to check the individual power draw of the heater you choose, and check to make sure the cord you purchase is appropriate for that amount of power.
Clearance
Never place flammable items directly in front of an infrared heater. Virtually all of the heaters on our list today have required clearances around them. When possible, we have supplied the information about clearances, and if you have further questions we suggest you contact the seller of the heater directly. These clearances are for safety, and should not be ignored.
Glare
Many buyers are frustrated by the significant glare output by some of infrared electric heaters. Instead of a charming, ambient light, these heaters often cast a french fry glow that can negatively impact the vibe of your gathering. Consider the light output of these units when purchasing, and if you're concerned, opt for a low-glare model.