Chimneyless fireplaces, or vent-free fireplaces, come in many forms. These units can be used both indoor and outdoor, and offer many intriguing design possibilities. Vent free fireplaces burn a wide variety of fuels, such as bio ethanol liquid fuel, gel fuel, natural gas, etc., so no matter your circumstances, you'll be able to find a chimneyless fireplace that will supply you with ambiance, heat, and soothing beauty.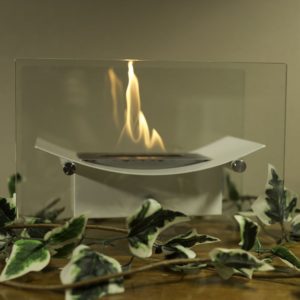 In this article, we will touch on several varieties of ventless fireplaces, and hopefully, give you some context as to how these units work.
Chimneyless Fireplace Considerations
Unit Sizing
It is very important that you properly size your ventless fireplace for your room. Getting too large of a fireplace could result in sub-optimal air quality levels, and it may be wise to open a window if you're in a small room, or at least leave doors open if air quality is a concern.
Professional Installation
Depending on the type of fuel you wish to burn in your no vent fireplace, you may need professional installation. Virtually all natural gas and propane vent free fireplaces need to have supply lines run to their location, and this certainly requires professional installation.
Ethanol and gel fireplaces, on the other hand, do not require professional installation. These units burn cleanly, with no output other than water vapor and carbon dioxide (that's dioxide, the kind that plants like!)
Fuel Costs
Natural Gas and Propane are typically cheaper to burn than ethanol and gel are, unfortunately. If you plan on using your fireplace a lot, it may make sense to go for a natural gas or propane fueled unit, and pay for installation, as the fuel costs will be lower.
Conversely, if you're not looking to use your fireplace constantly, and it is mostly just for accent and occasional use, then an ethanol or gel fireplace may be perfect for you, despite the higher fuel costs associated.
Ethanol Fireplaces
One of the most common no vent fireplaces that has come to market recently is the ethanol fireplaces. These units burn an environmentally friendly bio-ethanol liquid fuel that is made from fermented crop silage. By recycling waste crops and grass, ethanol fireplaces make an environmentally friendly statement.
Heat Output
Generally, ethanol fireplaces at best provide supplemental heating. You can see our guide to outdoor fireplaces to get a sense of what size and BTU output you'll want for your ventless fireplace.
Portability
Tabletop fireplaces are especially portable and are great for both indoor and outdoor use. They tend to be on the small side and create a different ambiance than traditional fireplaces that sit against a wall, as they are often much closer to a group than a well-placed fireplace would be.
Variety of Designs
Ethanol fireplaces are available in a wide variety of designs, from tabletop to wall mount to inserts. We will touch on a few of these styles here.
Table Top Ethanol Fireplaces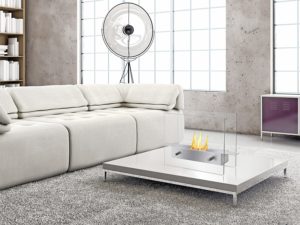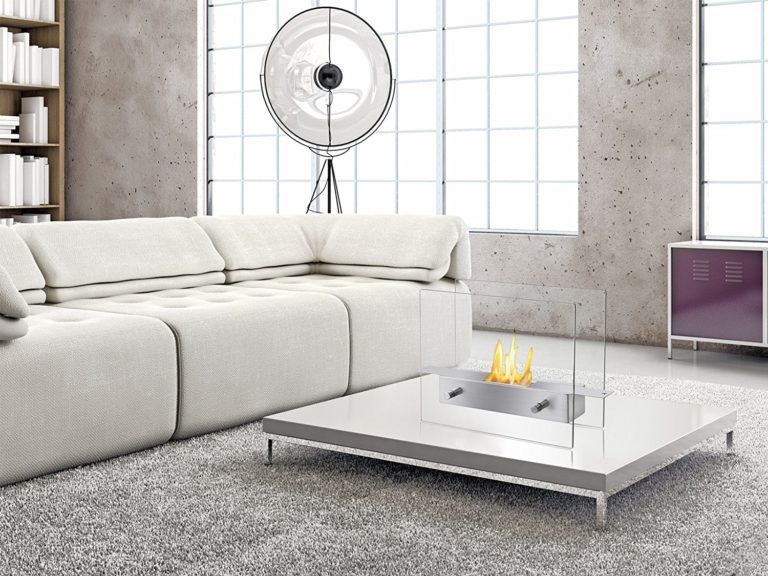 There are many tabletop ethanol fireplaces available, in a variety of sizes and shapes. They are usually quite modern looking, and while they don't expel as much heat as traditional gas or wood burning fireplaces do, they look beautiful and do provide some heat.
The table top ethanol fireplace often is constructed of tempered glass panels surrounding a metal reservoir which holds the bio ethanol fuel. The fire burns between the glass panels for safety.
These units are easy to move, and are great for both indoor and outdoor use!
See OutsideModern's guide for more information about tabletop ethanol fireplaces.
Ethanol Insert Fireplaces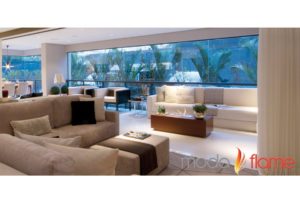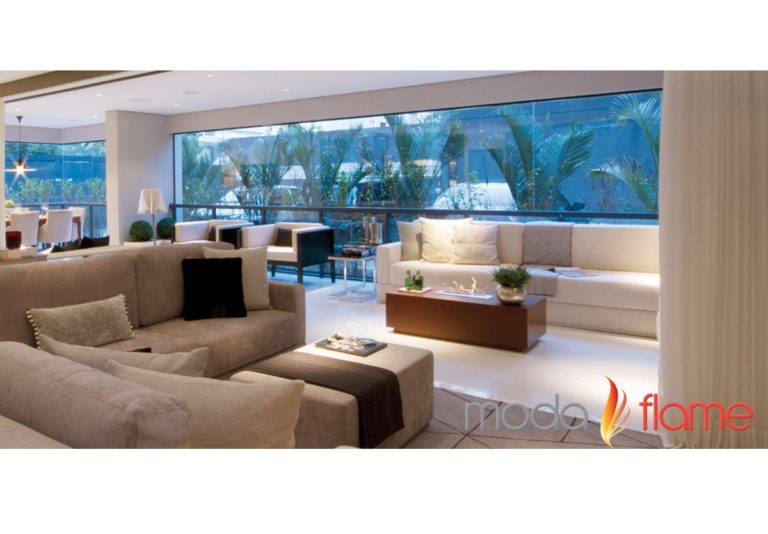 Ethanol inserts can be placed into an existing wood burning fireplace box or can be inserted into a table, concrete base, or any other frame. Be sure you properly protect your frame against heat and fire before you insert the burner!
If you have an existing fireplace with a non-functioning or undersized chimney, broken flue, etc., then you could consider not repairing or replacing, and rather inserting an ethanol burner in the fireplace.
These burners don't supply a whole lot of heat, but they do supply some heat, and if the fireplace is primarily for secondary heat, an insert may be a much cheaper option than a costly repair or upgrade!
If you prefer the look of wood logs, you can find ceramic logs that will sit on top of an ethanol burner, which will provide a more traditional fireplace look.
See our article on Ethanol Fireplace Inserts for more information.
Wall Mounted Ethanol Fireplaces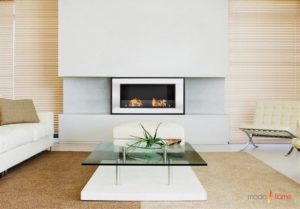 The last common location for ethanol fireplaces is on a wall! These units hang like artworks on a wall and are typically surrounded by a metal frame. They are very modern looking, and like the other ethanol fireplaces on our list, can be easily moved both indoors and outdoors.
Wall mounted ethanol fireplaces can be used in a similar way to traditional fireplaces with a mantel, but typically these units tend to be more modern and sleek looking than a traditional wood burning fireplace.
Natural Gas/Liquid Propane Fireplaces
Natural gas and liquid propane are also possible fuels for vent free fireplaces. Think about it: many people have natural gas and propane stoves that produce a flame in their houses and need no chimneys for those stoves.
They may need vents for the smell of food, but not for the flames!
Petroleum-based
Natural gas and propane are both petroleum-based products and therefore are not particularly environmentally friendly. Still, depending on the amount you intend to use the fireplace, it may not have much of an impact.
Standard Design
The vast majority of natural gas and propane ventless fireplace inserts are designed with a ceramic log-like structure, and a natural gas or propane burner beneath. These function very similar to a regular natural gas fireplace, but burn cleaner, and do not produce any dangerous chemicals.
Gas Log Inserts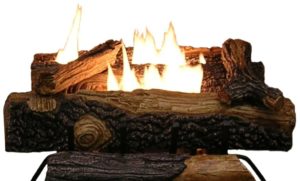 These units tend to have a much more classic design than the ethanol fireplaces, as they try to mimic traditional wood burning in look. Sometimes they succeed, sometimes they don't! Typically these units are made of a ceramic fireproof log stack, with flames that burn between the logs.
You'll need to supply fuel to these units, which may require a plumber or other professional to install pipes and hook up the system. This can be a costly extra, so be sure to consider the fuel source before you purchase one of these units.
Gel Fueled Fireplaces
Gel fireplaces are a great choice if you want the look of a traditional fireplace with a mantel and woodwork, but don't have a chimney, or don't want to run a gas line or propane line to your fireplace location.
Environmental Friendliness
Gel fuel is isopropyl alcohol, and is produced in a similar way to bio-ethanol fuel, and is environmentally friendly. By fermenting crop waste, gel fuel is clean burning, and will even make a crackling noise that is not wholly different than a traditional wood burning fireplace.
Design
For whatever reason, gel fireplaces are often built with wooden mantels around them, as opposed to the freewheeling designs found in ethanol fireplaces. These units often have book-cases attached to them or other structural elements that make them prominent wall features.
Gel Fireplace Units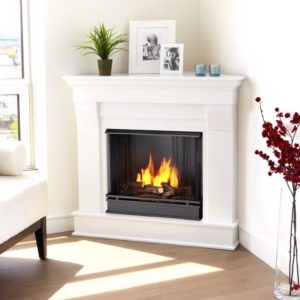 Many gel fireplaces are designed like this Real Flame Chateau fireplace, with a mantel and significant structure. Depending on the number of moldings present on the wood, these units range from fairly modern to transitional to traditional in style.
They are quite useful in many contexts if buyers are searching for a wall mounted fireplace that provides a real flame, but don't want to run supply lines or otherwise build a full wood burning fireplace.
---