Best Outdoor Couch Covers
After spending a great deal of time researching the best outdoor couch covers available, we have rounded down our list to five top candidates. The best of this list is the Classic Accessories Ravenna line of sofa covers. With several size options capable of handling outdoor sofas, loveseats, gliders, sectionals, etc., this line of covers should be able to fit whatever you have.
Last update on 2021-06-14 / Affiliate links / Images from Amazon Product Advertising API
The Ravenna line uses one of the more modern, interesting color palette choices on the list, and has the most handsome silhouette of any of the furniture covers we discuss. Finally, Classic Accessories backs the Ravenna line with a limited lifetime warranty, which is really remarkable! This mix of features makes the Classic Accessories Ravenna line the Best Outdoor Couch Cover available.
For a full review, including sizing information and product details, please see our Product Reviews section below.
Runner Up: Best Outdoor Sofa Cover
ur runner-up Best Outdoor Couch Cover is the Duck Covers Ultimate Outdoor Couch Cover line. This series of two-tone polyester covers is 100% waterproof and has the usual bells and whistles designed to keep the cover in place, fitting snugly, and capable of moving air through the cover so as to prevent the air around the furniture from getting too musty.
Available in four different size options, there should be a good cover here that will fit whatever patio couch set you have. Duck Covers backs this product with a two-year limited warranty, which is helpful but pales in comparison to the Classic Accessories Ravenna line above. Still, the quality here is high, and the Duck Covers line of covers will keep your patio furniture nice and dry very well.
Last update on 2021-06-16 / Affiliate links / Images from Amazon Product Advertising API
Patio Sofa Covers Buyer's Guide
Once you have your beautiful modern outdoor sofa patio furniture set, you'll need the right cover to protect it! In this buyer's guide, we discuss a few of the most important aspects of the best outdoor sofa covers including materials quality, sizing questions, security mechanisms, and common features.
---
Sizing Your Outdoor Sofa Cover
Getting the right sized cover for outside furniture is critical to making sure it stays in place, functions as a water-repellent barrier, and looks good on your patio. So get out your tape measure and let's get the basics done.
If you have a sectional outdoor sofa, press the units together in a line as tightly as possible, and use this configuration as your basis for your sofa measurement.
Get the following measurements:
Length – the overall length of the couch from the longest point
Width – the overall width from the longest point
Back Height – the height of the back of the sofa, including any pillows that you intend to leave on the sofa while it is covered
Seat Height – the height of the seat of the couch, including any pillows that you intend to leave on while the sofa is covered.
Leg Height – the height of the legs of your sofa from the ground to the frame material. Many couch covers don't go all the way to the ground and have straps that are designed to wrap around the sofa legs. Should you choose one of these covers, you want to be sure that the cover will protect all the frame material of the couch, and just leave legs exposed.
You want to get a cover as close in size to your actual furniture as possible
With all of this information, you should be able to determine the appropriate size of a cover you need. In our product reviews section below, we have a chart for each cover that shows the size of each cover.
Generally, you want to get a cover as close in size to your actual furniture as possible, assuming that is available in the product line that you like best. Getting a cover that is too large will defeat the purpose of a cover, as it will have more excess fabric that can billow and blow.
---
Outdoor Couch Cover Material
There are a few common outdoor furniture cover materials on the market. Some manufacturers use their own branded fabrics, but they can be largely broken down to the following general categories.
Vinyl
Vinyl is generally one of the cheaper materials for a sofa cover, though if it is reasonably thick, it can withstand harsh winter weather and deluges of water.
Polyester
Polyester is a polymer fabric that is typically quite strong and can be quite attractive. It is generally considered a slightly more robust material than vinyl for water protection.
Fleece
Fleece is a common material for inner linings of outdoor furniture covers. These inner linings are designed to give a soft material for the actual couch to be in contact with, so that the movement of the cover on the couch's pressure points won't wear away the cover fabric, or otherwise damage the couch itself.
Outdoor Couch Covers Waterproof Protection
Many of the outdoor couch covers on our list are waterproof or are nearly so. Some of the covers feature a dual-layer design. The inner layer is a waterproof tarp-like material, and the outer layer is a more attractive fabric material. These designs are quire effective at
---
Features of Outdoor Patio Furniture Covers
Some of the lower quality patio furniture covers are held to the furniture simply by the weight of the legs on the canvas. This is obviously not the ideal way to hold the cover down. Many of the nicer covers feature a variety of tie downs and other mechanisms designed to improve the security and functionality of the cover.
Click here for info on covers for patio furniture.
Cinches
Some patio furniture covers are secured to the underlying furniture using cinches. These generally work pretty well at holding the cover to the furniture.
Buckles
Often covers will have straps on the bottom with buckles attached. These buckles wrap around the legs of the patio furniture and form a bond between the cover and the furniture piece.
Velcro Ties
Velcro ties are also a common tie-down mechanism featured on the better outdoor patio furniture covers. Similar to buckles, these Velcro straps tie around the legs of the furniture and hold the cover down.
Vents
Vents are necessary on some covers to allow air to flow through the waterproof material. Encouraging air flow through the material (but not water) will help keep mold and mildew at bay, and giving wind a channel through the cover will prevent the cover from lifting off and sailing into the neighbor's yard at an inopportune time!
UV Protectants
Many covers use UV Protectant sprays to enhance fabric colorfastness and strengthen the fabric against cracks and sun damage.
Handles
Some outdoor couch covers feature handles to enable easy removal and placement of outdoor patio furniture covers. These handles frequently make covers easier to work with, and are usually a welcome addition.
Patio Sofa Cover Reviews
In this section we look in detail at several of the best outdoor couch covers on the market, examining the different sizing options available, looking at materials, build quality, general aesthetics, and warranty information.
---
1. Classic Accessories Ravenna Cover for Outdoor Sofas, Taupe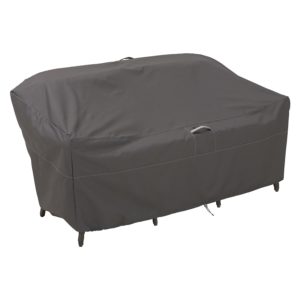 The Classic Accessories Ravenna Cover line is certainly one of the most attractive and modern-looking lines of sofa covers on our list. The covers are shaded a nice charcoal-meets-taupe color, with grey, handles sewn on in various locations.
The Classic Accessories Ravenna cover line comes in a huge variety of shapes and will cover virtually everything you might have on your patio: fire pits, cantilever umbrellas, chairs, BBQs, etc. You can get a matching set of covers that will make everything look uniform and modern when not in use. Focusing on the color of a sofa cover may seem minor, but many people will be staring out at their furniture in its covered form much more than they will be looking at it uncovered, so general style should not be ignored!
This outdoor couch cover line comes in four size options, and all are tapered to fit over typical couch shapes. The different size options are shown below.
Cover Size Chart
These deck furniture covers run a bit large, so if your furniture is right on the cusp between two sizes, we would suggest going with the smaller and testing it out. If it doesn't fit, you'll have to swap it out for the larger. The seam is the size listed, but there is additional material that makes the covers a bit bigger than this chart shows.
The Details
The Ravenna line of patio furniture covers is made with what Classic Accessories calls Gardelle One fabric: a durable woven polyester fabric coated with a UV stabilized coating and a water-resistant undercoating. Sewn into the cover are several reinforced padded handles, which make taking the cover off and putting it on a cinch!

The water-resistant backing is designed to keep your patio furniture dry, and the structural vents keep air flowing through the cover, preventing mildew and wind gusting. The vents are lined with mesh barriers, and should not allow water through, and the seams are taped with moisture-proof tape for added protection.
The cover is secured to the patio furniture with nylon straps with custom-colored buckles on the ends. Additionally, elastic hem cords keep the cover snugly wrapped around your outdoor couch.
The Classic Accessories cover line is not designed to cover the bottom of furniture legs, nor wheels. If this is a concern, in the case of your furniture, you may want to look elsewhere for a cover.
Cleaning and Care
These covers are not machine washable but are pretty easy to clean by hosing off with a pressurized garden hose. If necessary, you can use a little mild detergent and a scrub brush to get any pesky stains and mildew off.
The Bottom Line
When dry, the Classic Accessories Ravenna line is more of a taupe color, but when wet goes a bit toward a charcoal color, more like the color shown in the photos. Both are handsome colors, though over time the color may fade a bit in the sun. These covers are pretty solid and should be capable of withstanding most of what mother nature dishes out. The Classic Accessories line of covers is backed by a limited lifetime warranty, which is pretty outstanding!
The warranty, hardiness, pliability, and design of these covers make them the top choice among the best outdoor couch covers.
Last update on 2021-06-14 / Affiliate links / Images from Amazon Product Advertising API
---
2. Duck Covers Ultimate Patio Sofa Cover, 79-Inch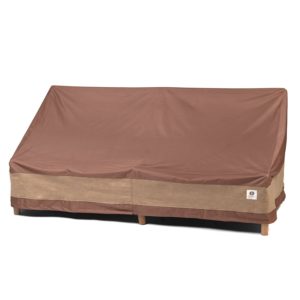 The Duck Covers Ultimate Patio cover line is a two-toned patio cover made of 100% waterproof polyester with a well thought out system to secure the covers to your outdoor furniture.
This line of outdoor sofa covers comes in three size categories (shown here in the small 79″ size) and features a taper of about 16″ from back to front to accommodate the natural shape of a sofa. The available sizes are broken down in the following chart.
Cover Size Chart
The Details
The Duck Covers Ultimate line of Patio Sofa Covers are quite well made, with several important features. The polyester material is 100% waterproof and is UV protected against cracks and fading.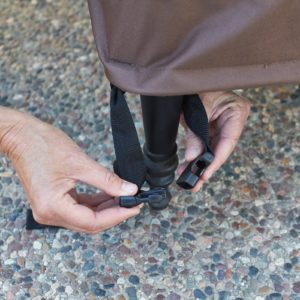 At the bottom of the cover, it is strengthened with a quality polyester base band material. This polyester base material forms breathable but weatherproof multi-layer panels. The panels allow air to flow through but do not allow the elements in. They eliminate the need for vents and keep the furniture underneath pleasantly dry.
The seams of this cover are sealed with sealer tape during manufacturing in order to prevent water from flowing through the seams. Even if the seams fray a bit over time, the sealer tape should help to re-enforce the water tightness.
The cover gets secured to the couch with nylon straps with slide-release buckles. The buckles wrap around your furniture legs and clip, then you can tighten everything up with the locking shock cord to hold the cover firmly in place.
Cleaning and Care
The easiest way to clean your Duck Covers line of garden furniture covers is to hose them off with a garden hose. They generally clean up pretty easily, and if you have a stubborn stain, you can just scrub the area with a sponge or brush and a little detergent.
These covers are not machine washable.
The Bottom Line
The Duck Covers Ultimate line of patio sofa covers is very well made and very well thought out. They are protected under a two-year manufacturer's warranty, which is certainly helpful. We do suggest you keep an eye on the cover for signs of wear, and contact the company for a replacement before the cover fails and your furniture gets ruined.
Duck Covers advertises this material as 100% waterproof, which some competitors are unwilling to claim. The quality of the materials and workmanship seems to back up this claim, and we feel these covers are among the best patio sofa covers available.
Sale
Last update on 2021-06-16 / Affiliate links / Images from Amazon Product Advertising API
---
3. Protective Covers Weatherproof Sofa Cover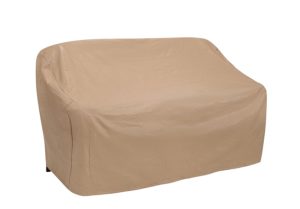 The Protective Covers line of Weatherproof Outdoor Sofa Covers is a nice protective cover set, colored in a rather drab tan tone, but with some quality features that make it an attractive patio sofa cover.
The Protective Covers sofa covers line comes in six different size options (shown here in the XL size), and all feature a slope from the back to the front of 8″ to accommodate the shape of a sofa. The sizes are broken down in the following chart.
Cover Size Chart
The Details
The Protective Covers line of outdoor couch covers is made of a premium 7mm Dura-Gard Vinyl shell, for durable protection from the elements on the exterior, and on the inside is a 4oz polypropylene fleece soft inner lining, perfect for scratch protection on your precious furniture. This fleece is laminated to the vinyl in a single sheet, and should not come off and stick to your furniture as you take the cover on and off.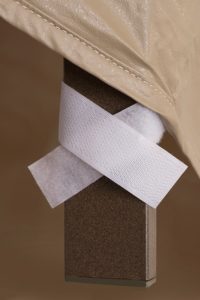 This line of covers is UV treated, so it will not crack in the cold. There are no vents on this product, but each cover has several Velcro ties sewn in various locations around the bottom. Additionally, it is not sealed on the bottom, so critters could potentially see the cover as a safe harbor in the winter months. On the other hand, it means that air can get into the furniture space, and it won't get so musty.
Cleaning and Care
These large outdoor furniture covers cannot be machine washed, but they are pretty simple to keep clean. The easiest way to clean these sofa covers is to spray them with water, and if necessary, to use a light detergent to get any mildew or grime off. Using a pressurized sprayer, you should be able to get the vast majority of muck off the cover without much difficulty.
The Bottom Line
The Protective Covers line of covers works very well, and as long as you properly secure the cover with the Velcro ties, should stay on your cover through wind, snow, rain, lava, locusts, and frogs. You should try to keep your eye on the cover as you use it, and if you see any sign of wear on the cover, take note. These covers are backed by a three-year manufacturers warranty by Protective Covers. which is a nice feature. However, if you feel things are going wrong, contact Protective Covers before the cover fails and you ruin your patio furniture!
We wish Protective Covers would make their line of covers in a more contemporary color palette (depending on your patio configuration, you could be staring out at the covered furniture a lot!), but they succeed well at their primary task: keeping your outdoor sofa dry.
Protective Covers Weatherproof 3 Seat Glider Cover, Tan - 1168-TN
Weatherproof vinyl cover for 3 seat outdoor glider
Velcro drawstring for firm hold even in wind
7 millimeter vinyl shell with fleece backing for durability and...
UV treated to withstand sun exposure; won't crack in cold or come off...
Measures 78 by 31 by 35 (l x d x h); 3 year manufacturer warranty
Last update on 2021-06-16 / Affiliate links / Images from Amazon Product Advertising API
---
4. Bench Cover for Outdoor Loveseat or Patio Sofa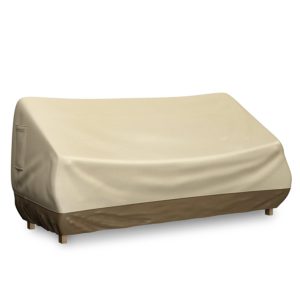 The Bench Cover is only designed for a single size of patio sofa or outdoor glider and is not a line of products. This cover is made of heavy-duty waterproof fabric and features an attractive two-tone design that looks good and functions well.
To see if the Bench Cover sofa cover will work with your outdoor sofa, see the size diagram below.
Cover Size Chart
The Details
The Bench Cover is made of woven polyester with a PVC backing. It has what the manufacturer calls Anti-Splash protection and UV Protection.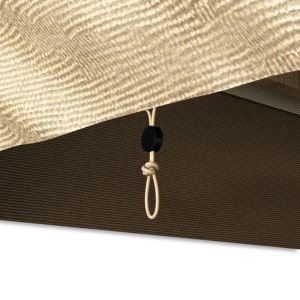 The cover is secured to the underlying furniture piece with straps containing click close buckles on the end pieces. The cover has vents on the side to help prevent moisture buildup and protect the cover from blowing off the furniture. At the bottom of the cover, an elastic hem cord helps hold the cover down and firmly against the furniture.
Handles are a useful addition to the Bench Cover, allowing it to be easily taken on or off as needed. The seams are reinforced with double stitching and have decorative piping for a nice little extra design element.
Cleaning and Care
This cover cannot be put in the washing machine. It can be pretty easily sprayed down with a pressurized hose sprayer, and any pesky spots can be scrubbed down with a brush or sponge.
The Bottom Line
This cover is surprisingly high-quality and is quite functional if your furniture happens to comply with the dimensions of the cover. They are made with good materials, very heavy, yet fairly easy to take on and off due to the handles.
The Bench Cover features a 10-year limited warranty, which is pretty impressive, and shows that Bench Cover stands behind their wares. If it fits your outdoor sofa size, the Bench Cover is highly recommended.
No products found.
---
5. KHOMO GEAR – TITAN Series – Waterproof Heavy Duty Outdoor Lounge Loveseat Sofa Patio Cover, Grey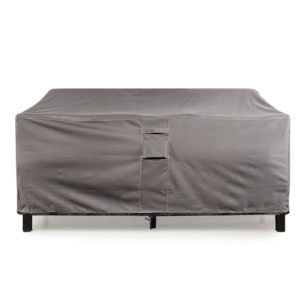 The Khomo Gear Titan Series is a very high-quality waterproof sofa patio cover in a handsome grey tone. Aesthetically, this is one of the favorite lines of covers on our list, and with a variety of sizes to choose from and an array of nice features, the Khomo Gear Titan Series is a great choice for an outdoor sofa cover.
The list of size options for this couch cover is shown here.
Cover Size Chart
The Details
The Khomo Gear Titan series is made of 500x300D High-Density Polyester, with superior elasticity and strength in windy conditions. The covers feature a water-resistant PVC undercoating that is capable of repelling water, snow, cats, and dogs.
These covers are secured with straps featuring click-close end buckles, that wrap around your furniture legs for maximum security. The bottom of the cover also features an elastic hem cord with a cinch to aid in keeping the cover where it belongs.
Air vents are also present on this line of covers and are primarily there to keep the air from getting stale and moldy under the cover.
The seams on the Khomo Gear Titan covers are well made, and appear to be durable.
The Bottom Line
The Khomo Gear Titan Line of waterproof heavy duty outdoor sofa covers is durable, heavy-duty, and built to high-quality standards. Given the apparent quality of the product, we are surprised to find very little information on a warranty for these products, both on Amazon and on Khomo Gear's website. This certainly gives us pause in recommending these covers too strongly, given the number of other manufacturers on this list that give very solid warranties on their covers.
The Khomo Gear covers are completely functional, among the most attractive covers on our list, and are priced surprisingly aggressively. That said it is hard for us to give them a solid recommendation with the lack of a warranty unless the climate your in is relatively mild.
Last update on 2021-06-16 / Affiliate links / Images from Amazon Product Advertising API
---