PatioZen is a weekly series where OutsideModern collects photos of some of the most beautiful outdoor spaces from around the web, based on a theme. This week's theme is vines, and how they can be used in patio and garden spaces to make a huge impact.
Many patio enthusiasts use vines to cap pergolas, to cover walls, fences, and other patio objects. These vines grow into fascinating forms that blend into some patios that are more natural in feel, and contrast in pleasing ways with contemporary or modern patio spaces.
Here we look at several beautiful designs featuring vines and climbing plants, used in creative ways to make spaces memorable and compelling.
---
Kiwi Vines on a Pergola with String Lights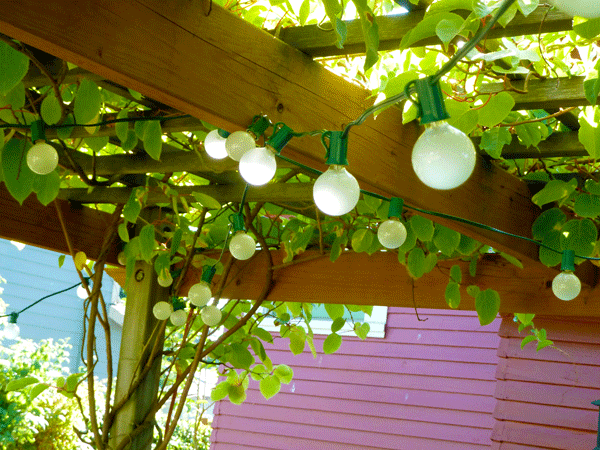 Starting us off is a relatively simple setup, with a pergola surrounded by kiwi vines, with a variety of string lights finishing the look. The kiwi vines will eventually produce fruit, which is very cool, and the overall look is both attainable and beautiful.
---
Grape Vines Engulfing Patio Pergola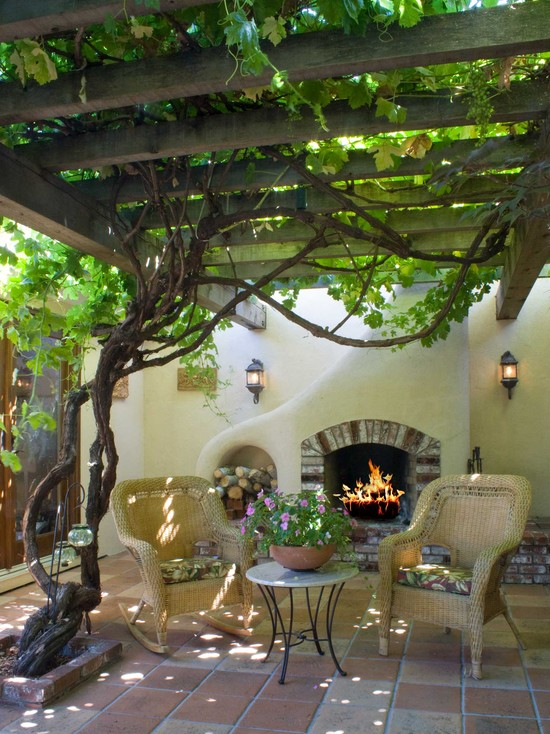 This one is a little more difficult for the average homeowner to achieve, but it is stunning! With a pergola attached to the walls of this house and a built-in fireplace for additional charm and warmth, this is one of the most inviting spaces I've seen!
---
Arched Vines Surround a Seating Area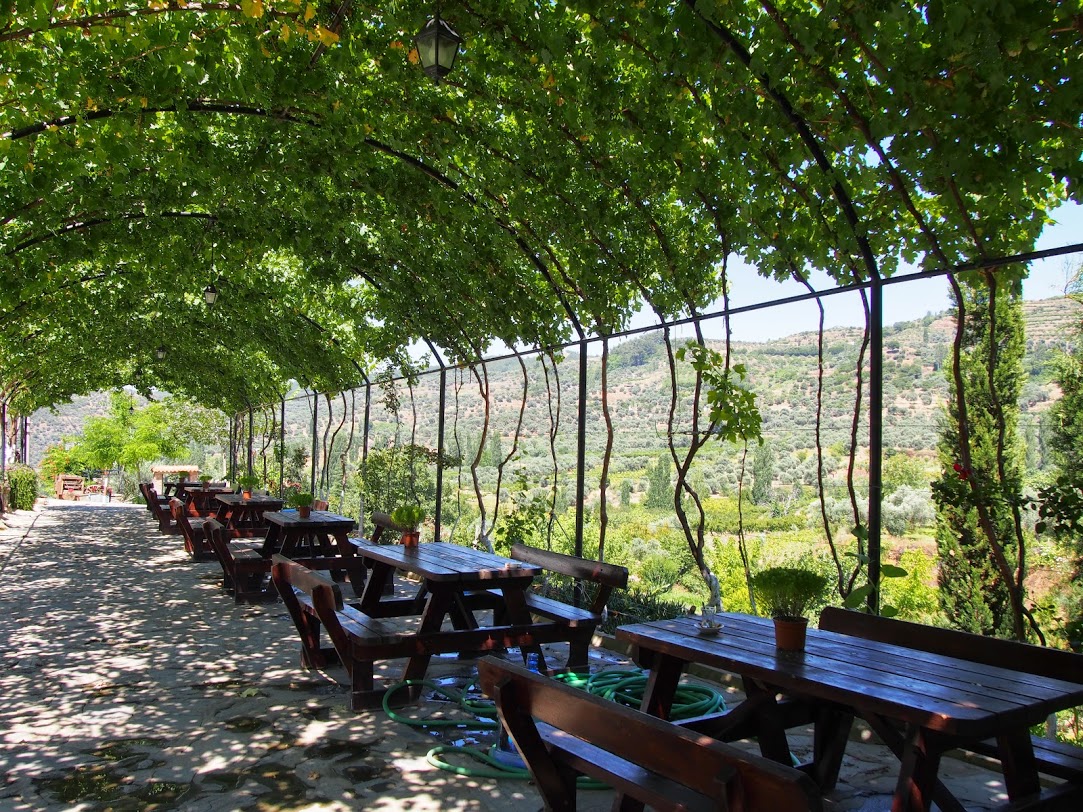 The arches around this patio seating area are coated with grape vines. Overlooking a huge vineyard, located in Sintra, Turkey, this simple patio arch creates a lush and cool space and a pleasant environment.
---
A Rustic Pergola with Vines Providing Shelter and Shade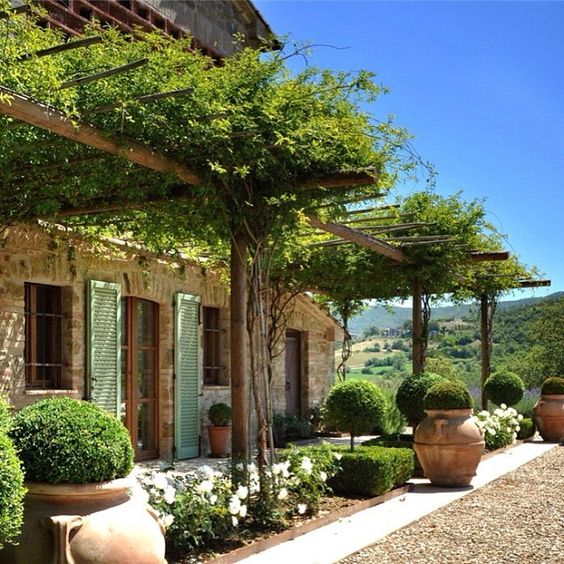 This gorgeous rustic pergola, located in Italy, exudes charm and character. We quite like the small topiary bushes and the use of raw trees for the pergola instead of sawn lumber.
---
Another Rustic Pergola Encrusted with Beautiful Vines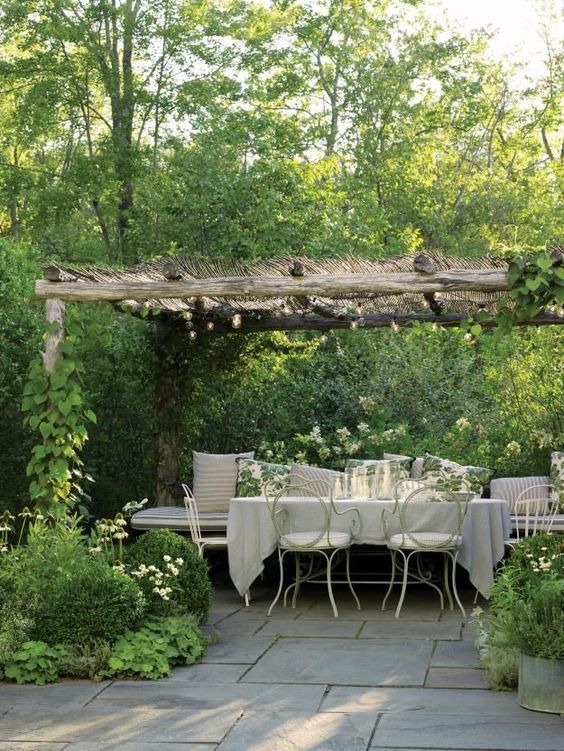 This pergola features similar raw wood design to the previous one, with a warm seating and eating area underneath. The white table contrasts delightfully with the greenery, and the clean look of the table and chairs balance the raw pergola wood in a very elegant way.
---
Trumpet Honeysuckle Vines Growing on a Porch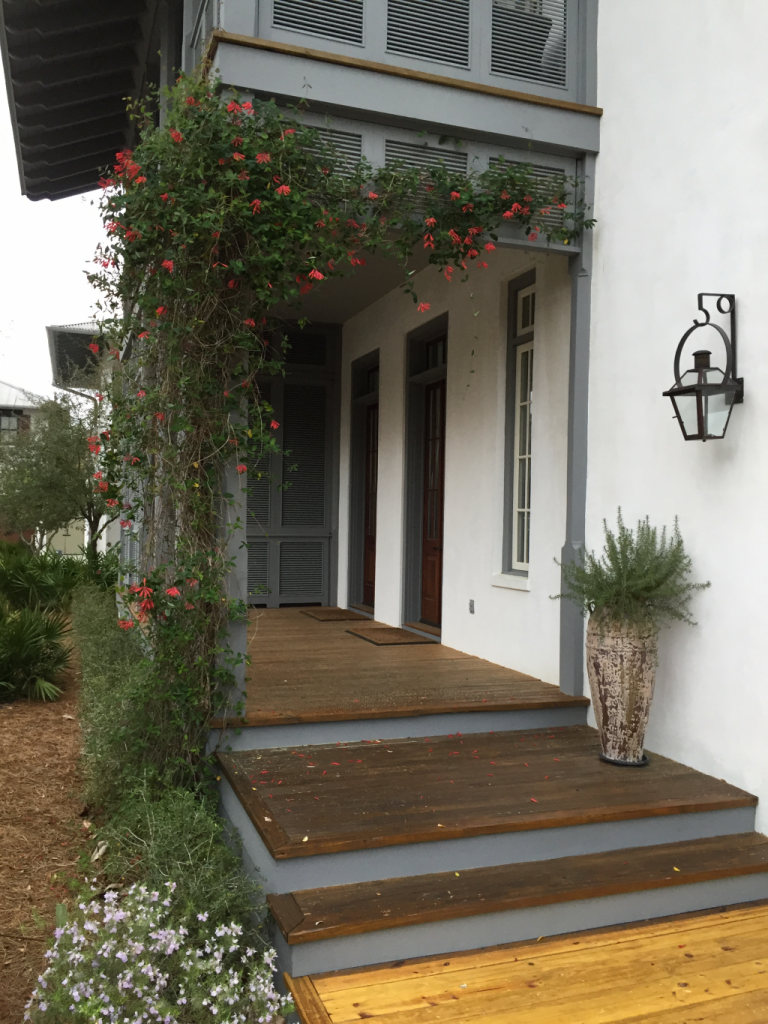 This beautiful porch is coated in Trumpet Honeysuckle Vines. These attractive climbing vines bring a lot of character to this simple porch.
Located in Birmingham, Alabama, this porch appears to be a wonderful respite from the heat.
---
Paper Lanterns and Vines Form a Brilliant Ceiling
The paper lanterns suspended from this pergola offer a great deal of visual interest that compliments the pleasant vines crawling along the pergola roof. The spheres are whimsical and cute, which softens the refined sensibility that the pergola structure supplies.
---
Vines Growing Along a Modern Horizontal Patio Wall Structure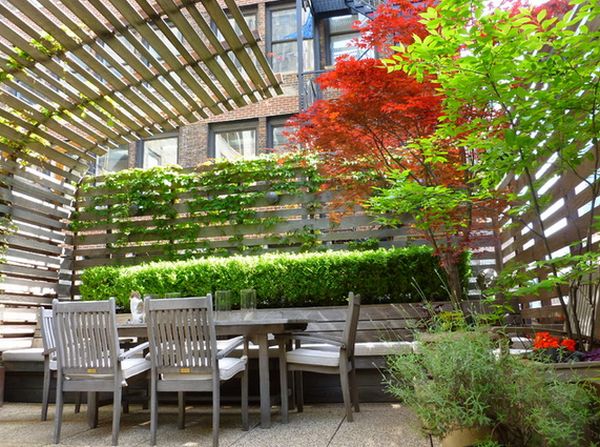 This stunning modern space has some very interesting horizontal fencing and pergola-like vertical projections. These horizontal boards are being slowly taken over by vines to create a lush green environment, which works very nicely with the weathered wood furniture.
We also love the shocking red foliage that stands out from the green and weathered wood!
---
Grape Vines Around a Sitting Area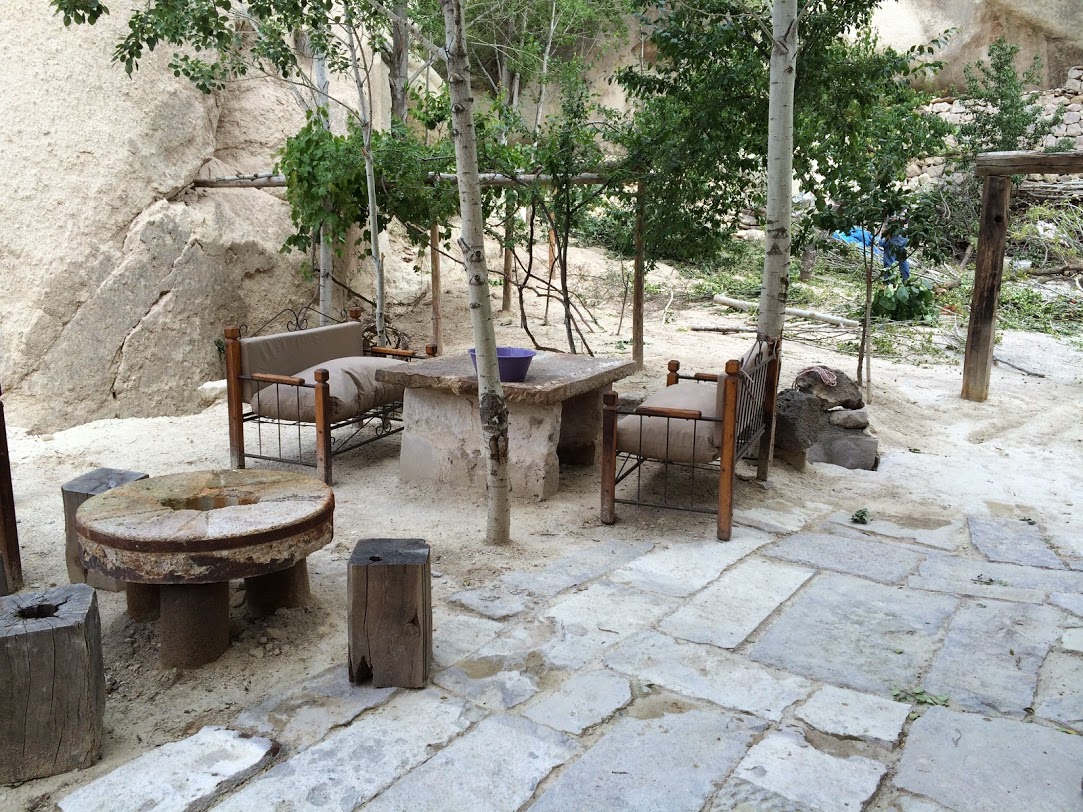 Here we have a simple patio space with some very interesting furniture pieces, timber blocks and wrought iron furniture. With rocks jutting out of the ground here and there, and vines curling along half-height wall structures, feels simple and extremely welcoming.
---
Vines Create a Beautiful Contrast to a White Pergola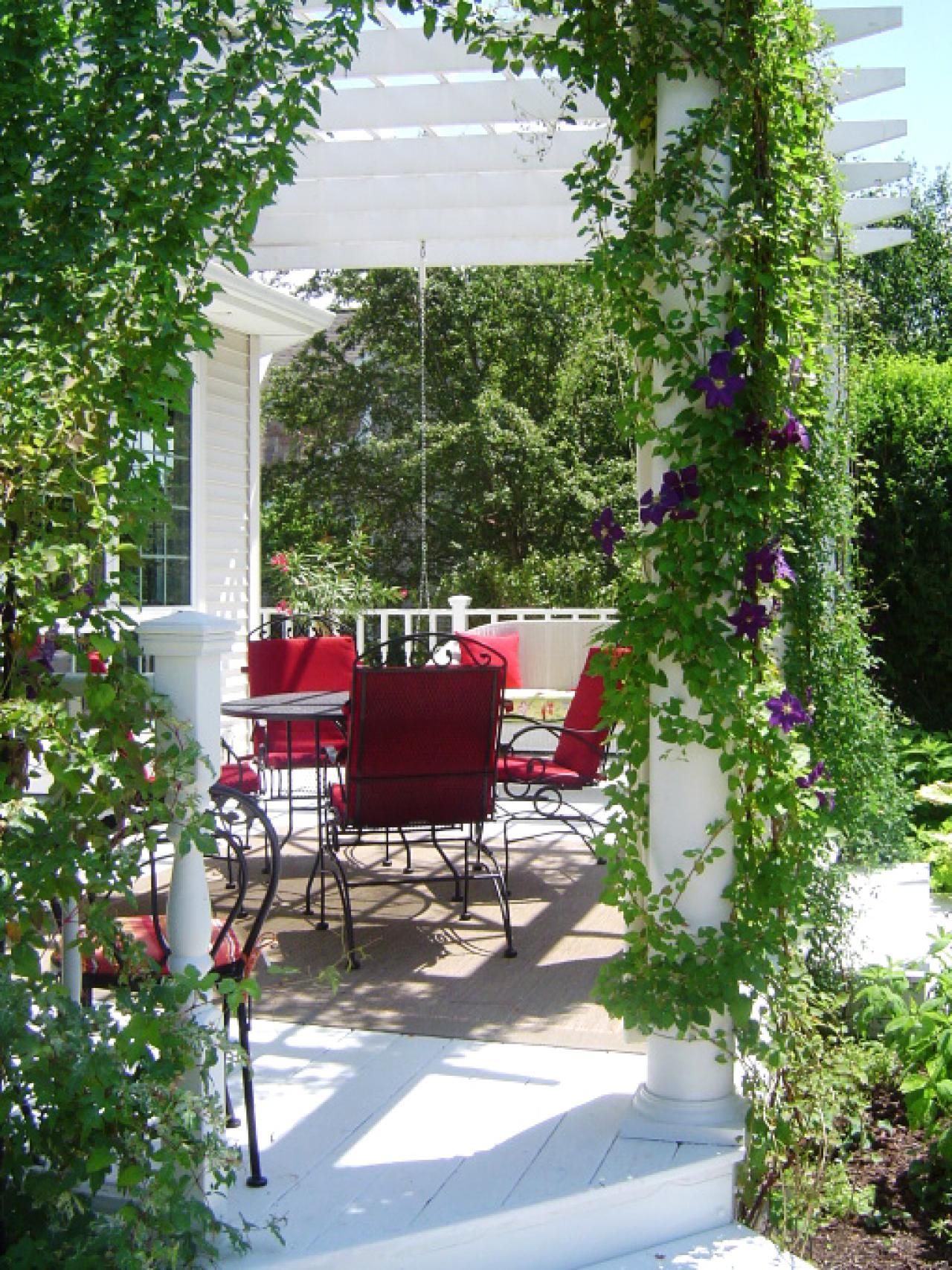 The white painted pergola shines brightly against the greenery of the vines that grow upon it. This pergola looks gorgeous and inviting, with some boldly colored furniture to draw the eye into the space.
We wonder how they are going to paint this pergola in the future, with the vines all over it!
---