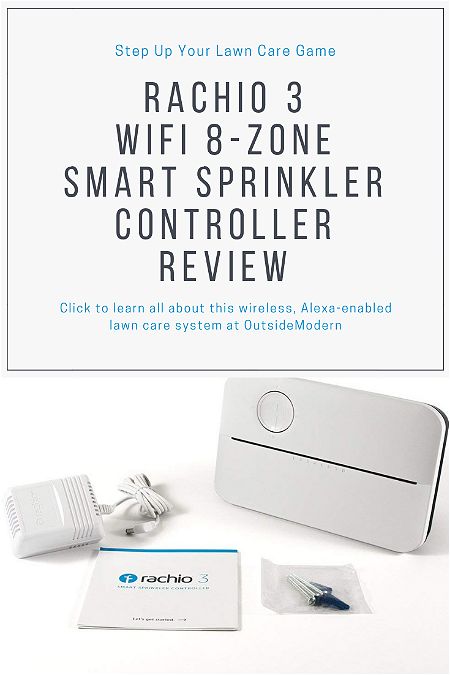 Have ever wished that your lawn and garden sprinkler system would turn on and off using a simple, logical system as opposed to some byzantine control system devised in 1982? Want to spend less of your personal time watering the lawn or trying to set up the schedule on a non-intuitive sprinkler control device? If so you will almost certainly be interested in the Rachio 3 wifi sprinkler controller.
This article is a Rachio 3 review, and looks at the positives and negatives of this wireless smart sprinkler controller.
With up to eight zones in the standard model (16 in the expanded version), compatibility with water and weather sensing devices, and an easy app-control system, the Rachio 3 can help you spend less time tending your garden and more time enjoying it.
Purchasers should be aware that some electrical expertise might be required for installation, and that all terrains and weather systems will not work quite the same. With that said, your lawn and garden care could move to a whole new level with this phenomenal sprinkler controller.
The Rachio 3, by Rachio Sprinkler Systems, is a watering system control device that will almost certainly cut down on the amount of time that you spend watering your lawn or garden, and even has the potential to save money on your water bill and to help the environment, too!
---
Rachio 3 Review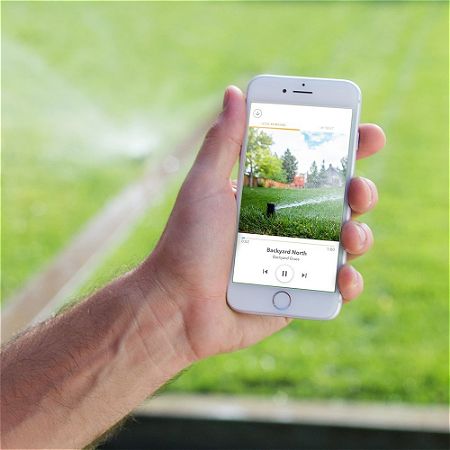 Key Features at a Glance
Can be programmed and controlled from your smartphone.
Set up for 2.4 or 5 GHz Wi-Fi
Coordinates with soil and rain sensors
Several scheduling options and types
Skips watering when the weather is wet, windy or cold
In addition to Smartphone, works with Alexa, Next, Smart thing, and Google Assistant, among others
Hyperlocal Weather Intelligence
Works with Rachio Wireless Flow Meter
The Rachio Box Cover sold Separately
Rachio has a "Total Satisfaction" warranty, but to purchasers must act promptly in order to cash in on it. The unit must be purchased from an authorized dealer, the buyer must provide valid proof of purchase, and will need to comply with official return directions.
Rachio 3 vs. Rachio 2
The Rachio 3 is an upgraded version of Rachio 2 sprinkler controller. It includes all the features that you might have known and loved with the Rachio 2, plus it will work with the larger 5GHz Wi-Fi network router, includes the Hyperlocal Weather Intelligence, as well as now being compatible with the Rachio wireless flow meter.
The latter feature could create budget savings for you, especially if you live in an area that keeps a strict watch on water usage, such as in Southern California. The flow meter can detect leaks, unusual usage, and breakages in the system. This protection could save you big money!
Last update on 2021-05-11 / Affiliate links / Images from Amazon Product Advertising API
Dimensions and Specs
Dimensions: 9.1″ x 1.4″ x 5.6″
Weighs 2.88 lbs.
Shipping weight is 2.88 lbs.
Primarily ships to USA and US AFP/FPO Locations
Can ship to select locations using Amazon Global – check your location before ordering
---
The Details
The Rachio 3 watering controller is set up to regulate your lawn and garden sprinkler system.
Zones and Control
It can have eight different zones programmed to receive different kinds of watering. If you do not have that many zones, some of them can be disabled. (note: a second version is available with up to 16 zones for those of you with gargantuan lawns!)
Water Conservation and Rain Sensing
This WIFI watering controller is compatible with water sensing devices like the Rainbird Rain Sensor to help control water usage when sprinklers aren't necessary.
Last update on 2021-05-11 / Affiliate links / Images from Amazon Product Advertising API
But that's not all the Rachio 3 does. In addition, one of the major upgrades of the Rachio 3 over the 2 is the inclusion of Hyperlocal Weather Intelligence to assist with timing the frequency and amount of water to be dispensed. Hyperlocal Weather Intelligence is a system Rachio devised that combines local, regional, and national weather data, as well as data from over 270,000 personal weather stations to get a super accurate, micro picture of the climate right outside your door.
In fact, many find they don't need a rain sensor, as the Hyperlocal Weather Intelligence does all that and more.
Rebates and Incentives
In some locations, there is a possibility of rebates for installing a water saving device, which is great!
Good places to look for water sensing device rebates include Watersense by the EPA; The Water Saving Partnership – if you live in Oregon, Washington state, or Northern California; SoCal Watersmart, for Southern California, of course; and recently added, City of Wichita has a water conservation rebate program. Check your local city or state government to see if there are rebate programs available for you.
If a formal rebate is not available in your area, you can still be the proud recipient of water usage savings. Even if you live in a rural area and have your own well, being aware of your water usage is a good idea. The underground aquifers that contain safe water are not infinite. By being aware of your source's flow and refill rate you can avoid drawing it down excessively or even running out of water during times of high use.
Control and Use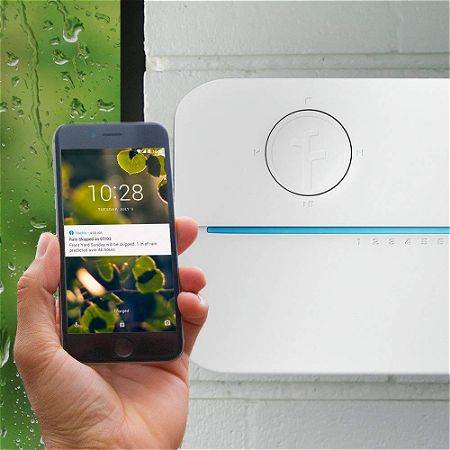 You can use your Smartphone, Alexa, Google Assistant or similar product to set up the watering schedule and to monitor its operations. It does not, however, work with the Apple Homekit. It has dual-band Wi-Fi, plus an expressive light bar. Control is a breeze, whether you want to use the Rachio App, or if you have an Echo Dot or other smart speaker systems.
The app is really solid and easy to use, and once you get the system up and running, it all pretty much runs itself!
Last update on 2021-05-11 / Affiliate links / Images from Amazon Product Advertising API
The Rachio 3 can be tucked into an exterior utility box to keep it protected from the weather and to downplay its presence outside your home.
The exterior box, which must be purchased separately, is a small, grey plastic utility box. It needs to be installed at a location that already has an outdoor power outlet or in a location where an electrician can wire it in. The box is fully weatherproofed and has an intrusion rating of 54, which means it should do a decent job of keeping out bugs, dust, and similar small problems. It also has holes for a padlock, should you want to secure your wifi timer against theft.
Last update on 2021-05-11 / Affiliate links / Images from Amazon Product Advertising API
Installation and Setup
Most purchasers were pleased with the control over their sprinkler system. However, some noted that the built-in programs didn't always work precisely as expected and that some manual resetting had to be done for some zones. The initial installation might require some knowledge of wiring and basic sprinkler plumbing.
The manuals are pretty clear, but if you are not familiar with electrical installations, it might be a good idea to hire an electrician.
The Competiton
There are several other wifi sprinkler systems and smart sprinklers on the market. You can see several of the simpler systems on our best wifi water timer, Rain Bird has a wifi controller but it looks much less slick than the Rachio 3, and Orbit's B-Hyve smart controller is an interesting choice for those who need smaller systems.
But overall the Rachio 3 looks very strong compared to competing choices, however it's positioned at a premium price point.
Last update on 2021-05-11 / Affiliate links / Images from Amazon Product Advertising API
Concerns and Issues
In addition to the fact that installation isn't simple, some have found that the housing isn't ideal. That the catch on the box doesn't always work perfectly and may require an added latch. One user noted that their unit worked well for the first month, then began developing problems.
Overall, however, most users are quite pleased with the Rachio 3 and with the personal time and water saved thanks to not having to oversee watering of the lawn and garden areas. They were also pleased with the efficiency of the system, which tends to water in short bursts to prevent run-off, thus decreasing water use.
The ability to pair with water sensing devices, plus the Hyperlocal Weather Monitoring cuts way down on overwatering and on needlessly watering during rainstorms.
---
The Bottom Line
In many parts of the world, water is one of the most precious resources, possibly only being exceeded by breathable air. All living creatures require it, from the lowliest bit of lichen to the great pachyderms of the African plains. With this Rachio 3 and devices like it, we can conserve this precious asset for ourselves and for future generations.
The Rachio 3 is an excellent sprinkler controller for those who don't mind the setup (or hiring someone to set it up), and will make the task of watering your lawn and garden simpler and more enjoyable, while also helping protect the environment.
Win-win!
Sale
Last update on 2021-05-11 / Affiliate links / Images from Amazon Product Advertising API
---