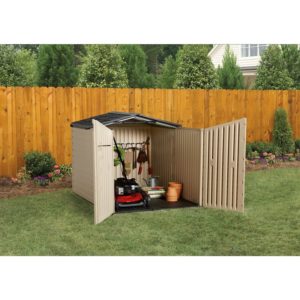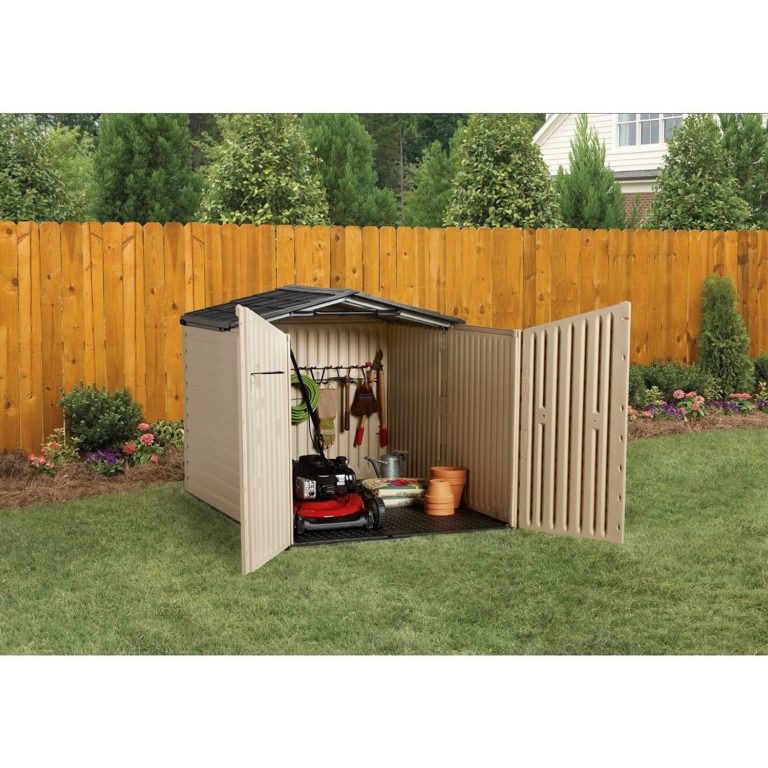 The Rubbermaid Resin Slide Lid Shed is a versatile, functional outdoor storage container that is larger than most deck boxes but does not have the presence and bulk of a traditional gable storage shed. This outdoor storage shed, made by Rubbermaid, is an excellent in-between shed for those looking for a good deal of storage without an unsightly structure filling up the backyard space. The sliding lid makes getting materials from the interior out a cinch, and the double doors mean easy access to the entire shed when needed!
In this review, we will look at all of the features and qualities of the 96 cubic foot Rubbermaid Outdoor Slide Lid Shed, consider the pros and cons of each, and look at several use cases for this excellent outdoor storage container.
---
Rubbermaid Resin Slide Lid Shed Basic Features
Double-walled resin construction
Olive and sandstone two-tone color scheme
Sturdy, maintenance-free design
Leak, dent, and weather-resistant
Heavy-duty impact resistant floor included
Operable double door and sliding lid make gaining access to the interior a snap
Wall anchors for easy storage and organization included
Lockable for security (lock sold separately)
Easy assembly
10 Year Limited Warranty
---
Who Needs a Rubbermaid Outdoor Slide Lid Shed?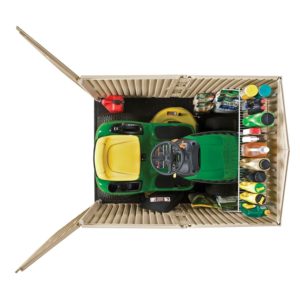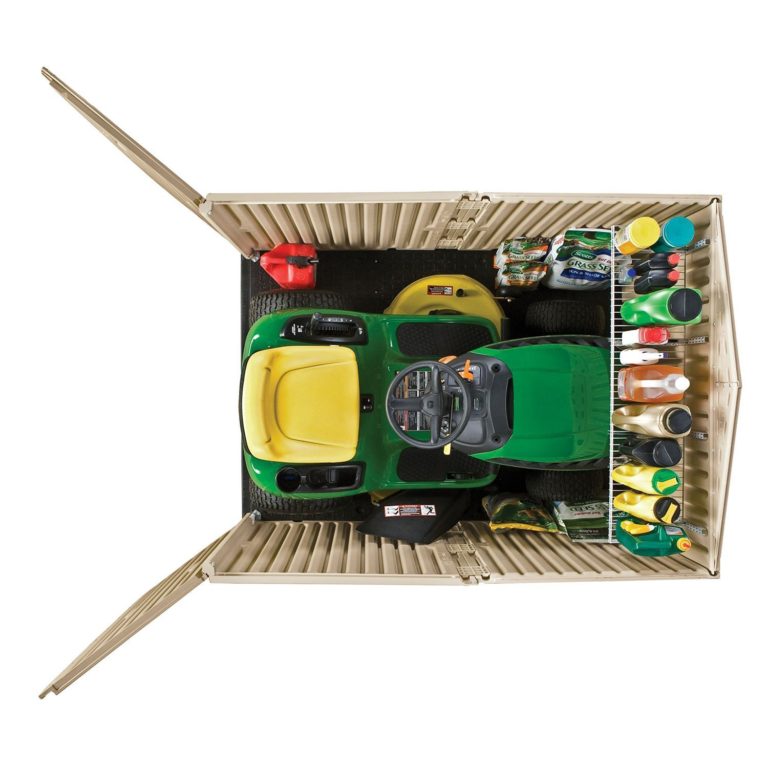 The Rubbermaid Slide Lid shed is an extremely useful design that many people may find compelling. The doors open wide, enabling riding lawn mowers, push mowers, snow blowers, bicycles, etc. to be easily stored inside. Additionally, the roof partially slides over itself to enable access from the top, making it much easier to get items out of the interior than on many storage sheds!
The sight lines on the Rubbermaid Slide-Lid Shed are low, and the peak of the roof is only 53″. This means that the shed is well below a 5′ privacy fence in height, and is so low profile your neighbors may not even know it's there! Many homeowners associations require that sheds be not visible from the street, and this one is so low profile that it fits under many fences.
The entire structure of the Slide-Lid shed is made of double-walled resin plastic and is virtually maintenance free. It is weather-resistant, rot proof, rust proof, UV resistant, and does not need to be painted.
This shed is ideal for those with (likely) small yards that don't want to use up a lot of space on a shed, and who don't need a massive amount of space for storage of lawn equipment. That said, many riding lawnmowers will fit inside the shed! The sliding lid allows for someone sitting on a riding mower to drive it inside and to get off, which is unexpected in a shed of this size.
Here are some ideas of what could be stored in the Rubbermaid 96cf slide lid shed.
Holds three trash cans
Holds three bicycles
Holds small riding lawn mower
Holds snow blower and snow removal tools
Holds push mower and lawn care tools
Holds a baby stroller and baby products
Holds wheelbarrow and lawn care items
---
Dimensions and Capacity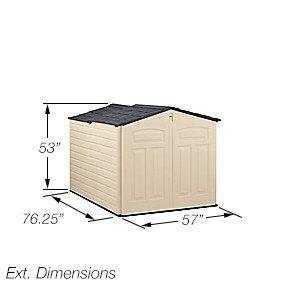 Storage Capacity: 96 cubic feet
Exterior Length: 4'7″
Exterior Width: 6'4″
Exterior Height: 4'4″
Interior Length: 4'4″
Interior Width: 6'0″
Interior Height: 3'6″
Weight: 177 lbs
---
Setup and Assembly
Assembly of the shed is not terribly difficult, but before you get your shed together, you'll need to get the ground properly prepared. Before you begin, if you plan to put the storage shed along a lot line, you may want to check with your local building official or homeowners association to confirm that sheds are allowed to go where you intend to place them. Many municipalities have rules on shed locations, so it would be wise to check if you're concerned.
Also, before you do any digging in the ground, be sure to call DigSafe or similar utility service to confirm that there are no buried underground utilities.
Getting the ground as level as possible will simplify the assembly of the shed, and will ensure the shed does not warp over time, causing potential problems with doors not opening properly, etc. Get the ground as level as possible! You'll be happy you did.
Ground Preparation
One of the biggest issues with the Rubbermaid Slide-Lid shed is getting the ground properly leveled. You don't need to pour a concrete base or build a wood base, but you should get the ground underneath where you plan to put the shed as level as possible, and compacted as tightly as possible.
Additionally, you will ideally mound up the ground around the shed at least somewhat, so that the shed is sitting a little bit above the surrounding ground. This will enable water to flow away from the shed structure, and not toward it.
You don't want to make the grade change too steep, though, as it will be difficult to get objects out of the shed if the grade is too steep. Just be sure that water flows away from the shed if at all possible.
Assembly
The Rubbermaid 96 gallon Slide Lid Shed takes some time to assemble, perhaps 2-3 hours for a couple of people competent in flat pack furniture assembly. The instruction manual is about 35 pages long and is pretty good at explaining the necessary steps. The slide lid part is time-consuming, so be prepared.
Examining the assembly instructions before you purchase is frequently a good idea, so you can get a good sense of what you'll be getting into once the box arrives. Click this link to take a look at the Rubbermaid Slide Lid Shed Instructions [pdf].
Tools Required
Gloves
Screwdriver
Power drill with screw bits
Socket wrench
Eye protection
Level
Rubber mallet
Liquid soap
Utility knife
Shovel
---
The Details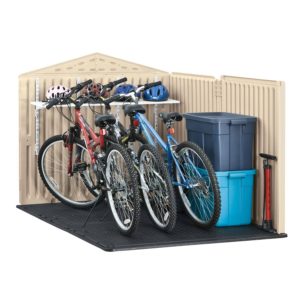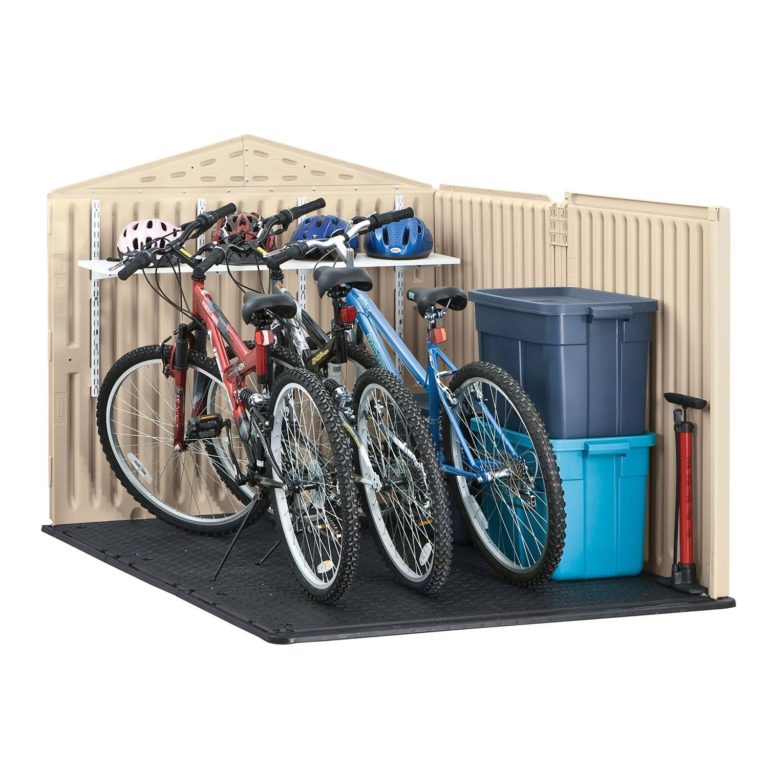 The two-tone color scheme of the Rubbermaid Outdoor Slide-Lid Storage Shed is rather bland, but it is passable, and the shed is so compact it doesn't really stand out very much. Still, a more gray color scheme would probably help out a little bit.
The eight included wall anchors are helpful and enable you to easily add peg boards, tools, shelves, or other storage items. these shelves are not included, but many different options are available. There is a great deal of room and functionality to be had with these sheds, so there are a lot of storage options.
The panels are made of double-walled resin plastic and are essentially maintenance free except for an occasional cleaning. You do need to use the floor, as it is part of the core of the structure and holds everything together, but the floor is sturdy and can handle the weight of a riding lawnmower.
The floor also helps raise the shed off of the ground a little bit.
If the Slide Lid shed is not set on level ground, over time the whole structure can warp, even a small amount. This small amount of warping may cause some of the operable mechanisms to become more difficult to use, and may cause some headaches in the future.
The sliding lid can catch on the top plate of the fixed roof section, making it difficult to slide the lid open and therefore difficult to open the doors.
Proper assembly and leveling can mitigate this somewhat, but some users have found the operation of the sliding lid to be an issue. It's best to take some extra time and ensure that the base is as level as possible, as you don't want to have to take the shed apart or deal with poorly-functioning hinges!
---
The Bottom Line
The Rubbermaid Resin Slide Lid Shed is an excellent shed for those who can't have tall sheds for HOA reasons, or who simply don't want a huge shed sticking out in the yard. It is low profile, but stores a lot of materials, and is easily accessed!
The design is solid and should work well for years. We strongly encourage users to get the ground as level as possible before building the shed, to ensure that it will continue to work well.
This 96cf shed is virtually maintenance free and is covered under a 10-year warranty.
What more can you ask for in a shed?
Last update on 2021-05-14 / Affiliate links / Images from Amazon Product Advertising API