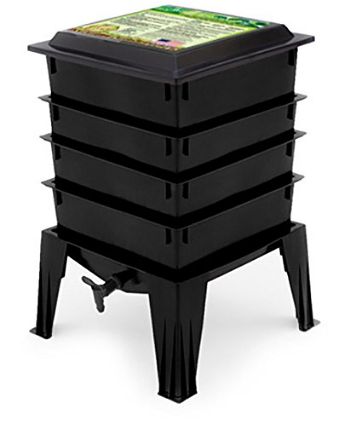 If the thought of live worms crawling around and eating your left over food makes you shudder – think again! The Worm Factory 360 is an innovative product that produces nutrient-rich garden compost in a neat and controlled environment. It is compact, easy to set up, and takes a step in the right direction towards green-living. In this article we will do a worm factory 360 review, looking at all the advantages and disadvantages, and giving a sense of what it's like to use this composter.
We will discuss all you need to know about the Worm Factory 360 and how best to use it. It is really a nice composting system, despite the whole worm thing, and is very highly rated by those who use it regularly.
Worm Factory 360 Review
Following are the main points we covered while evaluating the Worm Factory 360. We looked at key features, DIY set up issues, maintenance, durability, ease of use, and problems encountered.
Key Features at a Glance
Easy to Use and Set Up – The Worm Factory requires minimal skills to set up, install and get started. It comes with a comprehensive instruction manual and a DVD. Average time needed to attend to your Worm Factory and keep it functioning at peak capacity is around 15 minutes per week.
Variable Size Design – Comes with 4 trays, and up to 4 additional trays can be added for larger gardens. For indoor use, buyers can use only 1 or 2 trays and still get the desired results.
Odorless – Do not worry about smells. When the directions are properly followed, this innovative product will contain smells, even if used indoors.
Year-Round Use – The Worm Factory maintains its own temperature and will keep operating throughout the year, regardless of weather conditions.
Eco-friendly – Made from high quality recycled materials.
Warranty – Includes a 10-year warranty.
Dimensions and Specs
Product Dimensions – 17.9″ x 17.9″ x 14.9″
Item Weight – 11 pounds
Colors – Black, Terracotta, Green
What does the Worm Factory 360 look like?
The Worm Factory 360 has a base footprint of 18 inches by 18 inches. It stands on a base with four sturdy plastic feet that has slots to hold the removable trays. The first tray fits neatly into the base. When your Factory starts operating at capacity, additional trays can be added by stacking them one atop the other.
The Factory comes with 4 trays but can be expanded upwards in height to 8 trays, by purchasing the trays as needed. A separate lid is placed on the top tray, sealing it off. The lid also doubles up as a handy stand to hold the trays while harvesting the compost.
You can choose from black, terracotta or green, all ideal colors for a garden setting.
How does the Nature's Footprint Worm Farm work?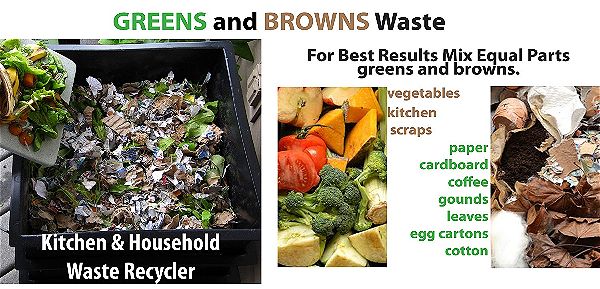 The Worm Factory 360 consists of square plastic trays that are stacked on a base, one atop the other, to a height that best suits you. Each tray is filled with bedding material and composting worms which are then fed by using common household food waste.
You can use fruits, vegetables, grains, eggshells, leaves, coffee grounds, paper and other organic wastes. As the worms feed on the waste, it is processed and recycled into fine casings, creating a natural compost packed full of nutrients.
Once the lowest tray is full and completely decomposed, you stack another on top and keep going. The trays have an open grid base, allowing the worms to migrate upward as new food is added.
Here's a quick video showcasing how the Worm Factory works:
While some buyers seemed to be unsure of how many worms to start with, a general rule of thumb is that a pack of 1000 is enough to get started. A good choice would be a 1000 pack of Red Wrigglers from Uncle Jims Worm Farm.
The system functions best when placed out of direct sunlight, in a shady or semi-shady spot
A point to note is that the system functions best when placed out of direct sunlight, in a shady or semi-shady spot.
When initially set up, some worms may crawl out and die in the heat. However, do not worry that you will have creepy worms crawling around. Once the trays are working properly, the worms stay safely inside them.
Add food scraps to your trays every day or second day. You may even add them less frequently if you are busy or will be away from home on vacation.
The trays are ready for harvesting every 6 to 8 weeks. Remove the tray, harvest it into the lid, refill with bedding material and replace.
You are also provided with a special spigot that catches moisture filtering through the system. Some people call this 'worm tea', and it is full of nutrient-rich particles that makes a great fertilizer for your garden. Simply empty the spigot when it gets full and replace.
What is the Worm Factory 360 made of?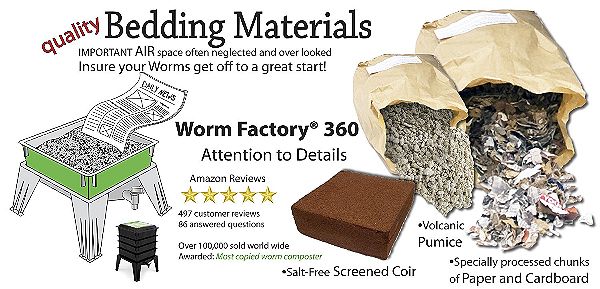 Eco-friendly and recycled products are right on trend, and the Worm Factory 360 ticks all the right boxes for green living. It is manufactured from high-quality recycled materials. The build quality is strong and durable, and few buyers have complained of the trays falling, slipping or not being easy to fit together.
The last thing you want is a tray full of decomposing food and worms splattering all over you!
Although the specs state that up to 8 trays can be added, some buyers complained that the legs buckled under the weight of 8, but were fine up to 6.
This product is weather resistant and can be kept outdoors, preferably in a shady spot and not in direct full sunlight. It is lightweight when empty and easy to move if necessary. You can expect your Worm Factory 360 to last for many years, which offers little to complain about.
Must I be a DIY expert to build it?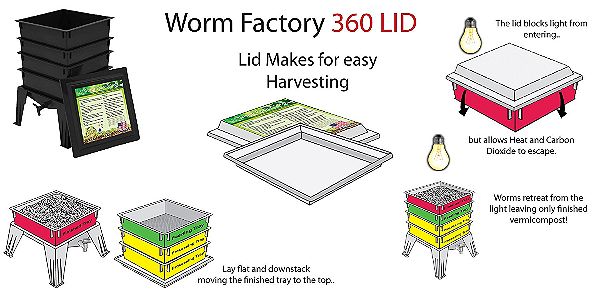 The Worm Factory 360 comes with a booklet of comprehensive instructions which are easy to follow. If you have played with Lego as a child, it is simply a matter of stacking the blocks one on top of the other.
A little more complex, but not impossible, is the filling of the trays.
Read carefully how to layer them with wet newspaper, bedding materials, and mineral rock dust. All the tools you need to do this come included in the set.
For those who have given up on reading and only understand electronic screens, there is a handy DVD that gives you a step-by-step lesson.
Must I clean and maintain the Worm Factory 360?
Cleaning is not needed unless you decide to empty it out and start over in a new venue. Once you have the Factory operating at its full potential, it self-maintains. You add the organic food waste daily or weekly when it suits you and the worms do the rest. Every 6 to 8 weeks, you will harvest out a full tray and refill it for new use.
Does it come with accessories?
The Worm Factory 360 comes with everything you need to get composting! It comes with a comprehensive set of accessories that make it super easy to set up and maintain. Also included is a quick reference guide right on the top lid, so you don't need to keep pulling out the manual!
Included in the kit are:
4 worm trays
mineral rock dust
bedding materials
accessory kit, which has a thermometer, hand rake, and a scraper.
Instruction manual
DVD guide
Worm Ladder for the worms to migrate from one tray to the next.
A special Spigot for the collection of the liquid, nutrient-rich worm-tea.
When you've gone through all of your materials, Nature's Footprint sells refill packs for all the materials you need, or you can purchase individually as well.
The Bottom Line
The Worm Factory 360 is a great step toward green living, and the fact that it is extremely highly regarded, as evidenced by the extremely solid reviews on Amazon says a lot.
Many users felt that this was a far better option than your traditional backyard compost bin such as the Redmon compost bin, which requires heavy manual work to rotate, is messy, smelly and creates a rather unappealing sight in your garden. The Worm Factory is an alternative to the compost tumbler systems, and an interesting one! It's also an interesting alternative to the Garden Tower 2 composting system.
The design and set up instruction booklet, and the included DVD, make it easy to assemble and get it going with the minimum of fuss. The Worm Factory 360 requires very little time to keep operating – instead of dumping your food waste into the bin, simply dump it into the Worm Factory – it is that simple.
And for those of us who are considering indoor composting, the Worm Factory 360 can be set up indoors! There is no mess or odor, making it ideal for in-city apartment life and smaller living spaces.
The Worm Factory is an excellent composting system, and buyers shouldn't be afraid of the whole Worm idea: they do the work for you!
---