The Heritage Collection Agio 7 Piece Patio Dining Set is a beautiful, robust, elegant outdoor dining set. It is built with the highest quality materials and is carefully designed to perform in an outdoor environment. With sturdy construction, careful attention to detail, and a great warranty, the Agio Heritage Collection Dining Set is an outstanding choice for many of today's homeowners.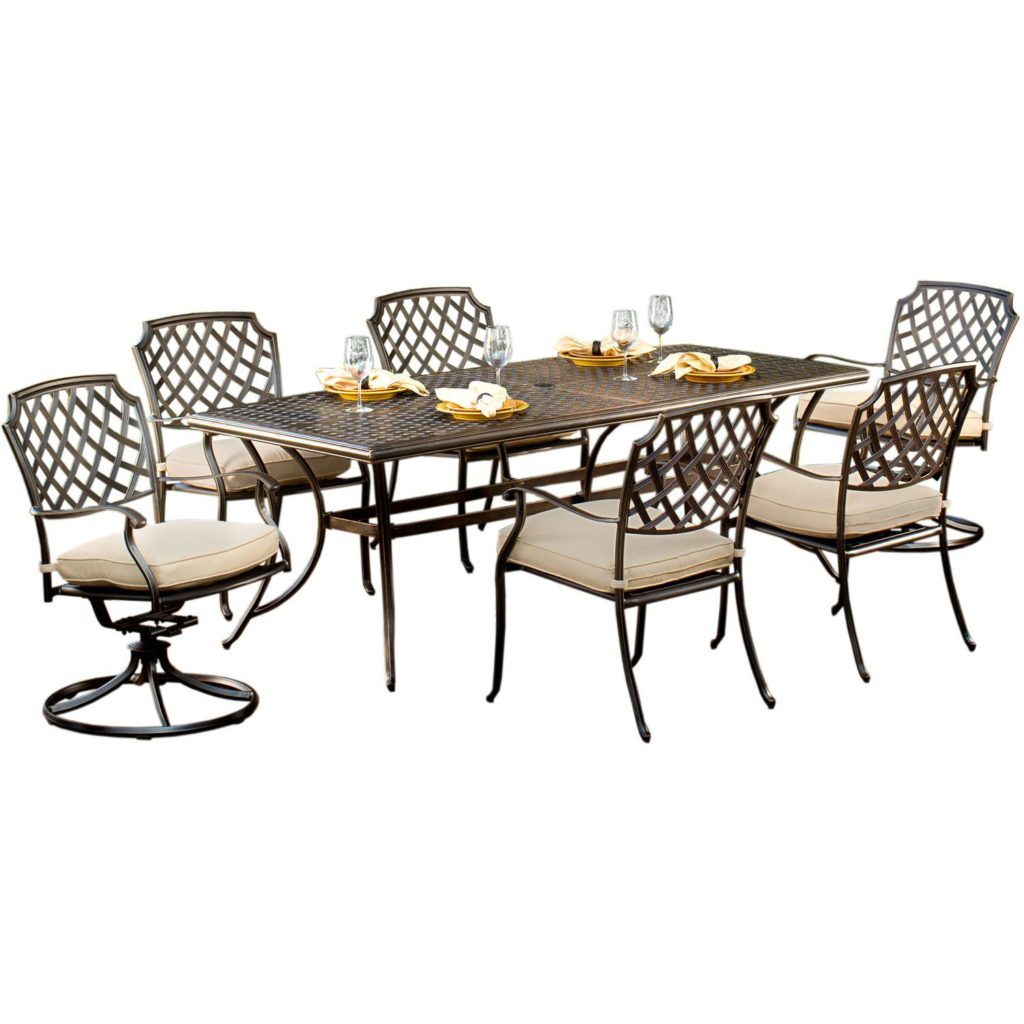 Who Needs the Agio 7 Piece Patio Dining Set?
The Agio Heritage 7 Piece Patio Dining Set is a premium dining set and is targeted at those who value quality and are looking for a large scale patio dining set.
With 7 Pieces and six chairs, this patio set is capable of comfortably and stylishly seating six people. The robust materials Agio has chosen to use in their dining sets speak to the quality of their products.
This set is for those who want to purchase a high-quality set and not have to worry about the set failing in a couple of years, and having to go and purchase another.
The design of this set is eclectic, with perhaps more curves and flourishes than those fond of modern furniture would like, but the Agio Heritage Dining Set would not look out of place in a transitional design, a Mediterranean design, or a traditional design space.
Agio Patio Furniture
Agio is one of the finest patio furniture manufacturers around, with a large number of designs and collections of patio dining, seating, and fire pits catering to those who appreciate high-quality furniture.
Made with care, and featuring outstanding materials, these sets are commonly found both in residences and commercial establishments.
What's Included in the Package
Rectangular Patio Dining Table
Two Swivel Rocker End Chairs
Four Stacking Dining Arm Chairs
Cushions for All Chairs
Dimensions and Capacities
Dining Table:
Width: 38″
Length: 72″
Height: 28″
Chairs:
Width: 32.5″
Length: 26″
Height: 41″
Overall Set:
Weight: 68.2lbs
Shipping Weight: 81.4lbs
Features and Specs
Cast aluminum frames
Lightweight but sturdy furniture pieces
Matching cast aluminum table with woven design
Rust free powder coat paint
Cushions made of Solution-Dyed Acrylic Fabric (similar to Sunbrella)
Covered under Warranty (see below for details)
The Details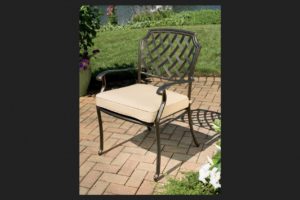 The Agio Heritage collection features seven high-quality furniture pieces, all made of cast aluminum in an attractive woven design. Even the table is made of woven aluminum, and there is no worry about tempered glass shattering or breaking during a wind storm!
The cast aluminum should not rust, but for additional protection, it is painted with a bronze powder coat. If you see the paint scratching off or peeling anywhere, we would suggest picking up some Rustoleum paint or similar and spraying those areas (often around the welded joints there will be minor scratches).
This will help keep the powder coat in the best possible shape.
The cushions are of high quality, and the covers are made of solution-dyed acrylic fabric. This type of fabric is what Sunbrella uses, though it is not Sunbrella fabric. Solution-dyed acrylic fibers have the color blended throughout the fabric, and tend to fade much less than other fabrics, and have high UV ratings. See our article for more information on outdoor fabric types.
These sets are quite lightweight but sturdy. Aluminum is lighter than steel and does not rust, so it is an excellent choice for this set. That said, you should plan to stack the armchairs, or put a full furniture cover over all of the chairs to properly secure them.
Alternately, use patio furniture weights to keep these from blowing over and getting scratched up.
If you're looking for an extra matching chair, a matching patio umbrella, or perhaps an umbrella base that matches the rest of the collection, Agio supplies these units.
While the patio umbrella and the umbrella base are reasonably priced, the individual chairs are extremely expensive, so beware!
Assembly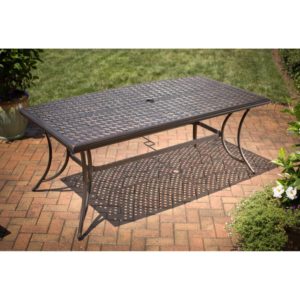 These chairs and the table require assembly. Generally the main panels are put together, and the individual pieces must be bolted together to assemble the set. For example, the seats must be bolted to the armchairs, the legs must be bolted to the table, and the bases must be bolted to the swivel chairs.
All hardware is included, and assembly can be accomplished in a couple of hours if you have some familiarity with assembling flat pack furniture.
Maintenance
To clean the aluminum frames Heritage dining set, simply wash the metal with water and a mild detergent, and let dry in the sun. Use a soft-bristle brush or sponge to clean off any difficult stains.
Similarly, to clean the seat cushions, wash with warm water and a mild detergent. If over time a mild detergent is not getting the stains out, you could try some commercially-available cleaners. Test on an inconspicuous area before using, however.
For complete maintenance details, please see Agio's website here.
While the Agio Heritage Dining Set is well made, rust-resistant, and sturdy, we still encourage you to cover the set when not in use. A patio furniture cover is relatively cheap and will keep your dining set clean and ready for use, and protect it from the elements. This will result in a longer useful life for the patio set and will help keep everything looking great.
We suggest the Classic Accessories Ravenna Large Cover.
Additionally, you may want to store your cushions in a deck box when not in use.
Warranty
The warranty is a bit confusing, so we encourage you to take a look at it directly for more information.
The Heritage 7 Piece Patio Dining Set is covered under a warranty, with some parts covered under a 1-year warranty (such as the fabric), and other parts covered under a 7-year warranty (such as frames).
The warranty is a bit confusing, so we encourage you to take a look at it directly for more information. You can see the warranty here.
The Bottom Line
The Agio Heritage Seven Piece Patio Dining Set is an excellent outdoor dining set if you are looking for something with an eclectic design. With a solid warranty, simple assembly, and high-quality aluminum and acrylic materials, the Agio Heritage collection will be with you for many years to come.
So bring the family and friends over for a delightful evening dinner with the Heritage Collection!
Agio HERITAGE7PC 7 Piece Heritage Dining Set
Four stationary dining chairs with seat cushions
Two swivel action rockers with seat cushions
One 38 in. X 72 in. dining table
Woven cast aluminum table-top
Fabric color: Natural Oat
Last update on 2021-06-17 / Affiliate links / Images from Amazon Product Advertising API
---