A superb beach blanket can make all the difference in an enjoyable trip to the beach. An ordinary blanket or comforter can doom you to discomfort in the sand and will in no way compare to a dedicated beach blanket. Modern beach blankets are designed to be water and sand resistant so that you don't end up with a soggy, gritty blanket before your day has even begun.
A good beach blanket is oversized and big enough for friends and family and a picnic basket. An oversized blanket means more room to sprawl out or to invite friends, new or old, to share the fun.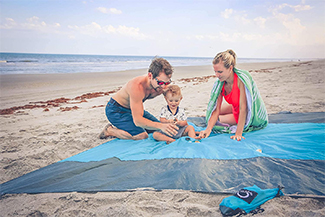 A good beach blanket is weighted or anchored to keep it in place. No matter how good the blanket, the fun is over if a high wind picks it up and sails it off down the beach.
A good beach blanket is breathable. No, you won't want to inhale it, but you can count on it to be air permeable so that it doesn't stick to you or feel hot and linty. In short, a good beach blanket means super comfort at the beach.
It doesn't hurt if it looks good, too. After all, would you want to invite your friends to share a room with an ugly rug? By the same token, you don't want to spoil the view, whether it is yours or someone else's, with an ugly beach blanket. The best beach blanket should be as bright and beautiful as your day at the beach.
[Read more…] about Best Beach Blanket