When packing up for the beach it is often smart to plan on bringing along a cart or wagon to haul your cargo. A good beach cart is critical when transporting your fun, food, and drinks down the boardwalk. A wagon can also make it easier to haul groceries home from the store or take a toddler to the park when the playground is a little too far away or the small fry is just gassed out.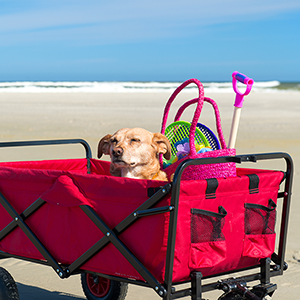 Characteristics of a good beach cart include fat wheels that can take on any kind of terrain without getting stuck. The wide tires help it move over sand, sidewalk cracks, down the boardwalk, and even across heavier terrain like railroad crossings. For most situations, high sides with a long storage bed is preferred. But in some cases, such as when your cart might go to the grocery store more often than the beach, a deep basket with tall sides might be better.
Best Beach Cart
The best beach cart on this list is the Rio Beach Wonder Wheeler. While it will not be terribly useful for hauling tired kids back up the beach to the car, it will be great for moving those folding chairs that made your day so much better. The cart folds up easy for storage and the hamper style bin makes carrying larger loads easy. Heavy items are better off elsewhere, but moving all of your soft goods to the shore is easy with this beach cart.
Rio Beach Wonder Wheeler Wide Beach Utility Foldable Cart
Foldable beach cart with large all-terrain wheels
15-cubic feet of storage and a 100-pound weight...
Wide, all-terrain back wheels; articulating front...
Extended, stroller-style handle with neoprene grip
Deluxe removable tote bag; side umbrella holder;...
Last update on 2021-06-09 / Affiliate links / Images from Amazon Product Advertising API
[Read more…]

about Best Beach Cart