Best Outdoor Pouf
After looking at several options for outdoor poofs and ottomans, we have found that the best outdoor poof is the Core Covers Outdoor/Indoor Sunbrella Pouf. It is made from a high-quality Sunbrella slipcover zippered over a bag of polystyrene beads. It's essentially a bean-bag pouf and is quite comfortable, stylish, and cool.
The Sunbrella fabric is unbeatable, though this pouf is only available in a few color options. It's also the ideal fabric for outdoor use.
For more information on the Core Covers Pouf, see below.
Last update on 2019-08-24 / Affiliate links / Images from Amazon Product Advertising API
Runner Up: Best Outdoor Pouf Set
The Keter Urban Knit resin plastic pouf set is beautiful and elegant. However, it's not made of cable-knit fabric, but rather outdoor-grade resin plastic. Some may find this a huge turn-off, but others will love the simplicity and robustness of this design. We love it, and are really tempted to put this set in the top spot.
Just look at the set!
For more information on the Urban Knit Set, see below.
Last update on 2019-08-24 / Affiliate links / Images from Amazon Product Advertising API
Budget Choice: Outdoor Pouf Ottoman
Our pick for the budget pouf is the FBTS Prime Outdoor Inflatable Ottoman Pouf. Not only does it have the lowest purchase price, but it is also the most portable. If you need some quick seating for a camping trip or to round out affordable stools for friends and relatives, this is your pouf.
The only concern is that as an inflatable piece, it has some vulnerabilities not shared by the other poufs. You'll not want to place it near a campfire, on rough gravel or in an indoor situation where it can be challenged by pets.
Last update on 2019-08-24 / Affiliate links / Images from Amazon Product Advertising API
Outdoor Pouf Reviews
Outdoor poufs are an easy, comfortable way to extend seating on the patio, around the pool or even when camping. They can also be used indoors.
Wherever they are placed, they can double up as seats, footrests, or even as a small table. When looking for "best" we considered reports of serviceability, appearance and even environmental impact. Appearances count, too, as these are sometimes used as emergency indoor seating or even more permanent seating for a child's room. Construction, ease of cleaning, and durability are also considerations.
We'll start with a comparison table to get the lay of the land, and then move into the individual product reviews. We'll conclude with our favorites.
Preview
Runner-Up
Top Choice!
Budget Choice
Runner-Up
Preview
Preview
Top Choice!
Preview
Preview
Budget Choice
Preview
Last update on 2019-08-24 / Affiliate links / Images from Amazon Product Advertising API
---
Key Points at a Glance
2 seating poufs
1 matching table
Made of all-weather resin plastic, not knit fabric
Storage in the table will hold 10 grams dry measure
Available in three color configurations
Weight limit: 240lbs
Dimensions
Table: 16" wide x 16.3 inches high, 16 inches deep
Seats: 22.3" wide, 22.3 inches deep, and 12.5 inches high
The Details
You just can't beat the adorable coolness of these two poufs and the matching table from Keter. They are the perfect accompaniment to larger, and more traditional furniture, and are super stylish, both indoors and outdoors. However, they're not knit fabric, but rather made of a hard, polypropylene resin plastic made for outdoor use.
The table is a clever, simple design that contains storage. The height makes it an excellent selection for kids' tea parties. The poufs make good footstools for Adirondack chairs, but also work great as primary seating on their own.
The knit texture gives a unique appearance to the seat and table, tying them together with its texture. Some find the hard plastic to be uncomfortable, especially given the knit fabric look these are going for. We disagree, and think the whole setup is quite functional and idea for indoor/outdoor use, but we also understand that some won't like the fake-knit setup.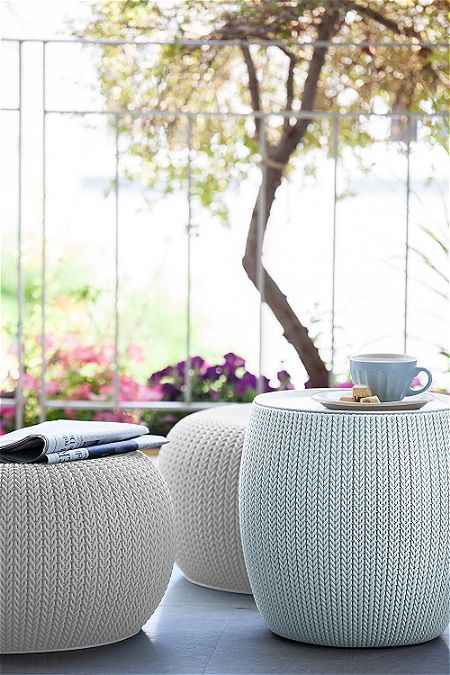 We should mention some potential issues with these polyresin poufs that are pretty commonly reported. First is that the packaging isn't great, and some find that their set arrives damaged. Additionally, some have found that the poofs will break, even when used under the weight limit suggested by Keter.
And finally, some find that the table top doesn't seal fully on the base after a little while. This could mean water could get into the interior of the table, potentially causing damage to non-water resistant objects inside. Keep an eye out for this, especially if you store objects that could get damaged inside the table.
Should any of these issues come up, contact Keter and let them know. Their customer service is generally pretty good, and with luck, they'll remedy any issues promptly.
The Bottom Line
The Keter Urban knit set is an attractive, inexpensive three-piece set that can be used indoors or out. They're perfect for footstools or seating for children, or for adults in a pinch.
The handy storage unit is fine for those odd bits that seem to accumulate on the patio, garden or even in indoor areas, and the whole set is so stylish.
It's hard to beat this set, as long as you're ok with a resin plastic pouf design! We've put these as our runner-up choice, as many won't love the hard plastic setup, but once you get over that, this set is ideal.
Sale
Keter 234242 Urban Knit Pouf Set, Cloudy Grey/Oasis White
Table: 16 w x 16 D x 16.3 H inches/ seat: 22.3 w x 22.3 D x 12.5 H inches
Made out of durable, rust-proof, all-weather polypropylene resin for...
The table provides 10G of storage space. Ideal for everything from patio...
Lightweight, compact design makes it fit in perfectly just about anywhere
Coordinating storage table and 2 seating poufs included.The table provides...
Last update on 2019-08-24 / Affiliate links / Images from Amazon Product Advertising API
---
Key Points at a Glance
Interlocking links print fabric
Wide variety of colors
Zippered, removable cover for easy cleaning
50% recycled polystyrene bead stuffing
Cushion is firm
Slipcovers UV treated for durability
Dimensions
Dimensions: 17 x 17 x 17 inches
Weight: 6 pounds
The Details
The Majestic Home Goods line of outdoor/indoor poufs are pretty and, light-weight. They're an ideal quick solution to seating.
These can also function as a footrest as well as a table in a pinch.
The Majestic outdoor pouf is perfect for extra guests, kid seating, or just a place to rest outdoors.
The slipcover is made of a UV-protected polyester and includes a zipper. This means the cover is pretty easy to clean, and is also reasonably fade-resistant (up to 1,000 hours). That said, the polyester will fade over time, so it's a good idea to store this out of the sun when not in use.
The Majestic Home Goods poufs are great for pool parties, patio entertainment, or slumber parties that feature marathon video watching or game playing.
The Bottom Line
Majestic Home Goods' poof is an all-around simple seating solution that is easy to move from place to place. The print fabric comes in a variety of colors, so matching your décor is a breeze. But, speaking of breezes, you probably don't want to leave it outside when not in use. It will blow away!
Also, you may want to order some extra stuffing beads, as you might need to refill it. Think of it as a beautifully symmetrical, cube-shaped bean bag.
Majestic Home Goods Links Indoor/Outdoor Bean Bag Ottoman Pouf Cube, 17" x 17" x 17" (Black)
Dimensions: approx. 17 in. x 17 in. x 17 in. Perfect convenient size for...
Removable Zippered Slipcover - easily remove and clean your ottoman pouf...
U.V. Treated Covers / Water Proof Base- these bean bag ottoman pouf cube...
Recycled Polystyrene Beads - filled with environmentally friendly, highly...
Highest Quality and Durability - the bean bag ottoman pouf cube is made...
Last update on 2019-08-24 / Affiliate links / Images from Amazon Product Advertising API
---
Key Points at a Glance
Made from Sunbrella fabric
High Density foam stuffing, 100% recycled materials
Zippered removable cover
Available in four fabric options
Clean with detergent, use bleach for stains (don't try this on just any fabric)
Dimensions
Dimensions: 20 x 20 x 18 inches
Weight: 4 pounds
The Details
Made from highly durable Sunbrella fabric, this bean bag ottoman is resistant to stains and sun damage. It can be cleaned using a mild detergent. The fabric is sufficiently tough and colorfast to use bleach on heavy stains. The zippered cover can be removed for cleaning.
Sunbrella is the best outdoor fabric, and will almost certainly last longer outside than any other fabric.
The Core Covers Outdoor Pouf is very similar in design to the Majestic Home Goods pouf above, and is very much a rectangular bean bag – the pouf will sag a bit with use.
With that noted, it is fine for spare seating, a footrest or even for use as a quick table. The latter might require some added stuffing, especially after the pouf has been used a few times as seating.
Last update on 2019-08-24 / Affiliate links / Images from Amazon Product Advertising API
The Bottom Line
Most users find that the ottoman works fine as long as you think of it as a beanbag. It isn't as firm as you might expect from its rectangular shape, and it isn't as symmetrical as the beanbag pouf from Majestic Home Goods.
You might consider purchasing some extra stuffing for it. Otherwise, it is a good choice for spare seating or for kids' lounging furniture. The Sunbrella fabric tacks on some added expense, but is an unbeatable quality fabric for indoor/outdoor use.
Sale
Core Covers Outdoor/Indoor Sunbrella Pouf, 20" x 20", Cast Lagoon
Made from Durable Sunbrella Performance Fabric and colored with highly UV...
Easy clean ability by using mild soap to clean most common stains; using...
Easy zipper removable covers
Sunbrella' s unmatched quality uses the finest raw materials, an ISO 9000...
Internal materials are 100% recycled high density foam given it more...
Last update on 2019-08-24 / Affiliate links / Images from Amazon Product Advertising API
---
Key Points at a Glance
Cylindrical ottoman or side table
Beanbag construction
Weather and UV resistant cover
Polystyrene bead stuffing
Made in the USA in Atlanta, GA
Cover is not removeable
Dimensions
Dimensions: 19x19x21 inches
Weight: 8 pounds
The Details
Jaxx makes fantastic indoor/outdoor bean bag products (they make the best outdoor beanbag chair), and the Spring outdoor pouf ottoman is yet another stylish and cool option. The Spring is available in a wide variety of color and fabric options, and buyers can choose both a Sunbrella option and a slightly less expensive polyester option.
That's an easy choice, opt for the Sunbrella, absolutely.
The Spring is an attractive, beanbag type stool that can be used as seating, a footrest, or as a table. It is a beanbag, so expect some sagging over time.
Although it has a zipper, it does not have an inner lining, so the cover is not easily removable, which is a negative in our eyes. The zipper opening, however, can be used to add fresh beads to the bag. If being able to remove the cover for washing is important to you, you might consider making an inner liner to hold the stuffing. That could, however, be a challenging process.
One user noted that having like their first ottoman so much, they bought a second from another supplier, thinking it would be the same. It was not. The lesson here is to always be sure you are buying the genuine item, not an imitation.
The Bottom Line
This Ottoman pouf is attractive and functions as a table, footstool or seat. The whole setup is quite elegant, except for the lack of an interior cover for the beads. If you feel like you'll be cleaning this cover frequently in a washing machine, you may want to opt for another pouf.
If you can accept spot cleaning, or unfilling and refilling the pouf on occasion, the Jaxx Spring is the best outdoor pouf available.
Sale
Jaxx Spring Indoor/Outdoor Bean Bag Ottoman, Lime Stripes
Round pouf ottoman or side table for stylish patio and poolside lounging
Fade, UV, and weather resistant outer cover with Polystyrene Bead filling
Unique alternative to uncomfortable and Dated patio Furniture: suitable for...
Dimensions (inches): 19"l x 19"w x 21"h
Made with pride in the USA (Atlanta, GA)
Last update on 2019-08-24 / Affiliate links / Images from Amazon Product Advertising API
---
Key Points at a Glance
Inflatable interior
Will support up to 300 pounds
Cylindrical ottoman
Portable, suitable for camping or poolside use
Polyester and Polyester blend materials
PVC explosion proof liner
Print fabric cover
Replacement inflatable liners available
Use standard pump, such as is used for air mattresses, to inflate
Dimensions
Dimensions: 9 inches high, 21 inches in diameter
Weight: 1.67 pounds
The Details
Tired of dealing with polystyrene or foam beads, but don't want a resin plastic seat? Then the FBTS inflatable pouf is for you!
The robust, tough inside lining helps prevent the possibility of the seat exploding. The poly blend fabric cover makes it attractive and comfortable for sitting, using as a footrest or even as a table for items that are not hot. It's great for outdoor use, though it shouldn't be left out for a long time while not in use.
Just collapse it and store it away when not in use.
It's super easy to pack for camping or day trips, but also useful for emergency seating when your party develops unexpected extra guests. Simply inflate the pouf, and it can hold up to 300lbs.
The Bottom Line
The FBTS pouf is a clever, economical choice for travel, camping, or even indoor use. The inflatable outdoor ottoman is suitable for patio, poolside or campground use. Use the same ordinary precautions you would use with any inflatable – avoid putting anything hot on top of it, keep away from pets, and do not over inflate.
Also, avoid placing it too near an open fire or on a gravel surface. If placing it on an irregular surface, consider placing a ground cloth or board beneath it.
Overall the FBTS is a great budget choice, and will work wonderfully if used properly.
Sale
Last update on 2019-08-24 / Affiliate links / Images from Amazon Product Advertising API
---
Conclusion: Garden Poufs
All of these poufs are cute, functional and reasonably economical. But starting from worst to best, the Jaxx Spring Indoor/Outdoor Bean Bag Ottoman is knocked out of the running for best or even budget because the cover cannot be removed for washing. Any indoor/outdoor furnishing needs to be easy to clean. We love the look, and Jaxx normally does great work. But plan for some hassles cleaning these poufs, should you decide to pick one up.
The Majestic Home Goods Pouf Cube is a decent choice, but underwhelming. It generally doesn't sag, and the polyester fabric is good enough for many. It's just not Sunbrella, and will not last as long outdoors. It's available in plenty of colors, and will work fine should you like the look.
The FBTS Prime Outdoor Inflatable Ottoman Pouf is our selection for those on a budget. It has the lowest purchase price, is easy to pack for travel or camping, can be used anywhere you have an inflator suitable for air mattresses. And it has that whole anti-explosion lining thing going for it. The cloth cover is cute and will look great in a living room, kids' room or tent. It doesn't make the best or second best for one simple reason: it is inflatable and that means it needs to be protected from punctures. If you have kitties, this is not the pouf for you.
The Keter 228474 Urban Knit Pouf Set is exceptionally cute and is our runner-up choice. If you're ok with a non-soft pouf, then just get this set, it's beautiful! Be wary of damage upon arrival, and especially watch out for warping in the table top over time, if you use it to store items that could get damaged by water.
Our choice for the best pouf is the Core Covers Outdoor/Indoor Sunbrella Pouf. The Core Covers pouf is made from Sunbrella fabric, has a zip off cover for cleaning and can be cleaned with bleach. Another super point for it is that the stuffing is made from 100% recycled materials. All of this translates into an ideal long-lived outdoor pouf.
Any of these poufs would be an asset to your patio, poolside or even indoor decoration theme. They are lightweight, versatile and comfortable alternatives to the traditional folding chair. They rival bean bags for a place as casual lounging furniture and are a handy and inexpensive decorating choice.
---