Tabletop patio heaters can be a great solution for localized outdoor heating. They are designed to be placed on a table, and to radiate heat out to those seated at the table. These heaters are available in a variety of designs and fuel sources, and many supply some illumination as well. After examining several different Table Top Patio Heater models on the market, we have determined that the AZ Patio Heaters Tabletop Electric Heater
[Amazon Link]
is the best patio heater on the market. We were not expecting to rank an electric heater so high, but this unit makes sense! It hits a nice price point, provides 1,500 watts of heat (5,100 BTU), plugs into a standard 120v outlet, and there's no need to fuss with propane tanks. Heat output is acceptable, will warm those within 2′-3′ of the unit, and it works both indoors and outdoors.
For a complete review of this unit, see our product reviews section below.If you're looking for inspiration on patio heating, be sure to check out our guide to outdoor heating here!
Runner Up Best Table Top Patio Heater
For those who want a little more power, but are willing to deal with the hassle of propane tanks, the AZ Patio Heaters Classic Propane Tabletop Heater
[Amazon Link]
is the an excellent option for small scale heat. It comes in a variety of colors, has 11,000BTU of heat output, hits a great price point, will heat those in a 3′-4′ radius around the heater, and is covered under a 1 Year Warranty. This unit is a great unit, and users could consider attaching to a larger propane tank for less hassle, though at that point it may make more sense to purchase a
full sized gas patio heater.
For a complete review, see our Product Reviews section below.
Table Top Patio Heater Reviews
In this section we will look at five top patio heaters, consider the advantages and disadvantages of each, and give our verdict.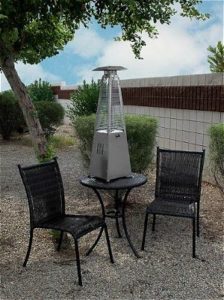 Pyramid style quartz glass tube patio heaters look really cool. The shape of the heater, and the visible flame firing through the glass tube is much more compelling, visually, than the standard propane and infrared electric patio heaters. These provide some light, some heat, and a whole lot of ambiance.
Unfortunately, Pyramid heaters simply do not put out the heat as well as standard pillar-style propane patio heaters. The design is different, more heat goes out the top, and the amount of heat radiating out is not as significant. However, this unit still puts out a reasonable amount of heat, and certainly does have style — though these can be a big presence on a bistro table, as shown here!
Key Points at a Glance
10,000 BTU Propane Heater
Fits standard quart sized 160z/1lb propane tanks
Easy-ignition electric pilot
1 Year AZ Patio Heaters Warranty
Burn Time: 2-3 hours, depending on heat settings
Dimensions
Dimensions  39″ x 12″ x 12″
Weight: 14lbs
Clearance: 3′
The Details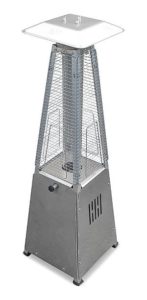 In terms of heating area, the AZ Patio Heaters Pyramid Heater puts out heat in a 3-4 foot radius. Not huge, but enough for a few people around a table. The heater puts out some decent heat, but the base does not get ho. Users can place this heater on virtually any type of table: glass, metal, wood, etc.
The AZ Patio Heaters Table Top Heater gives off some light, but not a huge amount. It's probably not enough to read or eat, but enough for conversation well into the evening.
One tank will last around 2-3 hours, depending on how hot you set the dial. Should users wish to, there is an adapter available to connect up to a 20 gallon propane tank [Amazon].
In order to get the AZ Patio Heaters Tabletop Pyramid Heater to ignite, be sure to press down the knob for 20 seconds or so before lighting, to enable propane to flow completely through the unit. From there, you can adjust the knob to the appropriate amount of heat output. By turning down to medium, you will go through fuel more slowly, and still get decent warmth.
Some users struggle to get the unit lit, and if you're having trouble, consider contacting AZ Patio Heaters, as they may be able to troubleshoot your issues. Generally by holding down the igniter prior to ignition, users will have better luck.
The Bottom Line
AZ Patio Heaters is one of the top brands in the patio heating market, and they offer a solid 1 year warranty on all of their heaters. If you're looking for a balance of heating and aesthetics, then the AZ Patio Heaters Quartz Glass Tube Table Top Heater is a great choice. If getting the max heat you can is your priority, we would suggest going for a different heater.
---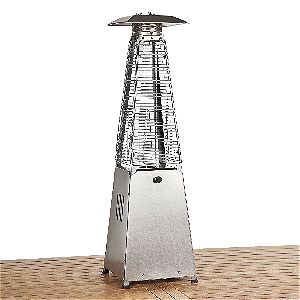 The HeaterMeister Pyramid Style Quartz Tube Glass heater follows a very similar tack to the AZ Patio Heaters Table Top Heater referenced above. It offers slightly higher heat output, which is a bonus, and it has the same delightful aesthetic that all quartz tube glass heaters have.
Key Points at a Glance
12,000 BTU of heat output
Fits Standard Size 1lb propane tanks
Electric Pilot Light for Easy Ignition
Burn Time: 2 or so hours
Dimensions
Dimensions: 39″ x 12″ x 12″
The Details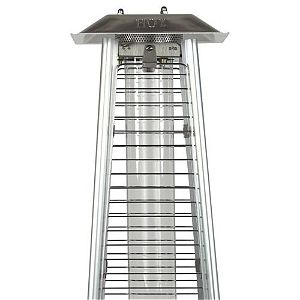 The HeaterMeister Table Top Patio Heater offers a 12,000 BTU output, which is 20% higher than the AZ Patio Heaters unit listed above. While 20% extra heat output is significant, the downside is having a unit without a clear warranty, made by a much less established company.
The 20% bump in heat output won't really impact the radius of heat very much, and users within a few feet of the heater will be able to feel some impact of heat, but not much more than that. As mentioned above, pyramid-style heaters don't put out as much heat as the pedestal style propane heaters on this list, though they have better aesthetics.
These units feature an easy ignition switch, and once lit, will burn for 2 or so hours per 1lb tank. There is a regulator dial to allow users to adjust the heat output. For those who wish to connect up to a larger tank, a hose adapter is available [Amazon].
The Bottom Line
Unless the price point is spectacular, we would suggest buyers stick to one of the other patio heaters on our list. The HeaterMeister heaters are attractive and solidly built, but are not a particularly compelling purchase.
---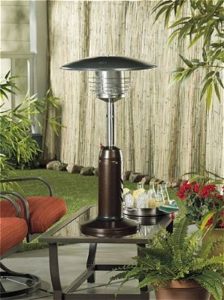 Available in five attractive finishes, the AZ Patio Heaters Highland 38″ table top patio heater is a nice choice for many applications. These units offer better heat output than the quartz glass tube patio heaters, though they are not anywhere near as cool looking. Still, they fit more the general sense of a table lamp, and are a bit less distracting than a pyramid heater. These heaters are a great choice for many looking for primarily heat output as opposed to aesthetics.
Key Points at a Glance
11,000 BTU of Heat
Fits Standard 1lb propane tank
Electric pilot light
Available in 5 finishes
1 Year AZ Patio Heaters Warranty
Burn Time: 2-3 hours
Dimensions
Dimensions: 38″ x 23″ x 23″
Weight: 17.5lbs
The Details
The AZ Patio Heaters has done a nice job with their classic series table top propane patio heaters. With 5 colors to choose from, and a great price point, these heaters supply decent heat to those seated nearby without being obtrusive. While they don't look as cool as a pyramid heater, they supply better heat output, and will warm those within 3-4′ of the heater.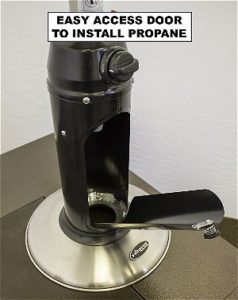 These heaters use a standard 1lb propane tank, which sits on the base. The base is weighted for additional stability, which is a nice feature as well.
To ignite the heater, push in the knob for about 20 seconds to enable the propane to travel through the heater, before triggering the ignition. Once ignited, users can turn the dial to wherever they are comfortable. Some users struggle with ignition, especially after changing a propane tank. If you're having difficulty, we suggest contact AZ Patio Heaters for help.
The top of the unit will become red hot and give off some light, but not enough to read or eat by, and barely enough for conversation.
Windy environments will cause problems for these units. The wind will blow the warm air away, and there's not much that can be done to mitigate that, unless you can block the wind.
The Bottom Line
The AZ Patio Heaters Classic Table Top Propane Heater is a great choice for many, especially given the price of the unit, and the 1 year warranty. With 11,000 BTU of heat and a design that pushes heat outwards instead of upwards, these units are a nice addition to a bistro table or conversation set, and will keep guests warm within reason. As long as buyers understand that these units are not designed to heat a whole patio, they will be happy with their purchase.
---
AZ Patio Heaters delivers once again with the HIL-1821 electric tabletop patio heater. This unit is compact and somewhat resembles the propane patio heater mentioned above. With 1,500 watts of power, and a standard 120v plug, these units are hassle free, and put out reasonable heat for a small tabletop environment.
Key Points at a Glance
1,500 watts of power
Approximately 5,100 BTU of heat
Works with a standard 120v outlet
Can be used both indoors and outdoors
IP Certified Waterproof
Covered under 1 Year Warranty (note: filament not covered under warranty)
Dimensions
Dimensions: 38″ x 22″ x 22″
Weight: 21.3lbs
The Details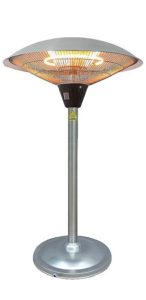 The AZ Patio Heaters electric tabletop heater works quite well, and we are fond of the design here. Many of the full size electric patio heaters and wall mounted electric patio heaters seem like they should put out more heat than they do, but this small scale unit puts out the same amount of heat as the larger scale infrared heaters do. By placing this unit on a table, and having chairs within a couple of feet surrounding the heater, this electric patio heater will take the chill off those seated nearby, in a 2-3′ radius of the heater.
Also, there's no need to fuss with replacing propane tanks, screwing around with ignition switches, etc. With an electric patio heater, just plug it in and go! Though we should mention that if you plan to use an extension cord, be sure you get a heavy duty cord designed to handle at least 15 amps [Amazon].
And best of all, you won't need to pay to continually purchase new propane tanks, which adds up!
Aesthetically, we can't say we love these heaters, but they are adequate in their looks, and generally look like a table lamp. These do put out some light, a bright red light that may be unpleasant to those going for an aesthetic environment, so be warned. You may want to place it on the floor so that it's not at eye level, but this changes the impact of the heat distribution somewhat.
Though this unit is certified waterproof, we encourage users not to leave it outside in the elements when not in use. It will get damaged over time, and the filament will blow out. The cost of replacing the filament is almost the same as replacing the whole unit, so it's best to protect this unit as much as possible when not in use. Take it inside and use it indoors. This heater doubles as an indoor heater as well!
The Bottom Line
The AZ Patio Heaters Electric Infrared Tabletop Patio Heater is a great choice for those who understand that the heat output is not huge. This unit will heat those seated around it in a small area, by radiant heat. It works well for that purpose, with no fussing around with propane tanks, etc. And it can be taken inside for use indoors, as well, which is a nice extra. Best of all, it is covered under a 1 year warranty.
---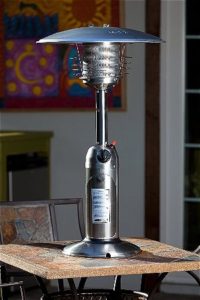 Key Points at a Glance
10,000 BTU of Heat Output
Piezo Electric Igniter for easy starting
Stainless Steel construction
Features tilt auto shut off, and oxygen depletion sensors for safety
Fits standard 1lb propane tanks
1 Year Warranty
Dimensions
Dimensions: 35″ x 21″ x 13″
Weight: 14.3lbs
Clearance: 3′
The Details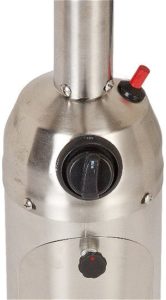 The Fire Sense table top patio heater very much resembles the AZ Patio Heaters tabletop propane heater. It is slightly lower power, clocking in at 10,000 BTU of heat, however the heat output is fine on this unit.
A small propane tank will last 2-3 hours on this unit, depending on the settings used. To ignite the unit, simply push in the valve, and wait for 20-30 seconds. Then push the red ignition switch, which will engage the pilot light and light the flame. Once lit, wait a few seconds, and turn down to the desired heat output amount.
Keep the dimensions of this unit in mind, as it can be a bit big for a small bistro table or small patio table.
Some users have reported poorly filed edges on this unit, and have been cut while running their fingers over the unit. Beware, and if necessary, file any sharp spots.
We should note that windy environments can significantly impact the effectiveness of these style propane heaters. The wind will blow the warm air way, and there's not much you can do about it, unless you can block the wind.
The Bottom Line
The Fire Sense Table Top Patio heater works well, and though it is relatively expensive compared to some of the other models on the market. If it is on sale, it may be a rather compelling purchase, but if not, we suggest considering other options. This heater does provide decent heat, looks nice, and is fairly easy to use. It is reasonably well built, but given the price point, there are better options in the table top heater market.
---