The Bokashi Composting system is a great way to produce home compost. By combining an air tight bucket and a Bokashi fermenting mix, you can produce a bacteria-rich compost tea, and create compost out of your biodegradable kitchen wastes and left overs. There are a lot of Bokashi buckets and kits on the market; however based on our thorough research we have concluded that the 
Bokashi Living 2 Bin Starter Kit
is the top choice for many looking to get started with Bokashi composting. This Bokashi Compost Kit has everything you need to get started, and excellent instructions.
For a complete review of this product, see below.

Runner Up Best Bokashi Composting Kit
Near to perfection,
Vermikashi Bokashi Compost Kit Base Model
ranks second on our list. The structure of the bucket yields good amount of solid compost that you can bury for ground composting and composting juice that you can dilute with water and directly use as fertilizer for plants.
The anaerobic fermentation only produces the smell of a sweet pickled odor. It could have reached the top unfortunately; it has a low quality spigot and fragile lid cover. Things that you may want to consider before buying the product.
What is Bokashi Composting?
Before we examine several of the top systems on the market today, we will start with a quick overview of what Bokashi composting is.
Bokashi is a Japanese style of composting, developed in the early 1980s, and accomplished by using microbes to ferment the scraps in an anaerobic environment, and to create compost.
---
How Does It Work?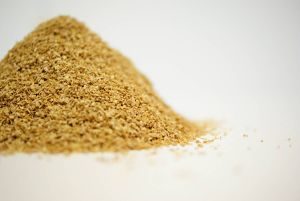 The Bokashi system produces compost by microbial processing of organic kitchen scraps. These scraps placed in an anaerobic environment (i.e. a sealed bucket) along with microbe-inoculated Bokashi Bran, both around the scraps, and on top of the scraps, to create an environment where the microbes rapidly consume the kitchen waste, and convert the material to rich compost.
Simply keep adding food scraps in layers of no more than 2″, pressing down to remove as many air pockets as possible, and cover each layer with more bran.
Bokashi Tea
Once users have the scraps in the bucket covered by the bran, the only task that is required is to remove the liquid "Bokashi tea" from the bucket to keep the acidity balanced. All of the systems on our list today have spigots for this purpose, and are quite easy to use.
Virtually all Bokashi buckets include a strainer that aids in the extraction of the Bokashi Tea.
The "Bokashi Tea" is super concentrated plant food, and should be diluted with water at about 2-3oz of tea per gallon of water to create the proper balance. Use this as fertilizer!
Second Compost Stage
After 10 or so days of fermentation, the process is complete, resulting in half-composted material. This half-composted material must then be mixed with soil, as in a garden bed, or a half-filled bag of soil, and it will become super enriched, healthy plant food after about 4 weeks.
You could also add your compost at this point to a garden tower system for easy plant growth.
---
What are the Advantages of a Bokashi System?
Bokashi systems have a few advantages over other styles of compost, such as ground based compost bins, rotating composters, and vermicomposting.
Sealed buckets are free of odors
Meats and bones can be placed in these bins
Pests, insects, bees, and rodents cannot get to the kitchen scraps
Ideally suited for both indoor and outdoor use
Produces its compost quickly, though the second stage takes some time.
No stirring required
What are the Drawbacks to these Systems?
Small quantity of compost produced each cycle
Need to regularly purchase Bokashi Bran (or make your own Bokashi Bran)
Not suitable for lawn scraps or grease
Two step process is a bit of a pain
---
Summing It Up
Overall, this system is excellent for those that don't have large gardens to work with, and who don't have lots of storage space for tumbling composters, ground based compost bins, etc. The Bokashi bucket can go either inside or out, making it very flexible, and allowing for good production of compost even in the winter months.
---
Bokashi Bucket Kit Review
In this section we will look at four of the most popular Bokashi bucket kits available today, review them, consider the advantages and disadvantages of each, and give our recommendations. See this article if you would like to look into making your own Bokashi Bins.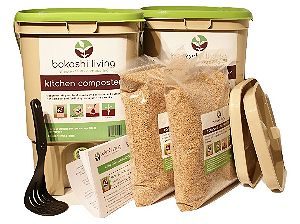 The Bokashi Living 2 Bin Starter Kit is the ideal kit for those who want to dive in and do it right, the first time. This kit contains everything you need, times 2! It is extremely highly regarded among users, and is very well thought out as a set. The buckets are very strong, the lids lock with a reassuring snap, and the spigot is very high quality. And you also get two bran packages for the two buckets to get you started.
What's Included
Two 5 gallon Bokashi buckets with spigots
Two securely-locking lids
Bokashi utensil
3.5lbs of Bokashi Bran (approximately 4-6 months supply)
Helpful instruction guide
Dimension and Specs
Product Dimensions 20.9″ x 12.2″ x 12.2″
Manufacturer Bokashi Living
The Details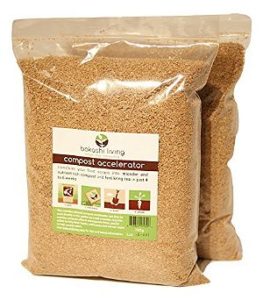 The Bokashi living starter kit has virtually everything you need to quickly and easily get started composting in your home or yard. With two five gallon buckets, you can keep two compost processes going at once, staggered in time (a similar idea to a dual batch compost tumbler), and you'll have a steady stream of compost in no time.
You also get two 1.75lb bags of premium grade Bokashi bran, inoculated with the beneficial microbes that make the system work, and a complete 4-step and troubleshooting guide to bokashi composting. This kit includes enough Bokashi bran to ferment approximately 8 full kitchen composters, which lasts a typical family at least 4-6 months.
Composting Instructions
The Bokashi Living system works essentially the way we described above. Layers of kitchen scraps and Bokashi bran are placed in the compost bin, and pressed to remove as much oxygen as possible. Every other day, extract the Bokashi Tea using the spigot, tilting the bucket to get as much out as possible. Note: you may find it effective to open the lid and press down on the compost mixture with your utensil to squeeze out extra Bokashi Tea during this process.
Included in the package is a handy sheet outlining the process in simple form.
Accessories
Over time, you'll use up your supply of Bokashi Bran, so you'll want to pick up additional Bokashi bran before you run out.
The Bottom Line
Made in the US, this product can last a lifetime, and help to provide your family with healthy fruits and vegetables. All key features are set in place, making the entire experience with the Bokashi Living system outstanding. This product can give you nutrient-rich composting tea at the same time maintains its good quality after several use. Though pricy, it sure does give you mobility, efficiency and reliability. Truly, this one is the best.
---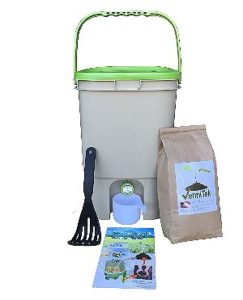 The Vermikashi Bokashi Compost Kit Base Model is an excellent system with a lower up front cost, and for many who are just starting on their Bokashi composting odyssey, this system may be a good choice.
What's Included
One 5 gallon bucket made from recycled plastic with EM ceramic powder (Super C) with spigot
Locally made (Washington State) Bokashi Bran
Bokashi utensil, and Bokashi Tea cup
Bokashi Composting Instructions
Dimension and Specs
Product Dimensions 12″ x 12″ x 17″
Item Weight 6 pounds
Manufacturer VermiTek
The Details
The Vermikashi system is very well designed, and hits a nice price point. The bucket has air-tight lid, a very effecting composting bran, and a good instruction guide which is essentially on par with the Bokashi Living system.
On the down side, the bucket has a frail spigot and lid, which may give trouble over time, so be gentle with it as you use it, especially when extracting the Bokashi Tea.
This package only consists of one bucket, so while you're finishing the first batch, you'll need an additional bucket to store the scraps you generate. This is where a two-bucket system shines.
Composting Instructions
The provided instructions are fairly helpful,, and the basic system of fermentation is as described above. The process is relatively simple, and aside from being gentle when extracting the tea, you won't have any trouble creating compost with this system.
Accessories
This package only comes with one package of Bokashi Bran, so as you continue to produce more compost, you'll need to pick up additional packages of bran.
The Bottom Line
In terms of quality and effectively this product stood in high esteem and well-recognized by customers. However, improvements could be made with its spigot and lid, and the instructional material could be clearer. Additionally plus it only comes with one pack of composting bran. Overall, this product still deserves the second place.
---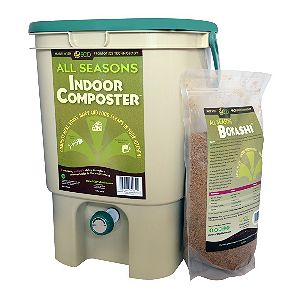 The SCD Probiotics K 100 has a helpful handle, allowing the bokashi bucket to easily moved indoors to outdoors, or from the counter to the floor. This addition will be appreciated by many who need to move the bucket around from place to place, and it is odd that a handle is not included on many of the other buckets on our list!
What's Included
5 Gallon Bokashi Bucket with Spigot and handle
Bokashi Bran
Bokashi Bucket Air-Tight Lid
Dimension and Specs
Product Dimensions 12 x 12 x 18 inches
Item Weight 4.7 pounds
Manufacturer SCD Probiotics
The Details
This product has a convenient handle for an easy transport. The volume capacity is 5 US-gallons, .67-cubic feet, 640-fluid ounce of fermented liquid or compost tea. With air-tight lid for faster fermentation and decomposing, and strainer allows for Bokashi Tea to be drained out easily and effectively. Spigot allows for easy removal of liquid compost tea to be used for plant fertilizer or unclogging drains and pipes.
Some have commented that the spigot on this bucket is finicky, and can leak. Be gentle with the spigot when extracting Bokashi Tea so as to minimize damage over time.
Composting Instructions
This package does not include a handy instruction sheet, though they are the same, essentially, as described above. Many find this book to be helpful as a guide.
Through anaerobic fermentation (without oxygen) kitchen scraps converted into fertilizers after two weeks inside the bucket. When the scraps are fermented they produce a juice. The liquid can be used as a fertilizer for household plants (1:100 dilutions) or to clean your kitchen and bathroom drains (undiluted).
Accessories
This package only includes one bag of Bokashi Bran, and as you make more and more compost, you'll need to pick up additional supplies of bran.
The Bottom Line
The SCD Probiotics Kit is quite nice, though there are a few items left out that are found in the other packages. The spatula-like utensil is not included, and there is no compost tea cup. That said, you can substitute these tools easily, and the handle really is helpful. Additionally, the price point of this kit is a little high compared to some of the others on our list, which is an obvious negative.
---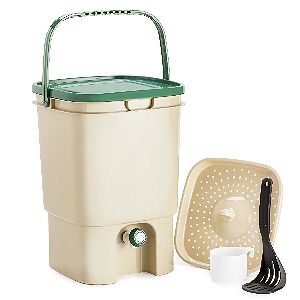 Banking on its air-tight feature, Chefs Star 5 Gallon Bokashi Bucket can protect your compost from pesky critters and rodents. With an air-tight lid, the bucket seals in odours and prevents flies to hover over the bucket. Still equipped with a convenient handle, this product can be transported from the kitchen counter to the storage room, or wherever you need to move it.
What's Included
5 Gallon Bokashi Bucket with Spigot
Strainer for easy extraction of Bokashi tea
Spatula utensil and tea cup
Unlike the rest of the kits on our list, the Chef's Star kit does not include a bran pack.
Dimension and Specs
Product Dimensions 18.5″ x 13.2″ x 12.7″
Item Weight 4.3 pounds
Manufacturer Chef's Star
The Details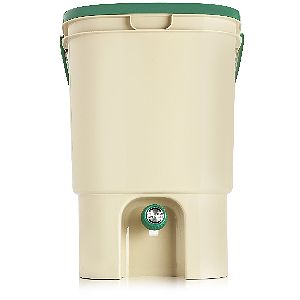 The Chef's Star Bokashi Bucket has 5 gallon capacity. The  lid seals tightly, and it is effective both indoors and outdoors. This system can turn meat, bones, dairy, and food scraps into organic soil conditioner. The lid is air-tight for faster fermentation and decomposing. The spigot allows for easy removal of liquid compost tea to be used for plant fertilizer or household drain maintenance. It has a convenient handle for easy transport.
Some have found the spigot to be troublesome, and if you immediately see issues with your spigot, you may want to contact Chef's Star for a replacement. Certainly the spigot is the primary issue to watch out for on these systems, and when you extract your Bokashi tea, we encourage you to be gentle!
Composting Instructions
The composting instructions are essentially the same for this system as has been outlined above. It is not difficult, and it is effective.
Place your kitchen waste such as solid food waste, including raw foods, cooked foods, meat, fish, cheese, and much more. Sprinkle a little amount of Bokashi bran (which is sold separately). Make sure that the strainer is place before the kitchen waste. Occasionally press the compost to allow the juice to drain at the bottom, and extract the Bokashi Tea. Once the compost is set in place, seal the bucket to make sure air doesn't come in to avoid oxidation.
Once the compost has half cooked, mix it with soil for the second stage, and you're all set!
Accessories
Right off the bat, this package is incomplete, as it does not include any Bokashi Bran. Be sure to pick some up if you're interested in this kit.
The Bottom Line
With strong lid and air-tight seal, this kit is well made and functions well both indoors and out. Even if the container spills over, you are confident that no substance inside would break free. The bucket is high quality but you have purchase the fermenting bran or mix which makes this product a less choice for some customers, as the price is significantly impacted by the need to purchase additional materials to get started.
---