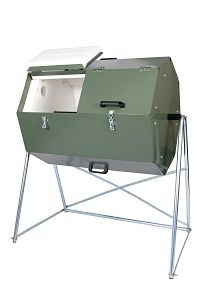 When it comes to composting household food and yard waste, tumbling compost barrels can be an outstanding, convenient solution for many homeowners. These systems are typically raised up off the ground for easy access, are sealed and rodent-proof, and are often more efficient in terms of time than traditional ground-based composting methods. There are two common types of tumbling composter: the single batch compost tumbler, and the dual batch compost tumbler. The dual batch composter has a few significant advantages over single batch tumblers, and we look closely at those advantages in this article.
Single Batch Compost Tumbler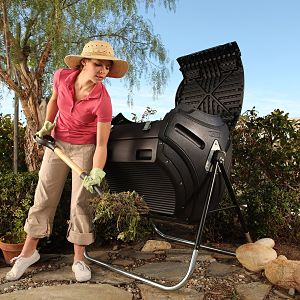 Single batch composter tumblers typically look like rotating barrels, placed on metal stands. Usually there is a single latched, secured opening on one side of the tumbler, which is designed to allow compost to be put inside or to be taken out. Some single batch composter tumblers, like the Lifetime 60058 Composter, (see our review here) have a modern look and can yield large batches of compost (often 80 gallons or more). Others are heavy duty and made out of metal, like the Mantis Compost Tumbler shown here (see our review here). Its thick chamber is great for keeping heat for perfect cooking.
Many single batch compost tumblers are high quality, and work well. Both the Lifetime and the Mantis are favorites of ours, and for those who prefer to work in large, slow batches, a single batch composter may be ideal. However, many will find that dual batch systems are much more useful than single batch tumbling composters.
Limitations of Single-Batch Composters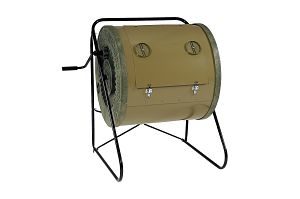 Single-chambered composters have some significant limitations. The most important problem with these systems comes from the single chamber design, where adding new scraps to maturing humus essentially resets the composting clock. Usually, when humus is maturing, its volume reduces somewhat. This additional space that gets created tempts gardeners to dump additional organic waste into the batch. By mixing new scraps into a batch of compost that is already cooking, the timing for completion gets reset, which is obviously not ideal.
An easy way to think about it is to consider composting as roasting vegetables. You put some raw vegetables on the tray, and place them in the oven. Set the timer for one hour. After 30 minutes, you take out the tray, add more raw vegetables, stir it all, and place it in the oven. In 30 more minutes, the timer goes off, and you have a tray made up of some cooked vegetables, and some half-cooked vegetables.
This is the core problem with single batch composters, and it means that once you start a batch, you pretty much have to wait until its finished to add more to the compost tumbler. That means you'll also need a place to store the new compost while the current batch is maturing. You could get a bin to store the scraps, and then place them in the tumbler when you can. You could also consider getting a second, ground-based composter such as the Redmon Compost Bin (see our review here), but at that point, you are now dealing with multiple compost sytems, or some sort of storage bin and single compost method.
Isn't there a more sensible way to do things?
Dual Batch Compost Tumbler
Unlike the single batch composters, dual batch composters have two separate compartments that are sealed off from each other. They are typically formed in a barrel shape similar to single chamber tumblers, but dual-batch composters have two distinct composting areas.
The two separate chambers allow for two smaller batches of compost to mature in different phases, at the same time. You could have one chamber that has been cooking for two weeks, while the other chamber is fresh from day-old scraps. This dual batch system allows for a greater number of small batches of compost to complete at regular intervals, which is extremely convenient and helpful.
Dual batch composts come in many sizes and configurations based on what buyers need. In this article, we will briefly look at two dual batch compost tumblers that span the range of commonly available options. The Yimby Dual Batch Composter has two small compartments, a simple design, and an attractive price point. It has a good separator which prevents scraps from transferring from one compartment to another. The Jora JK270 Dual Batch Composter functions similar to the Yimby Dual Batch Composter only bigger and tougher, with a higher price.
---


Made with sturdy plastic and well-sealed chambers the Y.I.M.B.Y. (Yes In My Backyard) dual batch composter is leak-free, and ideal for making continuous, small batches of compost for the garden. The two compartments are designed to be contamination-free, andkeep your treasured organic fertilizer free from unwanted substances, rodents and other pesky critters. Place new batch in one side and keep the other side cooking.
Basic Features
Two-chambered tumbling composter
Made from recycled plastic, with a steel stand
Features adjustable air vents
Capable of making compost in as little as 2 weeks
37-gallon capacity
Dimensions and Specs
Dimensions: 36 x 31 x 28″
Weight: 30 pounds
Compost Capacity: 37-gallon
Manufacturer: YIMBY
Made in Canada
The Details
The Yimby tumbling composter is not large, but is ideal for making regular small batches of compost in a short time frame. The tumbler is easily turned (typically a couple of times a day) with its built-in hand holds. Mixing of compost is hassle-free.
The Yimby has two chambers, or compartments ,for uninterrupted and continuous humus cooking. Every few weeks you'll get a small batch of new compost, and you just keep cranking out batches, as opposed to doing large batches on a slow time frame.
Aesthetics
The Yimby two chamber compost tumbler has modern look, with a black recycled plastic core, and a steel stand. It's not going to be a centerpiece in the garden, but it is capable of receding into the background, and being there when you need it.
Functionality
This composter has to be rotated 5-6 times every 2-3 days. The mixing assists for faster decomposition of organic materials. Depending on the weather and environmental conditions, the Yimby can put out compost in 2-4 weeks!
Material and Build Quality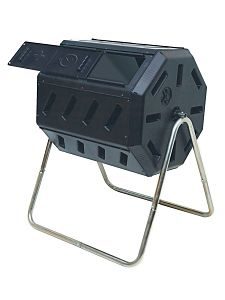 The tumbler is formed out of interconnected panels. The panels are made out of BPA Free and UV inhibited panels. They do not easily melt or wear off. The galvanized steel frame is corrosion resistant, though over time you may see some rust spots on the frame. It would be best to spray Rustoleum paint on any bare metal you see..
Assembly
This product comes with a whole bunch of screws; those skilled in furniture and item assembly will likely need an hour for the assembly. For less skillful ones, you may want to ask for another hand to put this thing up or have your handy battery powered drill ready, as it can be a bit of a pain to assemble.
Cleaning and Maintenance
Simply slide one panel cover off and a wash down hose can remove organic materials that stick on the tumbler.
The Bottom Line
Well-sealed and well-crafted, YIMBY Composite Tumbler is an excellent choice for both beginning and experienced gardeners. It is a well deigned system, and ideal for those who want continuous and uninterrupted composting. Crawling animals such as insects and animals will find it hard to get their way into the tumbler, which is a great advantage. While the Yimby may be hard to assemble for some, once it is done, the Yimby will produce great soil for a lifetime.
For more information, see our Yimby Composter review.
---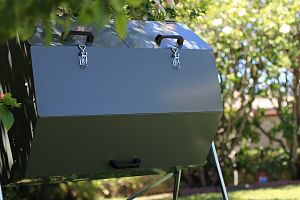 Precisely built to meet the essential requisites for producing perfect compost, Jora JK270 heavy duty dual chamber composter is one of the best on the market. Constructed with solid metal metal panels insulated and reinforced with foam, this composter will keep your humus toasty and cook evverything rapidly. The Jora JK270 is extremely well built: The locks are tighter and stronger, panels are nicely machined and finished, and the stand is very sturdy.
Basic Features
Fairly easy to rotate, for a big composter
High quality insulation allow the temperatures to rise up to 160'F, ideal for composting
Made with two chamber design
Stand elevates tumbler, prevenging rodents and most insects from getting inside.
Dimensions and Specs
Dimensions: 44″ x 28″ x 52″
Weight: 52 pounds
Capacity: 106 gallon, 13-21 gallons per week
Galvanized steel tumbler powder coated for exterior use
24" clearance from ground
Designed in Sweden
The Details
The Jora JK270 is a quality product, through and through. It is well made, with two stainless steel locks to prevent entry by bugs and rodents. It composts very well, and fairly quickly. And best of all, it has a fairly large capacity.
The tumbler mechanism works pretty well, and most will find it not particularly difficult to turn this compost tumbler over, even with significant quantities of scrap inside.
The fact that the JoraForm JK270 has a fairly large capacity and dual chamber design makes it a very attractive compost tumbler for many experienced gardeners willing to pay a bit extra for the ideal compost tumbler for their needs.
Aesthetics
The Jora 70 Gallon 270 Tumbler's design is simple, though it is in no way soft or unassuming. It looks like it could be a video game prop, with its army green paint and hexagonal barrel design. It recedes into the background a little less than some of the other tumblers on the market, but the design is attractive, and speaks directly to the quality of the composting system.
Functionality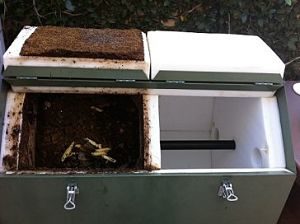 The Jora 70 Gallon is efficient. It is designed to hold 106 gallons max, and can produce on average 13-21 gallons of fresh compost each week, depending on the environmental and physical conditions.
Both chambers have their own doors to access them both any time. With its large size and dual chamber design, the Jora can really take most everything you throw at it, and you probably won't need to supplement this system with anything else.
Best Use Practices
A handful of wood pellets can help control the moisture inside the tumbler — excess moisture has to be removed to speed up composting. Check the compost temperature using a compost thermometer, and be sure you don't send the temperature over 160′ F. If you go much over that, you may find the microbes start to die off in the high temperatures, and composting will cease.
As with all composting, there must be a an adequate proportional green/brown ratio of organic substances mixed inside, some kitchen/food waste, and some leaf/yard waste. For faster composting, it is best to cut kitchen scraps into pieces before mixing them in. Typically you'll get a new batch of compost every 2-3 weeks.
You'll want to read the instructional manual that comes with the Jora, as it goes into good detail on how best to use the composter.
Durability
The JK270 composter is extremely well built, and could easily last for 4 years and more. That said, the frame is metal, not plastic, and may show signs of rust over time. Keep an eye out, and spray any exposed metal with Rustoleum paint before it becomes a problem. This will help with the longevity of the tumbler.
Rodents and other animals can't easily damage this tumbler, as the latches function quite well..
Assembly
Due to its size, putting this product in together by yourself may be difficult. If possible, get a second set of hands to help, and be sure to have a fully charged electric drill. The instructions are decent, but not ideal. Still, once assembled, it will last for a very long time.
The Bottom Line
the Jora JK270 is certainly priced at the top end of the compost tumbler market, but its price is justified by its great features and solid value.
The JK270 is strong and well-secured, and rodents and other animals can't get inside the tumbler. It is large and super convenient to use. For more information, please see our full review of the Jora JK270.
---
Conclusion
Flexible, fast and reliable composting are the main features that attract gardeners to dual batch composters. These units are really sensible, and if you need compost at regular intervals, a compost tumbler is a must have. They are good for the environment, are super convenient, and most models work quite well. Whether you are looking to get started, and are leaning toward the Yimby, or a seasoned gardener ready for the Jora JK270, you'll find that a dual chamber composter will make your gardening life easy!