Compost bins are a great way to sustainably reduce waste as well as provide nutrient rich material for your garden. Without the right compost bin though, your efforts could go to waste as rodents and pests find their way in, eating your food scraps, making a mess, and leaving your bin ineffective. There are several rodent proof composter units available on the market that provide a solution. The best rodent proof compost bin is the
Jora JK270 compost bin
.
It is a dual-chamber tumbling compost bin with a large 106 gallon capacity, and is entirely sealed against rodent and bug intrusion. The Jora is extremely well built, and works great.
It is, however, quite pricey, so you may want to consider a few other options if you don't want to spend an arm and a leg.
For a more information on the Jora JK270's, see below. For our review of the Jora JK270 compost tumbler for a complete picture.
Runner Up: Best Rodent Proof Compost Bin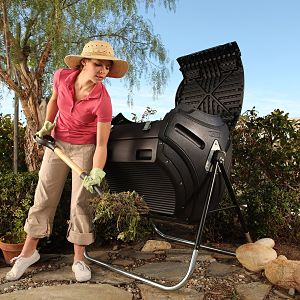 For those who don't want to break the bank, but who intend to churn through a large amount of compost, the Lifetime 60058 compost tumbler is an excellent rodent-proof composting system. The Lifetime is a single chamber compost bin, so you can only have one batch of compost going at a time.
However, it's got a large 80 gallon capacity, which is great at the price point Lifetime is targeting here.
For more information on the Lifetime 60058, see below. For a complete review, you can take a look at our Lifetime 60058 Compost Tumbler product review page here.
Budget Pick: Best Rat Proof Composter
The
Yimby Compost Tumbler
is a similar design to the Jora JK270 highlighted above, but is smaller, made of cheaper materials, and costs significantly less. Still, for many families who aren't dealing with a large capacity of compost, the Yimby Compost Tumbler may be an excellent choice for a sealed, raised, rodent-proof composting solution.
It has a dual chamber design like the Jora JK270, and is easy to use, and sits at an outstanding price point. The chambers are small, but you can continuously crank out small batches of compost at regular intervals.
For more information on the Yimby Compost Tumber, see below. For a full review, see our Yimby Compost Tumbler review here.
Rodent Problems with Traditional Compost Beds and Bins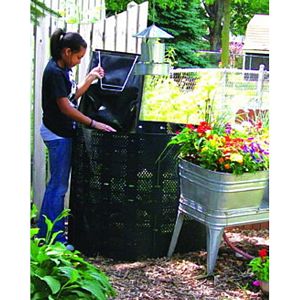 There are two main problems with traditional composter beds and bins that you'll run into. First, they sit on the ground. And second, they aren't secured. You don't need to spend money on one to find this out – anyone who has tried composting in their own garden has noticed how easy it can be for animals to make their way in, no matter how much wire you put around it.
Rabbits, squirrels, groundhogs – they love your food waste and other scraps.
Despite this, the Geobin Compost Bin and the Redmon Compost Bin are some of the most cost efficient compost bins on the market. They provide the highest compost capacity at the lowest cost, with the downside being easier animal access.
With a maximum capacity of 216 gallons and a pretty low price, the Geobin Compost Bin can cost as little as 15 cents per gallon. However, this compost bin is the most exposed and readily available for any mischievous rodent who wants their way. With an open bottom and an open top, rodents can choose their point of attack, leaving your labor fruitless (literally, after they eat all the kitchen scraps you put in).
That's not to say this composter isn't for everybody: if you place it in an already enclosed area like a garden it may be more effective. And at its price point, it's hard to argue.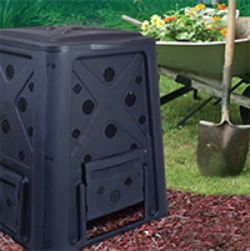 And similarly the Redmon Compost Bin comes out to be about 80 cents per gallon, which is still quite cheap in terms of composting. The one benefit this has over the Geobin Compost Bin is that it has an enclosed top. It's a bit more rugged and sits on the ground firmly, meaning those pesky pests have only one way in, if they can get in.
The benefit that the Geobin and Redmon Compost Bins have over more rodent proof composters is that they allow for the compost to directly hit the soil right away, allowing for worms and a more natural fermentation process.
If you think that animals and rodents could pose a problem, or just want a 100% secure compost bin, keep reading below for our reviews of rodent proof composters that will allow you to sleep soundly at night.
No compost bin is bear proof, but that shouldn't deter you from getting one that can keep away the rats and chipmunks. After all, you want fresh, effective compost, not more fat squirrels around the yard, right?
---
Animal Proof Compost Bins
We will focus the rest of this article on four rodent proof composters that really get the job done, while excelling in a number of other areas, making them the most efficient purchase. Most animal-resistant compost bins are tumbling composters, though there are some ground-based bins that are pretty animal resistant, like the nice (but expensive) Aerobin 400 composter.
Two of the tumbling composters we'll look at today are dual chamber compost tumbler systems, meaning you can have two different batches of compost running at a time, staggered. The other two are single batch composters, meaning once you start a batch, you'll have to pile up scraps somewhere until it is done, before you add more (or you'll re-start the compost process).
The major benefit of the dual chamber compost design: when you already have, say, 20 gallons of compost going for a few weeks, it's possible to add a fresh batch to the second chamber without disturbing the first chamber. There's a few other key differences to consider when choosing your rodent proof composter, so check them out below.
For further information on tumblers and bins, see our article on Compost Tumblers vs. Bins.
---
The Yimby Tumbler Composter is an excellent choice for those looking for a rodent proof compost system. It uses a simple design, includes a a dual chamber compost system, features an adequate compost capacity, and is offered at a budget-friendly price!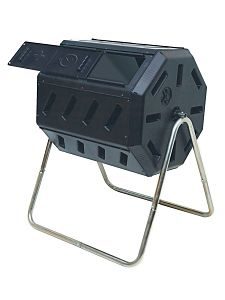 Basic Features
The most affordable of the rodent-proof composters, the Yimby is dual chambered, light, and efficient. Simply turn it a few times every couple of days, and it will do the rest for you – no need to get your hands dirty. The Yimby compost bin features a recycled plastic housing placed on top of a sturdy steel frame, along with just enough ventilation to allow its contents to cook without allowing rodents in
If you're interested in warranty information for the Yimby, that can be found by emailing Amazon's Customer Service, [email protected]
Dimensions and Specs
Dimensions are: 36" x 21" x 28"
Capacity: 37 gallons. While it may not be as much as the other rodent proof composters, it should be sufficient for small families or individuals looking to get started composting.
Weight: 26.8 pounds, light enough to easily move when empty.
The Details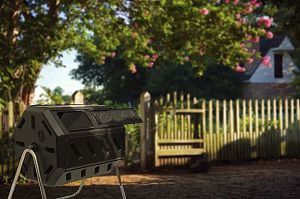 Out of the four rodent proof composters reviewed here, the Yimby ties the Lifetime 60058 for being the most aesthetically pleasing. With that said, the others are not far behind, but the Yimby's simple design, solid black look, and well placed  ventilation slats are just pleasing to the eye, and don't distract when placed off to the side in a small back yard or garden area
This composter should blend into any yard and any setting. Its octagon shape is sophisticated yet functional – it allows for the compost to easily be rotated as well as form for degradation. It should have a relatively quick turn around time for composting: with the right balance and temperatures, batches should be complete within a few weeks.
The only downside to the Yimby that may or may not pose an issue for you is its intensive assembly process. There are 56 total screws and an order of process that is necessary to follow when putting it together, otherwise you might have to backtrack.
Pretty much everything comes included though, so besides a wrench or screwdriver, there is no need to go out and purchase expensive tools to get this done. Check out this assembly manual for an idea on the process and if its right for you:
The Bottom Line
The Yimby does its job well, its 37 gallons are sufficient for most needs, the dual chambers are great for batch composting (putting all materials in at once), and it has a great price point.
The Yimby's steel frame allows the compost chamber to sit up high enough from the ground, as well as having sliding lids to access each chamber.
This means the rodents will be kept at bay, and your compost will be safe until it is complete. The biggest potential downside of the Yimby is a very challenging assembly process (though most tumbling composters will have some level of difficulty). At its price point, the Yimby Tumbling Composter is an excellent choice.
---
With a weird future-military look, the Jora JK-270 doesn't exactly fit aesthetically in the garden, but it works great! With a large capacity, a dual chamber system, a clever insulation design, and an extremely solid material choice, the Jora JK270 is an excellent choice for those looking for good-sized batches of compost, without any worry about rodent intrusion.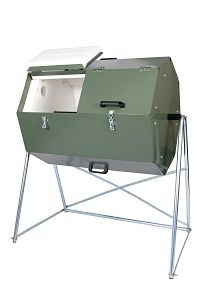 Basic Features
Similar to the Yimby featured above, the Jora 270 is a dual chambered compost bin, allowing separate batches to process at the same time. Where the Jora differs, is that it provides a much larger capacity (up to 106 gallons) and has less ventilation. Rather, it is insulated, allowing it to reach much higher temperatures to speed compost (though you need to beware the temperature doesn't reach over 160'F). The JoraForm Composter is made of galvanized steel, is easy to rotate, and sits quite high off the ground.
For warranty information, contact [email protected]
Dimensions and Specs
Dimensions: 44" x 28" x 52"
Relatively moderate weight, coming in at 52 pounds.
Capacity 106 gallon capacity, which can produce 13-21 gallons per week of compost given its high heat
Galvanized steel, giving it long lasting durability
24" clearance from the ground, making it so ground rodents will have 0% chance of getting in
The Details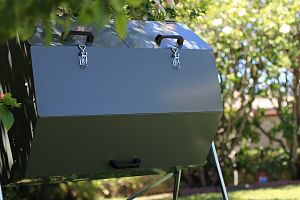 The Jora JK270 is made of galvanized steel with a well-designed latching system. Virtually nothing is getting into this composter! The sleek grey paint job allows it to seamlessly fit into most environments, thought it is a bit large.
Besides being pleasing to the eye, the Jora 270 does its job well. If you're looking to create some garden gold out of your kitchen scraps, this will do it relatively fast, and will fit everything you can muster up.
Similar to the Yimby, The JoraForm JK270 Composter can be a bit daunting to put together, but considering it's a one time job, it's well worth the effort. Once you've got it up and running, the Jora 270 is quite easy to turn by hand with composting materials inside.
The Bottom Line
Compared to the Yimby, the Jora 270 Compost Tumbler is moderately more expensive, but also boasts a much higher capacity. It also provides a moderate challenge during assembly. In cooler climates, its insulation and lack of ventilation should help the compost keep going. And in warmer months, it can heat up to nearly 160'F, allowing for a speedy process. That said, if the compost goes over 160'F, the microbes will die off, and the compost will cease, so be sure not to let this overheat too much!
Additionally, keep in mind that all composters tend to slow down in chilly environments, so that may be the case here as well. But the Jora will keep on going when most others won't, due to its insulation.
The price is high, but the capacity and dual-chamber design is very desirable to many gardeners. The Jora JK270 is our top pick among rodent proof composters.
---
The Mantis Compact ComposTumbler is an extremely well made rodent-proof compost tumbler. It works very well, and is well-constructed. It has a high storage capacity, but only offers a single chamber design, so you can't have multiple batches running at once. It is also priced fairly high.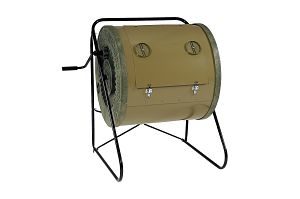 Basic Features
The first of two single chambered compost bins being reviewed, the Mantis Compact bin is large, simple, and effective compost bin. Through an air vent at the top, and drainage vents at the bottom, this compost bin is great at self-regulating. It's made of galvanized steel, and while not immune to rust, this unit will withstand the elements for quite some time.
Users have noted their first Mantis compost bin lasting 10 years before buying it again, which is to say something of its quality.
It comes with a 2 year warranty, which is always a plus.
Dimensions and Specs
Dimensions: 42" x 33" x 33" – a little bit larger than our previously reviewed dual chamber composters
Weighs 60 pounds – this thing is a hulking beast, so do not plan on moving it once it gets filled
Galvanized steel, with a powder coating
Capacity: 88 gallon
The Details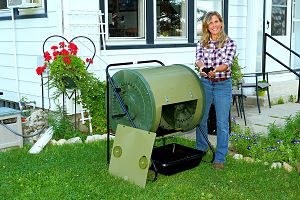 The odd barrel, and the bulky cylindrical shape of this composter makes it a bit less stylish compared to the other composters on our list today.
The Mantis is a heavy, solid unit: its recommended to have two people when move it, since its 60 pounds without anything in it. However, it gets the job done just as well as the best of them, which is why it made our list. The Mantis can complete a batch in as little as a few weeks.
One of the stand outs of the Mantis composter is its helpful hand crank. Instead of rotating the barrel by pushing on it, the mantis has an arm crank that is easily turned, even by those without much strength. If weight and turning difficulty is a concern for you, the Mantis may be a good choice, as it is so easy to turn with its simple crank system.
The Mantis has a large, 88 gallon capacity, but only has a single chamber. You'll have plenty of space to fill up, but you'll need a spot to store scraps while the compost in the bin is cooking. If you add more to a batch in process, you'll slow down or reset the whole process, delaying the compost from maturing. For this reason, we prefer dual-chamber tumblers, as they are more practical for regular batches.
The Mantis is relatively simple to assemble, compared to its peers. If assembly difficulty is a major concern, the Mantis is a strong contender.
The Bottom Line
This is another quality, rodent proof compost bin that has plenty of space. With its easy to use handle, sturdy construction, and large capacity, the Mantis is a nice choice for gardeners concerned about difficulty turning a tumbler.
That said, there is not really a strong reason to get this over either dual composter on our list, or the Lifetime 60058 single chamber, which boasts a much lower price, and almost as much capacity.
---
The Lifetime 60058 Compost Tumbler is a great choice for those on a budget who intend to make a significant quantity of compost. With a clever design, a large 80 gallon capacity, and a low price, the Lifetime 60058 is a great choice for many. However, this is a single-chamber compost tumbler, and while it is rodent proof, you'll need to find a place to store scraps while you wait for the contents inside the tumbler to mature.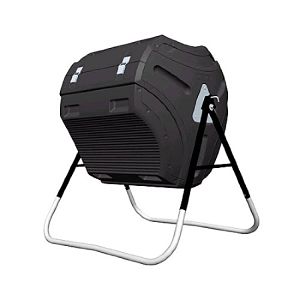 Basic Features
The Lifetime 60058 Compost Tumbler is constructed of black, high-density polyethylene, and. This material choice serves a few purposes.
First, it is rust proof. It's important to say this because when looking at the long term lifecycle of composters, in the 5-10 year mark, rust is one of the major contributing factors to their longevity. The Lifetime 60058 pretty much avoids that altogether.
Second, the dark walls help absorb heat and speed up the composting process.
The Lifetime 60058 is a great choice for those new to composting, not only because of its reasonable price, but also for Lifetime's composting information included in the package. Lifetime includes a DD which, which breaks down all the basics of composting, such as:
Carbon/nitrogen ratios,
The length of time that will be required,
Best materials for each time of year
The Lifetime 60058 has an outstanding Lifetime warranty, which can be seen here.
Dimensions and Specs
Dimensions: 38.5" x 36" x 44" – this is a decently reasonable size for a composter and shouldn't provide too many challenges when moving it
Weight: 42.1 pounds. Right about average, with some composters weighing a lot less and others a fair bit more
Capacity: 80 gallon. This will ensure there will always be enough room to keep the process going.
The Details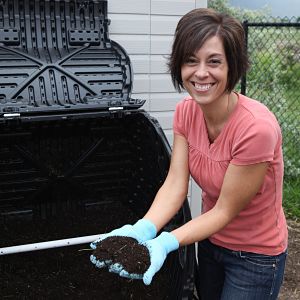 The Lifetime 60058 looks great, functions well, and is easy to use. It boasts a large opening, which is great for either removing compost or putting in new scraps and materials. It also latches securely, preventing rodents from intruding.
Aesthetically, the dark black polyethylene will fade away into the background of any yard, and most will not even notice its there.
While a single chamber might not be the most effective way to go, this is one of the best single chamber composters on the market. The choice of plastic may feel cheap compared to the metal units on our list, but the plastic functions quite well, and is virtually maintenance free.
A unique feature here is that it has an internal bar, which can provide some breathing room for compost should you stack it more than half way, something not a lot of other compost bins will provide.
The Bottom Line
While dual chambered compost bins are recommended, there is something to be said about the Lifetime 60058 Compost Bin. If you're going to choose a single chamber option, this is the one to get. It functions quite well in order to produce high quality compost in a reasonable time for three reasons.
Firstly, it absorbs heat by nature of its design, speeding up the process when possible.
The internal bar helps to mix the compost and provides additional ventilation.
And lastly, it has the largest opening out of these compost bins, allowing for easily shoveling in materials, and easy dumping into a wheelbarrow.
Unless a moose decides to charge it over, nothing is getting inside of this as it sits off the ground with sturdy locks!

Conclusion
No matter what rodent-proof composter you want, there is likely to be some attention required to assembly, so we would suggest not heavily weighting the assembly process in the purchase decision. All of them are somewhat difficult to assemble, but once it's done, it's done, and all should last for several years.
The primary decision drivers in this product category: dual vs single chamber design, and large vs. small capacity. Depending on the quantity of food and lawn scaps you produce per week, this may be a huge deciding point for you.
If you want a large capacity dual chamber, you're best to spend the coin on the Jora JK270; if smaller capacity is ok, then the Yimby Tumbler will do a great job at a much lower price. The nice thing about the Yimby is that while it doesn't have a large capacity, the dual chamber design can keep things moving regularly, and you can constantly crank out new small batches throughout the year.
If you don't care about dual chambers, then you'll probably want to lean toward the Lifetime 60058 Composter, given its design and sturdy construction.
All of the tumbling composters on our list have secure latching systems, and raised tumblers, making them completely rodent-proof (unless you forget to close the lid!). However, if you go with a single chamber design, you'll have to find a rodent-proof spot to store the material you generate while you're waiting for your current batch to complete, so keep that in mind.