Best Commercial Umbrellas for Restaurants
When it comes to deciding on a great umbrella line for your restaurant, you want a set that is going to be sturdy, reliable, long-lasting, and matches the overall tone and environment of the restaurant.
We've reviewed five of the best commercial umbrellas for restaurants in this article, all of which share similar positive features. It was certainly difficult to pick a clear winner out of the bunch as they all deserve merit in their own way, but the umbrellas from EliteShade should bring a welcoming feel to any table.
Last update on 2021-05-06 / Affiliate links / Images from Amazon Product Advertising API
The wooden pole gives these umbrellas a bit less of an industrialized feel than the other umbrella lines, and the 3-tier Sunbrella canopy is not only functional but aesthetically pleasing.
With a 1 year warranty on the frame and 5-year warranty on the canopy, it's hard to go wrong with EliteShade's umbrella line.
For more information on the EliteShade umbrella selection, please see below.
Runner Up: Best Commercial Umbrellas for Restaurants
If you're looking for a unique style of umbrella that is going to provide that little extra bit of cover for a larger table or setting, then Le Papillon's line of umbrellas will do just that. The 14.7′ diameter umbrella is just about 1.5 times larger than all of the other umbrellas reviewed and has a striking shape that is sure to make your establishment stand out.
12 steel ribs and multiple vents help to ensure its stability in higher winds. Just keep in mind that since it is a bit top heavy, you will want a sturdy base (purchased separately, as with all of these umbrellas) to ensure that it stays upright should a breeze roll through.
And we can't argue with the price, given the size!
Last update on 2021-05-09 / Affiliate links / Images from Amazon Product Advertising API
Commercial Umbrella Buyer's Guide
Here are a few aspects to consider when shopping for a commercial umbrella, and will help guide buyers when choosing the best umbrella for their establishment.
Umbrella Fabric
The quality of the fabric is a key concern for those who have restaurant patios. You don't want to be constantly replacing faded umbrellas! Be sure to take a look at our umbrella fabric information for details.
Weights
As with all patio umbrellas, commercial umbrellas need to be weighted down effectively before use. Proper weighting will protect against umbrella lofting, and avoid embarrassing and potentially hazardous conditions for your guests.
Sizing
If you're not sure what size umbrella you're looking for, be sure to consult this umbrella sizing guide for information on what will be ideal for your establishment's requirements.
Umbrella Covers
Eventually, even the best quality umbrella fabrics will start to fade, and darker colors will fade more quickly than lighter colors. By purchasing an umbrella cover that goes over your umbrella canvas when it is closed, you can prolong the useful life of your umbrella, and keep it looking as good as possible for a longer time.
Umbrella Lighting and Heating
The patio umbrella setup can double as a source of outdoor lighting, and even outdoor umbrella heating as well! Consider how you can make your umbrellas multi-functional.
Umbrella Parts
In this article, we will comment on various components of patio umbrellas. For more information on the different parts of an umbrella, see our guide here.
Commercial Umbrellas for Restaurants Reviewed
In this section, we will look in depth at five of the best patio umbrellas for restaurants available. We consider the pros and cons of each and pick our favorites.
We'll start with a comparison table to get oriented, and then dig into each of the options. We'll conclude with our favorites.
Preview
Top Pick!
Runner Up
Preview
Top Pick!
Preview
Runner Up
Preview
Preview
Last update on 2021-05-09 / Affiliate links / Images from Amazon Product Advertising API
---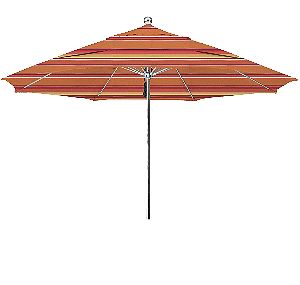 California Umbrella's 11′ fiberglass rib umbrellas are a great choice for commercial establishments due to a couple of prominent factors.
The first factor is the wide selection of Sunbrella fabrics California Umbrella offers (as well as several of their house Pacifica fabric), and the second is the fiberglass rib design. Fiberglass is the best material for umbrella ribs.
Key Points at a Glance
100% solution dyed canvas, Sunbrella or Pacifica
Nearly 40 color and fabric choices
Reinforced rib joints
Pulley system
Base not included
Dimensions
Size: 11 feet
Gross weight: 17 pounds
Shipping weight: 26 pounds
8 rib canopy
5-year warranty on the fabric and colorfastness; request additional information from the manufacturer for full warranty details.
The Details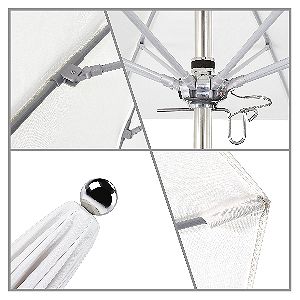 This umbrella line from California Umbrella has a lot going on to make it perfect for commercial or personal use. Starting with the base, it possesses a stainless steel pole to help it avoid erosion from weather over long periods of use. The stainless steel pole eventually connects into fiberglass ribs which hold the Sunbrella fabric.
Fiberglass ribs are great for heavier winds as they are not so rigid that they will bring the whole umbrella down during a heavy gust. Having the ability to sway and move is one aspect which will help the umbrella not break during adequate weather.
The design of this umbrella is much more reminiscent of wood umbrellas, in that there's no crank or internal cabling mechanism to cause problems over time. Of course, this also results in a lack of tilt functionality, which some may find important, and others may not.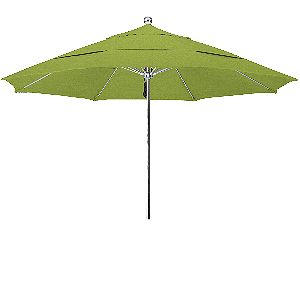 In terms of the fabric, Sunbrella is an excellent fabric for umbrellas as it is always covered by a 5-year warranty. It typically lasts 1500 hours or more in the sun before beginning to fade, and it's quite resistant to mildew, mold, and stains. Additionally, it provides up to 98% UV protection which is important to have on those hot sunny days. Pacifica fabric choices are also available. Pacficia is California Umbrella's house fabric and is a high-quality material as well.
Caring for this umbrella will be the same as many of the others. Fold it up and ideally cover it when not in use, and during periods of extreme weather or long periods of non-use (such as winter time), consider taking it inside for storage.
A simple cleaning solution once in a while should help maintain the Sunbrella fabric from debris and the stainless steel pole sparkling.
The Bottom Line
If you need a classic, simple feel with no extras, then the line from California Umbrella will do just that.
With a huge variety of colors and heights to choose from and a great style, you would be hard-pressed to find an umbrella from them that doesn't fit your restaurant perfectly. Be sure you consult our umbrella weighting guide to determine the right amount of weight you need, depending on your circumstances.
If you follow the mantra of the simpler the better, then these umbrellas will be perfect for you.
No products found.
---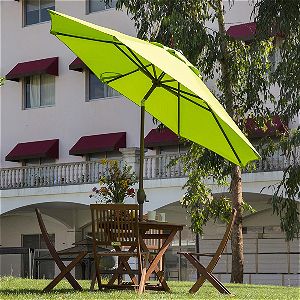 Abba Patio is one of our favorite manufacturers of outdoor products, including umbrellas. Their listings are consistently high quality, elegant, and stylish, and their line of Sunbrella patio umbrellas is no exception.
While these umbrellas are a bit more of a traditional metal umbrella design than the California Umbrellas above, they are also quite a bit less expensive!
Key Points at a Glance
Sunbrella fabric
100% solution-dyed acrylic
Four color options
98% UV protection
Crank system design for easy opening and closing
Umbrella has tilt capability
Powder coated, aluminum pole and ribs
Vented canopy
Base not included
5-year warranty on the fabric and colorfastness; request additional information from the manufacturer for full warranty details.
Dimensions
Canopy Size: 9 feet
Gross weight: 18 pounds
Shipping weight: 18 pounds
8 rib canopy
The Details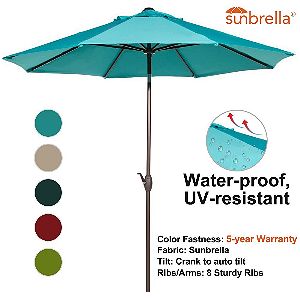 This umbrella line from Abba Patio boasts a rust-free, powder-coated aluminum pole which leads into a water-resistant, 9-foot diameter canopy made of Sunbrella fabric.
A crank system is present on these umbrellas, as well as auto tilt feature. This results in an easy-operation system, and also some additional shade functionality during those late-day times.
Similar to the California Umbrella, Abba Patio's line boasts a Sunbrella-made canopy, resulting in an excellent umbrella when dealing with long-term weather.
These umbrellas have a single air vent, allowing them to withstand inversion during heavy winds, and facilitate air flow.
Like other Sunbrella fabric umbrellas, these are easily cleaned with a mild soap and water solution, and a soft bristle brush can help. This umbrella is sturdy when down, as its velcro strap allows it to stay in place when not in use.
Some have noted minor issues, such as the handle assembly breaking or screws falling out. The consensus seems to be that if there are any shortcomings with a particular umbrella, Abba Patio is quick to fix them.
The Bottom Line
Abba Patio's umbrella line shares a lot in common with the California Umbrella. They both boast Sunbrella canopies, and a vented canopy to facilitate airflow. Where they differ is in canopy width, color selection, and operational design.
If you can find a color you like and need tilt, then Abba Patio's offering is your best choice. But if not, consider the California Umbrella or some of the other options on our list.
Sale
Last update on 2021-05-09 / Affiliate links / Images from Amazon Product Advertising API
---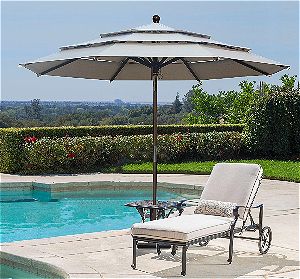 Elite Shade is the only umbrella on our list that features dual vents. Dual vents provide fantastic wind resistance and ventilation, and also offer a more interesting look than many of the single vent umbrellas.
Unfortunately, this umbrella is only available in two color options, but the other elements of the umbrella provide loads of style.
Key Points at a Glance
3 layer canopy for extra ventilation and breathing
Sunbrella fabric
100% solution-dyed-acrylic
Wind resistant up to 12 mph
Wooden frame
UV protection factor of 50+, protects against 99% of UV rays
Press button included for easy tilting
Umbrella cover included
Base not included
There is a 5-year warranty on the umbrella canopy fabric and a 1-year warranty on the umbrella frame.
Dimensions
Canopy Size: 9 feet
Gross weight: 12 pounds
Shipping weight: 25.7 pounds
8 rib canopy
The Details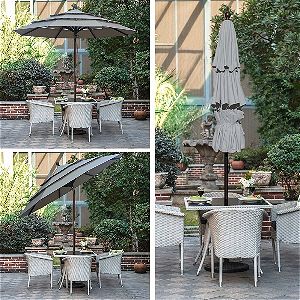 The first interesting feature you'll notice upon first glance at EliteShade's umbrellas is the unique, three-layer, double vent design for its canopy. This is made of the usual Sunbrella fabric which has been the trend so far.
The main advantage of having three layers of fabric is the additional ventilation and stabilization that this will provide during heavier winds. It is noted that this umbrella can withstand winds of up to 12 mph, which is higher than many of the other umbrellas on our list.
The Elite Shade umbrella is held up by an elegant wooden frame, which supports a pulley system to open and close the canopy. Between the wooden frame and pulley system, it creates more of a classic feel rather than industrial that you might get with a steel pole and crank. It is the classic wooden patio umbrella design, similar to the functionality of the California Umbrella above. This wooden design is quite warm and elegant, but still provides tilt functionality, something the California Umbrella does not do.
The Bottom Line
The wooden frame and three-layer canopy really give the EliteShade umbrella a classic look while retaining full functionality. The pulley system is intuitive and a welcome change over the usual crank. With a free umbrella cover included as well, it's hard to go wrong with EliteShade's line.
Besides achieving essential functionality, the biggest reason to go with this line is its aesthetics. The umbrella tracks away from the standard industrial look that is common to the group, which can be beneficial for smaller or more family oriented restaurants, or those looking for warmth rather than sleek style.
Last update on 2021-05-06 / Affiliate links / Images from Amazon Product Advertising API
---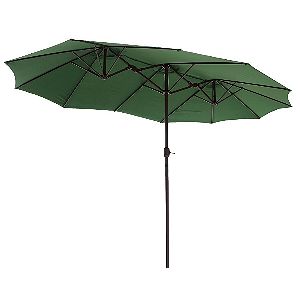 Le Papillon has by far the most unique umbrella offering on our list, with its striking 14′ wide outdoor umbrella featuring three sets of ribs and vents.
It looks a bit strange, but it is certainly stylish and is sure to be a conversation topic among your guests!
Key Points at a Glance
Extra large, double-sided umbrella – rectangularly shaped
12 steel ribs, creating a more durable and sturdy frame
Utilizes crank lift for easy opening and closing
Three wind vents present at top for additional ventilation
100% polyester fabric – solution dyed, 1,000 hours of colorfastness
Base not included
No information is immediately available regarding their warranty. Contact the manufacturer for specifics.
Dimensions
Canopy Size: 14.7′ x 10′
Gross weight: 36.5 pounds
Shipping weight: 36.5 pounds
12 rib canopy
The Details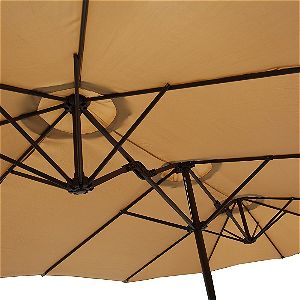 Le Papillon's offering is the largest of the umbrellas that we are reviewing today. This is a unique design that boasts a massive 14-foot span. With 12 supporting ribs, polyester fabric, and a simple crank lift, it retains many of the features of the other umbrellas, while giving the benefit of greater coverage.
One of the most important considerations to be made when purchasing a larger umbrella such as this one is that it requires a proper base. You don't want this umbrella collapsing on your guests, as it is very big! Nor do you want it to sail aloft, toppling a table and making a scene on the patio.
Depending on if you're using a table or not, you'll need varied weigh amounts. Check our guide for more information.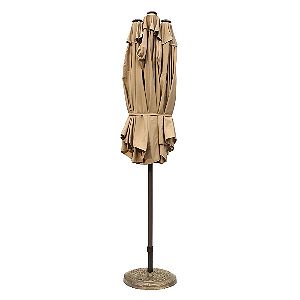 The canvas on this umbrella is not Sunbrella, it is a less expensive polyester fabric. The fabric is still solution dyed and UV protected and has 1,000-hour life estimated life. So it's not bad; it's just not as high quality as Sunbrella's.
Another concern with the larger umbrella is how prone it can be to weather fluctuations. More so than other umbrellas, it's important to fold it up when not in use and especially during inclement weather in order to preserve its longevity.
This umbrella has pretty simple assembly: it arrives in two pieces, and all you have to do is attach the bottom pole to the top pole. After that, attach it to your base that you purchased separately and you will be good to go!
Additionally, it's important to note that this umbrella does not tilt. It's just too large as it is. Due to its sheer size, it doesn't function great in places prone to high winds, so keep your wind environment in mind when shopping.
Finally, replacement parts are going to be an issue with this umbrella. The non-standard design may mean that getting parts for this umbrella, or a new canvas, will be difficult.
The Bottom Line
If a smaller size umbrella just isn't going to cut it, you should look into this umbrella from La Papillon.
Barring its limitations in windy environments, the Le Papillon is the best option on our list for larger tables, as its nearly 15-foot diameter will be sure to cover everybody. And it looks cool!
Its polyester fabric may be more prone to fading than the Sunbrella fabric counterpart. Otherwise, it holds up the same when it comes to UV resistance. As noted above, just be sure to use a larger and heavier base to ensure this umbrella stays sturdy, and you'll be good to go.
Last update on 2021-05-09 / Affiliate links / Images from Amazon Product Advertising API
---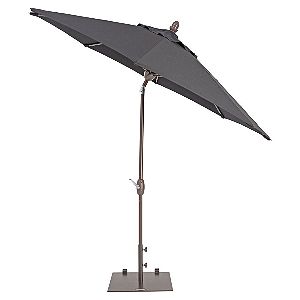 TrueShade is a high-quality umbrella brand, and its Sunbrella cantilever umbrella offering is one of our favorites.
This 9′ market umbrella with Sunbrella fabric is an elegant selection, but ultimately it isn't as compelling as some of True Shade's other lines are.
Key Points at a Glance
Auto tilt and crank for easy opening and closing
Sturdily-reinforced aluminum pole
Tiger Drylac powder-coated bronze finish
Vented canopy flap at the top of the umbrella
Water resistant cover is included
Base not included
There is a 5-year limited warranty on the Sunbrella fabric. Request more information from the manufacturer as needed.
Dimensions
Size: 9 feet
Gross weight: 22.9 pounds
Shipping weight: 26 pounds
8 rib canopy
The Details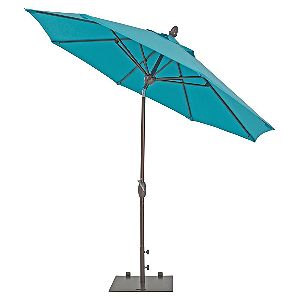 Featuring a crank and tilt, this adaptable umbrella has a Tiger drylac coated bronze finish, a Sunbrella fabric canopy, and a 1.5" diameter pole. The 9-foot diameter is about par for the category and is notably less than some of the other umbrellas on our list today.
A water-resistant cover is included for the already resilient Sunbrella fabric canopy, which is a nice extra, and which will help keep the fabric looking its best for years to come.
Similar levels of maintenance and cleaning as mentioned above should keep this umbrella good for the long term.
The Bottom Line
Overall, this umbrella is a bit more on the expensive than the others despite serving a similar functionality, and no real additional features to make it a compelling offering. It may be the Tiger drylac or the unique patent for their 8 rib-canopy, but either way, you will certainly pay more for this umbrella: we're just not entirely sure what for.
Otherwise, the True Shade should see similar levels of functionality as the others reviewed and has no real outstanding aesthetic qualities. Consider California Umbrella or Abba Patio for roughly similar umbrellas at a less expensive price.
Last update on 2021-05-09 / Affiliate links / Images from Amazon Product Advertising API
---
Conclusion
Ultimately, all of these umbrellas can find their fit in the right restaurant patio environment. The biggest factors to consider are aesthetics, durability, the fabric of the canopy (polyester vs Sunbrella), and exactly how much space you need the canopy to cover.
EliteShade's line is our top pick to be the most solid all-around line, closely followed up by California Umbrella for those who need a medium sized canopy.
If you are aiming for something a little bit different, the Le Papillon is a great choice as well.
Last update on 2021-05-06 / Affiliate links / Images from Amazon Product Advertising API
---