Best FarmTek Greenhouse
Greenhouses have been around since the Roman era, and continue to be useful garden tools to help plants grow in a controlled environment, when regular weather just isn't optimal. FarmTek, a Connecticut-based greenhouse and agricultural-product manufacturer, has plenty of greenhouses to choose from to suit a variety of needs. They range from mini greenhouses for back decks, to large outbuildings for the more serious gardener. All of FarmTek Greenhouse units are relatively easy to assemble or disassemble (the smaller ones can be taken down within minutes, although the larger ones will take a bit more time). While each greenhouse they provide serves a unique purpose, we found that the Estate Hobby Greenhouse [Amazon Link] sits in a sweet spot between a starter greenhouse and the larger ones available.
No products found.
Coming in as a mid size option, it still boasts polycarbonate walls, which are important to retaining heat as well as withstanding weather. Some of the smaller options feature plastic covers, which are prone to weather and may not achieve the same results, so it is good to have mid-size greenhouse functionality without having to pay for the higher end options.
As a nice extra, both the frame and the polycarbonate panels are covered by FarmTek's 10 year warranty.
For more information on the Estate Hobby Greenhouse, see our Product Reviews section below.
Budget Pick: Cheap FarmTek Greenhouse
The 4 Tier Mini Greenhouse [Amazon Link] from FarmTek is a great starter option for those with only a handful of plants to look after. It would be a great addition on porch or patio, and doesn't take up much space, only coming in at 27" wide with a depth of 19". Despite the small amount of ground space it takes up, it does make room for more than a few plants by having a height of over 5 feet, as well as having 4 different shelves. For those looking for either an early start to the growing season or to extend it a bit later, this mini greenhouse would be great at accomplishing that goal.
Last update on 2021-05-13 / Affiliate links / Images from Amazon Product Advertising API
For a complete review of the 4 Tier Mini Greenhouse, see below.
FarmTek Greenhouse Kits Product Reviews
In this section we will take a closer look at four different FarmTek Greenhouse products. The product line FarmTek offers is a bit confusing, and we hope that this article will shed some light on their offerings.
---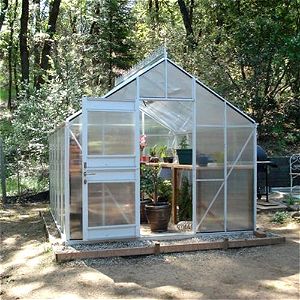 The largest of the greenhouses on our list today, the FarmTek GrowSpan Elite is an impressive free standing aluminum-framed greenhouse supported by a steel base, with solid polycarbonate panels designed to capture as much sun as possible.
Key Points at a Glance
Side panels are 6mm polycarbonate, their thickest walls, for superior heat retention
Steel base
Ventilated throughout
White, powder coated finish
Decorative peak
Dutch door
10 Year warranty on frame and polycarbonate
Dimensions and Specs
Dimensions:  11'8" W x 8'10" H x 16'6" L
Ridge height: 8'10"
Side wall height: 5'3"
Cover material: 6mm of twin-walled polycarbonate
Doorway: 2'w x 5'5"h
Dutch door
Shipping weight: 500 pounds
The Details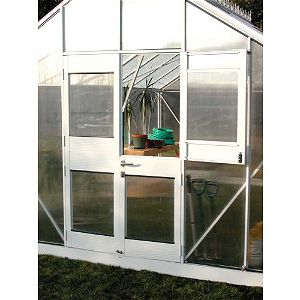 The FarmTek GrowSpan Elite is a top of the line greenhouse outbuilding, and comes in at an expensive price point. The primary pricing factor in this greenhoues is the overall thickness of the polycarbonate panles, leading to a higher quality and more heat-retaining greenhouse: it is 6mm thick in any given spot, compared to 4mm panels on the Hobby greenhouse (below). In addition, its peak does extend a bit higher, with a ridge height of almost 9 feet compared to 7 feet on the Estate Hobby, and the sidewalls sit at a higher point, allowing more room on the interior of the greenhouse.
As long as you have the space in your yard for this large greenhouse, it should fit perfectly in most any backyard, aesthetically speaking. The frame's white powder coated finish helps it look a little more stylish than a run of the mill greenhouse, and the decorative peak and well-designed frame boost its style above a simple plastic-paneled greenhouse. It really does look like professional craftsmanship. Ventilation chambers can be opened throughout the greenhouse as needed, such as on top, depending on your needs.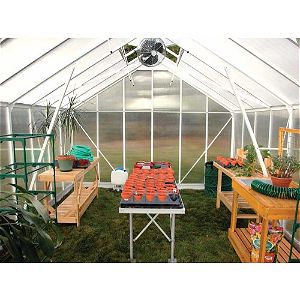 There is a space on the ceiling to hang a fan, lights, greenhouse heater, etc. Multiple skylight panels open as well, making airflow in this greenhouse easy and fun.
The GrowSpan Elite is an impressive greenhouse, significantly larger than the Estate Hobby Greenhouse below, though more than twice as expensive, and likely out of the reach of many hobbyist buyers. However, the 6mm panels really are extremely high quality. If you are in need of starting your plants earlier in the season, or ending later, or you have plants that are very sensitive to changing temperatures, then this greenhouse is an ideal choice. The 6mm panels will make a big difference in heat retention.
The Bottom Line
Overall, it is hard to go wrong with either the FarmTek Elite. The 6mm panels are unbeatable, and the size and functionality of this greenhouse are top notch. The 10 year warranty on the polycarbonate panels and frame are a big plus, and give comfort that FarmTek stands behind their products. Assembly is not difficult, and the utility of this greenhouse is high. Unfortunately, so is the price point!
Last update on 2021-05-13 / Affiliate links / Images from Amazon Product Advertising API
---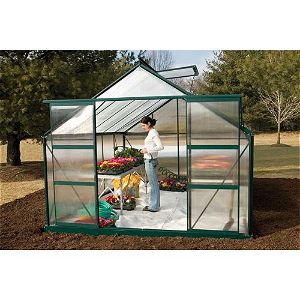 The FarmTek GrowSpan Estate Hobby Greenhouse is a large, highly functional outbuilding that works very well as a greenhouse. This greenhouse kit comes as an aluminum framed building (with base), and polycarbonate panels as walls and roof. It does not feature the 6mm polycarbonate panels than the Elite features, but rather uses 4mm panels that are a noticeable step down. Still, the 4mm panels are still quite useful, and are much easier on the wallet.
Key Points at a Glance
Constructed of aluminum quonset style framing
Color: landscape green
4 roof vents, adjustable
Steel base
Panels are made of 4mm polycarbonate
10 Year Warranty on Polycarbonate panels and frame
Dimensions and Specs
Dimensions: 9'1″ L x 7'3″ H x 12'2″ L
Ridge height: 7'3"
Side wall height: 4'
Cover material: 4mm twin-wall polycarbonate
Doorway: 3'11"w x 5'5"h
Door type: double sliding
Shipping weight: 246 pounds
The Details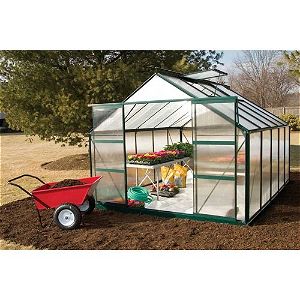 The Estate Hobby Greenhouse (Large) by FarmTek is a high quality, sizable greenhouse that is perfect for series hobby gardeners, but may be a little too small for professionals out there. It is built of handsome green aluminum frame, with 4mm polycarbonate panels wrapping the frame. It looks stylish and modern, while being highly functional as well.
As it is noticeably smaller than the Elite greenhouse above (while still featuring polycarbonate sidewalls), we find the Estate Hobby greenhouse is the perfect size for many needs. With its weather-tight seams from panel to frame, anti-corrosion gutters, and ability of the sizable interior space to be configured modularly to one's needs (whether its more benches, doors, fans, etc.), it is hard to go wrong with the Estate Hobby greenhouse. If you have tried smaller greenhouses before, yet are in need of something larger, this is the most reasonable next step to take before jumping into one of the professional ones (with the professional price tag!).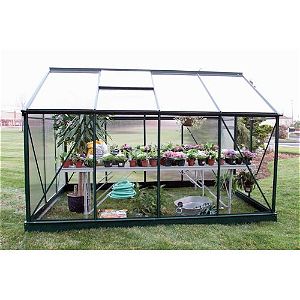 The main advantage of this greenhouse kit compared to the Garden Starter or the 4-tier Mini, both of which we will be reviewing next, are the polycarbonate side walls. It cannot be stressed enough how helpful these are to maintaining proper temperature and retaining heat throughout the colder days. Whether you want to get started earlier in the season or perhaps go a bit later as we said before, these really help accomplish that, while withstanding whatever the environments wants to throw at it, like heavy winds or rain.
The Bottom Line
If you are familiar with greenhouse use, live in an area with a varying climate (such as the humid continental climate of New England: warm to hot summers and cool to sometimes extremely cold winters), or simply need a mid size option, this is a great greenhouse to get. It provides more room than the starter options which we are looking at next while not taking up your entire yard like the Elite greenhouse.
It retains the 10 year warranty and the aluminum frame with polycarbonate walls design of the higher end greenhouses, while positioned at a much lower price point that is in the reach of many hobbyist gardeners.
No products found.
---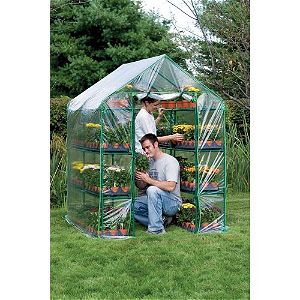 The FarmTek Garden Starter Greenhouse is a completely different beast than the outbuildings we reviewed above, and hits a price point far, far below the larger greenhouses above. The reduced functionality of the Garden Starter Greenhouse is clear as shown in the picture. While users can spend time "inside" the greenhouse, it is more of a greenhouse tent than a true outbuilding.
Still, this type of greenhouse is very useful for gardeners and lawn enthusiasts, and many will find these greenhouses particularly effective at helping to grow plants.
Key Points at a Glance
4 shelf system on each side, easily accessible upon walking in
Double zippered front doorway
Tubular steel framework
Ground stakes for support
Dimensions and Specs
Dimensions: 4'6" W x 6'3" H x 4'6" L
Shipping weight: 43 pounds
The Details
A much simpler greenhouse than those we've reviewed above, the Garden Starter is a perfect beginner greenhouse, and is ideal for those who treat gardening as an important hobby. This design uses simple ground stakes to support a tubular steel framework, powder coated to withstand weather. The step down in quality from the polycarbonate and aluminum/steel frame to this design cannot be overstated, but is completely reasonable given the price of these hobbyist greenhouses.
With that said, it's important to note that some users have run into issues with the plastic's longevity and lifespan, and many will have to replace it completely due to natural deterioration or issues with weather. If you find the plastic ripping, you could try to repair with FarmTek plastic repair tape [Amazon Link], or purchase a whole new plastic cover at FarmTek's website. With that being said, despite the simpler nature of this greenhouse, good care should be taken to ensure it lasts as long as possible, such as taking it down during the stormy winter conditions (easy to disassemble), or placing it where it won't be destroyed by high winds or storms. This would certainly fair best in more temperate climates that aren't as prone to such variance in the weather.
The Bottom Line
Perfect for beginner needs, this greenhouse does best in stable environments. If you are just starting out or do not need the larger polycarbonate greenhouses, then this is a suitable choice. Unfortunately it does not feature the 10 year warranty offered by FarmTek on the higher end greenhouses, but replacement parts are available when needed. Its closest companion is the 4-tier mini greenhouse which we will be looking at next.
Last update on 2021-05-13 / Affiliate links / Images from Amazon Product Advertising API
---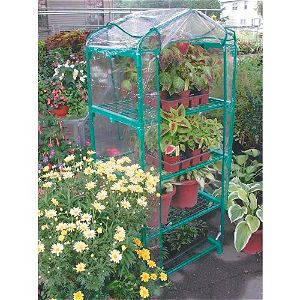 The FarmTek 4 Tier Mini Greenhouse is the smallest FarmTek offering, and is closer to a greenhouse closet than a greenhouse in the typical sense. It is made of powder coated steel with a vinyl cover, in very similar fashion to the Garden Starter Greenhouse mentioned above. This unit is reasonably high quality, though it is clearly aimed at beginners and hobbyists.
Key Points at a Glance
Powder coated steel frame
Vinyl cover w/ zippers
4 tier shelf system
Dimensions
27"w x 62"h x 19"d
Shipping weight: 13.5 pounds
The Details
The absolute simplest of the greenhouses by FarmTek, this is a standalone greenhouse without walk in capability; it consists of 4 shelves enclosed by a vinyl cover and held up by the steel frame. A true beginner greenhouse, this is perfect for somebody without large plants, who is interested in learning about how greenhouses can work, and seeing the benefits of what greenhouses can do for the first time. It is the easiest on our list to assemble, given its size and simplicity, and should be up within minutes.
This greenhouse is essentially one of those adjustable steel shelf systens that can be purchased at any home store, complemented by a vinyl zipper cover for warmth.
With that being said, it still does have a height of 62", or a little over 5'. By adding or removing shelves as necessary, it is possible to use this green houes to make room for larger plants if needed. This unit is at its best when you have just a handful of plants, or are looking to protect them for a short period of time before or after the growing season.
Unlike the other greenhouses which take up a bit more space, the smaller size of this means that it is within range of being the perfect gift for someone with a knack for gardening (it will practically fit indoors!). It would do well next to the garden or even on one's outside porch, patio, or balcony.
The Bottom Line
This can be used in conjunction with other greenhouses or by itself. The main use of the 4 Tier Mini Green house would be for someone new to greenhouses looking to learn, or someone with only a handful of plants to look after. For more serious greenhouse needs, another option on our list would be much more functional.
Last update on 2021-05-13 / Affiliate links / Images from Amazon Product Advertising API
---
Conclusion: FarmTek Greenhouse Kits
In this article we examined four greenhouses by FarmTek, mainly in order of size and use. The Elite greenhouse is essentially a stand alone outbuilding, extremely well built, with thick polycarbonate walls and the ability to house a large number of plants. These will take up adequate yard space and are best suited for professionals and those with a serious knack for gardening who want to extend the growing season. The mid size option provided in the Estate Hobby greenhouse still boasts the polycarbonate walls but is much smaller than the Elite, allowing for durability without taking up the entire yard. This greenhouse is our top choice among FarmTek Greenhouses. And lastly, FarmTek provides options on the smaller end as well, which are the Garden Starter and 4-Tier Mini Greenhouses, better for those starting out or unsure if a greenhouse is for them.
The best way to make a decision on which greenhouse is for you is to make sure to account for your personal needs, how much space you have, the climate and weather in your locality (year-round), and whether or not you would mind (or are able to) taking it down during winter months or leaving it up.
No products found.