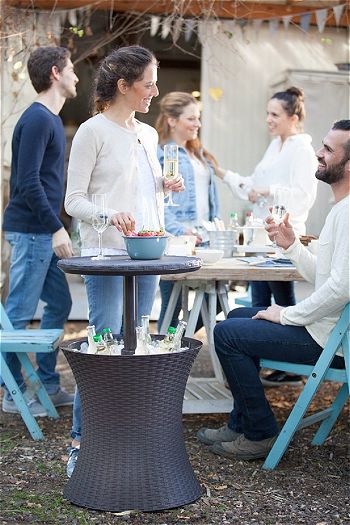 As the weather gets warmer and summer fast approaches, it's time to start thinking about your outdoor space and all those BBQ's and family get-togethers you'll be having. The easiest way to store your drinks outside is with a traditional rectangular portable cooler. They're frequently unattractive and don't make for an appealing patio accessory. Instead, why not amp up the style with the Keter Cool Bar cooler/bar table combo?
The Keter 7.5 Gallon Cool Bar rattan table makes a great accessory to any outdoor space. Not only do you get somewhere to mix and place your drinks, you also have somewhere to keep the bottles cool until you need them. No more having to go indoors to get a refill.
Simply walk over to your Keter Patio Cooler Table and everything you need to make the perfect drink will be sitting there waiting for you!
The following review will take you through some of the main features of the item and what great benefits it brings to the table.
Keter Cool Bar Review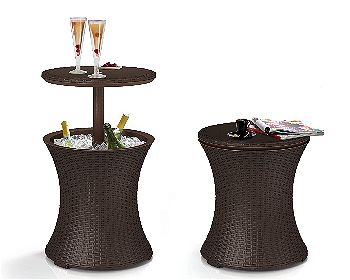 The next few sections will take you through the aesthetics, the functionality, build quality, assembly, and cleaning of the Keter Cool Bar Outdoor Patio Cooler Table.
Key Features at a Glance
Elegant PE-wicker like look
Easy to drain
Able to fit 4-5 wine bottles
Weather resistant
Made from 100% recyclable materials
Cooler, cocktail, and coffee table in one!
Dimensions and Specs
Size: (Closed): 19.5" W x 19.5" D x 22.5 H (Extended): 33" H
Cooler capacity:  7.93 gallons
Table top weight capacity:  110 lbs.
The Details
Aesthetics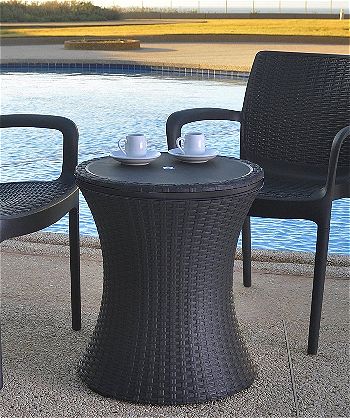 When it comes to looks, this cooler table has it covered. There are many different outdoor drink tables available, but none that look quite like this one.  It's modern yet elegant and adds class in an instant.
Made from a stylish brown panel made to look like resin wicker weave, it's the perfect party accessory to brighten up just about any outdoor area.
The design is quite modern, and unless you look very closely, you would never suspect that it isn't actually a woven table. The stylizing is quite elegant.
There is a small, quarter-sized metal disc at the top center of the table that is a bit aesthetically jarring. While it doesn't affect functionality at all, it is a little bit odd. Thankfully it's small, and can easily be covered up with a drink or tablecloth if preferred.
Functionality
Whether you need a cocktail table or a cooler, the Keter Cool Bar Table is there at your service.  Not only does it provide you with somewhere to mix and place your drinks, it gives you somewhere to keep the bottle cool for up to 12 hours.
And, with a cooler capacity of nearly 8 gallons, it's big enough to store around 40 12oz cans and ice, or 4-5 wine bottles with ice.
To lock in the upright position, you twist the base once it is raised. Once locked, the bar works perfectly. But if forget to do this, you may experience some spilled drinks!
It can be closed with drinks in the cooler portion, but the tops of the bottles or cans must be below the lip of the Cool Bar.
The height of the cool bar is such that it's about the height of a table when closed, and approximately counter height when opened.
Material and Build Quality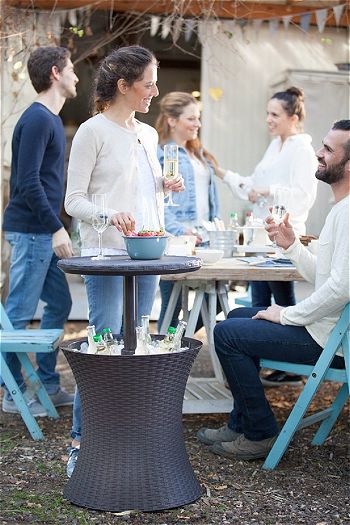 Although it has a rattan finish, this Keter Cool Bar is actually made from a very strong polypropylene resin panel, wrapped in the cylindrical shape. It's not actually woven PE-wicker, but the finish gives the impression that it is.
This resin panel makes the cool bar extremely durable, and able to withstand even the harshest of weather. It won't fade even when left in the sun. You'll certainly get your money's worth with this cooler table.
Assembly
Unlike many other poolside drink tables out there, assembly of the Keter Cool Bar is pretty straightforward. It consists of just two parts and three screws.
Even those of who are not DIY minded should have no problem putting this one together!
Cleaning and Maintenance
The Keter Cool Bar's been designed with a built-in drainage plug to make life easier when cleaning up at the end of your gathering.  Other than needing to empty it after a few hours, there really isn't much that needs doing to keep this cool bar looking its best.
If for any reason it does become dirty, gently hose or wipe it down. No need to paint or otherwise maintain this resin bar.
The Bottom Line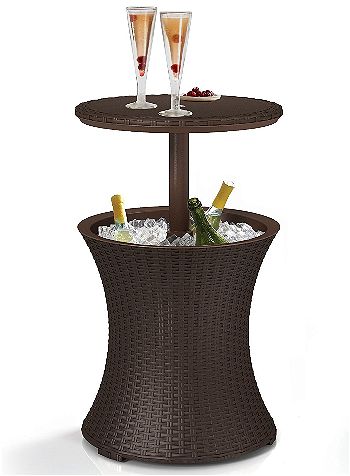 You'll have no problem impressing your guests with this ultimate patio cooler table on offer from Keter. It looks good, works well, and is very competitively priced. Having a cool bar on hand is so useful if you're someone who likes to spend a lot of time outside!
There's no need to keep going indoors to refill, and no need for an unsightly cooler. With the Keter Rattan Cool Bar, you can do it from the comfort of your own backyard.
It's light enough to be moved around, easily, and will ensure you remain hydrated in even the hottest of weathers.
So, if you're looking for a neat replacement for your old cooler, why not check out this cool bar?
You won't be disappointed.
---