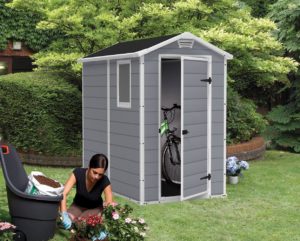 The Keter Manor 4×6 shed is a high-quality resin storage shed in a great size configuration. This shed is perfect for those that don't have a huge backyard, and don't need an extra large storage space for a riding mower and large tools.
The Manor shed by Keter is reasonably attractive, maintenance free, and offers ventilation, a window, and a locking door mechanism. It is a great choice for those looking to store lawn tools, potting shed equipment, bikes and outdoor sporting equipment, etc.
This article gives a thorough overview of the Keter Manor 4×6 shed. If you would like to compare this model to a few other units on the market, please take a look at our best resin storage shed article here, and if you need storage and organization tips, be sure to check out our guide on how to organize your shed!
Dimensions and Specs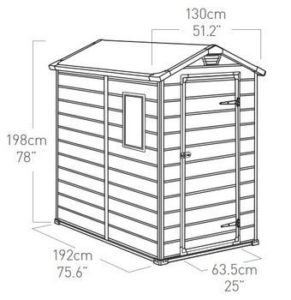 Roof Length: 51.2″ or 4'3″
External Length: 45.5″ or 3'10"
External Width: 75.6″ or 6'4″
External Height: 78″ or 6'6″
Internal Length: 43.7″ or 3'8″
Internal Width: 69.7″ or 5'9″
Internal Height: 74.8″ or 6'2″
Side Wall Height: 67.7″
Door Opening Width: 25″
Storage Capacity: 131.8 cubic feet
Weight: 93.5lbs
Keter Manor 4×6 Shed Features
Designed to fit between a house and a fence
Made of maintenance-free polypropylene resin and steel structural elements
Resin floor
Floor Weight Capacity: 30 Pounds Per Sq. Ft.
Roof Weight Capacity: 15 Pounds Per Sq. Ft.
Double-wall Extruded Panels
Reversible door hinge
Fixed Window (can be placed on either side of the unit)
Ventilated for mildew resistance and air flow
Lockable hasp (lock not included)
Weather resistant and water-proof design
UV Protected resin walls will not rust, peel, or rot
10 Year Manufacturer's Warranty
Who is the Keter Manor 4×6 Shed For?
The Keter Manor shed is great for those who want to house small lawn equipment (a push mower, some rakes and gardening equipment, etc.), those who would like a simple potting shed, or perhaps some bike storage. All of these are excellent uses of the Keter Manor shed.
You could easily fit (not all at the same time!):
Push lawn mower
Snowblower
Three adult bicycles
Garden tools and soil bags
Wheelbarrow and lawn tools
If you're looking to store larger items like a riding lawn mower, you'll want to look elsewhere, as this unit is designed for small spaces.
This shed would also work well as a chicken coop, or a duck coop if you like to keep animals. It is secure, allows natural light and ventilation in, and is the appropriate size for these uses.
Ground Preparation and Assembly
Assembly should take under half a day for two people, assuming some knowledge of furniture assembly, and some decent tools.
Preparing the ground properly is very important when planning the assembly of the Keter Manor 4×6 shed. You'll want to get the area perfectly level and heavily compacted, or build a wooden or concrete platform.
Before you finalize your location, you should check with your local building department or Homeowner's Association, especially if you plan on placing this shed near a lot line or lot corner. Many municipalities and HOAs have minimum distances for sheds or outbuildings away from a lot line, so be sure to check before you pour concrete!
Ground Preparation
Keter Recommends that you construct a wooden or concrete foundation for this shed. The ground should be completely level across the entire dimension of the shed — 4′ x 6′. If you plan to build a wooden foundation, be sure to use pressure treated lumber rated for ground contact. This lumber is much less susceptible to rot and water damage, and will last much longer outside than kiln dried lumber.
If you plan to use concrete, you should pour the pad at least 4″ deep.
Assembly
Assembly of the Keter Manor Shed is fairly simple, if you have your ground properly level, and if you have an assistant. Having two people makes this assembly pretty simple.
The Keter Manor Shed comes in a large package and is quite heavy to start. Fortunately, the individual panels are pretty light and are fairly easy to move. Assembly should take under half a day for two people, assuming some knowledge of furniture assembly, and some decent tools.
If you would like to read the instructions to get a sense of how difficult the shed is to construct, here is a link to the Keter Manor Shed Instructions.
In order to assemble the Keter Manor 4×6 shed, you'll need the following tools:
Power drill, ideally one with an adjustable clutch (and extra batteries, as there are a lot of screws!)
Hand screwdriver
Tape Measure
Gloves
Eye Protection
Disassembly and Moving
The Keter 4×6 resin shed can be disassembled and moved, though it is not an easy task. As you will have already drilled the holes in the resin panels, when you disassemble and re-assemble, the connection points may be in slightly different locations, meaning that you may have to re-drill all the holes, damaging the overall panel integrity.
As long as the shed is on nithe ce level ground, the join points should be very close together, so if you're careful getting your foundation level before you build, you should be able to disassemble and rebuild elsewhere on a similar level foundation.
Keter Manor Shed Details
Color and Aesthetics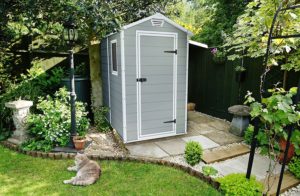 The Keter Manor 4×6 shed comes in a stylish blue-gray siding color, with white trim, black hardware, and a black roof. This shed is not at all modern in style, but it is simple enough to blend into most environments. The design doesn't stand out, but most people aren't looking to use their shed as their backyard accent piece!
Structure
The basic frame is made of steel, but most of the structure is based around the double wall resin panels that make up the walls and roof. They are all tied together, as well as to the floor and to the roof, making a secure and solid structure.
Unfortunately, you cannot hang tools, pegboards, or other items from the walls of the Keter Manor shed. Your best bet for garden storage is to use a tool rack or freestanding shelf system for tool organization.
Moisture
The Keter Manor shed is moisture-proof, and if properly assembled, will keep out the rain, snow, and hail. The Keter 4×6 shed roof can handle some snow, but if the snow is very heavy, you should brush it off the shed roof.
The included vents allow for air movement through the shed, helping reduce mold and mildew buildup. However, this also means that damp air will get into the shed, depending on the conditions of the weather outside, so the shed is not damp-proof.
Weight and Wind Issues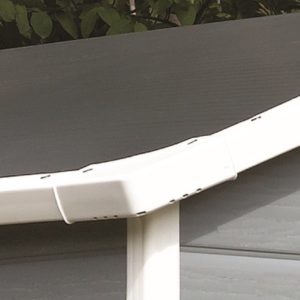 The Keter Manor is very solid, once completely built. It is possible to move it when completely built, but it is strongly recommended to build the foundation, and then assemble the shed on top of the foundation and leave it there!
With the weight of some equipment in the shed, it is highly unlikely that it will blow away in a gust of wind, due to the overall weight. However, once you have built a foundation for the shed, you could drill lag bolts or screws through the resin base, and then into the plywood or concrete below. This attachment would significantly increase the overall strength of the shed.
The roof assembly is pretty well done on the Keter Manor Shed and is capable of handling 15lbs per square foot of snow. That's not bad for a DIY shed kit! Still, we recommend scraping off any heavy snow from the shed just in case.
Rodent Concerns
The Keter Manor should be rodent-proof assuming it was properly built and maintained. Of course, rodents may be able to get in through the door if you leave it open, but otherwise, it is quite secure against pest intrusion.
The Interior Space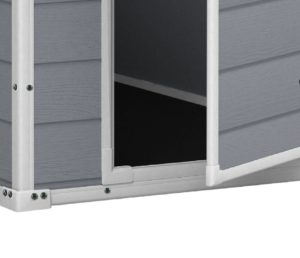 The Interior space of the Keter Manor 4×6 shed is pretty narrow. It's essentially the width of a typical hallway in a house and is 6′ deep. There is a good deal of space to store a lawn mower, some tools, and a few other items. You won't be able to walk around in there easily if you've got a few things in the shed. But, it is large enough to store most common landscape items, or a couple of bikes, or similar.
This is not a huge shed, but you can store a good deal of equipment if you're creative! It is an excellent size for small yard maintenance.
The door and window panels can be reversed, depending on your particular needs and the position of the shed. As as you assemble the shed, you can choose the side of the shed that the window goes on, and choose which way the door opens.
Accessories
There is not much additional that is needed with the Keter Manor 4×6 shed. You may want to pick up a padlock, should you be storing valuable items inside. However, we note that if someone really wants to get into the shed, they could use a razor knife and cut right through the walls, so we would not encourage you to store particularly expensive equipment in this shed.
You may also want to pick up some shelving units, or other tool storage carts, depending on your needs, as the walls are plastic and are not really designed to hold a significant structural load in shelving.
The Bottom Line
The Keter Manor 4×6 shed is a really nice choice for many homeowners that need some outdoor storage. This unit is delivered to your door, can be easily assembled in half a day by two people, is virtually maintenance free, and is surprisingly inexpensive. The quality is reasonably high, and Keter covers the shed with a 10-year warranty.
This unit is our favorite resin shed in this size category and is strongly recommended.
Last update on 2021-05-16 / Affiliate links / Images from Amazon Product Advertising API