When out on the patio or deck, it's always helpful to have as much outdoor storage as possible. After all, minimizing clutter is the best way to achieve a beautiful outdoor space! While deck boxes have been commonly used for storage for several years, designers have lately been moving toward outdoor storage benches, for increased style and usability. After examining several patio storage benches, we have determined that the
Keter Eden patio bench
is the best outdoor storage bench available.
The Keter Eden will look great in the garden! It can fit three adults, has a 770lb weight limit and 70 gallon storage capacity, and is essentially waterproof.  It is the ultimate outdoor storage bench! For more information on the Keter Eden, please see below.
Runner Up Best Outdoor Storage Bench
The
Suncast Elements
wicker-look outdoor storage bench is an excellent choice. With a smaller footprint and lower storage capacity, this bench has more of a furniture-look than the Keter mentioned above (though we could do with a bit less of a curve design here!). The Elements love seat isn't made of woven wicker, but rather resin panels that look like wicker. This storage bench isn't waterproof, but for the most part water and insects stay out of the storage area.
The Suncast is covered under a 5-year warranty, which is a great plus.
See below for more information on the Suncast Elements storage bench.
Garden Storage Bench Reviews
In this section, we look closely at our selection of five outdoor storage benches. We consider the advantages and disadvantages of each, and review each of the selection closely. If you're simply looking for outdoor storage, and haven't yet explored deck boxes, you may find more of what you're looking for.
---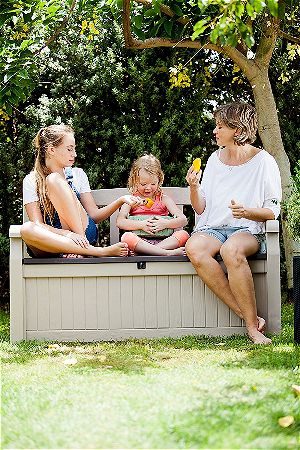 The Keter Eden patio storage bench is a practical and warm outdoor storage bench that can hold quite a bit of your outdoor materials, and doubles as extra seating for your family!
Available in two color options, this bench has great storage capacity, a maintenance-free weather-resignation design, a surprisingly high weight limit, seating for 2-3, and a locking hasp to ensure that your stuff stays secure.
Key Points at a Glance
Storage Capacity: 70 gallon
Seats two adults
Available in two colors
Locking hasp included (note: lock not included)
Ventilated interior
Weather-resistant,waterproof design
Maintenance free design
Easy Assembly
Two year warranty
Dimensions and Specs
Exterior Dimensions: 54.6″ L x 23.4″ D x 32.8″ H
Interior Dimensions: 50″L  x 20″ D x 50″L x 15″ H
Seat Height: 18″
Weight: 29.7lbs
Weight Capacity: 771lbs
The Details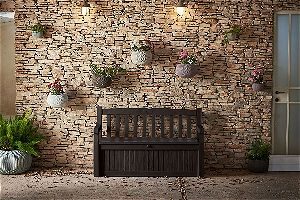 The Keter Eden is a step beyond your average outdoor deck box. The addition of a back elevates the design of these storage benches above that of most deck boxes. As a result, the Eden works wonderfully as both handy outdoor storage and comfortable outdoor seating.
The Eden is fully waterproof against rain, with a solid design that ensures that your materials stay dry even in tough weather. You should cover it when the snow starts to fly, or otherwise take it in, as it's not really designed to be out all winter.
Carefully-structured vents allow air to flow through the bench to prevent mildew and mold, but screens keep out any unwanted critters.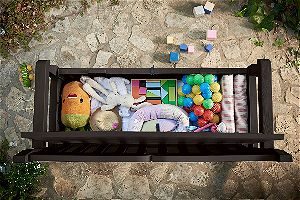 The bench seat is reasonably comfortable on its own, but you can always add a cushion for additional comfort if you like. A 48″ cushion should fit perfectly.
In terms of the lid, it is hinged, and there is no system to easily support the lid when it is in the opened position. You'll have to hold it open. You should also be aware that there's no child safety feature on this bench, though it does not lock when closed unless you were to put a padlock on it.
The two colors are both simple and unassuming, though in our eyes the darker brown looks much better. The tan color has a dark brown seat panel, which results in an awkward two-tone look. You could paint it, but it's best not to, as the Eden is already weatherproof and maintenance free.
The Bottom Line
The Keter Eden all weather storage bench is overall a solid design, with a large storage capacity, sizable weight limit, and weatherproof seal. It's perfect for storage of pool supplies, cushions, and general outdoor goods.
It is positioned at a fairly attractive price point, and we love the fact that it's covered under a two year warranty. The Keter Eden is an excellent outdoor storage solution.
---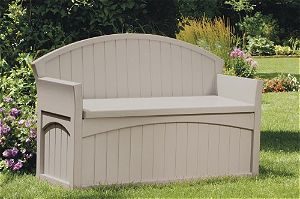 The Suncast PB6700 Patio Bench is a reasonably attractive storage bench with an arched back design, echoed in the base frame of the bench. It is inoffensive in design, and while we aren't enthusiastic about the look, it will blend into the background easily enough, and is a helpful furniture storage piece.
Key Points at a Glance
Seats two comfortably
50 gallon storage capacity
Made of resin plastic
Water resistant design
5 Year Warranty
Dimensions
Exterior: 52  3/4″ W x 21 D" x 34 1/2″ H 

Interior: 47 3/4″ W x 17 1/2″ D x 16 1/2″ H

Weight: 35lbs
Seat Height: 16.5″
Weight Capacity: approx. 300 lbs
The Details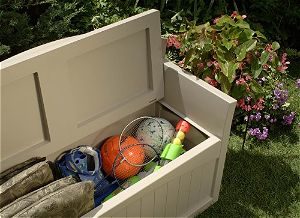 The PB6700 seats two people, though it's 300 lb weight capacity means that those people have to be on the smaller side. In terms of storage, the PB6700 does a little better, with a 50 gallon capacity that can handle quite a few pool supplies, toys, yard maintenance items, etc.
There is no locking hasp, so storage of valuables is not advised. If you want to put a lock on, you'll need to drill a hole yourself. It isn't hard to do, but it seems like Suncast should have done that already.
Designed with the realities of the outdoor in mind, the frame of the Suncast PB6700 is water proof, and can be left outside. Unfortunately, the interior storage chamber is not waterproof, and in heavy rains, there may be some moisture infiltration. If you're storing cushions or other materials you don't want to get wet, you may want to place them in plastic bags for added protection.
Also, bugs may get inside the Suncast Storage Bench, so keep an eye out.
If you want to increase the comfort of the Suncast bench a bit, you can get a seat cushion. This cushion will fit well and is made of a decent quality outdoor fabric. There is no place to tie the cushion though, so you may want to get some Velcro strips.
Assembly of the PB6700 is quite simple, and can be accomplished in about 10 minutes. The pieces snap together, and no tools are required, though a rubber mallet is helpful.
The Bottom Line
The Suncast PB6700 is a decent outdoor storage bench, though we can't say we love it. It looks ok, has reasonable storage, and is useful storage bench, but it doesn't really excel at anything. The interior isn't water or bug proof, doesn't have a lock, and it really isn't super stylish.
If it's on sale, this may be a good choice, but otherwise, we would suggest trying some of the other benches on our list.
This bench is available on Amazon Prime.
---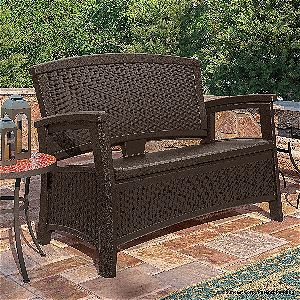 The Suncast Elements Loveseat with Storage has a contemporary arched design with a panel system reminiscent of a PE-wicker weave. The styling is bold and interesting, though ultimately we feel that a less bold design may have been more successful. It does, however, succeed in blending more than many of the other benches on our list, in that it doesn't scream Storage Bench!
The Elements storage love seat is capable of seating two people comfortably, and is available in three colors.
Key Points at a Glance
Storage Capacity: 23 Gallons
Seats 2
Available in 3 colors
Very simple assembly
5 Year Warranty
Dimensions
Exterior Dimensions: 47″ W x 29 3/4″ D x 35 1/2″ H
Interior Dimensions: 41″ W x 18″ D x 8″ H
Seat Height: 17 3/4
Weight: 44.9lbs
Weight Capacity: 450lbs
The Details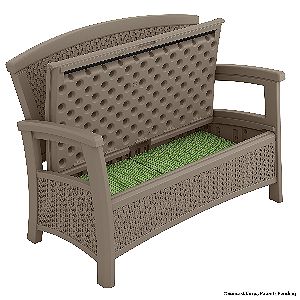 Looking for a storage love seat? The Suncast Elements fits the bill nicely. This love seat is designed with comfort in mind, with an arched back and lumbar support. While this storage bench appears to be made of a wicker weave, the structure is actually resin panels with a wicker-look that is surprisingly high quality.
Unless you look very closely, it appears to be woven. This design succeeds in looking more like a regular furniture piece than a storage-furniture piece.
The Suncast Elements is a little more water resistant than the PB6700 examined above. While it is possible that water may infiltrate the storage area in a large rainstorm, this unit is definitely more robust than the PB6700.
There's no locking hasp on the elements bench, but it is essentially "locking". The bench slides out and then pulls up to access the storage, and it must be slid back into locked position in order to fully close.
While the Elements storage bench is pretty comfortable on its on, it can get hot in direct sunlight. If it will be in the sun, you may want to pick up a cushion for it. It will also be a bit more comfortable if used in conjunction with a cushion such as this Pillow Perfect cushion. Also, when the cold weather comes, you would be wise to get a furniture cover for this, if it's going to be exposed to the elements.
Like most of the patio storage benches on our list today, the Elements bench requires a little bit of assembly to make usable. It is relatively simple and can be completed in a few minutes.
The Bottom Line
Overall the Suncast Elements bench succeeds at being a high quality bench, and has some useful storage. It is robust and capable of supporting a good deal of weight, and is reasonably water tight. The styling of the materials is quite good, though we don't love the curved nature of the bench.
The Elements love seat is a great choice for those who like the contemporary wicker styling, and the 5-year warranty is a huge plus. The storage portion and comfort of the bench are well done, and will keep your stuff sheltered pretty well.
This bench is available on Amazon Prime, and there are several matching Suncast Elements pieces if you want to get a set.
---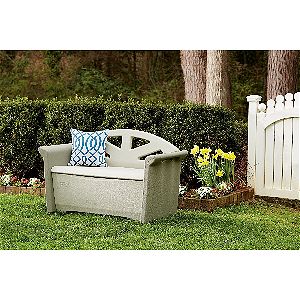 Rubbermaid is an excellent brand when it comes to outdoor storage, with several storage sheds and deck boxes that are extremely useful. The Outdoor Patio Storage Bench has a bit of an awkward styling, with an arched bench and old school rounded sofa arms that feel somewhat forced as design choices.
The Rubbermaid 3764 storage bench feels more like a deck box with a back and a couple of arms attached, rather than a furniture piece with some hidden storage.
Key Points at a Glance
Storage Capacity: 29.9 gallons
Seating for 2 adults
Made of double wall resin plastic
Water resistant design
1 Year Warranty
Dimensions
Exterior Dimensions: 48″ L x 25″ W x 36″ H
Interior Dimensions: 40″ x 16″ x 13″
Seat Height: 18″
Weight Capacity: approx 400lbs
Weight: 44.9lbs
The Details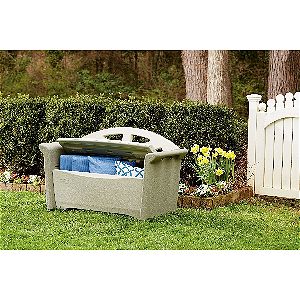 The Rubbermaid 3764 bench is constructed of double wall resin plastic, and seats two people. The weight capacity is not published, but it can handle the weight of two typically sized adults without difficulty.
Like some of the other deck boxes on our list, the Rubbermaid has a maintenance-free resin plastic frame, and can be left out in the weather without concern. However, the storage area is not completely water proof, and water may infiltrate the storage area if there is a windy rain.
You may want to place fabrics and items you don't want to get wet into plastic bags for additional protection.
Also, while this storage bench is rodent-proof, it is not insect proof. You may find ants and other troublesome insects in the Rubbermaid, which is certainly a negative. You may want to put some mothballs or similar in the bench to deter insect infestation.
In terms of comfort, the Rubbermaid is reasonably good. You may find that a cushion increases the comfort level, and gives a little more engaging design to the bench. This cushion from Blazing Needles, is a good choice.
There is no hasp for a padlock, so there's no way to fully secure this bench without drilling holes. Drilling holes in the bench isn't too hard, but it's not really an ideal thing to do.
Assembly of the Rubbermaid 3764 storage bench isn't challenging; the pieces just snap together. However, some have reported not receiving instructions. If you run into this issue, you can find the assembly instructions here [Rubbermaid.com].
The Bottom Line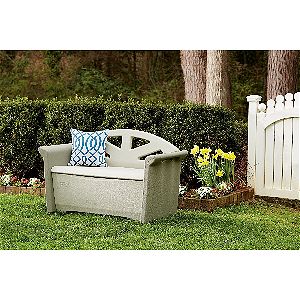 If you're looking for a robust outdoor storage bench that is fairly comfortable and easy to assemble, the Rubbermaid 3764 is a decent choice. However, the lack of a waterproof storage area and the potential for insect infestation are negatives in our eyes.
As long as you go in knowing that your stuff may get a bit damp, and work around that, you'll be fine.
Rubbermaid only gives a 1 year warranty on their deck boxes and outdoor storage materials, which is not as good as many of the other storage benches on our list.
---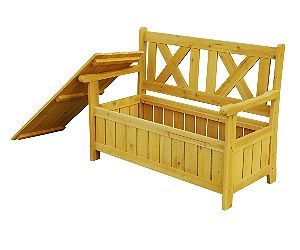 Leisure Season's SB6024 storage bench is unique in our list today in that it is the only real wooden outdoor storage bench. The SB6024 is made of cypress and has been pre-treated with an acrylic sealer for outdoor robustness.
It has a pretty modern, simple design that is reasonably attractive, though we don't really love the X-shaped slats on the back.
Simple straight lines probably would have worked better, but perhaps may not have provided the same structural integrity.
Key Points at a Glance
Seating for two
Made of Cyprus, and pre-treated for durability
Storage Capacity 37.2 gallons
Back is a little bit weak
1 Year Warranty
Dimensions
Exterior Dimensions: 45″W x 24″D x 33″H
Interior Dimensions: 41″W x 21″D x 10″H
Seat Height: 15″
Weight Capacity: 400lbs
Weight: 36.1lbs
The Details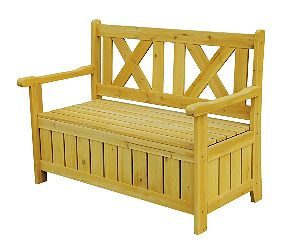 Unlike the other benches on our list, the Leisure Season's seat portion can be completely removed, as opposed to the hinged flip-up design that the other benches use. You could not install hinges on this bench, even if you wanted to, as the lip of the seat portion does not sit in an area compatible with a hinge design.
The Leisure Season's storage area is moisture resistant, and not waterproof. It's a good idea to store objects that you don't want to get wet in plastic bags as an additional precaution. Water does not pool in the storage area, and drains through the slats. Still, water infiltration is a concern.
If you wanted to, you could change the color and finish of this bench. Leisure season recommends an outdoor grade, acrylic based stain/sealer to finish off this unit.
In terms of robustness, the Leisure season is pretty solid. It can handle the weight of two typical adults without difficulty. The area of most significant concern is the back of the bench. Some have found that the back is a little bit too wobbly, and when two adults are sitting on the bench, it is possible to feel the back flex. If you run into this issue, you could add another cross-support of a 2×4 or similar, in order to give a bit more strength.
Assembly of the Leisure Season is pretty simple, though a little bit more involved than the rest of the items on our list. There are about a dozen screws that need to be installed in order to construct the bench, and the directions are pretty good.
The Bottom Line
The Leisure Season SB6024 bench is a fairly nice outdoor storage bench that looks and smells quite nice. Access to the storage area is a bit more awkward than many of the other storage benches on our list but still is not particularly difficult. A wooden storage bench will likely be less robust over time than a resin bench, and the wood will slowly deteriorate if not properly maintained.
If you're the type who puts off maintenance, it may be best to stick with a resin bench. But if you love the look of real wood furniture, and need a storage design, the Leisure Season SB6024 is an excellent choice.
---
Conclusion: Best Patio Storage Bench
After a thorough examination of several outdoor storage benches, the
Keter Eden
selection stands out as a clear best option. The Eden looks great, has a large storage capacity, and is capable of seating three people. With over 700lbs of weight capacity, and 70 gallons of storage capacity, it will store what you need. The fact that it is extremely water and insect resistant is an additional plus. The two year warranty is the final piece that pushed the Eden over the top to be our choice as the best outdoor storage bench available.