Snowfall – this word can either bring joy or terror depending on your preferences. However, no matter whether you enjoy winter or not, you need to make sure that you have a way to help clear snow from your driveway and sidewalks. When a shovel is not enough people often turn to snowblowers. This article will explore more behind snowblowers and how you can safely start a snowblower that has been sitting around for a while.
Snowblowers are extremely helpful, but as a seasonal tool they sit dormant for a long time during the rest of the year. It is always smart to start your snowblower up for the first time before the snow hits. Get your snowblower out of storage on a clear day where it is easy to inspect it and prepare it for the winter ahead. Remember that because it sat dormant the machine could need help to start working.
What is a Snowblower?
A snowblower is a machine designed to help clear snow from a drive or pathway. These devices will vary in their designs, although most feature a powerful engine which helps to lift and throw snow to the side of the pathway you are clearing.
How Does a Snowblower Work?
There are gas and electric models of snowblowers. Shoppers usually focus on the width and the engine size. Depending on the specific model, a snowblower usually collects snow using a spinning auger then throws it up the chute and out to the side.
Single Stage snow blower – an auger directs snow straight out the chute (only for paved surfaces)
Two Stage snow blower – an auger collects snow and a fan discharges snow through the chute
Three Stage snow blower – like a two stage with an accelerator on the fan to move large volumes of snow quickly.
The Benefits of Using a Snowblower
There are many benefits that come with using a snowblower. Below are some you'll find when using one.
It Works Quickly
Unlike other snow-clearing methods, such as shoveling, which can take hours to do, a snowblower helps to quickly remove snow from the ground. In fact, for most spaces, snow can easily be cleared within a few minutes.
It Prevents Overexertion
Another benefit of using a snowblower is that it helps to prevent overexertion. For instance, when shoveling snow you might find that using too much energy to push and pick up snow could end up hurting your back or even make you short of breath. A snowblower works to prevent this as all you need to do is gently push it. There are even popular self driven models.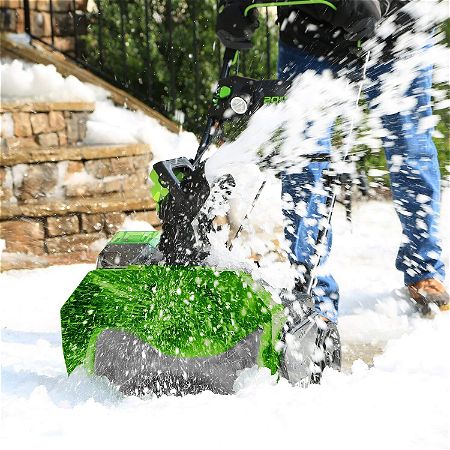 It Helps to Completely Clear Snow From the Area
Snowblowers help to ensure that all snow and ice is removed from the pathway you are clearing. It can also blow the snow many feet away so it doesn't get blown back to the pathway you just cleared. This is helpful as snow piles up over a long winter.
They are Easy to Move Around
While they might look heavy, snowblowers are very easy to move around, even on steep hills. They can also be moved on various types of surfaces, such as cobblestone and cement. This allows you to move the snowblower around without problems. If your house has difficult terrain then consider a self propelled two stage.
Common Snowblower Issues
You'll need to be aware of a few common snowblower problems that you could come across when trying to start your machine up. Below are some to keep an eye out for.
Excess, old Fuel
Snowblowers can hold leftover fuel from the previous season. If not fully removed, it can hurt the engine and even cause thick fuel smells to leak from the machine when you first start it back up again. Remove old fuel using a siphon or even a turkey baster. At the end of each season run the snow blower until all the stale gas is used or store it full with a tank of dormant gas.
Spark Plug Malfunctions
A spark plug helps to ignite fuel using an electric spark when the engine starts up. The spark plugs in snowblowers can sometimes malfunction which could cause the machine to not work properly. You should always check the spark plugs before using your snowblower either by replacing them or testing them with a spark plug tester. The spark plug is usually located on the top of the engine. Trace the wires from the ignition system to the engine to find the plug easily.
Worn Paddles
The paddles connect to the auger and push snow into the snowblower's chute. Over time, the paddles will wear out and not fully remove snow from the ground. To help prevent this, make sure to check the paddles to ensure they are in the best shape possible. Contact your manufacturer for replacement paddles every 4-5 seasons.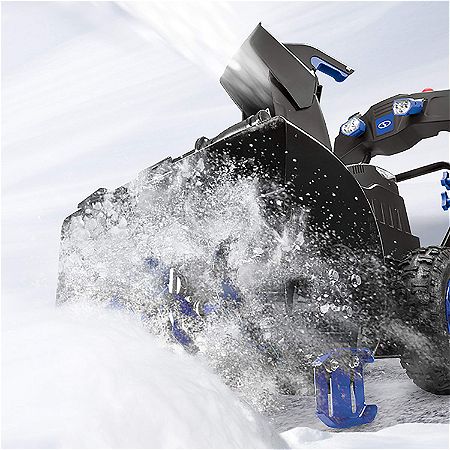 How to Start a Snowblower That Has Been Sitting
If your snowblower has been sitting around for a bit, you might find that it could be a little difficult to start. However, there are some ways you can safely get it working again. Follow these tips to start a snowblower.
Carefully Put it in a Safe Area
The first step is to remove the snowblower from the space you have it in and place it in a clean and open space. This will allow you to move freely around the machine and prevent possible damages and injuries.
Do a Quick Maintenance Check
After placing your snowblower in a safe area, you then want to do a quick maintenance check. This way, you'll be able to see if some parts might have rusted or don't work anymore. You'll also be able to remove any leftover debris that might be on or in the machine to prevent injury.
Once you do a quick exterior check, you'll also want to check the snowblower's oil level, tire pressure, and spark plugs. See if your model has a fuel cut-off valve before the carburetor that needs to be opened back up. By doing so, you'll be able to help ensure that all parts will work well during the winter storms ahead.
See if the Snowblower is Hot or Cold
When starting a cold engine for the first time, be sure to close the choke. The choke limits the air supply to the carburetor, resulting in a higher fuel concentration. Set the choke to "full" or closed so that the cold engine fires correctly. When you start your snowblower for the first time the engine might emit heavy fuel smells.
If your snowblower was recently used and has a warm engine then you can skip this step or set the choke halfway depending on your specific model.
Turn the ignition switch to on, prime the engine with three pumps on the fuel primer, and then start the engine according to the manufacturer's instructions. Slowly open the choke until it is fully open and the engine is running smoothly.
Adjust the Throttle and Start Your Snowblower Up
The next step is to adjust the snowblower throttle. Make sure to put it at its highest level which will help to burn off any leftover fuel in the machine. This is the rabbit level not the turtle level. After doing this, turn your snowblower off.
Set Choke
Turn Throttle
Open Fuel Shutoff valve
Pump Primer Bulb
Start
Snowblowers are a helpful device to have when winter strikes. They not only quickly remove snow, but are very easy to use. If you'd like to start your snowblower that has been sitting around for a while, definitely keep the tips listed above in mind. They will help to ensure that your snowblower doesn't break and works well at getting the job done. Afterwards store your machine properly so that it is ready to use again next time.