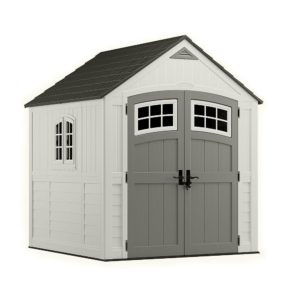 The Suncast Cascade line of storage sheds is a great quality choice for a shed and is sure to be useful to many that need outdoor storage. With two sizes to choose from, and with virtually no maintenance required, the Suncast Cascade Shed is an easy choice!
In this article, we will review the Cascade storage shed line, and discuss the pros and cons of these sturdy outdoor storage units.
The Basics
The Cascade appears to be Suncast's replacement for their Sutton storage shed line, as they seem to be phasing that one out. The sizes are the same, but the Cascade's looks have been updated relative to the Suncast Sutton shed line.
Here is a quick video showcasing the major features of the Cascade Storage Shed.
The Cascade line of storage sheds comes in two sizes. The basic dimensions are 7′ x 7′, and 7′ x 4′. The full dimensions of each are below.
Suncast 7 x 7 Cascade Storage Shed Dimensions
Exterior Dimensions: 7′ 4.5″ W x 7′ 3″ D x 8′ 6.5″ H
Interior Dimensions: 6′ 8.5″ W x 6′ 8.5″ D x 8′ 3.75″ H
Storage Capacity: 322 cubic feet
Door Opening Size: 60″ W x 76″ H
Sidewall Height: 72″
Weight: 340lbs
Suncast 7 x 4 Cascade Storage Shed Dimensions
Exterior Dimensions: 7′ 4.5″ W x 3′ 11.75″ D x 8′ 6.5″ H
Interior Dimensions: 6′ 9″ W x 3′ 6.75″ D x 8′ 3.75″ H
Storage Capacity: 171 cubic feet
Door Opening Size: 60″ W x 76″ H
Sidewall Height: 72″
Weight: 240lbs
Suncast Cascade Storage Shed Major Features
Dual wall resin construction
Rust free, water-resistant design
Steel frame and roof supports
Double door for easy access
Padlock-able metal handles (padlock not included)
Reinforced floor
Screened gable air vents
Windows on the doors
Side window that can be placed on either side (only on 7′ x 7′ version)
Custom-designed storage options available
10 Year Limited Warranty
Who Needs a Suncast Cascade Shed?
Those who live in a place without much exterior storage would greatly benefit from a storage shed. The fact that these sheds are made of double wall resin plastic means they are essentially maintenance free, and won't rust, warp, fade, or rot, regardless of the weather! Great uses for the Cascade sheds include:
Lawn care tool storage
Bicycle storage
Pool accessory storage
Potting shed materials
Winter snow blower storage
Art studio (7×7 version only)
Build Quality and Details
Resin Panels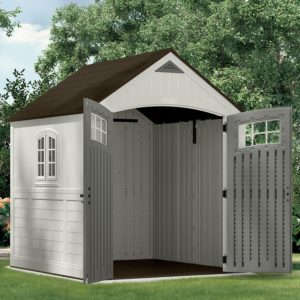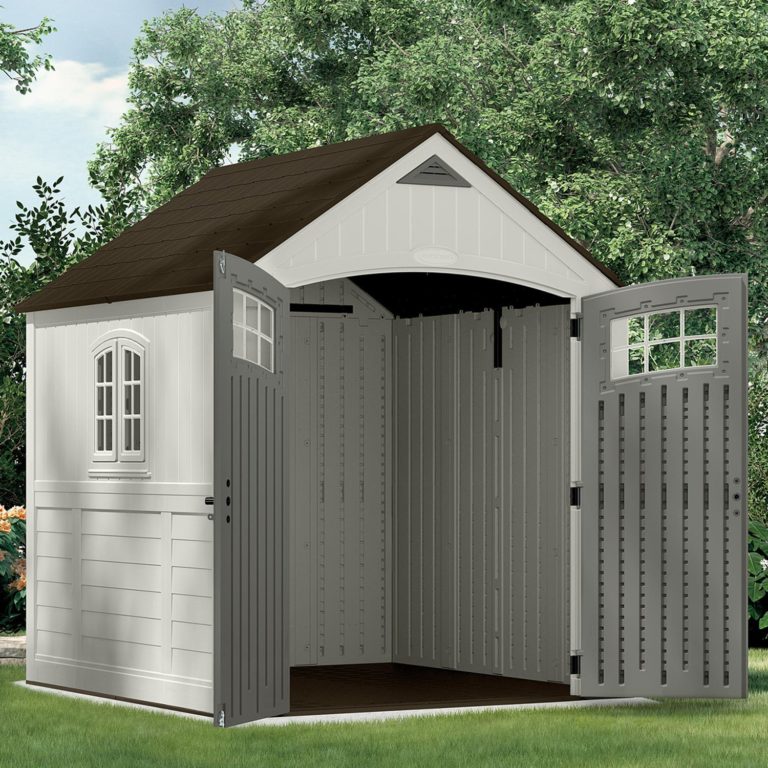 The build quality on the Suncast Cascade storage shed line is quite high, with double wall resin panels making up the structure. The roof frame is constructed of steel trusses, which are quite strong, and resin panels that mimic the look of shingles. Resin plastic is an extremely hardy material and is water resistant, UV resistant, fade resistant, rot and mold resistant, and kryptonite resistant.
Water Resistance
The Suncast shed is pretty nearly waterproof, though it is possible that blowing rain could get in through the screened gable air vents. Assuming the shed is properly built, and the ground properly graded, there should be no water entering the shed.
Gable Vents
The gable vents are pretty well designed. They are screened to prevent critters from entering and help keep air flowing through the shed to prevent mold and mildew build up. However, the vents allow moist air into the shed, which means the shed may get damp if the humidity is high.
Double Doors
Both sizes of the Cascade storage shed feature double doors, which is a great feature. By opening both doors, users can easily extract whatever they need from the shed, no matter how large. The doors have windows, which is obviously a nice extra, and they have a space for a padlock for security.
Of course, the shed is made of resin plastic, so if someone really wanted to get in, they could use a razor knife to cut through a wall. So don't store the family jewels in the shed! But it is great for typical outdoor items.
Window Panel (7×7 Cascade Shed Only)
The 7×7 shed features a window on one wall. The design of this window is nice, as it can be moved to either side of the shed, depending on the needs of in your particular case. The window is a bit of a hassle to assemble and to put in place, however, so beware.
What Can You Fit into the Cascade Storage Sheds?
The 7×7 Cascade shed can easily fit (not at the same time!):
4 adult bicycles
A motorcycle placed at an angle
A riding lawn mower and yard tools
A snow blower with plant potting materials
Potting equipment, soil, a potting table, etc.
The 7×4 Cascade storage shed can easily fit (not at the same time):
A couple of adult bicycles mounted vertically
A push mower and lawn tools
A snow blower with tools
Potting equipment, soil, etc.
For some ideas on how to organize and maintain your storage shed, see here.
Foundation and Assembly
The shed assembly is the easy part.
The Suncast Resin Storage Shed goes together fairly easily and can be assembled by two people in approximately half a day. It requires no special tools and is not difficult assuming some practice building IKEA style furniture, etc.
The foundation, however, is more difficult. You'll have a lot of digging to do and depending on if you want to construct a wood or a concrete foundation, some masonry or carpentry.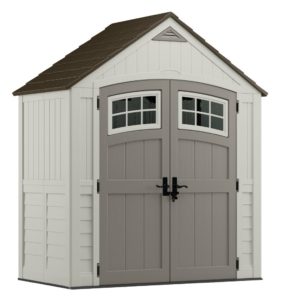 None of the tasks in the foundation assembly process are particularly difficult, but they require some muscle and some patience, so be prepared.
The shed assembly is the easy part.
Foundation Guidelines
In order to properly construct the shed, it is imperative that you have flat, even ground as a foundation. The panels will not line up correctly if you're building on uneven ground, and assembly will be a major headache.
Ideally, you'll want to keep the Suncast storage shed at 4″ above the surrounding grade, so that water will not shed into the shed!
Suncast recommends constructing either a concrete or wood foundation to be placed under the Sutton storage shed, and we have outlined the major tasks for building the foundation here.
Before You Start
Check your local building codes and Homeowners Association documents for shed location, should you plan on placing your shed near a lot corner. Some HOAs and towns require a minimum distance from lot corners for accessory buildings.
Call DigSafe or similar to locate any buried sewer/water/electrical/gas lines prior to commencing work.
Concrete Foundation
A concrete foundation will be the strongest and sturdiest foundation, and concrete is quite easy to get level and plum. However, it is more difficult to work with than wood and is obviously much heavier. To build a concrete foundation for your Shed, follow these steps.
Lay out the shed foundation location using iron rods or wooden stakes. Be sure the foundation extends 3″ p bed.ast the shed dimensions on all sides.
Remove all topsoil and clear the area inside the stakes using a shovel. Dig down at least 6″, and be sure that the entire area inside the stakes is level.

Try your best to make the ground slope away from the shed location, or if that is impossible, create a drainage swale around the shed in order to channel water away.

Once your area is level and square, drive the stakes in the ground until they are level with the top of the excavated area. Using plywood strips or 2x6s, tie the four points together with wood. Add more stakes around the run to ensure that the strips or 2x6s are straight.

If the excavated area is 6″ deep, you'll want the top of the stake to be 6″ up from the surface, or level with the ground around.

Add crushed gravel around the excavated area, and level it, so that it raises the grade of the whole area by 3″.

Check the gravel to ensure that it is level.

Lay a 6mil plastic vapor barrier over the gravel bed for moisture protection.
(Optional) lay wire mesh on top of the poly sheeting for additional strength. Be careful not to pierce the vapor barrier.
Mix concrete and water according to the manufacturers specifications. Use a wheelbarrow and shovel to mix, and pour evenly into the foundation hole. Level with a straight 2×4 across the foundation frame.

Rest the 2×4 across the frame so that it rests on both sides of the frame, and sweep back and forth to remove any excess concrete and create a level, even foundation.

Allow the concrete to cure for a few days, or preferably a week, prior to beginning construction of the storage shed.
Wood Foundation
A wood foundation is easier than a concrete foundation but still requires work. Essentially you excavate in a similar fashion to the concrete foundation, but only fill in with gravel, and not concrete. Then place a wood frame on top of the gravel, and anchor it to the ground.
Build your wood platform according to the shed dimensions and directions.

Important: Use only pressure treated wood rated for ground contact for the posts, joists, and plywood panels.

Place stakes in the area where you want your shed to be located, with 3″ of extra space on all sides. Check the stakes for level and squareness.
Excavate the area 4″-6″ deep using a shovel, removing any topsoil in order to get down to solid ground.

When possible, keep the shed above the surrounding grade so that water will shed away from the building.

Place 6mil poly sheeting along the bottom of the excavated area to create a vapor barrier. This helps protect against moisture intrusion.
Add crushed gravel across the foundation until it is level with the top of the excavated area. Ensure that the gravel is level across the whole area.
Place and anchor the wood foundation frame on the gravel, and begin to construct your shed.
Shed Assembly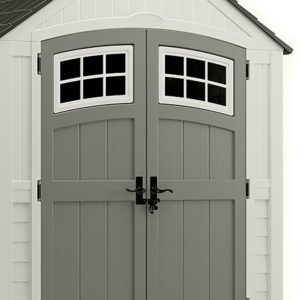 You definitely need two people to assemble this shed and be prepared for some work, as there are perhaps 200 screws to be installed. Suncast does not recommend using a power drill, as these can strip the screw when going into the resin. If you do end up using a power drill, choose one that can adjust the drive power, or be very gentle driving the screws in.
The most difficult parts of this shed assembly are the roof and the door parts. The way the windows attach to the door is awkward, and the roof panels are difficult to attach to each other, and to the frame, properly.
It is often quite helpful to take a look at the shed assembly manual prior to purchasing the product so that you can see what you're getting into, and get a sense for the quality of the instructions. You can find a link to the Suncast Cascade Instruction Manual here.
Tools Needed:
Safety glasses
Rubber mallet
Flash light
Two adjustable wrenches
Scissors
Gloves
3′ Level
Two ladders
Optional Accessories
Suncast sells a really cool loft shelf for their Cascade line of storage sheds. The BMSA2L Loft Shelf requires some effort to attach to the main unit, but once it is installed, the loft shelf makes for a vary space-efficient storage mechanism and is rather unique. For its price point, this is a pretty good choice for an add-on storage option.
Last update on 2021-05-01 / Affiliate links / Images from Amazon Product Advertising API
Suncast also sells a tool storage rack that mounts to the wall of the Cascade shed. The BMSA1S shelf system is also pretty well designed, but there are several shelf systems available that accomplish the same thing, so if the Suncast system doesn't completely fulfill your needs, don't be afraid to look elsewhere!
Last update on 2021-05-01 / Affiliate links / Images from Amazon Product Advertising API
The Bottom Line
The Suncast Cascade Storage Shed line is an outstanding line of storage sheds, with high-quality components, a relatively simple assembly process, attractive aesthetics, and a 10-year warranty. The 7×7 shed is very high quality, and once it is assembled, should keep your stuff protected for many years to come. The window is nice, and the double access doors are a great touch.
Last update on 2021-05-01 / Affiliate links / Images from Amazon Product Advertising API
The 7×4 Suncast Cascade Storage Shed is also quite nice, though obviously much smaller. Unless you simply cannot fit the 7'x7′ suncast cascade shed in your space, we would suggest springing for the larger model, given that the assembly process is nearly the same, and the cost is not much greater. The amount of storage is significantly larger, and the larger unit is much more useful.
Last update on 2021-05-01 / Affiliate links / Images from Amazon Product Advertising API
The bottom line is that both of these sheds are highly recommended, given their price and quality standpoints!
---