Best Tabletop Ethanol Fireplace
After many hours of research, examining all of the features of the best ventless tabletop fireplaces on the market, we have determined that the Ignis Tab is the best tabletop ethanol fireplace. Its beautiful simplicity is extremely compelling, and while it does not put out much heat, it does supply some heat and a ton of ambiance.
Additionally, the fact that the burner isn't huge means it doesn't burn through fuel so quickly, and its size means that it is easily portable. The sleek design and strong modern statement it makes is quite intriguing to us, and it will look great in virtually any environment. The price point Ignis hits with the Tab is a good one, and there is a lot of value here.
Last update on 2020-09-22 / Affiliate links / Images from Amazon Product Advertising API
For a thorough review of the Ignis Tab tabletop ventless fireplace, please see our Product Reviews section below.
---
Runner-Up: Best Free-Standing Ethanol Fireplace
Much larger and more imposing than the Ignis Tab is the Moda Flame Palermo H ventless free standing fireplace. The Palermo H uses a similar sculptural design to the Ignis Tab, with two tempered glass panels acting as the structure to the central reservoir and burner unit. But the Palermo H puts out significantly more heat than the Tab.
However, it is much bigger and heavier, making it less portable. If you're looking to use the ethanol fireplace for heat, this unit puts out a decent amount but is still only supplementary.
The cost difference is noticeable, though the unit is large.
Last update on 2020-09-22 / Affiliate links / Images from Amazon Product Advertising API
For those looking for a large unit, the Moda Flame Palermo H is one of the best bio-ethanol tabletop fireplaces available. See our detailed review in the Product Reviews section for more information.
Budget Pick: Ethanol Fireplace Heater
The Moda Flame Vigo is a great budget choice for a portable tabletop ethanol fireplace. The Vigo offers almost twice the heat output as the Ignis Tab in a similar scale unit, which is nice. However, it does not have the suspended glass panel design the Tab uses, and it does not create as much of a design statement.
It looks nice, but it is less likely to be a centerpiece than the Ignis Tab is.
For its price, the Vigo is a nice unit and is well built and sturdy. It is a good choice for those looking for a budget ventless ethanol fireplace.
Last update on 2020-09-22 / Affiliate links / Images from Amazon Product Advertising API
Please see our Product Reviews section for a detailed review of this tabletop ethanol fireplace.
---
Bio-Ethanol Tabletop Fire Reviews
This article looks in particular at tabletop ethanol fireplaces. These units typically sit on a table, on the ground, or on some sort of structure, and are not used as inserts. We'll start with a comparison table to get the lay of the land, and then go in detail into each unit.
After the product reviews, we have a buyer's guide that covers everything you need to know about these fireplaces.
Should you be interested in fireplace inserts, check out our ethanol fireplace insert guide here.
Preview
Top Choice!
Runner Up
Budget Pick
Top Choice!
Preview
Runner Up
Preview
Budget Pick
Preview
Preview
Preview
Last update on 2020-09-22 / Affiliate links / Images from Amazon Product Advertising API
---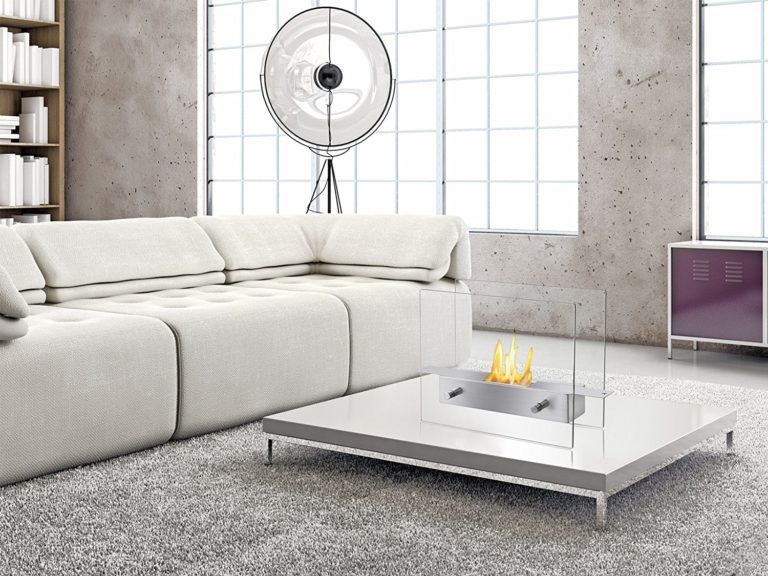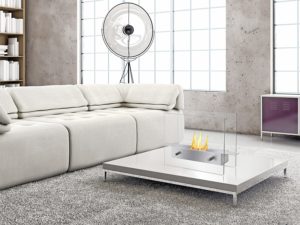 The Ignis Tab Tabletop Ventless Ethanol Fireplace is an attractive freestanding tabletop fireplace with a sleek design, with the stainless steel burner and fuel reservoir suspended between two tempered glass panels.
This unit only comes in brushed stainless, but it is quite beautiful and modern.
Dimensions and Capacity
Length: 13.9″
Width: 4.5″
Height: 11″
Fuel Reservoir Capacity: 0.7L
BTU: 2,000
Est. Fuel Time:
The Details
The Ignis Tab tabletop ventless ethanol fireplace is pretty and produces a lovely ambiance, but it does not put out a whole lot of heat. At 2,000 BTU, it will heat an average insulated room of 10′ x 10′ x 10′ about 10 degrees. It is mostly for looks, and it looks quite nice.
The flame on this unit is adjustable; simply slide the two tabs to close off the opening somewhat and restrict the airflow. This will drop the flame height down a bit, but regardless, the flames will occasionally, but not frequently, crest the top of the glass panels.
Ignis recommends you use their branded ethanol fuel with this unit. Fuel is inserted into the reservoir using a funnel until the Max Fill line is reached. From there, light the flame, and you're good to go. To snuff out the flame, the included damper will extinguish the flame simply by placing it on the burner area.
The Bottom Line
The Ignis Tab is another solid ventless tabletop fireplace. It is interesting to look at, with its modern lines and dancing flame, and it does supply a bit of heat.
However, we would suggest thinking of it as a really pretty candle than a heating unit. It is easily portable and works both indoors and out. The Tab is a very nice unit, in the end.
Last update on 2020-09-22 / Affiliate links / Images from Amazon Product Advertising API
---
The Moda Flame Palermo H shaped fireplace is a larger version of the suspended design found on a few other fireplaces on this list. The Palermo H features a black reservoir top, with 430 stainless steel sides, and is quite striking. Two tempered glass panels act as supports for the suspended steel reservoir and burner in between.
Dimensions and Capacity
Length: 31.5″
Width: 11.8″
Height: 23.6″
Fuel Reservoir Capacity: 1.5L
BTU: 6,000
Est. Fuel Time: 3-4 Hours
The Details
The Palermo H Bio-Ethanol Fireplace is a much more substantial unit than most of the other pieces on this list. It offers a larger burner capacity and outputs 6,000 BTU of heat. This is still in the supplementary heating territory, but the Palermo will heat a 20′ x 20′ x 10′ room insulated to average conditions 12 degrees.
It is also much longer than the other units, at 31.5″, and may be suited more for floor or accent table use, rather than traditional tabletop use. It depends on the size of the tabletop, though!
This unit is still portable and weighs about 40 lbs. It is movable, but certainly much less portable than the other units on our list.
Moda Flame recommends you use their branded fuel with this unit.
The Bottom Line
The Moda Flame Palermo H is a nice unit, that puts out a decent flame, and is quite attractive and functional. It supplies some heat and gives an interesting, modern look to the room in which it is placed.
It works both indoors and outdoors, though if you plan on using it outdoors, we do not recommend leaving it outside, as the metal can be damaged by the weather. Additionally, it can be heavy, and it should not be moved when hot.
Overall, we quite like this unit, and it works as both a tabletop unit for a large table or as a floor fireplace.
Sale
Last update on 2020-09-22 / Affiliate links / Images from Amazon Product Advertising API
---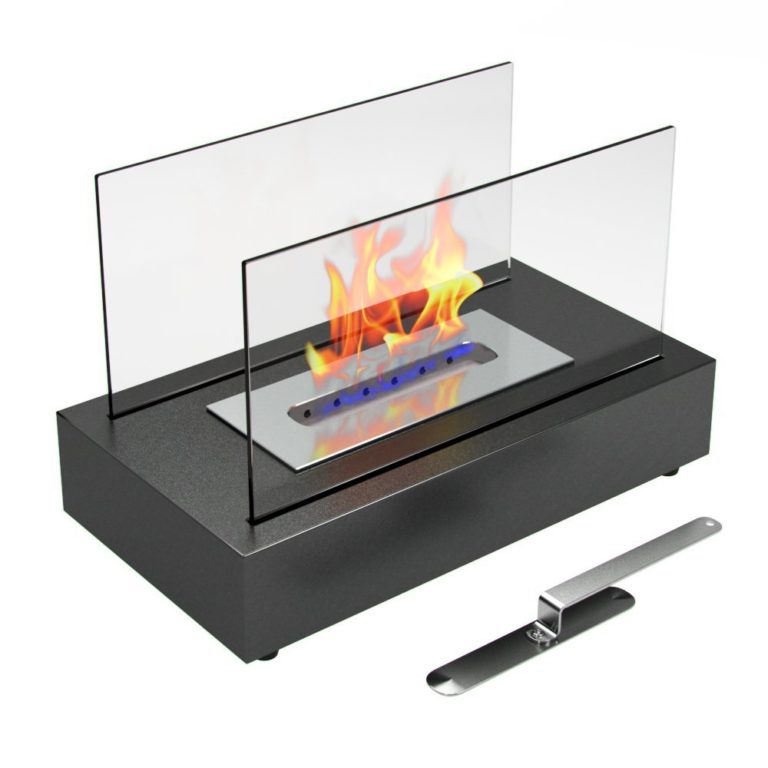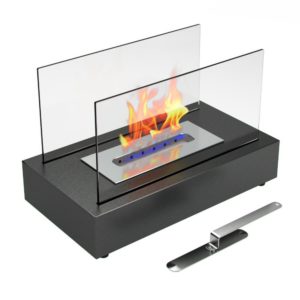 The Moda Flame Vigo ventless table top ethanol fireplace comes in three color options: white, black, and stainless steel. None of these colors are particularly daring, but all of them look nice!
The Moda Flame Vigo is light and easy to move, and can be placed on your hearth to replace your existing fireplace, or really anywhere at all to create a small, but pleasant, fire feature.
Dimensions and Capacity
Length: 13.97″
Width: 8″
Height: 7″
Weight: 6.6 lbs
Fuel Reservoir Capacity: 0.5L
Heat Output: 3,900 BTU
Est. Fuel Time: 2 hours
The Details
The glass comes detached and gets inserted into the slot. The glass is optional, but we suggest it is used unless the Vigo will be in a location unlikely to be bumped or otherwise jostled.
The Vigo puts out 3,900 BTU of heat. This is not an enormous amount of heat, but it will serve to augment a traditional heating system quite nicely.
To give a sense of the amount of heat put out, our calculator suggests that the Vigo will heat up a 15′ x 10′ x 10′ room, insulated to average conditions, by about 15 degrees.
Unlike the fireplace insert units, the housing of the Moda Flame Vigo tabletop unit will not get hot, so you can place it right on a table, or wood floor, or in any environment, and you will not need to be concerned about it scorching or damaging its surroundings (unless you knock it over while lit!).
The glass does get warm, but the base unit itself does not increase in heat much. You may not want to put it directly on a tablecloth, but putting it on a wooden slab should be fine.
Moda Flame recommends you use only their branded fuel with the Vigo fireplace. Fuel is not included with the unit. When filling the Vigo, keep an eye out for the metal square tab around the center of the opening.
Using a funnel, pour the fuel into the reservoir until the level reaches that tab. The tab is the identifier as to when the unit is full.
The Bottom Line
The Moda Flame Vigo is a simple, well designed, modern minimal fireplace, and is a novel item for a mantle, a table setting, or just general use to help create ambiance.
There are no logos, branding, or other textual items to break up the sleek look of the Vigo fireplace, which we very much appreciate.
It can be used indoors or out, produces a beautiful flame, and even supplies a bit of heat. It is easy to operate, built well, doesn't get hot, and can go pretty much anywhere.
Last update on 2020-09-22 / Affiliate links / Images from Amazon Product Advertising API
---
The Nu-Flame Irradia Tabletop Fireplace has tempered glass sides that extend down below the bottom of the flame housing/fuel reservoir, creating an interesting floating quality to this piece. It must be used in conjunction with the glass, as the central unit does get hot, and the glass allows it to sit far enough from a table that no harm is done.
The Irradia comes in two designs, either black housing with a stainless steel top or an all stainless steel housing.
Dimensions and Capacity
Length: 13.8″
Width: 4.3″
Height: 11.8″
Fuel Reservoir Capacity: 0.8L
BTU: 3,000 BTU
Est. Fuel Time: 2 Hours
The Details
The Nu-Flame Irradia tabletop fireplace is sturdy. It's fairly easy to move around from place to place when needed (note: do not move this while lit or hot!).
You can just grab the housing area, and do not need to touch the sides, so you can keep fingerprints off of the glass.
The Irradia features 3,000 BTU of heating power, which is not terribly high but still does supply a little heat. It should heat up a 15′ x 10′ x 10′ room, insulated to average conditions, by about 10 degrees.
Nu-Flame recommends you use only their branded Ethanol fuel, which is not included with the fireplace. A snuffer is included for when you are ready to extinguish the fire, though unspent ethanol will evaporate quickly, so try not to leave much excess fuel in the unit.
The Bottom Line
There are no logos, text, or other branding identifiers on this fireplace, which is good. One issue is that Nu-Flame branded ethanol is less common than some of the other brands' of ethanol.
Each company says their ethanol is best, but we are skeptical that there is a huge difference between them.
The Irradia is sleek, minimal, and elegant. The Nu-Flame Irradia is a nice product and works as designed. It does not put out a ton of heat, but it makes a statement wherever it is used.
Nu-Flame Irradia Tabletop Fireplace (NF-T2IRA)
All Nu-Flame fireplace feature tempered glass for safety
.0.8-Liter capacity burner
Quality heavy stainless steel linear burner
Ships with snuffer tool
Burns clean liquid nu-flame bio-ethanol fuel
Last update on 2020-09-22 / Affiliate links / Images from Amazon Product Advertising API
---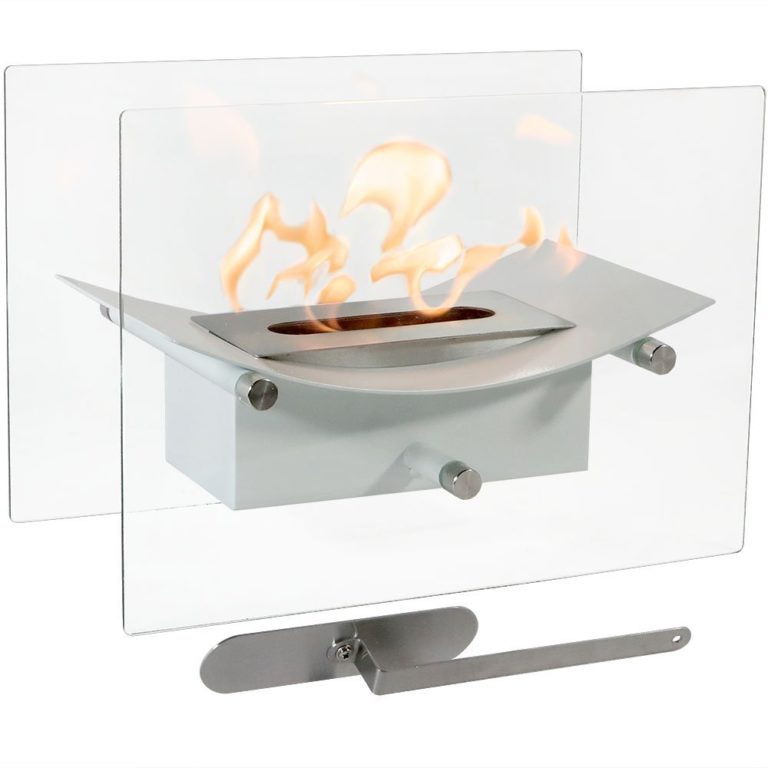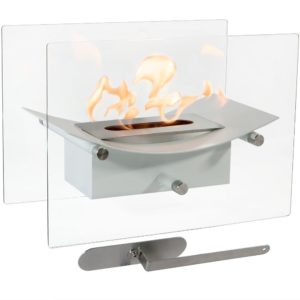 The Sunnydaze Zen Ventless Tabletop Bio Ethanol Fireplace is a uniquely-shaped unit, with two tempered glass panels and a reservoir with a curved top suspended between.
It is available in two colors, white and black, and is made of stainless steel.
Dimensions and Capacity
Length: 14″
Width: 7.5″
Height: 10″
Fuel Reservoir Capacity: 0.5L
BTU: 2,000
Est. Fuel Time: 1-2 Hours
The Details
The Sunnydaze Zen looks nice, but only outputs about 2,000 BTU of heat. This unit is really just for looks, and to give a sense of the quantity of heat it expels, it would heat a 10′ x 10′ x 10′ room, insulated to average conditions, 10 degrees.
The Zen uses a ceramic wick, which is built into the reservoir and should not be removed. Also included is a snuffer tool to allow for the flame to be easily extinguished.
If possible, don't leave excess fuel in the reservoir, as it will evaporate. There is a mark on the side that shows the Max Fill line, and users should be sure not to fill the reservoir over that line.
Sunnydaze does not have its own line of Ethanol fuel and does not recommend any particular brand of fuel, so use what you prefer.
The Bottom Line
The Sunnydaze Zen leans a bit more contemporary than modern, with its curved reservoir cover. It is interesting looking, and the suspended design of the glass panels is striking.
One nice feature of the Sunnydaze Zen is the 1-year warranty offered by Sunnydaze. Most of these units don't feature a warranty beyond the 30 day return period offered by Amazon, and we certainly take warranties into account when considering the products we rate!
Last update on 2020-09-22 / Affiliate links / Images from Amazon Product Advertising API
---
Tabletop Ethanol Fireplace Buyer's Guide
A fireplace on your tabletop. It's an unusual idea, but these tabletop fireplace units have become quite popular over the last several years. With product designers going wild and making designs that range from pretty "standard", modern fireplaces to strange sculptures, there is now a great deal to choose from.
Ethanol fireplaces are easier to work with with than traditional fireplaces, and don't involve all of the effort that is commonly performed by those who have wood-burning fireplaces.
Ethanol fireplaces are easier to work with than traditional fireplaces and don't involve all of the effort that is commonly performed by those who have wood-burning fireplaces.
No need to purchase wood (or chop down your backyard!), and no need to cut it up. No worries about seasoning the wood, and no concerns about bugs and other critters coming inside with your logs.
No worries struggling to get the fire lit, and no cleaning up of ash, either!
Traditional fireplaces can feel more like work than leisure, and there's a lot involved before that fire gets lit. Ethanol fireplaces are easy.
Many people's houses aren't configured to have a wood or natural gas burning fireplace, and the cost of running gas lines or building masonry chimneys can easily run into the thousands or tens of thousands of dollars!
Renters can't install most fireplaces in their units, and even if they do, once a traditional fireplace is installed, it can't be removed. And then there are the safety checks, and repairs can be quite costly!
The good news is that ethanol fireplaces are the answer to all of these issues. These new entrants into the fireplace market, (also known as eco fireplaces, alcohol fireplaces, and bio-ethanol fireplaces), come in a huge array of designs and setups, from the traditional to the expressive to the completely abstract and sculptural.
There is no need for any special ventilation for bioethanol burners, and no construction work needs to be done. Nothing to do except confirm that you have some bioethanol fuel available.
Ethanol is a clean-burning, environmentally friendly, and, in the right setup, can look super stylish.
If you are looking for general outdoor heating ideas, be sure to check out our outdoor patio heating mega guide!
---
Benefits of an Ethanol Fireplace
Environmental Friendliness
Ethanol is… one of the most environmentally friendly ways of providing heat in a room or house
Ethanol is a renewable resource, and is one of the most environmentally friendly ways of providing heat in a room or house. Though biofuel fireplaces are not usually used as primary heating systems when you're using your tabletop ethanol fireplace, you will be taking some of the heating stress off of your traditional oil burner, or gas burner, or other system.
The standard fossil fuel-using system will be used less, and the ethanol fireplace can provide that little oomph to get the heat into the room as needed.
Simplicity
As these units are table top, vent-free, and burn completely and cleanly, they are the simplest way to get a fire feature into your patio, living room, or bedroom. No need for any plumbers, HVAC techs, electricians, or masons. You can get a beautiful fire just by putting the box on the table, and lighting it up!
Efficiency
Bio-ethanol fuel is clean burning, and the only outputs are water vapor and carbon dioxide. The fuel burns efficiently and with no harmful byproducts.
Also, unlike traditional wood fireplaces or natural gas fireplaces, there is no flue for heat to escape the building. All of the heat produced by the flame stays in the room (well, when you're using the fireplace outside, the heat stays outside!).
Warmth
Ethanol fireplaces provide heat, warmth, and ambiance. Whether you're looking to warm a room or to simply warm the spirits of you and your guests, an ethanol fireplace can do what you need!
---
Heat Output
Ethanol fireplaces usually do not output as much heat as traditional wood-burning fireplaces or wood stoves produce.
However, they can still supply a decent amount of heat, and can certainly get a room to be cozy, and can warm the hearts of those around the fireplace.
The amount of heat an alcohol fireplace can produce is dependent on a variety of circumstances, such as the ambient room temperature, the quality of the fuel chosen, the insulation characteristics of the room, the size and height of the room, etc.
Depending on the amount of BTUs the burner can expel, these fireplaces can certainly heat up a good sized room (though largely as a supplement, as opposed to primary heating). Further down this buyer's guide, we discuss how to determine the right size unit for your needs.
---
Portability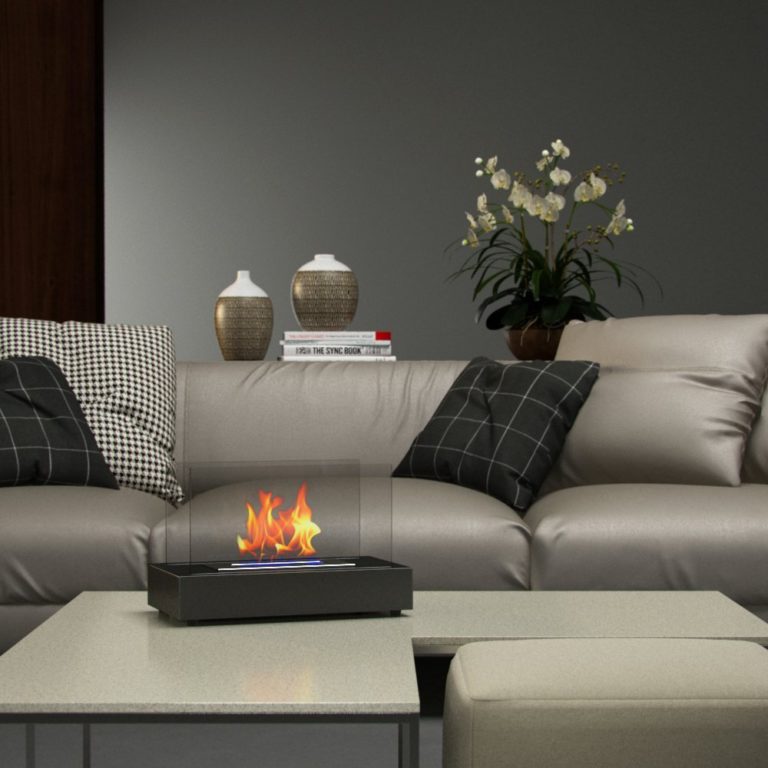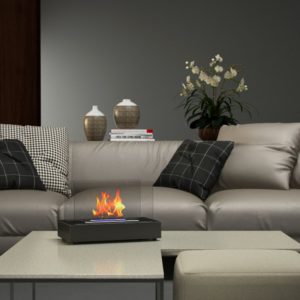 Tabletop ethanol fireplaces are easily portable, and can function in a variety of areas! They require no electricity, no fixed plumbing, and no ventilation, so you can take your eco fireplace anywhere.
You could even bring your fireplace to work and set it down on your desk. Just make sure you don't have many papers nearby!
Should you wish to use your ethanol fireplace outdoors (and we certainly recommend you do. It's our focus) you should carefully monitor weather, and carefully consider the placement of the ethanol burner.
These fireplaces are not designed to withstand rain or snow, and the housing can easily get damaged by water. You also need to worry about the fuel getting contaminated with rainwater when the rain comes.
Mixing water with the ethanol fuel will not help burning!
Finally, be sure that no flammable objects are placed in close proximity to the fireplace when it is outdoors. Wind gusts can really blow the flames around, and you need to be sure that nothing nearby can get singed or catch fire
---
Determine Your Tabletop Fireplace Needs
You should start by thinking about if you are looking for a fireplace primarily for aesthetic purposes, or if you really need one for heating purposes.
Should you intend to use a fireplace to supply a good amount of heat, we will cover how to calculate a rough approximation of the heating output you will want.
Aesthetics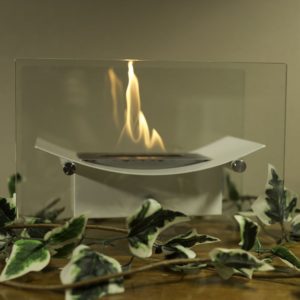 Most people who use fireplaces are looking primarily for aesthetics. Given that many people have a primary heating system, be it oil, gas, or propane, the fireplace is mostly used for looks, and to supply a warm coziness to those nearby.
If this is your case, you can probably look for a smaller BTU unit, one that is more fuel efficient, and won't cost quite so much to operate.
Calculating Heat Output and Room Sizing
Should you want a fireplace to produce some heat, perhaps to help compensate in a drafty room, enclosed patio, or unheated attic space, you'll probably want to look at one of the larger ethanol burners, with at least 10,000 BTU of power.
Depending on the room size and configuration you're working with, these will often. In our reviews, we try to give an idea of the appropriate room size for each unit.
This super useful BTU calculator will show you how much heat these will be needed to heat a given room size, and will give you an idea of the size you'll want for your ethanol heater.
Sample Room Calculation
Let us look at a sample room to give some context to the heating question. Let us imagine a room that is 10′ x 10′ x 10′ high, and is insulated to average conditions. To raise the temperature of that room by 20 degrees, you would need 4,000 BTUs of heat per hour.
Price
Price is always a consideration when making a purchase, and that is the case here. The more stylish, large, and powerful tabletop ethanol fireplaces generally cost more than the smaller ones. However, even the more expensive ones are often a bargain compared to building a masonry fireplace, or even having a plumber connect up a new natural gas fireplace!
The most expensive ethanol fireplace may still be a bargain, because there is no labor cost involved, and they can be used in multiple locations.
Tabletop units can vary in price from under $100 to into the thousands, though most of the units in our list today are under $500.
Safety
When dealing with fire, safety is incredibly important! You want to consider build quality and safety concerns of all fireplaces. You don't want to mess with poorly built fireplaces.
Stick to reputable manufacturers for your ethanol fireplace (note: all of the fireplaces we cover in our Product Review section are by reputable manufacturers), and you follow the manufacturer's instructions as you use it.
Inspect your fireplace from time to time to ensure that it is functioning properly, with no holes, obstructions, or surprises that shouldn't be there. Fill the unit with the appropriate fuel, according to the manufacturer's instructions, and do not fill it while the burner is going or while the housing itself is still hot.
Be cautious and do not spill the ethanol, as the ignition of spilled fuel could cause a major fire, and result in great damage to property and persons.
Children and Pets
For safety, if you have children or pets, a tabletop fireplace with glass panels may be a good choice, though even those glass panels can get quite hot!
Many of these fireplaces can be placed on a tabletop or on the floor, or hung on a wall within reach of children or pets.
Make absolutely sure that the little ones understand that these items are not to be played with, and be sure that kids and pets are monitored while they near these units.
Bumping the fireplace, turning it over and spilling fuel (even when shut off), and damaging the fireplace may cause a leak or other hazard.
For safety, if you have children or pets, a tabletop fireplace with glass panels may be a good choice, though even those glass panels can get quite hot!
Ethanol fuel is alcohol, and as such, can be drunk. It will make you drunk, too! Ethanol is not methanol, which can blind or kill those that drink it, but users should not in any way try to drink ethanol fuel.
It is typically mixed with a bittering agent to make it taste bad, but we want users to be aware that their fuel is not mean to be swallowed, and could be harmful.
Air Quality
Bio-ethanol fireplaces are clean burning fire features, but you should always be aware of the air quality in the room you've got a fire in (even with wood and LP gas fireplaces, this is a concern).
If you are in a small room with poor air flow and a great deal of insulation, you should open a door or window to allow air to flow into the space.
Bath vents, kitchen vent hoods, or other fans may be a good idea to help circulate fresh are into the house and keep the fire burning well, as well as keep the air quality up to par. If the airflow is poor, combustion may be incomplete, resulting in the production of chemicals other than water and carbon dioxide, and a flame that is not as dazzling as it should be.
Should you feel any dizziness, headache, wooziness, or discomfort while using an ethanol burning fireplace, immediately open the windows and get some fresh air.
Shut down the fire, and leave the room or go outside. Once you are feeling better, diagnose the problem and remedy the situation.
Unit Placement
Ethanol fireplaces can go anywhere.
Ethanol fireplaces can go anywhere. While this article focuses on inserts, there are both wall mounted and tabletop units that can be placed almost anywhere, and the insert units can be used as tabletop units.
However, you need to be aware of these units in the environment when they are on! Be sure they are not in a place where they could be bumped or otherwise tip over and spill, and make sure nothing flammable is nearby when the fire is lit.
Proper Fueling Technique
It is best to use a funnel to fuel most alcohol burning fireplaces. The use of a funnel will ensure that the bioethanol fuel goes into the fuel tank and that no flammable material spills out into the environment.
Of course, we always recommend you follow the manufacturer's instructions when it comes to filling the unit and using proper ethanol for fireplaces, but in general, it is wise to use a funnel.
Last update on 2020-09-22 / Affiliate links / Images from Amazon Product Advertising API
If possible, fill this unit on a protected surface, such as ceramic tile or natural stone. That way, any spills will not damage the surface below.
Clean up spills as quickly as possible, and if you do have a significant spill, remember it is the ethanol vapors that ignite, not the liquid, so be sure to wait a little while for the vapors of the spilled ethanol to dissipate from the environment before you light your fireplace.
Igniting a Tabletop Ethanol Fireplace
Once you have filled the ethanol fireplace to the appropriate level and ensured that no excess fuel has spilled or otherwise escaped into the surrounding environment, its time to light the flame.
Using a long-stemmed lighter (the kind commonly used to light candles), trigger the lighter, and bring the flame down to the center of the opening of the unit.
You do not need to insert the flame into the liquid, simply hold it over the opening and the fire will ignite.
Occasionally when ignition starts, there may be a surprising "POP!"
Occasionally when ignition starts, there may be a surprising "POP!" or other flash and noise that starts things off.
Don't be surprised if this happens, and as long as there hasn't been any liquid spilled, there should be no concern or danger associated with the sound.
Snuffing Out the Flame
Most of the units on our list today include a snuffer or other mechanism to extinguish the flame when it is time to shut the unit down.
For the most part, these snuffers simply are placed on the flame opening, and the snuffer deprives the flame of oxygen, extinguishing the flame. Excess fuel in the reservoir may begin to evaporate at that point (see our item on evaporation below).
Proper Mounting and Setup
Make sure that your fireplace is properly set up and mounted before lighting it. If it is not correctly seated, it could collapse, fall off of a wall (in the case of a wall mounted fireplace), or otherwise tumble, resulting in the possibility of puncture of the fuel tank, or other significant hazards.
Additionally, the frames of these units can get quite hot and can radiate a significant amount of heat. Tabletop units are designed to be put on a table without any additional fireproofing, so generally, these units are safe to use as is.
But should you plan on building a tabletop unit into a structure, consider that the housing will get hot.
Follow the manufacturer instructions for mounting and setup before use.
Ethanol Fireplace Fire Glass
Many people shopping for ethanol fireplaces are curious if fire glass is compatible with ethanol fireplaces. Commonly fire glass is used with propane and LP gas flames, and while fire glass can work with ethanol fireplace, most manufacturers recommend it not be used, for two reasons.
The first reason is that fire glass can get into the area that should normally be covered by the snuffer, and can make it impossible to snuff the fire out properly in an emergency.
The second reason is that fire glass could fall into the reservoir, which is not recommended.
Check your individual fireplace to confirm if it's safe to use fire glass with your unit.
Fire Extinguishers
You should have a fire extinguisher on hand at all times, in case of emergency (even if you don't have an ethanol fireplace!). You should also be sure you know how to use it, so inspect it and read the instructions.
You don't want to be trying to figure out how to get the fire extinguisher started while Senor Fluffy the Chihuahua is being engulfed in flames, so get comfortable using a fire extinguisher before you start that first fire!
Product Quality
Most ethanol fireplaces are built to international quality standards, but it's always wise to consider the quality of individual units and manufacturers.
All of the units reviewed in our Product Reviews section are by reputable brands. Should you find a fireplace you love by a brand you're unfamiliar with, please do some research on the brand before purchase.
Evaporation
We recommend not leaving excess fuel in a bio-ethanol fireplace if it can be avoided.
Evaporation of fuel is a circumstance many different ethanol fireplaces must deal with.
If you fill an ethanol fireplace with a significant amount of fuel and then proceed to only burn off a small amount and leave the rest in the fuel reservoir, in most units the fuel will slowly evaporate, even when closed.
If the fireplace is left outdoors, the evaporation will occur at a more rapid rate than if it is inside, so don't waste your money over-filling the fireplace and letting all the fuel dissipate.
Generally, we recommend not leaving excess fuel in a bio-ethanol fireplace if it can be avoided.
---
Ethanol as a Fuel Source
Bioethanol fuel is a fully liquid fuel and is not exactly the same as gel fuel commonly found in cans. Gel fuels have added thickeners that can reduce fuel efficiency and heat output relative to pure bioethanol.
Bioethanol is a purer fuel source, is completely renewable, environmentally friendly, and produces no outputs other than water vapor and CO2.
Bio-ethanol alcohol fuels are mixed with a bittering agent to make them taste bad, so as to prevent people from imbibing them, children from drinking them, etc and getting sick.
Environmental Friendliness
Bio-ethanol is ethyl alcohol and is made by yeast fermenting crop waste, and silage. These waste products and extra greenery are mixed together in order to make an alcohol solution, which ends up being a renewable resource.
The waste products of corn, switchgrass, wheat, hemp, potato, soybeans, etc., get mixed into a slurry and fermented in large vats. Agricultural waste products find a second life as a fuel source, and allow users of ethanol fireplaces to heat their spaces without using harmful chemicals, or fossil fuels.
Using the cellulose fibers to produce ethanol fuel means that farmers aren't fermenting actual food crops, but rather the waste products of those crops.
Outputs of Burning
When burned in an oxygen-rich environment (which most normal rooms should have), the only outputs of burning ethanol fuel are water and carbon dioxide. The fuel should produce no odors, no harmful chemicals, no carbon monoxide, etc.
However, we do recommend you ensure that the fuel you burn is the correct fuel for your unit. Each manufacturer recommends their own fuel for their units.
Other Sources of Ethanol
Each manufacturer identifies the fuel recommended for a fireplace
One of the concerns about ethanol as a fireplace fuel is the cost of the fuel, especially if you use your fireplace frequently.
Each manufacturer identifies the fuel recommended for a fireplace, and we link to the recommended fuel for each table top fireplace in our Reviews section. However, there's generally no need to stick to an individual recommendation, and the fuels are compatible. Click here to see the best ethanol fuels.
That said, Denatured Alcohol, which is commonly found in hardware stores relatively inexpensively, is essentially the same product as these more expensive branded fuels.
We can't recommend that you use denatured alcohol as a fuel (and certainly do not recommend that you use Everclear, vodka, rubbing alcohol, or other ethanol product!) but should you find yourself without fuel, and see denatured alcohol at the hardware store… well…
Enough said.
---