Teak Porch Swing! Reviews and Information
WholesaleTeak 4.5′ Porch Patio Swing
. This unit is quite attractive, hits a nice price point, and has an optional Sunbrella cushion set available in a plethora of color choices!
You will need to pick up some rope and porch roof mounting brackets, but installation is pretty simple, and the WholesaleTeak porch swing will provide a pleasant refuge for sleeping, reading, and conversation. WholesaleTeak's customer service is excellent, and they even custom make the Sunbrella cushions to order!
For a complete review of this porch swing, please check out our Product Reviews section below.
Runner Up Awesome But Expensive Teak Porch Swing Bed
If money is no object, head right over to the
Porch Company's Craftsman Teak Porch Bed Swing
. This Porch Bed Swing is absolutely stunning, with Pinterest and Instagram written all over it. The Bed Swing has two configurations, a sleeping configuration and a sitting configuration. Depending on what you want to do, you simply move the back of the bench to facilitate sleeping or sitting.
The twin sized mattress is not included, nor are the ropes to hang the unit. The price tag is high, but these steel framed teak bed swings are the real deal.
For a complete review, check out our Product Reviews section below.
Teak Porch Swings Product Reviews
Here we look at several different teak porch swing options, examine the primary features, and compare them.
The Teak Porch Garden Swing by WholesaleTeak is a beautiful, simple teak porch bench with graceful curved arm rests and a simple slat design. It is capable of seating two people comfortably, and will gently swing on your porch. The teak wood is lovely, and is finished with a light sealer. It will look gorgeous on your patio, on your balcony, or on your front porch.
This unit is sold with or without Sunbrella fabric cushions. Shown here with cushions.
Dimensions and Specs
Length: 56″
Width: 25″
Height: 24″
Weight Capacity: 550lbs
Weight: 64lbs
The Details
The WholesaleTeak porch swing bench is a compelling choice for a teak swing, whether the cushion is included or not. The teak wood is sustainably harvested from Indonesia, and is of premium grade. It is sealed, and will weather to a silver gray finish if you choose not to further treat it.
The teak used in this bench is high quality, and the overall construction method is mortise and tenon — the Old Way. The bench is largely held together with dowels and glue, though there is some hardware on this bench. Unfortunately, the hardware isn't stainless steel, so it will rust over time if it is out in the elements. You may need to replace it in the future.
You'll want a clearance around this bench of about 36″ in the front, to accommodate your legs sticking out, and about 24″ in the back to ensure that the bench doesn't crash into the back wall. This bench is not to be used as a playground swing!
No chains or ropes are included with the WholesaleTeak patio swing bench, but the metal loops to attach the rope/chain are provided. You'll need to pick up some chain or rope yourself. We recommend rope, about 1.5″ thick, as it has a much nicer feel, sound, and sensation than chain.
An optional Sunbrella cushion is available, and for the price of the cushion, we suggest going for it. The Sunbrella fabric is beautiful, and many different colors are available. The chart here shows just some of the myrid fabrics Sunbrella makes.  To choose the color, simply order the standard unit and then email WholesaleTeak through Amazon after purchase with the actual color you desire.
The cushion is 2.5″ thick, and the Sunbrella acrylic fabric is the highest quality outdoor fabric brand around.
Assembly and Care
This Teak Porch Swing requires some assembly, but is not terribly difficult to get together. The panels are largely already assembled, and you just need to put everything together and hang it.
The WholesaleTeak Patio Swing Bench can be suspended from a tree, or from a roof. If you're attaching to a porch roof, be sure to pick up some Porch Swing Hangars to suspend these teak porch swings properly. Be sure that the hangars are capable of holding at least 500 lbs, and follow the installation instructions carefully.
The teak is sealed a natural color, but over time will weather to a beautiful silver gray finish, and perhaps beyond to a blacker color. If you like the natural look, you don't need to do anything to the bench, but if you prefer to keep the original golden honey color, you'll need to re-seal and protect the finish. See the Teak Care section for more information.
The Bottom Line
The WarehouseTeak patio bench swing is a great choice for a smaller bench swing, with or without the Sunbrella cushions. If you're not looking for a three person bench, this teak patio swing bench is a great choice and will bring you to a calm, relaxed place in no time.
WarehouseTeak provides excellent customer service, and we love that the cushions are done by hand to order. These are excellent teak swings.
Set your Instagram filters to Amaro and climb onto the Porch Company's Teak Craftsman Bed Swing. This luxury porch swing is breathtaking, with ropes holding a steel frame attached to a teak bench that converts to a swinging bed. How Cool!
The Craftsman Teak porch swing bed is perfect for those Instagram moments on the porch at dusk with friends, or for lounging on a windy fall day with a book in hand, ready for a snooze.
Dimensions and Specs
Frame Length: 82.5″
Frame Width: 39.75″
Shipping Weight: 150lbs
Maximum Mattress Thickness: 7″
Maximum Weight Capacity: 500 lbs (total)
The Details
These Porch swings are made to fit a 6″ thick twin mattress (not included), and are designed to function in two setups: as a twin bed, and as a chair. The back rest of the Porch Swing Chair moves to create a comfortable sitting position and a comfortable snoozing position, depending on your needs.
The structure is made of steel for strength and durability, and the steel is covered by a teak porch swing design. The teak has been sealed, and has a beautiful finish.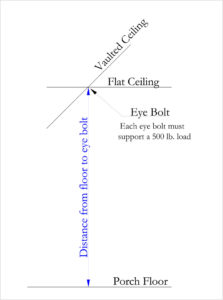 The rope for this swing is not included, so you'll need to pick up a rope kit. The Porch Company has a handy chart that shows how to measure the rope length to get the porch swing bed in the position you desire.
Depending on the design you want, you can choose either a two point system or a four point system for mounting the rope. The two point system provides more of a swinging motion, while the four point system gives a gliding sensation. Additionally, the four point system will allow the porch swing bed to be placed closer to a wall, since it won't need as much clearance.
The eye bolts that insert into the ceiling must be capable of supporting a 500lb load each, and must be installed into a rafter or ceiling joist.
The Porch Company has created a little video that covers the major points on their Teak Porch Swing system.
Assembly and Care
Assembly of the Porch Company's Porch Swing Bed is not terribly difficult, and essentially involves bolting the metal frame pieces together, and installing the Teak panels around to create the bench.
You'll then have to get a mattress for the unit. Be sure it's not over 7″ in thickness so that the seat back can move over the mattress freely, and try to find a comfortable mattress, as you'll probably be using this porch bed bench quite a bit!
Depending on if you leave this porch bed swing inside or outside, you may need to re-seal the teak wood on an annual basis, as it will morph from the classic golden color to a soft silver gray over time when exposed to sunlight and rain. See our Teak Care section for more information.
The Bottom Line
The Porch Company Craftsman Teak Porch Bed Swing is really an awesome porch bench and bed, and would look great in many environments. It is, however, very expensive, so beware. Still, the Craftsman Teak Porch Swing is a statement piece, and in the right environment, will simply complete the porch.
The TS50 Teak Porch Swing by All Things Cedar is a simple, modern porch swing with delicate accents and straight lines. It will fit in virtually any porch or patio environment, from modern to Craftsman to Victorian to Transitional.
The TS50 is available with no cushions at all for those who like things simple, or with one of four different cushion color options. The patio swing bench is shown here with the blue cushions.
Dimensions and Specs
Length: 54″
Width: 22″
Height: 26″
Weight: 76lbs
Weight Capacity: 500lbs
The Details
The All Things Cedar Teak Porch Swing is a great option for those looking for a simple, high quality swing bench at a not-too-crazy price. Made with solid teak from Indonesia, and finished with a natural sealer, this piece looks beautiful. The bench is finished with brass hardware for an elegant, classic look.
These teak porch swings come with the ropes included, which is a great help. Two 14′ heavy double braided ropes are provided, which are used to suspend the porch swing bench from the roof.
Assembly and Care
Assembly of the TS50 Teak Porch Swing is a bit of a pain, as the instructions are not great. Fortunately, there aren't an endless number of parts, and as long as you keep your eye on the finished photo, you should be ok.
You will need some Porch Swing Hangars to suspend these teak porch swings properly. Be sure that the hangars are capable of holding at least 500 lbs, and follow the installation instructions carefully.
The teak wood comes pre-sealed, so there shouldn't be any significant treatments required for about a year, depending on UV exposure. After about a year, teak should be re-sealed or it will drift to a silver gray color, and gradually move toward black. See our Teak Care section for more information on how to properly take care of this beautiful teak wood swing.
The Bottom Line
The TS50 Teak Porch Swings are very nice porch swings with a modern mission look. These units will last for years if properly cared for. They will look beautiful, and provide a comforting refuge on the porch or veranda. With the supplied rope, and optional cushions, you'll be gliding and swinging in classic comfort in no time!
The WholesaleTeak line of teak porch swings come in 5′ lengths or 6′ length, both with optional Sunbrella fabric cushions. The design of these units is very similar to the 4.5′ swing bench above, but the cushions include both a back and a bottom piece, both made of Sunbrella fabric.
Like the WholesaleTeak bench above, these porch benches are quite attractive, and will look great on your patio, no matter what the size.
Dimensions and Specs
Length: 60″ or 72″, depending on the model chosen
Width: 25″
Height: 24″
Weight Capacity: 550lbs
Weight: 142 lbs or 158 lbs
The Details
The 5′ and 6′ WholesaleTeak patio benches are excellent quality, and are constructed of the same Indonesian sustainably harvested teak wood the 4.5′ bench is made of.
You may think that since these benches are larger, they can hold more weight, but that is not the case. The weight limit of the bench doesn't change along with the length, so getting a larger bench does not necessarily mean you'll be able to seat 3 adults. Unless you really like the idea of a wide bench, it may make sense to stick with the 4.5′ bench, or the 5′ bench.
Similar to the WholesaleTeak bench above, these units do not include any ropes or chains, and you'll need to pick up some rope or chain to use to suspend these benches. We recommend 1″-1.5″ thick rope, and you'll have to measure to determine the length you need to get the bench at the right height.
The cushion dimensions for this porch swing are: either 59″ or 71″ x 18″ x 2.5″. WholesaleTeak makes the cushions in house, so you can get pretty much any design you wish, using any fabric you wish. You can reach out to them through Amazon to determine the price and design specs. Very cool.
Assembly and Care
The WholesaleTeak patio bench goes together pretty quickly, and you can have everything assembled in about an hour with no special tools. These teak patio swings are largely connected by mortise and tenon joinery, though there is some metal hardware as well. These are not stainless steel, and may rust if the bench is in a damp area.
In order to suspend this swing from the roof of a porch, you'll need some Porch Swing Hangars. Be sure to install them correctly to ensure that the bench will not collapse when a few people are sitting on it!
The teak will weather to a beautiful gray if no treatments are done to it, but if you prefer to keep the finish the way it is when you receive it, you will want to seal the teak before it goes too far toward the gray color. See our Teak Care section for more information.
The Bottom Line
The WarehouseTeak swinging patio benches, either in 5′ length or 6′ length, are great porch gliding, swinging benches. Beware that the weight limit does not change as the width changes, so if you have a few hefty relatives or friends, consider how the bench will work with two or more guests sitting on it.
Overall the WarehouseTeak patio swings are excellent quality, and the customer service they provide is excellent.
Teak Care and Maintenance
Teak is a classic furniture material, and is ideal for indoor and outdoor use. It has been used to great effect by Danish modern furniture designers, and is a favorite of modern designers of both indoor and outdoor furniture.
Teak is one of the best choices for outdoor wood, due to its durability and natural resistance to water and UV light. It secretes its own oils, and will gracefully weather from the classic golden teak color to a soft silver gray if left untreated. It is commonly used on boats due to its strength even in a harsh marine environment, and its ability to be restored to beautiful golden tones, even after taking a lot of abuse.
Indoor Teak Furniture
If you plan to leave your teak porch swing inside or sheltered from weather and sun, you will probably just need to occasionally give it a wipe down with Linseed Oil or perhaps a Tung oil, as it will not receive a great deal of sun or moisture.
Outdoor Teak Furniture
If, however, your teak porch swing is exposed to sun, rain, snow, and hordes of locusts, your teak will take a beating. It will weather from its golden honey color to a soft gray color that many people find to be beautiful. Eventually it will weather toward a black color if untreated. Depending on your tastes, you can stop the weathering at any point, or restore weathered teak to its original gleam. You'll need to use the proper teak cleaners, and a high quality teak sealer (not a teak oil!).
OutsideModern has a guide to properly clean and seal outdoor teak, and where we examine several different teak treatment systems on the market, and give an explainer as to how to properly care for outdoor teak wood.
Teak porch swings are charming, fun, relaxing outdoor furniture pieces. They bring calm, joy, and excitement to those that use them, and are a great addition to a porch or balcony area. After a thorough examination of the teak swing market, we have determined that the best teak porch swing is the