Best Beach Umbrella Sand Anchor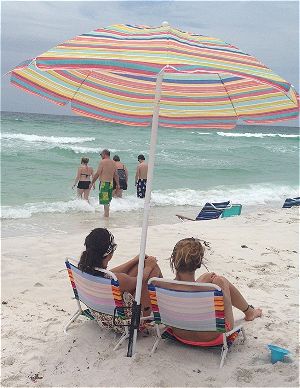 Beach umbrellas can make life quite pleasant in the summer. They provide portable shade on the beach, an area that is often completely exposed. They also give refuge from heat and sun, even if just for short time periods. You really need to ensure your beach umbrella is properly anchored, though! An improperly anchored beach umbrella can sail off in a strong gust, and beach umbrellas have even been known to kill in extremely unfortunate circumstances. Due to this, you need to be sure to anchor your umbrella properly into the sand in a way that is completely safe. After a thorough look at the variety of different methods of securing a beach umbrella, we have found that the best beach umbrella sand anchor is the Heavy Duty Beach Umbrella Stand [Amazon Link]. This umbrella stand is extremely sturdy, and quite long.
You may need a mallet to install it into hard ground, but once it is down all the way, your umbrella will not sail away. And it's possible your umbrella shaft could break in a strong wind gust, but at least you can be confident that you won't be risking harm to people from a cheap umbrella, improperly secured.
Last update on 2021-06-14 / Affiliate links / Images from Amazon Product Advertising API
[Read more…] about Breathe Easy in the Sand: How To Secure a Beach Umbrella.