Glider swings, whether used on the porch or as an accompanying piece in your yard or patio, are the perfect way to kick back and enjoy a summer day. The built-in canopies that you will see in the following selection of swings help provide shade and UV protection during the hottest of days, and are a huge asset. They vary from the material they are made with, weight capacity, and and overall design. We found that the Best Glider Swing with Canopy is the Azalea Ridge 3-person woven swing [Amazon Link] from Better Home and Gardens.
With its all-weather wicker, steel frame, and dark orange/red cushion and canopy, it is perfect in almost any setting, and should last quite a long time.

For a complete review of the BHG Azalea Ridge swing, please see below.
Runner Up Best Glider Swing with Canopy
The runner up to Better Home and Garden's Azalea Ridge is the SunLife Porch Lawn Glider [Amazon Link].
This glider from SunLife has a more subtle, contemporary look to it than Azalea Ridge, while still seating three. It is made of high quality PE wicker and steel, and has a great weight capacity.
It's also a little cheaper, which is always nice!
For a full review, please see below.
Budget Pick: Best Patio Swing with Canopy
For a low maintenance, worry free glider at a great price point, check out Blossomz Outdoor Porch Swing [Amazon Link]. It is just the basics; a wrought iron swing with no cushions or pillows, although it does still have the canopy.
Its simple black color will fit in anywhere, and the benefit is that you can add your own pillows or cushions as you see fit, depending on the time of year and what fits your needs.
For more information, see below.
Glider Swing with Cover Reviews
In this section we look at five of our favorite covered glider swings. We compare and contrast the features and benefits of each, and pick our favorites.
Preview
Budget Pick
Runner Up
Best Choice!
Title
Blossomz Outdoor Porch Swing with Canopy Awning
Best ChoiceProducts Outdoor 2 Person Canopy Swing
SunLife Porch Lawn Glider Swing 3-Seat Canopy Chair
Azalea Ridge by Better Homes and Gardens 3-Person Woven Swing with Canopy
Budget Pick
Preview
Title
Blossomz Outdoor Porch Swing with Canopy Awning
Preview
Title
Best ChoiceProducts Outdoor 2 Person Canopy Swing
Runner Up
Preview
Title
SunLife Porch Lawn Glider Swing 3-Seat Canopy Chair
Best Choice!
Preview
Title
Azalea Ridge by Better Homes and Gardens 3-Person Woven Swing with Canopy
Last update on 2018-06-20 / Affiliate links / Images from Amazon Product Advertising API
---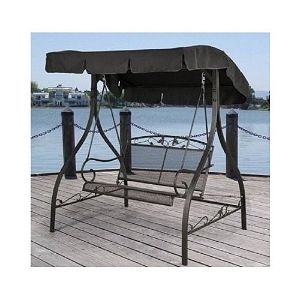 The Bossomz Outdoor Porch Swing is a pretty basic wrought iron porch swing, with a look that feels very late 1800s-early 1900s. There is some unnecessarily frilly metal work (see below), but at the price point this is positioned, it really is a great deal for those looking for a covered swing that has good weight capacity and a low price point.
Key Points at a Glance
Weight capacity: 500 pounds

Wrought iron metal frame

Perfect size for two people

Canopy can tilt, and can be removed
Dimensions
Dimensions: 45.7″ x 57.3″ x 64.8″ 

Seating Area Dimensions: 38 1/2″ x 17″
Seat Height: 16″

Shipping weight: 65 pounds
The Details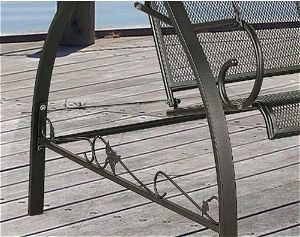 This simple wrought iron canopy comes with an adjustable awning. With its sturdy and It definitely won't fit in an ultra-modern decor, but it will likely work in some transitional or traditional patio spaces.
Unlike some of the other glider swings we'll review, this canopy has the capability to be removed at will.
As a stand alone wrought iron frame and canopy, the downside is if you are looking for a glider swing with more comfort (like having cushions included), this may not be a good fit.
However, with its low price, it's certainly possible to go out and buy your own cushions to add to it, and its solid black design will ensure any color will fit with it.
The Bottom Line
This is the perfect budget option glider swing. It has an elegant design, is easy to assemble, and has low upkeep.
Unless you add your own accessories and cushions, this is likely better in warmer climates, where the wrought iron won't feel frigid against the skin after retaining the cold from a cool night. Adding pillows will likely bring this up closer to many of the other swings on our list.
The Bossomz Covered Swing is available with free shipping, but is not currently available on Amazon Prime.
---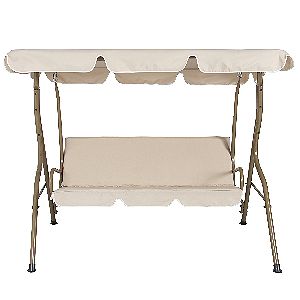 The Best ChoiceProducts two person glider swing has very simple, utilitarian lines, and a canopy with a valence that brings to mind early 20th century europe. The look is decent, though it is certainly not our favorite.
Key Points at a Glance
Weight capacity: 550 pounds

Sits two people

Adjustable and removable polyester cushions

Weather resistant powder coated finish

Convertible, adjustable canopy
Dimensions
Dimensions: 67.5" L x 41" W x 60.5" H

 Seat Dimensions: 47″ L x 21″W x 36″H
Seat Height: Approx 20″

Item weight: 40.8 pounds

Shipping weight: 46.5 pounds
The Details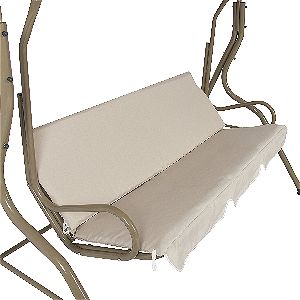 This weather resistant, powder coated canopy swing is made for two, but can possibly hold up to three. Made with an overall beige color for the fabrics, and rustic design for the metal, it should fit decently in most settings.
Compared to the outdoor porch swing by Blossomz that we just reviewed, this is a bit on the larger side, and can hold 550 pounds as opposed to 500 pounds.
Due to the nature of the fabric, this may not be the most suitable outdoor glider swing. Some have found that the cushions have a serious knack for retaining water after a storm, and are stubborn about drying up. Occasionally they can take over 24 hours to dry!
This can lead to mold growth.
Compounding the problem further is that the rain easily seeps through the canopy, so there's no surefire way to keep your cushions dry.
There's two ways to go about fixing this problem: move the canopy to a screened in porch or attempt to waterproof the fabric with a Scotchgard fabric spray [Amazon Link]. Despite being impacted by rain, it does hold some level of UV resistance so it would certainly fair better in dry, hot climates as opposed to areas with more adverse weather.
If you do live in a place with decent year round rain, consider the wrought iron canopy and swing from Blossomz instead. As for the overall canvas, it can vary by user; some have noted a shorter life span with it, having it rip early on.
The Bottom Line
This canopy is best when used in an indoor porch or a place with a warm, dry climate. Its beige design and powder coated metal finish look decent, but are not anything out of the ordinary.
While this is certainly a fine budget option for a glider swing, there may be better fits depending on your needs.
Next, we will review the porch lawn glider from SunLife, introducing the first of the higher end, non-budget options.
---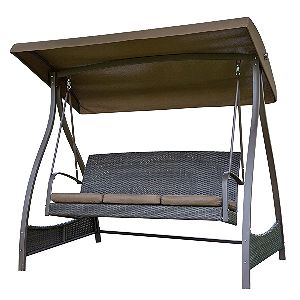 The SunLife Porch Lawn Glider Swing is definitely a step up in looks and quality from the previous selections. It features a fairly attractive, contemporary design and PE wicker material choice, which feels much more current than the metal covered gliders we have looked at thus far.
Key Points at a Glance
Weight capacity: 793.6 pounds

3 person capacity; 3 separate cushions

Powder coated steel tube

PE Wicker Design
Dimensions
Seat Dimensions: 36.22″ x 26.77″ x 38.58″

Item weight: 33.1 pounds
The Details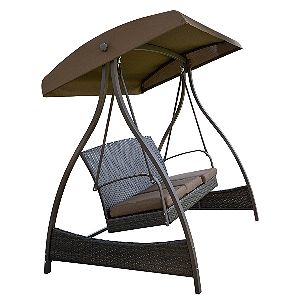 With a capacity built for 3 people and over a 750 pound capacity, this is a larger option glider. It comes with a powder coated finish on its steel tubes, which are wrapped in PE Wicker in some areas.
Compared to the previous two gliders we've reviewed, this definitely has a noticeable difference in overall quality. Reddish cushions and canopy sit on its dark grey steel frame and navy swing.
Its canopy is heavier overall and should be suitable in any environment, including areas with rain. The swing is connected to the frame via heavy springs, allowing for a smooth rocking motion.
Compared to the budget options we've reviewed thus far, this swing is considerably more difficult to assemble. Whereas most can be complete in roughly an hour, this may take longer, and more than 1 person is recommended.
As with the others, maintenance can be achieved with light soap and water, taking it inside during periods of non-use like the winter, and making sure it drys out after rain storms.
The Bottom Line
The first of the higher end options we reviewed, this has considerable upgrades with an overall smoother design, easier uptake for a cushion based swing, and is a larger model overall.
The ability to sit 3 means overall more space, but keep that in mind when deciding where to to place it.
Its craftsmanship and design are the biggest reasons to choose this glider swing over the others. With its woven fabric, capability to seat 3, and hints of red, it is our runner up choice for the best glider swing with canopy.
---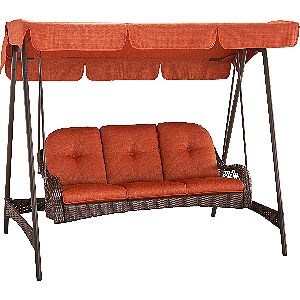 The Better Homes and Gardens Azalea Ridge glider swing is our favorite option on our list. It has a great look, high quality material choice, elegant cushions, and the BHG name is always a plus!
This swing can seat three people, and has a very high end feel.
Key Points at a Glance
Weight capacity: 675 pounds

3 person capacity; 3 separate cushions

All-weather wicker cushions

Polyolefin cushion fabric; fill is polyester polyureathane

Treated for additional UV protection
Dimensions
Dimensions: 50.59″ x 84.25″ x 70.67″

Seat depth: 24.8″

Seat height: 19.48″

Seat width: 58.07″ (to inside of armrests)
The Details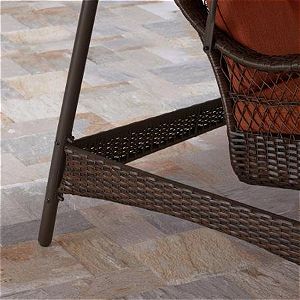 The Azalea Ridge by BHG is a substantial glider swing with a stylish canopy and bold color selection. It has a maximum capacity of 675 pounds, compared to the 793 pounds from SunLife above. It is a mix of steel frame and all weather wicker.
Also distinct from Sunlife is a relatively much easier assembly time, clocking in at as little as 30 minutes to get it up and ready to go.
Whereas Sunlife has much subtler colors, the dark orange and red cushions may be a bit more noticeable.
The Azalea Ridge canopy swing from Better Home and Gardens has a few advantages over some of the budget options we first reviewed. Notably, it is listed as water, stain, and mildew resistant, which can help with overall maintenance and cleaning.
Speaking of which, Better Home and Gardens does provide cleaning tips for the cushions, ensuring this glider swing lasts a while. They suggest a solution of 1 tablespoon liquid dish soap with 1 gallon of water, rising well and letting air dry. This should be safe advice to follow for all of the glider canopies.
The Bottom Line
The wicker seen with both this glider as well as SunLife's is one of the major factors giving it an advantage over budget and mid tier options.
All-weather wicker provides great durability and a long life span.
Combined with the fact that it is treated for UV protection, this should likely have the greatest durability out of the reviewed gliders.
It is one of the more expensive choices on our list, but it is the best covered patio swing around!
---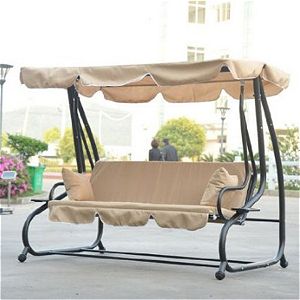 The Outsunny Outdoor porch Swing has a design that is very much reminiscent of the Best ChoiceProducts listing above, but lager and nicer with a few extra features that are significant advantages.
It can covert into a lay down bed, which is really cool, and it has two cup holder trays that make life a little more comfortable on the swing!
Key Points at a Glance
Weight capacity: 750 pounds

Steel frame

Built in cupholders

2 pillows included

Adjustable seat with ability to convert to laydown bed
Dimensions
Frame: 75″ x 44″ x 65″

Cover: 77″ w x 46″ d

Seat (regular position): 62″ x 19″ x 19″

Seat (bed position): 62″ w x 38″ d

Pillows: 14″ x 14″
The Details
The last two gliders we reviewed were on the higher end with wicker, wrought iron, and steel. This is a mid range option that reverts back to simple fabric with a steel frame.
This swing can best be described as the 3-person version of BestChoice's glider, boasting a similar beige color and canopy. It comes standard with a few extra features for an overall quality of life boost compared to the budget options, such as cupholders and a laydown bed, which you can adjust it to.
Unfortunately, there are a few noted problems with its overall design and functionality. The pillows may not extend to the very edge of the swing, making for an awkward fit if you are using most of the space. Also, the material for the fabric and pillows may not be the best fit for an outside set.
With that said, if you are looking for a budget version that fits three, this may be a good choice, and the fact that it coverts to a bed is pretty cool.
The Bottom Line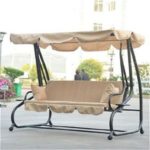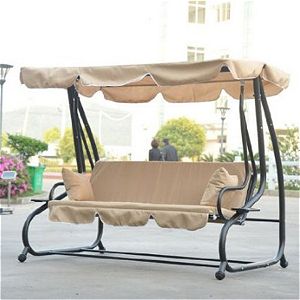 It's not as expensive as the other 3 seat canopy gliders on our list today, but the Outsunny Glider lacks wicker and the overall high quality feel as well.
It's definitely worth checking out, especially if you think you may enjoy the built in bed that comes with it.
Coupled with a very average aesthetic and no defining features as far as its looks go, there may be better options.
It is not currently available on Amazon Prime, but is offered with free shipping.
---
Glider Swing with Canopy Buyers Guide
When it comes to glider swings, there are a few important aspects to consider before making your purchase.
Size and Functionality
For functionality, you first must consider if you need a glider that sits 2 or 3, as well as how much weight capacity would be right. For example, are there kids that might jump up and join you when you sit on it? If so, that should be a factor when looking at weight capacity.
Materials
Consider the material and how it will hold up to heavy rain, wind, sun, etc. Depending on your particular outdoor environment, you may want a glider with cushions, or without. If you get one with cushions, you may want to store them in a deck box, storage bench, outdoor shed, etc. when not in use to keep the cushions looking as nice as possible.
Maintenance
Always consider how much you want to deal with cleaning, painting, etc. If you don't want to do any painting in the future, the PE wicker selections may be particularly appealing to you.
Durability
For durability, consider what it is made out of, for overall durability and minor problems; powder coating may have peel and rust while wicker will last much longer.
Aesthetics
None of the glider swings with canopies on our list today have super modern designs, and some will go better in certain environments than others. Consider how the swing will fit with your overall aesthetic and go from there.
---