Best Roll-Up Portable Table
After a thorough examination of several of roll-up style tables on the market, we have found that the best roll-up portable table is the Coleman 2000020279 Compact Folding Table. It combines a versatile size, easy portability, and an aluminum top that allows for use with hot cooking items. It also handles a lot of weight for its size.
For years, Coleman has been a leading brand in the outdoor goods market, and this table is yet another great Coleman product.
Last update on 2021-06-15 / Affiliate links / Images from Amazon Product Advertising API
See below for a full review of the Coleman Compact Folding Table.
Runner Up: Best Large-Format Portable Folding Table
This KingCamp XL Roll-Up Table is big and sturdy, but could be too large for some people. It is very well built and can support a great amount of weight. However, it is on the pricey side, and it's rather heavy to carry around.
Last update on 2021-06-16 / Affiliate links / Images from Amazon Product Advertising API
Budget Pick: Roll-Up Camping Table
The Timber Ridge table has an aluminum construction, a good price, and lets you pull up a chair or two. It's got a decent weight capacity, and is not particularly heavy to carry around.
Last update on 2021-06-16 / Affiliate links / Images from Amazon Product Advertising API
Portable Roll-Up Table Buyer's Tips
One common problem with picnics lunches, camping, and other remote outdoor eating spots is the lack of level, open surfaces. If you're packing everything in, you may be balancing all your cooking and eating plates, pots and containers on various rocks, logs, and anything else that's available – like your knee.
When you're dealing with something like a hot coffee pot or anything liquid, this is a solid "Nope!".
There are similar problems at tailgates. It's not always practical to use just one large folding table for everything you're serving up. It's nice to have some smaller tabletop spaces to use away from the main chow line.
Even a day at the lakeside or beach could often benefit from a little bit of civilization – keeping things up off the hot ground and closer to your chair.
Modern camping technology has come to the rescue. The need for lightweight, highly portable products has given us roll-up tables. These have segmented tops that allow the whole table to collapse and roll up into a small carrying case.
When shopping for a roll-up table, there are a few major aspects to keep in mind. These include materials, table size, weight capacity, and weight.
Materials
All of the tables we will be looking at today are built with either aluminum or wood. Aluminum is generally pretty good at handling the heat, while you'll need to be careful with wood if you're planning on using it for cooking or serving food.
Many of the tables use plastic pieces to join the slats together, and these pieces may be points of failure.
Wood tables can look beautiful, and there's just something about wood! But keep in mind that wood tables are more inclined to stain, weather, and get damaged than aluminum will be.
Table Size
We have picked a variety of table sizes for our best of round-up. Some of these tables are more like side tables, while others are practically as big as a picnic table. Many of the manufacturers make multiple sizes of their folding tables, and if this is the case, we'll mention that in the review.
Table Height
The height of the table will determine whether or not you can pull a chair under the table, as you would a dining table. The tables in our reviews range from about 18″ to 27″, and generally you want a 27″ table to get your legs under. However, keep in mind that angle braces may make it awkward to get your legs under a roll-up table.
Weight Capacity
Weight Capacity is important, as you'll want to know that the table will be able to support your portable camping grill, outdoor pizza oven, or whatever else you plan to put on the table.
Weight
If you're going to be carrying your table around with you, you'll almost certainly want to consider the overall weight of the table. Some of the tables on our list weigh as little as 4 lbs, while others are up to 14 lbs. If you're going to be hiking long distances with a table, you'll want to be sure that it's a lightweight one!
But if you plan to just use it to set up in the yard or at the park, then weight is likely not a concern.
Collapsible Table Reviews
In this section, we'll look at five of our favorite folding camp tables. We'll start with a comparison table to get oriented, and then move onto individual reviews. We'll conclude with our top picks.
Preview
Budget Pick
Top Choice!
Runner-Up
Budget Pick
Preview
Top Choice!
Preview
Preview
Preview
Runner-Up
Preview
Last update on 2021-06-16 / Affiliate links / Images from Amazon Product Advertising API
---
1. Timber Ridge Folding Camping Table Roll-Up Aluminum Indoor Outdoor Picnic Dining Desk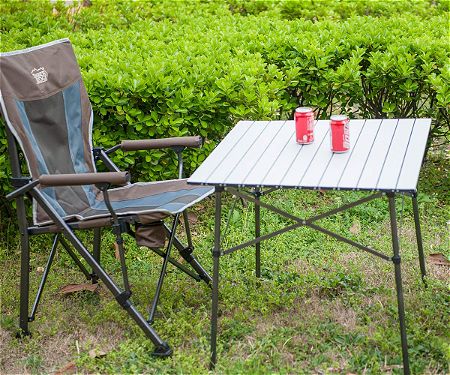 Key Points at a Glance
Slatted aluminum top
Steel frame
Carry Bag
66 lb. load capacity
1-year warranty
Dimensions
Weight: 9.4 lbs
Dimensions: 27.5 x 27.5 x 27 in
The Details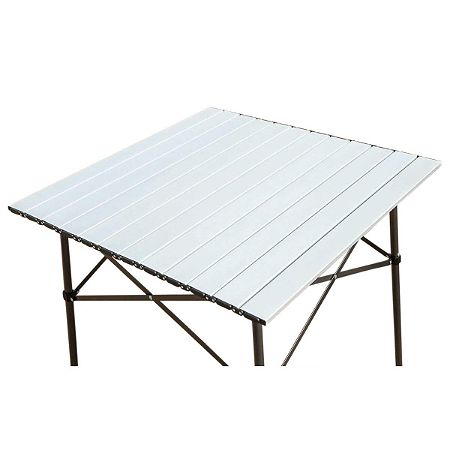 Note: Timber Ridge supplied us with this table for our review. 
The Timber Ridge table is technically a folding portable table, but we won't quibble about how the top is set up and put away. The aluminum slats are folded on top of each other like a window blind.
Nevertheless, when they are completely folded up, they stack into a very narrow space.
This is a useful table for several reasons and it is our Budget Pick.  The height is 27 inches. This means that the table is a functional height for using with a lawn chair. If you'd like to use it for eating, working, or just putting your beverage on, it's the correct height to slide a chair up to, and not stoop or reach. Note, however, that the cross bars can make it a little bit awkward to find a place for your legs to go.
The entire set of top slats are aluminum. This is, of course, lightweight – and the entire table weighs in at just over 9 lbs. The aluminum is also great for use while cooking.
Unlike some of the wooden topped tables we reviewed, the Timber Ridge product will stand up to hot skillets or other cooking pieces.
The table is engineered to hold up to 66 lbs – enough to support a fair amount of cooking gear, and definitely enough to hold up your plate and drink.
The aluminum is easy to clean off, and the whole unit repacks neatly into a drawstring-top carrying bag with a shoulder strap.
We found this table to be quite useful, and a solid table that's easy to carry and fun to use. It can be pressed into service inside and out, and is much easier to store than conventional folding card tables.
This table does have some plastic elements, and would not stand up to daily outdoor use. It's meant for functional portability, and it provides just that.
Assembly and Setup
This unit assembles much as a pop-up tent does. The legs are already attached together. When you unpack the table, you first pull out the legs at the four corners until the base is square. After clicking the leg support tubes into place, the table top is then unrolled and connected.
The Bottom Line
For further information, see our Timber Ridge Camping Table review. This table is a great choice for outdoor eating and serving, and will serve you for years to come if treated gently. This table has a great feature set and hits a solid price point. It's our budget pick among roll-up tables.
Timber Ridge Portable Roll-Up Aluminum Camping Folding Table
★OPEN DIMENSION: 27.5 x 27.5 x 27 inches, suitable for any outdoor...
★PORTABLE: Portable table which can be folded and stored into a carry bag...
★EASSY ASSEMBLY: No tools required, assembles in 1 minute, quick and easy
★LIGHTWEIGHT AND STURDY: Aluminum table top, lightweight, only 9.4 lbs....
★1-YEAR MANUFACTURE'S WARRANTY: We back our products with a full 1 year...
Last update on 2021-06-16 / Affiliate links / Images from Amazon Product Advertising API
---
2. Coleman 2000020279 Compact Folding Table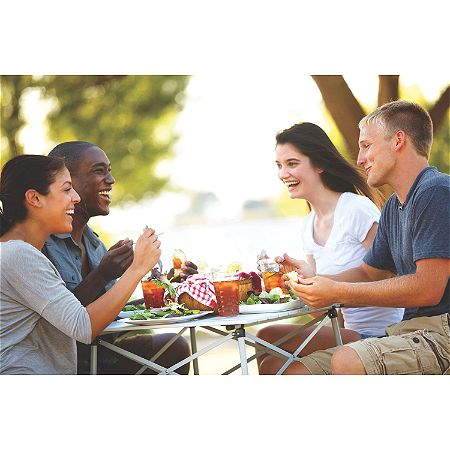 Key Points at a Glance
Aluminum top
Steel frame
Carry bag
100 lb. weight capacity
1-year warranty
Dimensions
Weight: 10 lbs.
Dimensions: 27.5 x 27.5 x 27.5 inches
The Details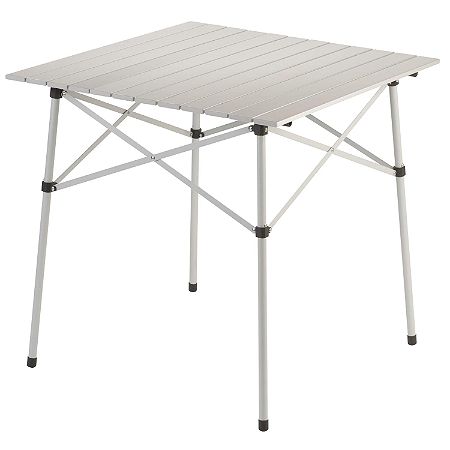 Coleman is known for making camping and outdoor products, and have come up with a winner in this portable table. Despite its size, this aluminum roll up table in a bag holds up to 100 lbs, making it incredibly functional for all types of tailgating and outdoor activities.
Reviewers have actually taken it upon themselves to check out the sturdiness of this product, and have been pleased to report that it does, in fact, handle the weight. If you're looking for a table that can handle the weight of a grill, water cooler, or fully-loaded ice chest, this is the one to take along.
Aluminum slats make the table perfectly safe for hot plates or cooking pots. It cleans off easily and holds up well.
Like all aluminum, the table will be prone to scratches. If the presentation is important, you may wish to spring for some kind of table cover – and only then if you won't be placing hot cooking pots on top.
The height is also versatile – the standard 27" is just right to pull a chair up to. Just keep in mind that the cross bars make it a bit awkward to position your legs.
Assembly and Setup
The table packs down into a roughly 8 x 8 x 28" size when it's in the included carrying bag. To assemble, the legs and base are pulled out like a pop-up canopy frame.
After adding two additional supports and unfolding and snapping on the tabletop, you have a square table with enough available area to dine on.
The Bottom Line
Overall, the Coleman Roll-Up Portable Table is a solid, strong table. It can easily be packed into your tailgating gear and made useful anywhere you take it. The Coleman is the best roll-up table around!
Sale
Coleman Outdoor Folding Table | Ultra Compact Aluminum Camping Table
Ultra-compact aluminum folding table ideal for camping and outdoor cookouts
Aluminum slat top and strong steel frame offer ample support and surface...
Snap-together design assembles and folds up with ease
Fits into an included lightweight carrying bag for easy carrying and...
Offers enough seating room for 4 people
Last update on 2021-06-15 / Affiliate links / Images from Amazon Product Advertising API
---
3. Trekology Portable Camping Table with Aluminum Table Top, Large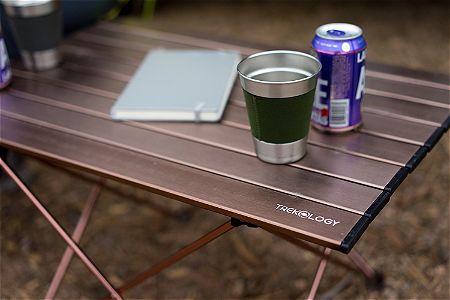 Key Points at a Glance
Aluminum slat top
Steel frame
Available in blue or brown
Carry bag
50 lb. load capacity
Dimensions
4 lbs
27 x 18 x 16 inches
The Details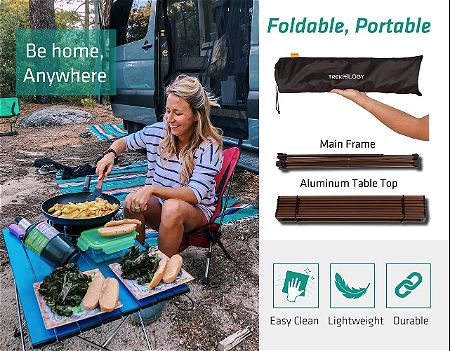 The Trekology table is a lighter – weight contender in our reviews – both literally and in use. It's a bit different from the other aluminum tables in that it features colored metal. It's available in a bright blue or a medium brown, both of which look really cool.
The dimensions are different on the Trekology line – they don't have square tops, and the available surface area is smaller than the other tables reviewed.
For purchasers who are looking for a more traditional card table type of design, this probably won't be suitable. With a depth of 18", it can handle a dinner for one or can be placed at the end of your cooking set up to collect dishes and skillets.
It also sits a full foot shorter than some of the other tables on our list. Measuring in at 16" tall, this is a table that will be about knee-high for most people, and chairs will not go under the Trekology.
If you're looking for something to place next to a beach chair or will be sitting down, it's a good height. Otherwise, there's going to be a bit of a reach involved.
Assembly and Setup
This is a very lightweight table and assembles by unfolding the table top, unfolding the frame, and clicking them together. It folds down quite compactly, and could conceivably be thrown into a bag with a concert chair if you wanted to take a complete set-up with you to an outdoor event.
Some Reviewers have noted problems with the legs bending and warping over time.
The Bottom Line
Overall, the Trekology roll-up table in a bag is a great choice for those who only need a small side table, and who are looking for something that weighs very little. If you're a deep-woods hiker or camper, this may be a great choice, as it's so small and lightweight.
However, you're not going to have a pleasant meal on this table as you would on some of the other tables.
Last update on 2021-06-16 / Affiliate links / Images from Amazon Product Advertising API
---
4. Best Choice Products Foldable Portable Wooden Table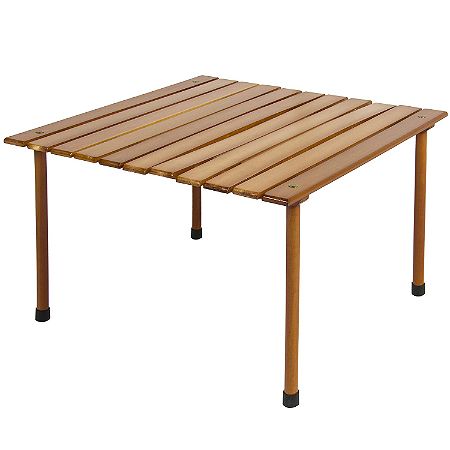 Key Points at a Glance
Wooden slat top
Wooden base
Carry bag
88 lb weight capacity
Dimensions
 Weight: 7.3 lbs.
Dimensions: 27.5 x 27.5 x 16.5 inches
The Details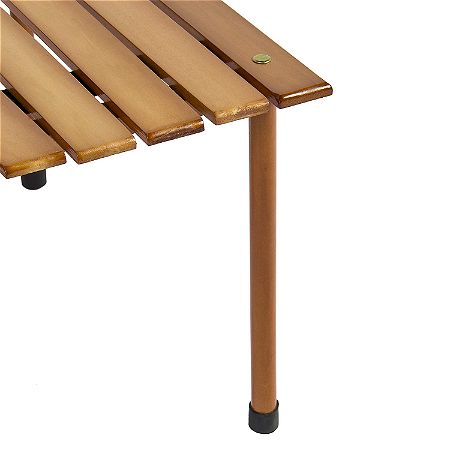 This Best Choice table is the only one on our list that is made of wood, and there are both advantages and disadvantages to the design.
Some shoppers don't care for the look of metal, and would rather have something that has a bit more elegance. The Best Choice Products fits the bill, and we love the wood look! This table comes in a medium brown, water-resistant finish, and will provide a more natural look to your outdoor excursions than the aluminum tables on our list.
For anyone who does a lot of outdoor events on an outdoor blanket, the Best Choice table has good dimensions. At roughly 28' square and 16" tall, it will provide a sturdy platform for up to 4 people to sit around.
However, it's not a comfortable height for people sitting in most folding chairs, and you won't be able to put your legs under the table.
The weight capacity is quite good at 88 pounds, and will safely elevate a lot of serving dishes and other items – but will not be suitable for anything hot off the grill.
The slatted construction has gaps between each board. This provides for easy outdoor use, as any crumbs or other debris will simply fall through. However, if you need a completely solid surface, this could be problematic. The slats are far enough apart to slip a fingertip into.
The looks of this table are solid, but some find issues with durability. Some buyers note that the slats were not fastened on very well, and there were issues with quality control. The legs did not line up correctly with the slats, or the holes were not drilled to the correct size.
Assembly and Setup
Assembly is also different from the aluminum tables we reviewed. The wooden slats are connected by canvas webbing and are actually unrolled similar to a platform bed design. The table legs are each screwed in at the corners while the table is stretched out.
The Bottom Line
If you love the idea of a roll-up wooden table, the Best Choice Products is a good choice. It certainly looks beautiful, and if you treat it gently, is a great choice for many. Just be sure to treat it gently.
Last update on 2021-06-16 / Affiliate links / Images from Amazon Product Advertising API
---
5. KingCamp Steel Frame Fold Camp Table Heavy Duty XL Aluminum Alloy Roll-up top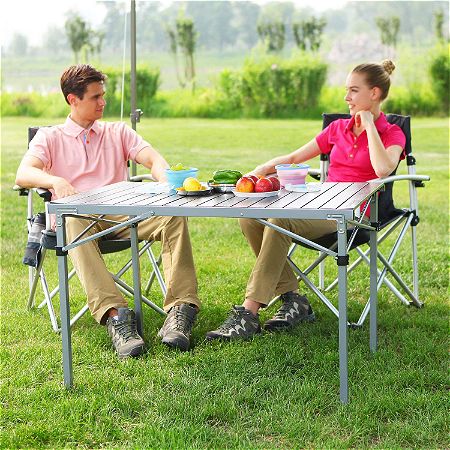 Key Points at a Glance
Aluminum top
Steel frame base, XL size
Non-slip aluminum finish on tabletop
Carry bag
176 lb. load capacity
One-year warranty
Dimensions
Weight: 14 lbs
Dimensions: 42 x 28 x 28  inches
The Details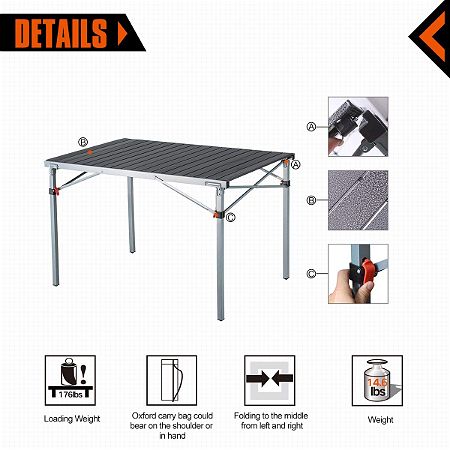 The KingCamp table is larger than the other tables reviewed here. And despite its high price, this table hits a great value point considering its weight capacity and other features.
Due to its size, it doesn't have quite as much versatility as our Top Choice Coleman table, but we've awarded it our Runner-Up designation. Depending on your needs, it may indeed be exactly the table for you.
At 42" long and 28" deep, the KingCamp table is the size of some traditional folding tables. For anyone looking for a lightweight and durable upgrade from a plastic table, it's a great choice. The aluminum top can handle a lot of abuse, resist damage from hot pots, and the textured finish is less slippery than plain aluminum.
Underneath, the steel frame has metal safety locks and is well stabilized – the construction is like a more traditional folding table. It's easy to use as a dining table or desk, as there's room to fit a standard-sized chair under it.
Assembly and Setup
Assembly is a bit different, but not difficult. The bottom frame and legs are unfolded and clicked into place – the assembly is somewhere between card table and pop up canopy. The safety supports are engaged, and then the top is rolled out as one unit onto the frame. There are lock-down fastenings at each end of the table to prevent the top from moving.
Perhaps the biggest issue is that the carrying bag was poorly designed. Getting the table back into the bag is more difficult than folding it up.
The Bottom Line
Most buyers are delighted with the sturdiness and durability of the table. The general consensus is that the KingCamp does not wobble, handles an assortment of heavy items like grills with ease, and stows away compactly.
You may not need or wish to pay for the extra tabletop space, but if you need a sturdy larger table, this is a fine choice.
Last update on 2021-06-16 / Affiliate links / Images from Amazon Product Advertising API
---
Conclusion: Portable Roll-Up Table in a Bag
Portable roll-up style tables are a handy addition to your camping or otherwise outdoor lifestyle. They're lightweight, very packable, and can provide a level surface for your meals, cooking pots, or even your card games. Anyone who does a lot of tailgating, or who has struggled at a primitive camping spot with hot dishes can appreciate having a heatproof and sturdy tabletop at hand.
Our  Top Choice product, the Coleman 2000020279 Compact Folding Table, is a lightweight, conveniently sized table that can hold up to 100 lbs. – impressive for its size. It should provide a lot of serviceability in a variety of outdoor situations.
Our Runner Up choice, the KingCamp Steel Frame Folding Heavy Duty Table, was our largest table, and costs more than the others. However, the shape and load capacity of the table makes for a very useful and durable piece of portable furniture.
Our Budget Pick, the Timber Ridge Folding Camping Table, combined a good design, reasonable weight-bearing capacity, and a price that makes it easy to add to your outdoor equipment.
Last update on 2021-06-16 / Affiliate links / Images from Amazon Product Advertising API
---