Here are the best wifi water timers around. Read on for details!
Preview
Budget Pick
Preview
Last update on 2021-07-14 / Affiliate links / Images from Amazon Product Advertising API
Best Wifi Water Timer
Wireless water timers are great tools for anyone with a lawn, patio plantings, or a drip irrigation system. Wifi timers allow you to control your watering system via your phone or computer! After a look at the current products available, we have found that Melnor's RainCloud Smart Water Irrigation Timer is the best wifi water timer at the moment.
The Melnor RainCloud is:
Easy to use
Can be used for up to four different watering zones
Works with standard garden hoses and faucets
Compatible with iOS, Android, and Alexa, and web devices
This design means there is no need to create an underground system for watering. These are the primary factors that lead us to pick the Melnor as the top wifi water timer.
No products found.
We'll review a few others below and look at the pros and cons to see why Melnor came out on top.
Smart Water Timers
Proper use and installation of a wifi smart water timer can lead to saving yourself time, and ultimately money. You will become more efficient with your water use, which is great for your wallet, for your garden, and for the environment.
Simply hook the wifi water timer to your existing faucet, download the corresponding app, and go through the process to sync your app to the faucet. From there, you are able to control the flow of water from your phone or computer using the wireless water timer interface.
Some of these products work significantly better than others, and the whole product category is pretty new. Whether its a smoother interface on the app, having more options to control it, or generally being easier to use, there are significant differences between products.
Smart Hose Faucet Timer vs. In-Lawn Sprinkler System Timer
We should note that the products we're looking at here are smart hose faucet timer systems. They attach to a standard garden hose spigot, and are not the same as those that are used in conjunction with a lawn sprinkler system (such as the Rachio 3 Sprinkler Timer).
Generally, the systems that tie into professionally-installed lawn sprinkler systems are a bit more advanced, and in this article, we're focusing more on the home DIY user who intends to hook up to a spigot.
---
Wifi Garden Hose Timer Reviews
Here we will look at four different wifi water timers, compare their capabilities, ease of use, interface, and flexibility, and pick our favorites. If you don't want a WiFi model, see our information on standard programmable garden hose timers here.
---
The Zilker Smarter Water Hose Timer was a really great water timer system that tied in with local weather data to water your garden and lawn as efficiently as possible. It also featured a great leak-detection system, which was quite helpful.
However the company went out of business in Summer 2020 and that bricked existing devices. It is a sad end to a promising product and it seems to have been handled poorly as the existing units are now useless.
---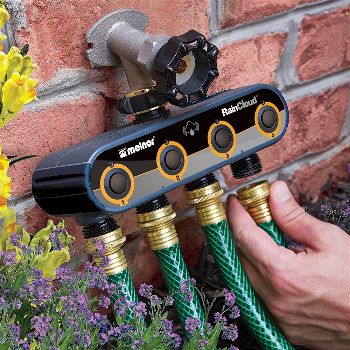 The Melnor RainCloud wifi water timer hooks up to a standard garden hose spigot and offers four zones of control for water output.
This system is quite a bit more flexible and powerful the other systems on our list and is even expandable if you want to go further.
Watering is controlled by Android or iOS app, and can be controlled by Alexa. The RainCloud has the best overall system of the four that we have reviewed today.
Key Points at a Glance
Compatible with Android, iOS (Apple) or any web device
Can be linked to Amazon Alexa to enable voice commands
Water up to 4 different zones at once, or set them on independent watering schedules
Compatible with standard garden hoses and above ground fixtures
Approved for use in USA and Canada
Melnor has a 7-year warranty for RainCloud.
Dimensions
3.2 x 7.9 x 3.9 inches
Item weight: 1.37 pounds
Shipping weight: 2.35 pounds
The Details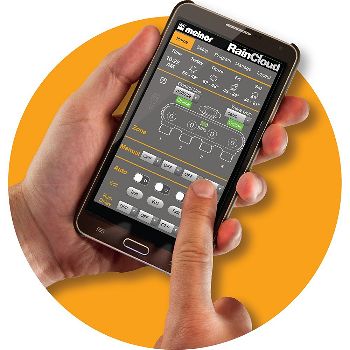 Similar to the Orbit B-Hyve, Melnor RainCloud can sync up to Amazon Alexa for voice commands.
Functionally, it delivers the most consistent performance with its app, and how it syncs to the faucet or hose for smart watering.
You are able to set an exact time and day in order to begin watering and can water for up to 6 hours at a time.
There are three different methods to water, and up to four different zones.
You can pick the following schedule options:
Automatic schedule (it will water zone "x" at a certain time)
Manual schedule so that the zone will turn on immediately and water for up to 6 hours
Immediate watering (you can turn the valve on and off yourself)
The Bottom Line: Best Smart Water Timer for Multiple Zones
While Melnor's app doesn't have as nice a UI or UX as the Zilker app, it is compatible with iOS, Android, and web devices. We find its design to be reasonably consistent and functional, and for the most part, works as expected. It allows you to water up to four different zones at once with varying methods, such as automatic, manual, or at the moment by yourself.
At the moment, it's the best wireless water timer for everyone who doesn't use iOS. However, if the Zilker puts out Android and web device apps, the Melnor Raincloud may well be knocked down to second place.
No products found.
---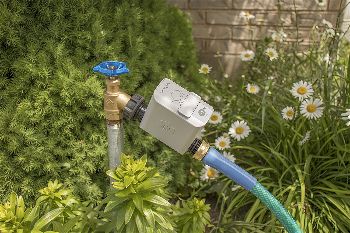 The Orbit B-Hyve 21004 Smart-Hose Faucet Timer is pretty similar to the RainRobot, in that it attaches to a standard garden hose spigot and uses a wifi system to control watering.
There is a plug-in wifi hub that is needed, and control can be found through iOS, Android and even Amazon Alexa.
Key Points at a Glance
B-Hyve app compatible with Android, iOS (Apple), or web devices for full control
Utilizes WeatherSense technology which evaluates site conditions such as slope, sun and shade, rainfall, and live weather to enable smart watering
Track water usage and measure by gallons or by time
Compatible with Amazon Alexa for voice control
EPA approved and certified
A manufacturer's warranty can be requested on Amazon.
Dimensions
2.9 x 6.4 x 8.7 inches
Item weight: 1.03 pounds
Shipping weight: 1.06 pounds
The Details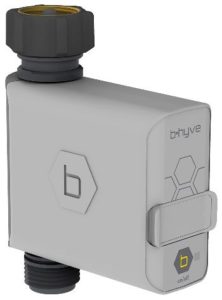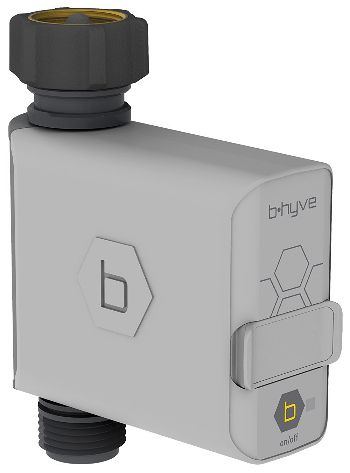 The Orbit B-Hyve Faucet Timer achieves similar results to the RainRobot, albeit with its own set of pros and cons.
To start, its a relatively simple set up to install the app, attach the faucet to your hose, and ultimately get up and running.
From there though, it's worth noting that the app itself is less than stellar, as its a bit clunky and occasionally buggy. We understand that these systems are still pretty new, but the typical RainBird style sprinkler interface should be pretty simple to emulate virtually!
It does have multiple zones which you can control via Amazon Alexa's voice commands.
The Bottom Line: A Solid Smart Hose Faucet Timer
It seems that the hardware is great, while the software is less than stellar.
If you are the kind of person who places importance on the technology side of things, such as having an app that is easy to navigate, control, and use, then the Orbit B-Hyve might come up a bit short.
There is always room to improve the app on future updates.
Overall, the other three options are likely better, being more straightforward, easy to use, and functional. While the B-hyve is a good smart hose faucet timer, it's outshined by the competition at the moment.
Orbit 21004 B-hyve Smart Hose Faucet Timer with Wi-Fi Hub, Compatible with Alexa
COMPLETE CONTROL: The B-hyve app is fully functional for android, iOS...
SMART WATERING: Weather sense technology provides watering based on...
CERTIFIED TO SAVE WATER: B-hyve is certified for the rigorous...
KNOW THE FLOW: The built-in flow meter allows you to track water...
EASY TO INSTALL AND USE: Setup is very straightforward and simple just...
Last update on 2021-07-14 / Affiliate links / Images from Amazon Product Advertising API
---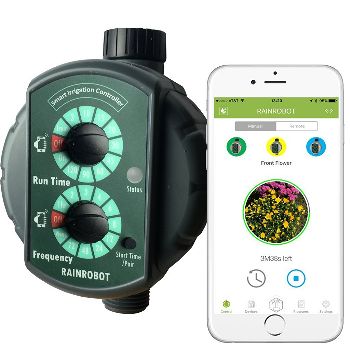 Wrapping up is the RainRobot SC6400 Smart Irrigation Controller and Smart-Hose Timer.
This system connects to a garden hose spigot and is controlled with an app available on iOS and Android.
Times can be adjusted manually, but typically the app will be the center of control.
Key Points at a Glance
Smartphone programmable irrigation controller, compatible with iOS (Apple) and Android
Includes RainRobot app to allow you to manage the system from your phone, such as turning on/off water or setting a schedule
Connects directly to faucet and hose, no tools needed
Batteries last up to 2,000 on and off cycles
App can pull information from local weather, allowing it to delay watering if rain is due
Control up to 4 different watering zones
RainRobot includes an 18-month limited manufacturer warranty.
Dimensions
6 x 4.9 x 3.4 inches
Item weight: 8.8 ounces
Shipping weight: 12 ounces
The Details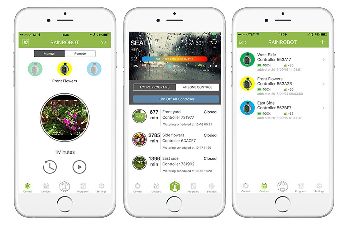 For a reasonable budget option, or those looking to get into smartphone-controlled irrigation systems for the first time, this WiFi water timer from RainRobot will do the trick.
Like the Melnor and Orbit, the RainRobot can be accessed via an app on either iOS or Android.
Unfortunately, the methods in which the RainRobot controls irrigation can be a little tricky and less than intuitive.
Rather than being able to schedule a time of day for water to turn on or off, it can only be set in intervals – for example, every 1 hour, 8 hours, 12 hours, 24 hours, and so forth. It requires the user to schedule ahead of time each time rather than inputting a command like "water at 1 pm on Monday, Wednesday, and Friday".
We feel as if the technology is there to do so, as we have mentioned in the other products above, so this can be a major set back if a full-time functionality is what you are after.
The Bottom Line: A Decent Smart Water Timer
While RainRobot is a decent all-around smart irrigation system, it does come up short in a few major ways.
The lack of scheduling options, the clunky app, and the occasional bugginess of the system are all pretty significant negatives. All the pieces are there for a well-designed system, but the RainRobot needs some major UX updates and refinements, which we hope are coming soon!
It's usable, it's functional, but there are better options out there.
Last update on 2021-07-14 / Affiliate links / Images from Amazon Product Advertising API
---
Conclusion: Best Wireless Water Timer
When shopping for a WiFi water timer, the most important factor is to look into how consistent and functional both the hardware and software is.
Scheduling water cycles should be easy and efficient, helping you save both time and money in the long run by using a WiFi timer – therefore, it doesn't make sense to buy one that is loaded with bugs, a clunky experience, or will fail within a short time of buying it.
We researched and came up with these three WiFi water timers top sellers in the current market, although each has their quirks and points of inefficiency.
Melnor's Raincloud Smart Water Irrigation Timer came in as the most consistent across the board, with the best integration and balance between app and hardware. If you don't use iOS, or you need multiple zones from the get-go, it's your best bet.
No products found.
---