Sunjoy Madison Hex Pavilion Review
This article is a Sunjoy Madison Hex Pavilion review. The Sunjoy Madison [Amazon Link] [Wayfair Link] is a large, feature-filled, elegant, and cool soft top gazebo. This article will take a close look at this great option for outdoor shade!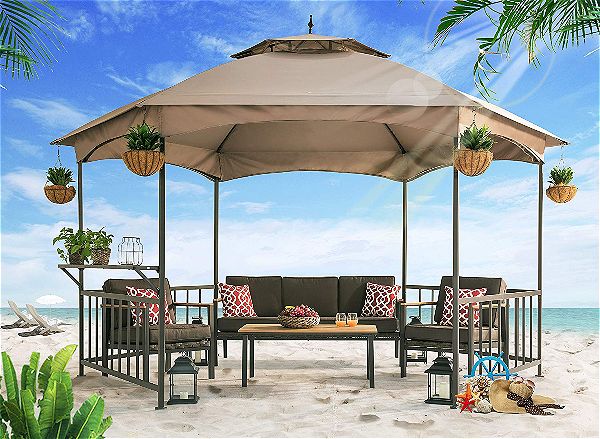 Summertime, with its long hot days and warm evenings, inspires us to get out of the house and spend more time outdoors enjoying all this beautiful season has to offer. It's the time of year we want to barbeque, have parties and entertain family and friends.
If you have a welcoming outdoor space that's comfortable and inviting, it motivates you all the more to spend time outside making memories with those you love. And, wouldn't it be to have a special covered area, such as a gazebo, for entertaining or simply relaxing?
A gazebo is both beautiful and functional, offering respite from the hot summer sun and protection from that occasional summer shower. Building a solid structure could cost several thousand dollars, but there is a solution that gives you all the benefits of a permanent structure at a fraction of the cost—a soft top gazebo.
[Read more…] about Sunjoy Madison Hex Pavilion Review and Information