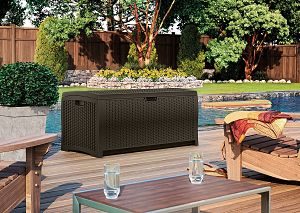 In need of some outdoor storage? Suncast has you covered with the DBW7300 deck box. Boasting a sizable 73 gallon capacity, the Suncast 73 Gallon Deck Box is the perfect solution to your medium sized outdoor storage needs. From cushions to sporting equipment to firewood, whatever need to store, the DBW7300 will keep it safe in style. This deck box is made from quality resin plastic, and will endure the elements for many seasons. It also looks great: the DBW7300 will seamlessly blend into your outdoor decor with its contemporary wicker design and mocha brown coloring. In a pinch, you can even use it as a bench, though it's not recommended for use as a bench in the long term.
In this article, we will look closely at the DBW7300, review it, and make a recommendation on this product.
Suncast 73 Gallon Deck Box Review
The Suncast DBW7300 Deck Box is the perfect accessory for any outdoor deck or poolside area. The box has a high capacity for storage and looks great, as it is made from high quality materials. There is very little assembly required and cleaning is a breeze. It is designed to keep items dry so it is perfect for storing things like cushions or small amount of firewood, as it is resistant to wet weather.
---
Basic Features
The following is a list of the main features of the Suncast deck box:
Large 73 gallon storage capacity
Contemporary design featuring mocha brown resin wicker panels on the exterior
Easy to put together in under 5 minutes without the need for tools
Perfect for storing outdoor accessories like cushions
Designed to stay dry (water resistant)
Has handles on each side of the box for easy movement
5 year, limited warranty from the manufacturer
---
Dimensions and Specs
Below are some details detailed specifications on the Suncast deck box DBW7300:
Dimensions: 46″ x 21.6″ x 22.5″
Storage Capacity: 73 Gallons
Manufacturer – Suncast
Weight – 32 pounds
Country of origin – USA
---
The Details
Aesthetics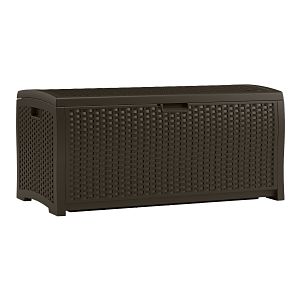 The Suncast DBW7300 has a very sturdy design made from maintenance-free plastic resin, and featuring a contemporary look. This unit will enhance the décor of any outdoor setting or poolside area. The deck box is more aesthetically pleasing than many of the other deck boxes within the same price range (for comparison, take a look at our roundup of the Best Deck Boxes). The Deck box does have a slight curvature to the design so it isn't very useful as a table for serving food or drinks on but it does make for a more organic look fitting in well with the outdoor setting.
We understand the decision to curve the top (easy water run-off, elegant look) but a flat top would certainly make this deck box more versatile.
Functionality
The Suncast deck box has a great capacity and looks great. With its wicker panel design and sturdy construction, it is a good choice for many. This deck box is big enough to store medium sized cushions, small sporting equipment, gardening supplies or even firewood (note: if you want to store large amounts of firewood, we definitely recommend getting a firewood log rack, as it will do a much better job than a deck box for significant quantities of wood).
Seating
This unit has a sturdy design, and features steel rods in the lid, but it made from plastic resin, and is not recommended for use as a bench long term. In a pinch, it can be sat upon, especially by those on the lighter side, but treat it gingerly, and don't assume it will be an every day outdoor bench.
Lid Design
The lid features some straps that hold the lid from falling backward when opened, but there are no pistons included in this model, unlike the larger, higher quality, and more expensive Suncast DBW9200. If you are looking for extra storage, and like the idea of having pistons hold your lid up so it doesn't flop down in a breeze, you may want to check out the DBW9200.
The curved top looks great but wouldn't be very useful as a table. Compared to other deck boxes like the Keter Rockwood, the lack of practical seating, and the lack of potential use as a table are significant negatives.
Latch System
By default, the top lid on the unit doesn't lock but does snap shut. This keeps most vermin, and water, out — but it won't keep things safe from people. There is a spot for a padlock, which may be useful to many. Don't store anything significantly valuable in here, as the box itself is made of plastic. If someone wants to get in, they'll be able to with or without a padlock.
Ventilation and Drainage
Suncast included several small ventilation holes, in the design, so it is recommended that you don't store anything that you don't want bugs and insects getting into. This does help allow airflow through the unit, and prevent mold.
There are no drainage holes on the bottom of the box so if you do store items that are a little damp, they will more than likely grow mold.
---
Material and Build Quality
The deck box itself is made from strong plastic resin with steel rods in the lid, but is not designed to be used as a seat. The lid does snap shut for some security against most animals and it is water resistant providing good, dry storage. It is essentially waterproof in the vast majority of circumstances, though Suncast only refers to it as water resistant.
Resin plastic is a great choice for a deck box, as it can handle the elements, does not need to be painted, and can be easily cleaned. The design of the wicker-like panels are a great choice, and will blend into the patio or garden space with ease.
You will be able to enjoy this deck box for many years as it is made from high-quality, sturdy resin, and it is resistant to the elements. As a nice plus, Suncast offers a 5 year warranty on this deck box, helping to give some peace of mind.
---
Assembly
This deck box is extremely easy to put together, which is a great feature. Most users find that it can be assembled in about 5 minutes without difficulty.
Some buyers have reported that the unit doesn't come with build instructions, and if you are left without instructions, you can find them here [pdf].
---
Cleaning and Maintenance
Cleaning is pretty straightforward: you can just hose it out and use a brush on the inside of the unit. However, be sure to let the deck box dry completely before storing objects in it, as the lack of drainage holes can cause mold growth if damp objects are placed inside.
---
The Bottom Line
The Suncast DBW7300 deck box is a great addition to your outdoor furniture setting, providing a good amount of storage and a good deal of style. The deck box is sturdy, easy to put together, easy to clean, and hassle free with a great 5 year warranty. The wicker resin panels have a Balinese feel, and a curved lid helps the box blend in an outdoor setting.
If you aren't planning on using your deck box for frequent seating, and a 73 gallon capacity is right for you, the DBW7300 is a great choice at its price point. If you want some additional storage space, pistons to hold the lid, and a better overall design, we suggest spending a few dollars more and picking up the Suncast DBW9300 deck box.